Norwegian Air becoming Europe's star. Air Berlin dives as numbers fall. European airline traffic
Analysis
Norwegian Air (+6.5%) continued to perform well in the marketplace and on the exchanges. Air Berlin (-7.5%) meanwhile, hurting too from the general malaise in Europe headed the other way as airlines reported their March traffic figures. Vueling shares were up another 3.0%, but Ryanair (-4.5%) and easyJet (-4.3%) were each weaker.
Norwegian operates in all three Scandinavian markets and in Poland. It has been focusing recently on rationalising its Swedish presence, causing steady load factors but a substantial traffic decrease in that market.

According to Norwegian, yield for the month in the still-smaller Swedish market "is estimated at NOK 0.46 for the period (-32 %). The development in yield and cabin factor is to a large extent due to changes in the route portfolio, with new routes and 49 % longer average flying distance." This yield is against a unit cost of NOK0.51.

But, for the remainder of its much larger network, yields were considerably stronger, "estimated at NOK 0.65 for the period", a 10% increase.
Norwegian traffic highlights for Mar-2009 were:
Norwegian.no
Pax numbers: 675,000, +15% year-on-year;
Load factor: 75%, -6 ppts;

Norwegian.se:
Pax numbers: 112,264, -14%;
Load factor: 78%, stable.
European selected airlines daily share price movements (% change): 07-Apr-09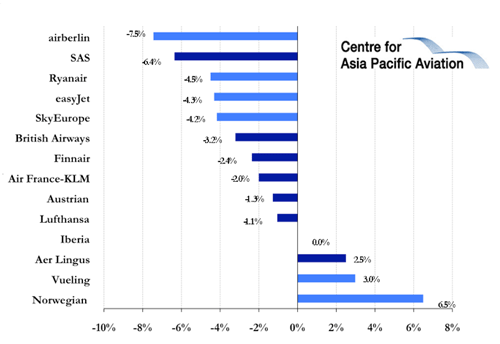 To put the Norwegian performance in perspective on recently reported Mar-2009 figures the following graph shows traffic and load factor trends.

Main competitor, SAS (share price -6.4%) meanwhile showed a passenger number decline of 9.9%, with a load factor decrease of 10.2%.
Selected European carrier's passenger numbers growth vs passenger load factor growth: Mar-2009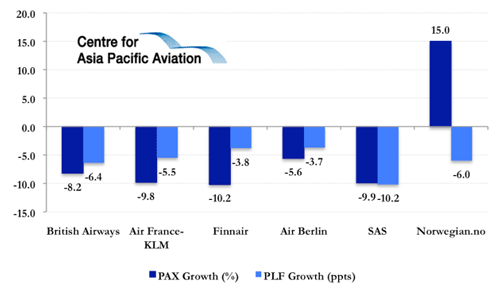 Air Berlin meanwhile, looking for a purchaser for part or all of its business, continues to contract. But the carrier did achieve an improvement in yield of 4.2%. German entrepreneur, Rudolf Woehrl, previously owner of dBA, who sold LTU to Air Berlin, would reportedly now be interested in buying it back - but presumably at a knock down price.
Air Berlin highlights in Mar-2009 were:
Passenger numbers: 2.1 million, -5.6% year-on-year;
Passenger load factor: 74.1%, -3.7 ppts;
Passenger yield: EUR 5.5 cents, +4.2%.