Norwegian, Aeromexico and Willie Walsh among CAPA Aviation for Excellence Award winners
Analysis
12-Oct-2017: Norwegian, jetBlue, airBaltic, TAP Portugal and Cobalt Air scooped the airline awards at the 2017 CAPA Aviation Awards for Excellence, held in London on 12-Oct-2017 as part of the 2017 CAPA-ACTE Global Summit.
Aeromexico CEO Andres Conesa received the executive of the year award, while Amsterdam, Dublin and Pittsburgh airports were recognised as leaders across three airport categories. IAG's Willie Walsh was recognised with the prestigious CAPA Legends Award (CAPA Hall of Fame).
Now in their 15th year, CAPA's Aviation Awards for Excellence are intended to reward airlines, airports and individuals that are not only successful, but have also provided industry strategic leadership in an always changing environment.
Initially limited to Asia Pacific and the Middle East, the awards were expanded by CAPA in 2012 to include all regions. Award candidates were independently researched and short-listed by CAPA's global team of analysts for performance over the past 12 months, and vetted by a small panel of independent industry experts.
Norwegian was awarded CAPA Airline of the Year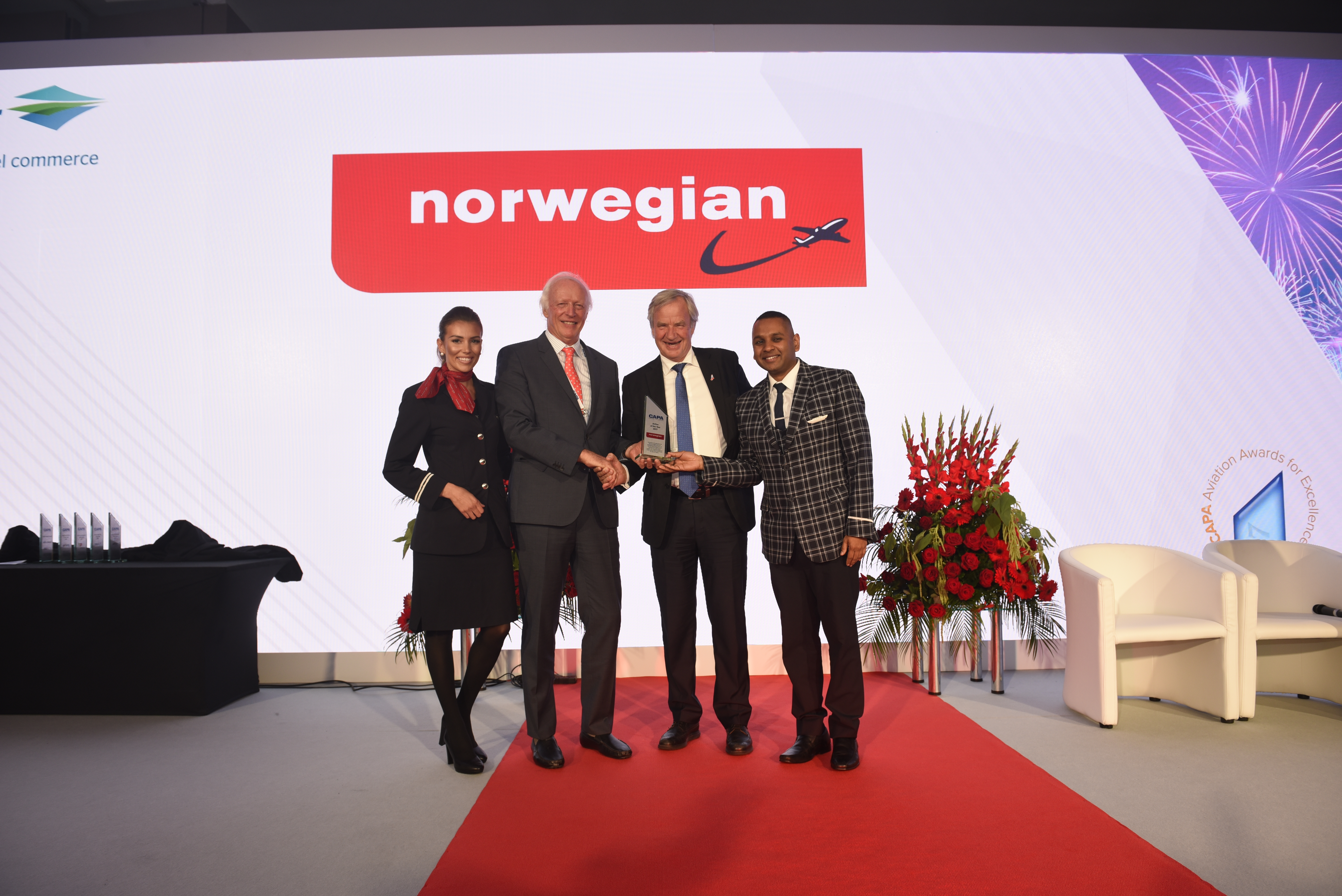 This award is to the airline that has been the biggest standout strategically during the year, has had the greatest impact on the development of the airline industry, has established itself as a leader, and provided a benchmark for others to follow.
Norwegian is among the leaders in the long haul, low cost arena in Europe, proving that in terms of demand there is a market for the model among price sensitive business and leisure passengers. Imitation is apparently the best form of flattery, and that is clear with the increasing number of airlines now looking to adopt Norwegian's model of using single aisle aircraft to link trans-Atlantic markets.
Through its initiatives, Norwegian has blazed a trail that others are now following. The impact on new North Atlantic traffic in what was previously considered a mature market has already been remarkable. Sustainable profitability with the rapid growth model is the next challenge, particularly if states continue to wind back regulatory openness.
But the fact remains, the North Atlantic in particular will never be the same. And as Norwegian spreads its wings further into Singapore and the Argentine domestic market, the Norwegian brand penetrates even more expansively.
Aeromexico CEO Andres Conesa was awarded CAPA Airline Executive of the Year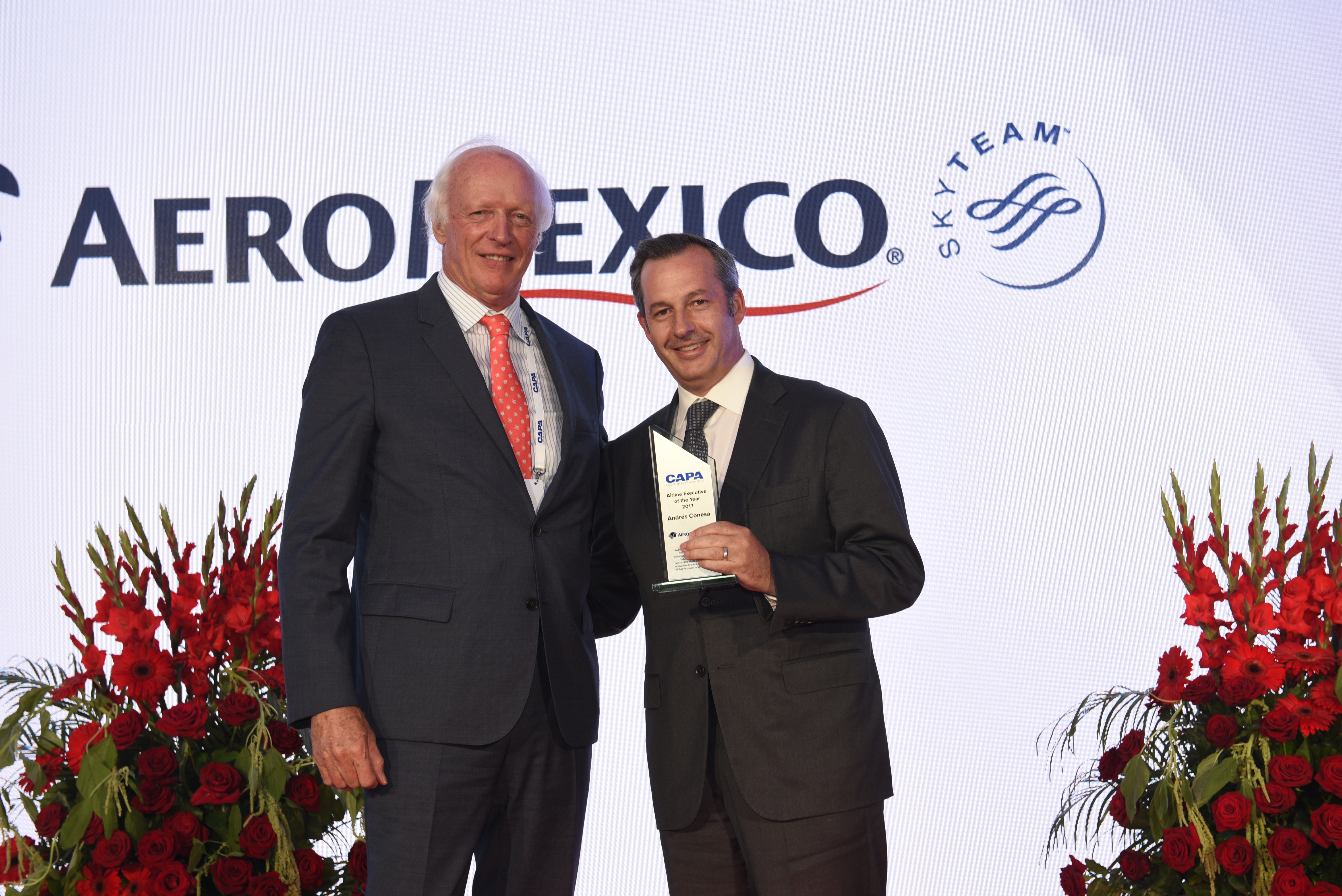 This is awarded to the airline executive who has had the greatest individual influence on the aviation industry, demonstrating outstanding strategic thinking and innovative direction for the growth of their business and the industry.
Mr Conesa was named CEO of Aeromexico in 2005, just as a wave of low cost carriers were establishing themselves in Mexico's growing aviation market. Since that time, Aeromexico has strengthened its balance sheet and overhauled its fleet to become Mexico's premier global network airline, and the only Latin American operator offering long haul service to both Europe and Asia. The airline has doubled its international capacity since 2010.
Under Mr Conesa's leadership, Aeromexico has forged a deep relationship with one of North America's leading airlines, Delta, that culminated in the creation of a joint venture launched in 2017 that will produce millions of dollars annually in synergies for Aeromexico. The joint venture will further distinguish Aeromexico's network superiority from its Latin American rivals.
"Aeromexico has laid the foundation to transform Mexico City into a global hub for Latin America with a level of network depth and breadth that raises the competitive stakes for full service airlines operating in the region", said Mr Harbison (Executive Chairman. CAPA – Centre for Aviation).
JetBlue was awarded CAPA Low Cost Airline of the Year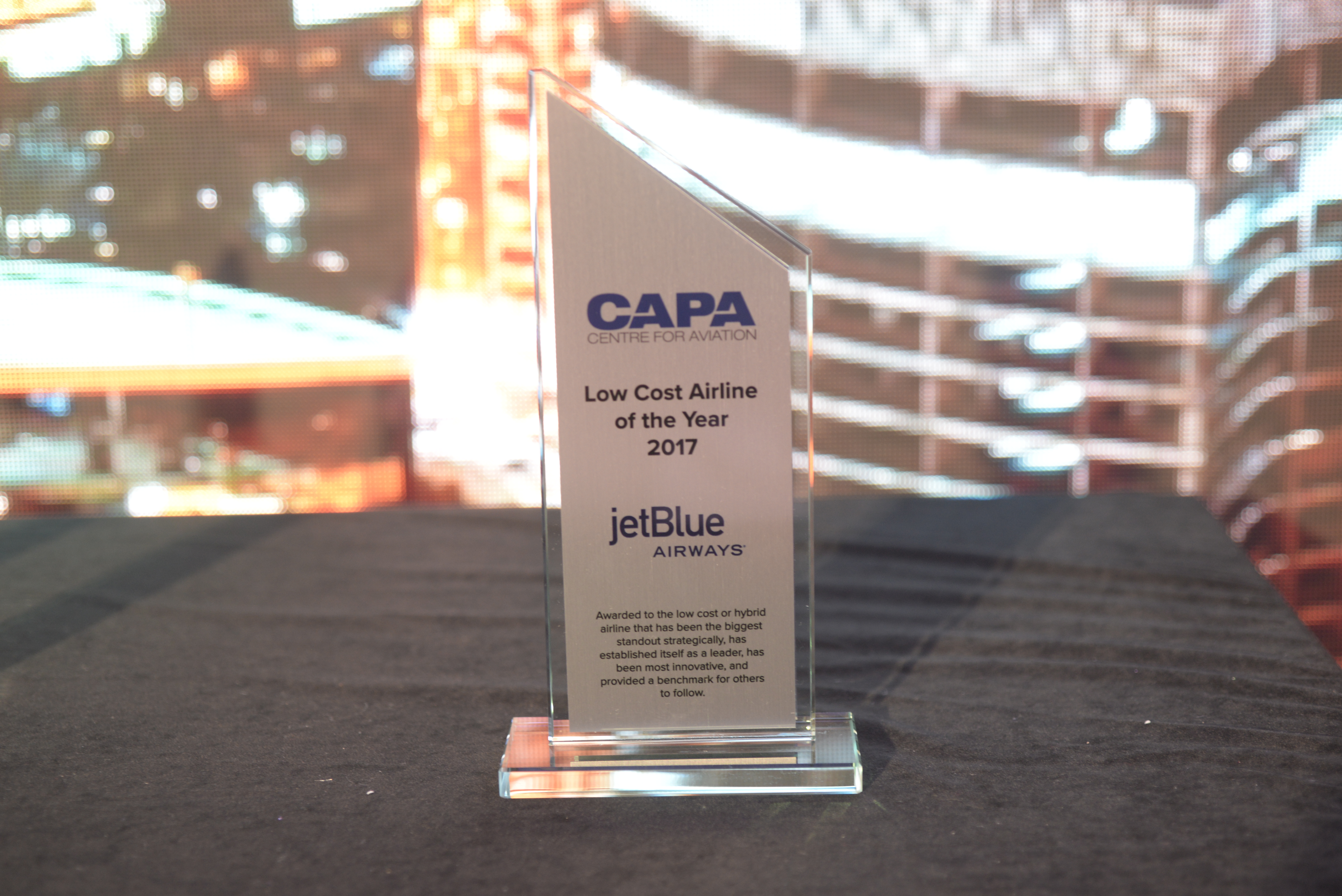 This is awarded to the low cost or hybrid airline that has been the biggest standout strategically, has established itself as a leader, has been most innovative, and provided a benchmark for others to follow.
JetBlue was selected for the successful roll out of its premium product, Mint. The performance of Mint has surpassed jetBlue's expectations, and has raised the bar in the way that US airlines approach developing premium offerings for the US market.
Mint was a tool designed to shore up revenue on key US transcontinental markets. Prior to Mint's launch, jetBlue's margins on routes from New York to Los Angeles and San Francisco were below system average. After Mint debuted in those markets, jetBlue posted double digit monthly revenue on those routes. Mint has expanded from JFK to jetBlue's focus cities of Boston and Fort Lauderdale. During 2018 the airline will offer the Mint product to more than 80 flights per day, on up to 20 routes.
"jetBlue has never been afraid to break the mould of how a hybrid, low cost airline should operate, and Mint is a shining example of the airline's ability to inject healthy disruption in the US airline market", said Mr Harbison.
AirBaltic was awarded CAPA Regional Airline of the Year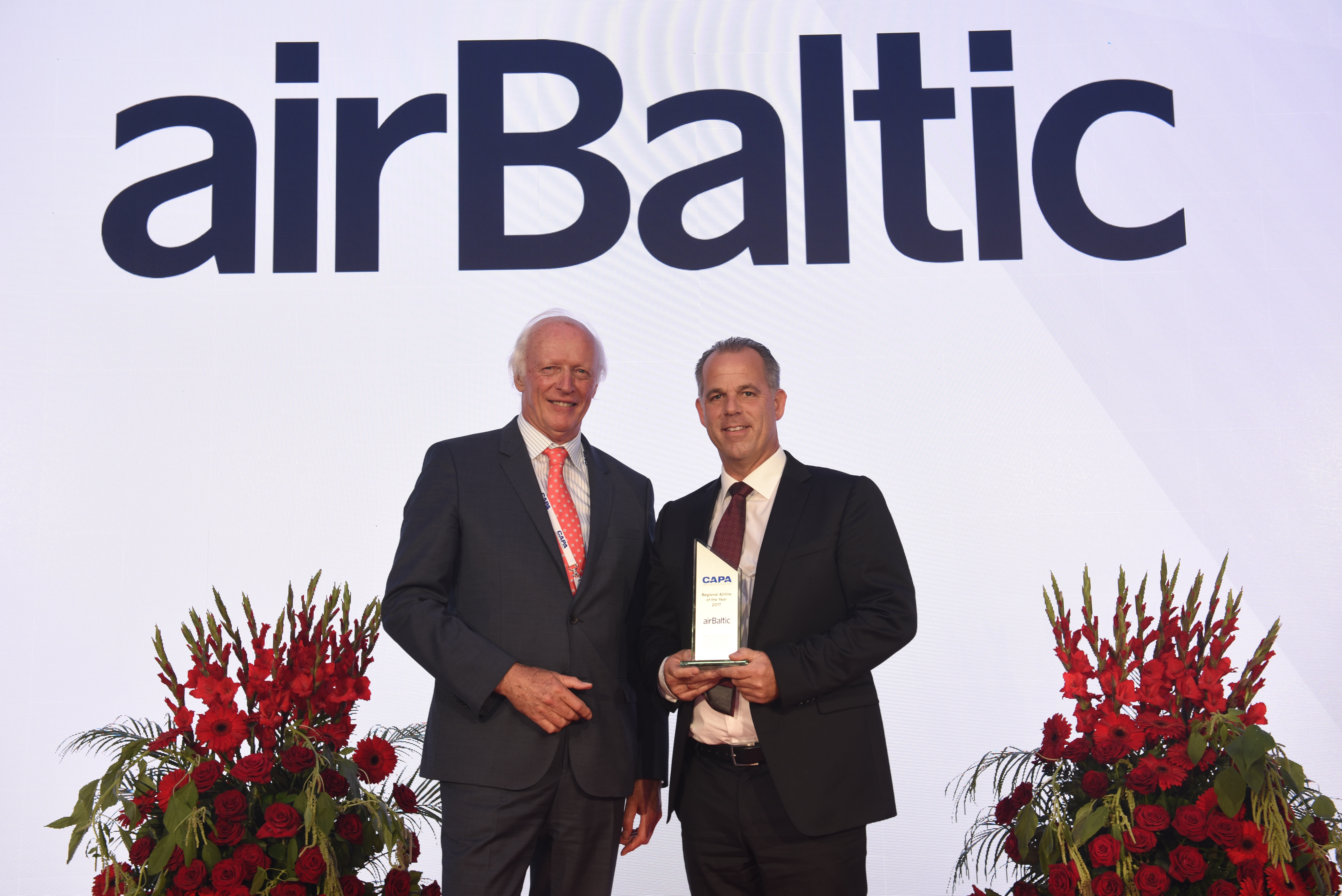 This award is to the regional airline that has been the biggest standout strategically, has established itself as a leader, and demonstrated innovation in the regional aviation sector. (Note that this award is not limited to operators of regional aircraft; it is intended to recognise smaller airlines – fewer than 10 million annual passengers – that either do not operate any long haul services, or only operate limited long haul services.)
In 2016 airBaltic completed a multi-year restructuring, increased passenger numbers for the first time in five years, secured a capital increase and a private investor, became the launch customer for the Bombardier CS300, and returned to positive EBIT. It is the biggest airline operating out of the Baltic region, with hubs at Tallinn and Vilnius, in addition to its main hub at Riga.
TAP Portugal was awarded CAPA Airline Turnaround of the Year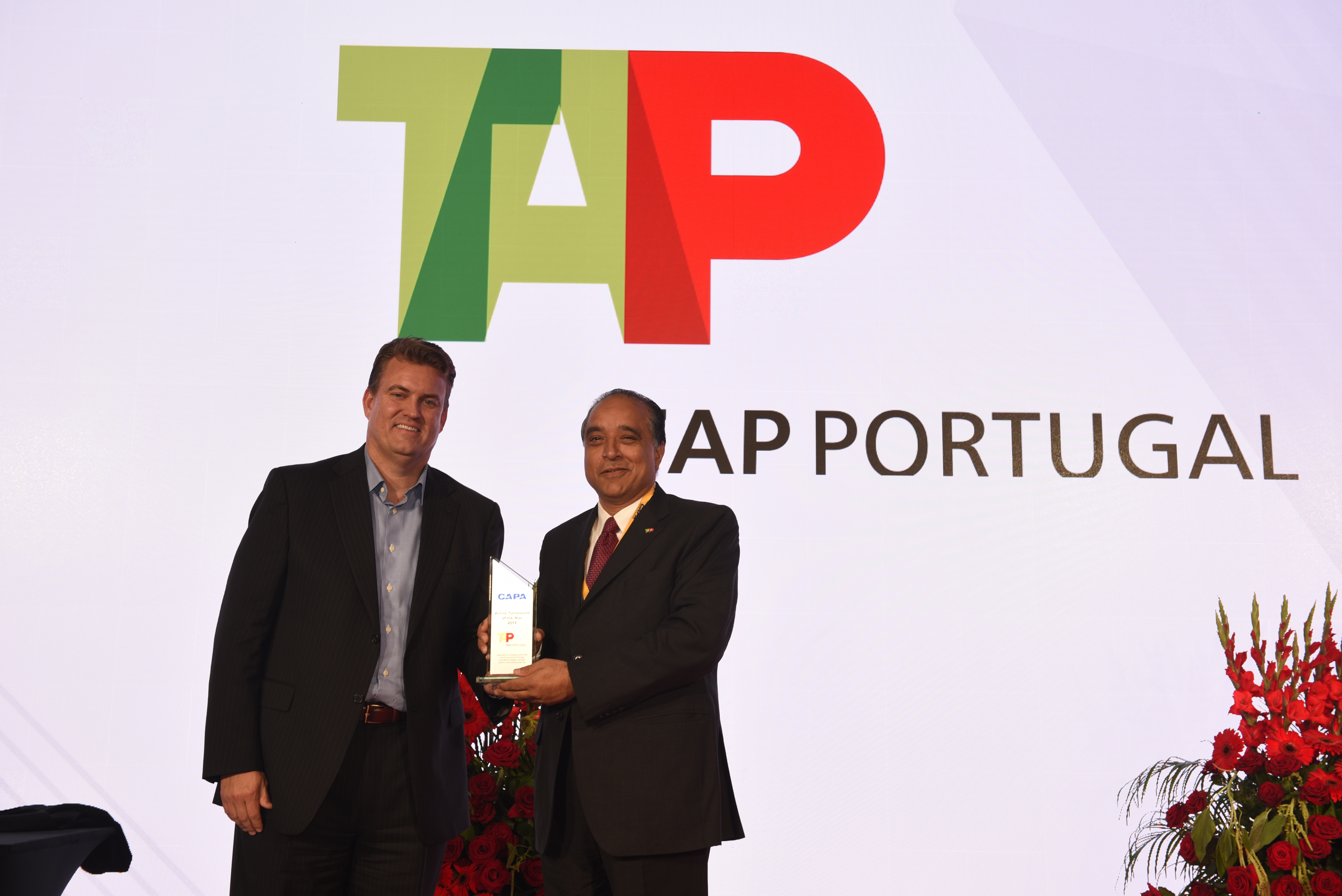 This is awarded for an existing airline that has turned around through innovative strategic changes and/or a restructuring exercise.
After restructuring and investment by new shareholders, TAP Portugal returned to profit in 2016 after two years of losses. It has established a new regional airline subsidiary, TAP Express, and adopted a new fare structure, contributing to resurgent traffic growth in 2017. Its increased confidence on the global stage is reflecting in its developing partnerships with Azul, jetBlue and Hainan.

Cobalt Air was awarded CAPA Start-up of the Year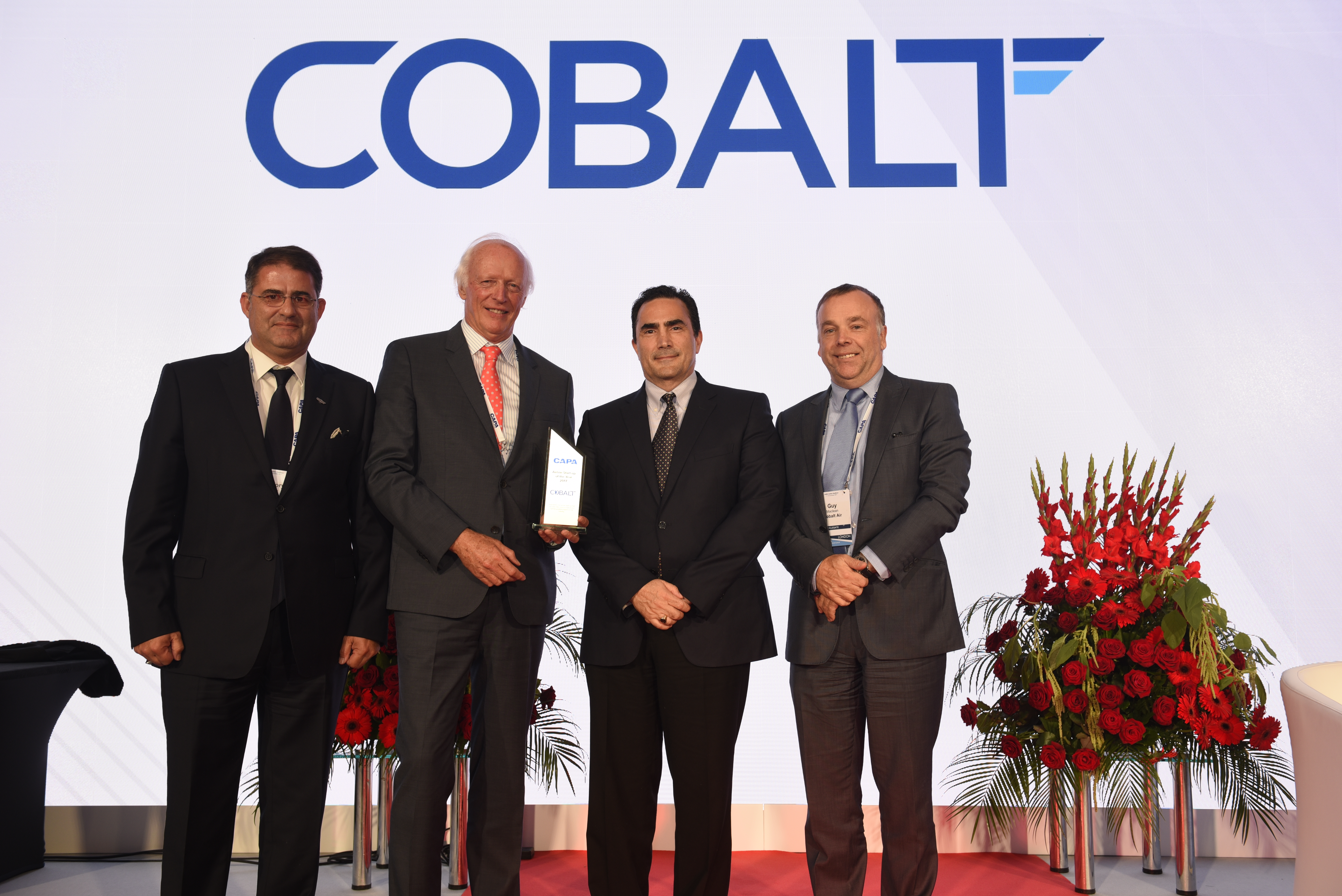 The Start-up of the Year Award is for the past year's airline start-up that has been the most innovative and had the greatest impact on the industry since launch.
Launching in mid 2016, Cobalt Air is set to fly more than 800,000 seats in 2017, from two bases in Cyprus to 14 destinations in Europe and the Middle East. Operating an all economy class fleet of leased high density A320 family aircraft, it is already Larnaca's number two airline by seats. Cobalt Air was quick to exploit the gap left by the exit of Cyprus Airways in this very competitive, leisure-focused market.
Amsterdam Schiphol Airport was awarded CAPA Airport of the year (> 30 million passengers), and Dublin Airport was awarded Medium Airport of the year (<30 million)
These awards are for the airports that have been the biggest standouts strategically, have established themselves as strategic leaders, and done the most to advance the progress of the aviation industry.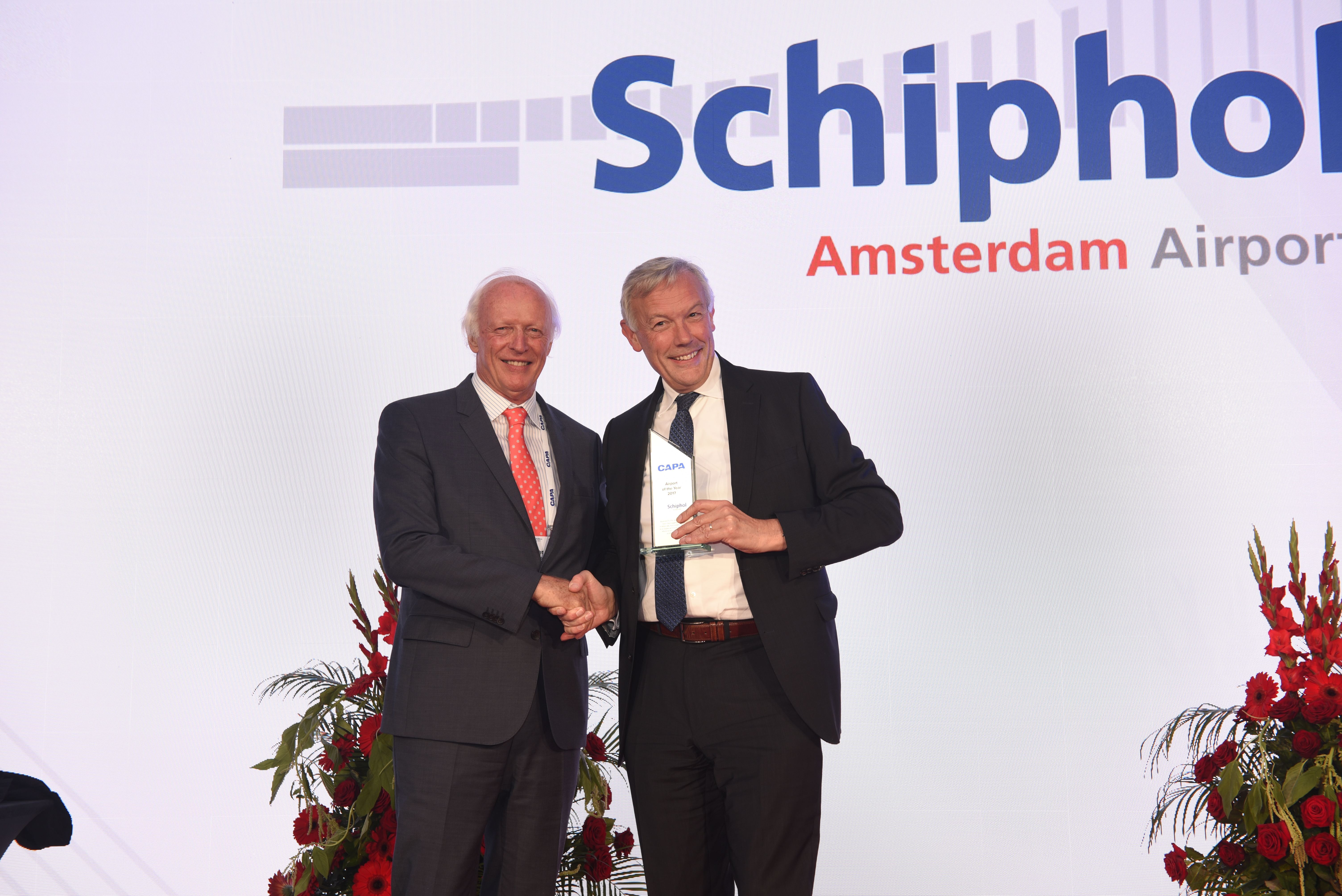 CAPA commented that Amsterdam Schiphol Airport continues to demonstrate how a relatively small country can provide a world-beating hub airport, handling a minimum of 68 million passengers each year, almost all of them travelling internationally.
One of few airports of this size still to employ a single-terminal concept, in conjunction with the six runways it has managed to stay ahead of the growth curve by providing for the increase in low cost passengers. The Schiphol Group will now tackle the future by weaning low cost and charter traffic away to its Lelystad Airport, leaving Schiphol to focus on high value business and long haul passengers in conjunction with its well designed airport city – one of the most economically significant in the world.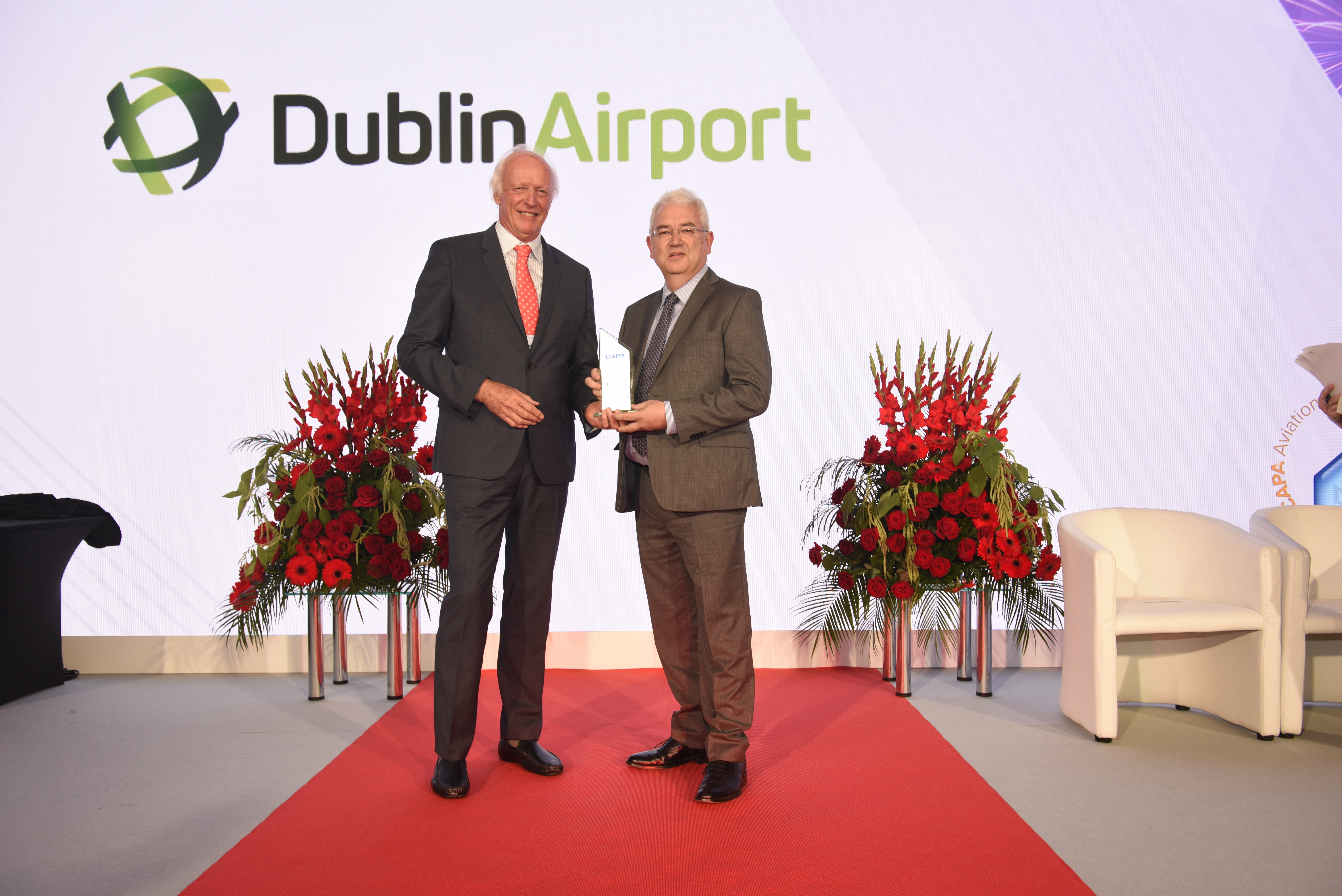 CAPA noted that Dublin Airport has become a premier level hub now, one of the fastest growing in Europe, and is competing directly with the major hubs across the continent. A broad range of short and long haul full service and low cost flights are available, both to local passengers and those transiting Dublin. It has integrated its US immigration pre-clearance facility successfully and is working towards the implementation of a second runway, as well as associated infrastructural works that will ensure its future prospects.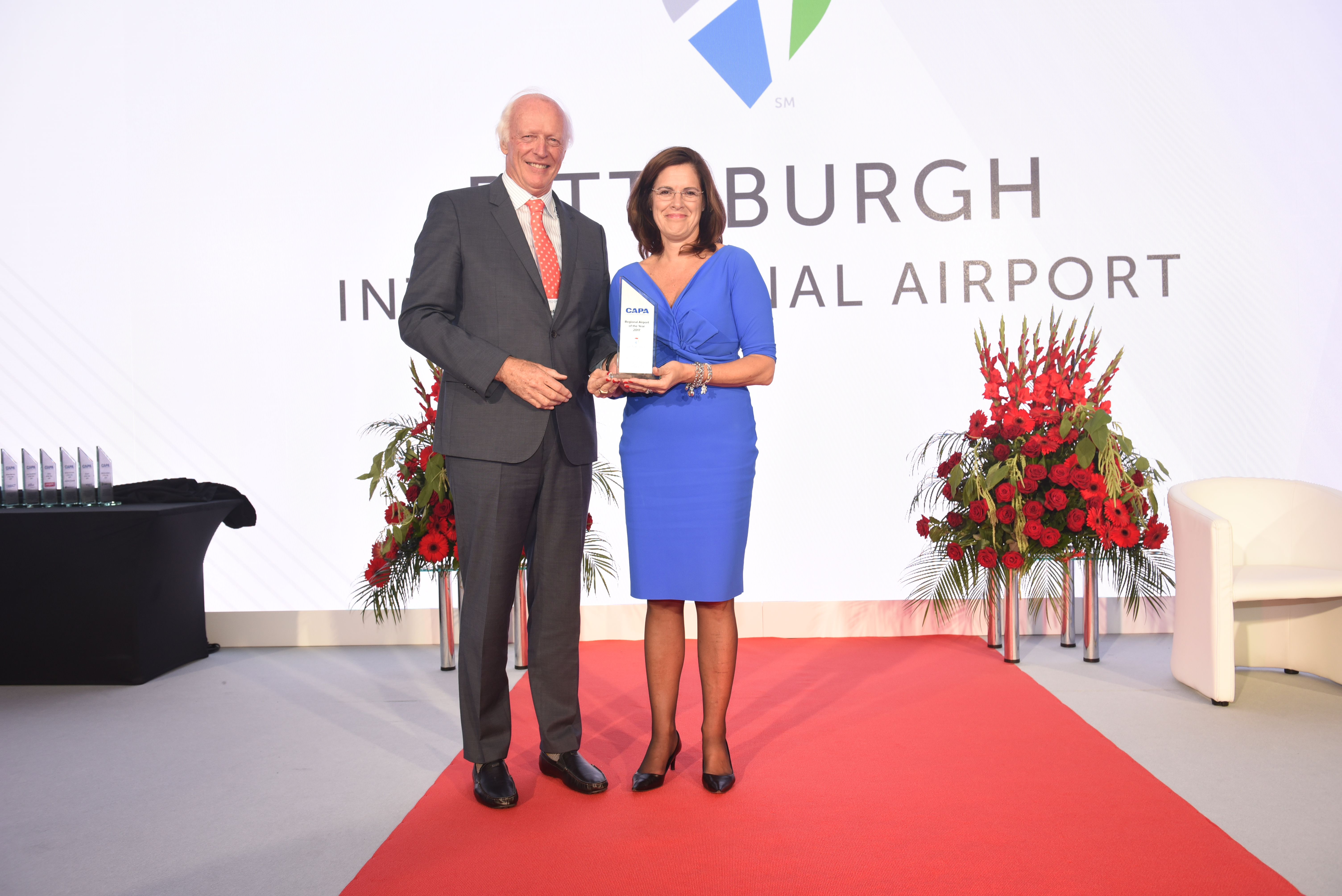 This award is for the regional airport that has been the biggest standout strategically, has established itself as a leader, and done the most to advance the progress of the aviation industry. The award is not limited to airports without any long haul or intercontinental services; it is intended to recognise smaller airports – fewer than 10 million annual passengers – that rely primarily on short haul routes, but with aspirations for growth across the board.
Pittsburgh International Airport is a copybook definition of how an airport can reinvent itself after the loss of many services of a key hub carrier – due to circumstances outside its control – by refocusing on point-to-point demand, said CAPA. Working in conjunction with a post-industrial city that has had to make much the same transition with its economy, it experienced passenger traffic losses that bottomed out in 2013. Since then there has been constant growth, which may soon touch double digit annual figures. Monthly seat capacity is back over one million, for the first time since 2008. A USD1 billion terminal improvement speaks volumes about the outlook.
Willie Walsh (IAG) received the CAPA Legend Award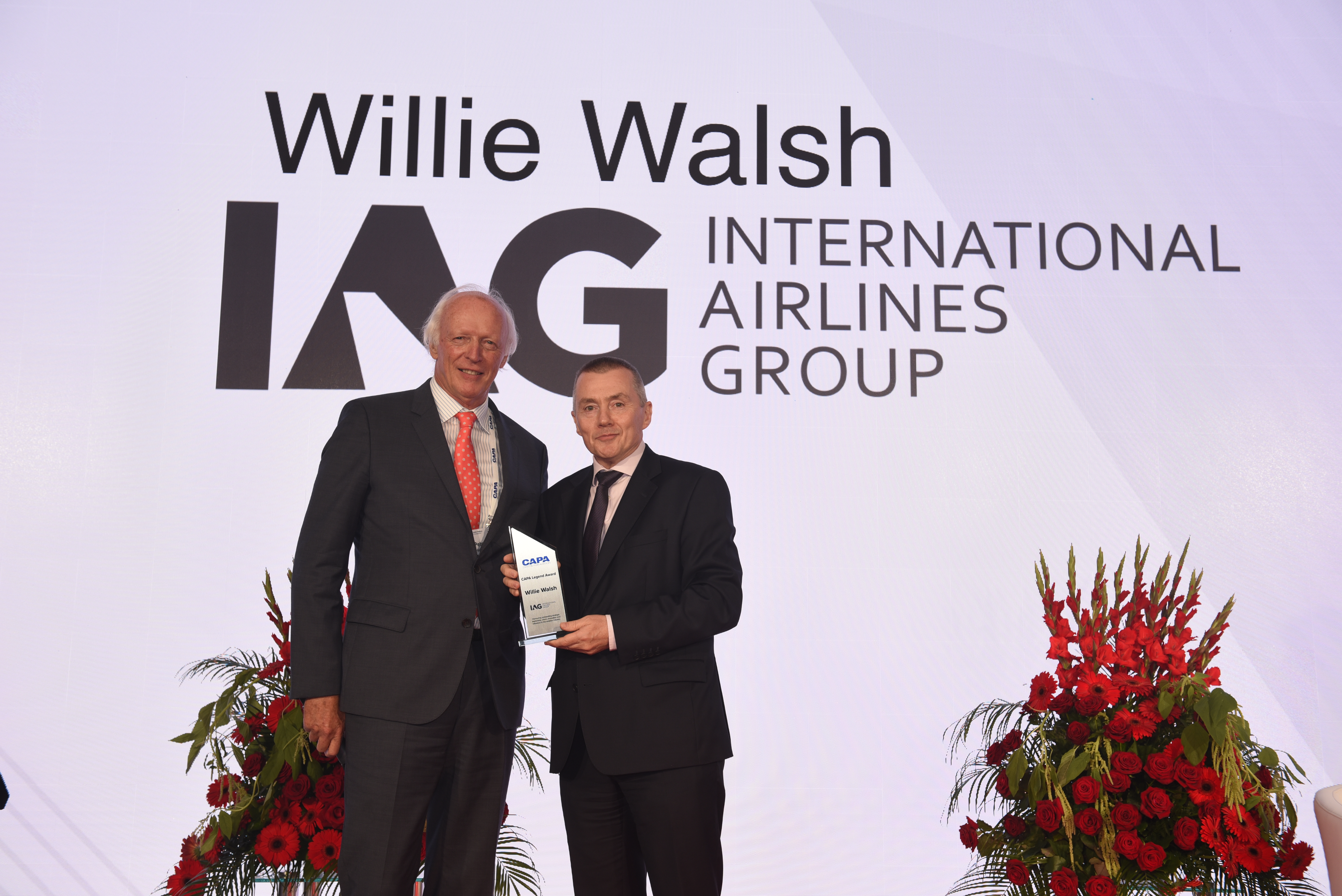 The Legend award is an occasional award given to individuals who have stood out as making a substantial long term difference to the industry in which they work. They display rare talent and people skills, so that not only do they change the external environment, but they also invariably generate substantially positive corporate improvements.
Willie Walsh (IAG)
Willie's focused and strategic management style has served him well at the helm of Aer Lingus, British Airways and IAG – of which he was the lead architect. In both 2015 and 2016, IAG achieved a return on invested capital above its estimated cost of capital, giving it the rare distinction among European legacy airline groups of creating economic value for investors.
Like those of other airlines, its 2016 results were helped by lower fuel prices, but IAG's strong improvement owes much to Willie Walsh's determination to stick to his goals, particularly as regards the turnaround of Iberia. IAG was the first among the larger European legacy groups to tackle labour cost restructuring. In addition, its 2013 acquisition of Vueling gave it a strategic advantage over Air France-KLM and Lufthansa in dealing with the short/medium haul threat from LCCs.
On long haul, it has eschewed anti-Gulf airline rhetoric with its Qatar Airways partnership, including a codeshare, a JV with BA and an equity stake. On the North Atlantic, it is now benefiting from its acquisition of Aer Lingus, and its long haul business has also been added to with the more recent launch of the long haul low cost airline brand LEVEL.
About CAPA and the CAPA Aviation Awards for Excellence
Established in 1990, CAPA – Centre for Aviation is the leading provider of independent aviation market intelligence (publishing 500 news stories every working day), analysis and data services, covering worldwide developments.
The CAPA Aviation Awards for Excellence have recognised strategic leadership in the aviation industry since 2002. Initially limited to Asia Pacific and the Middle East, the awards were expanded by CAPA in 2012 to include all regions. This year the Aviation Awards of Excellence will be presented at two gala dinners – one for the global industry in London and one for Asia Pacific in Singapore.
For more information on the CAPA Aviation Awards for Excellence and CAPA Asia Pacific Aviation Awards for Excellence, including media queries, please contact press@centreforaviation.com