New UAE carrier Eastern Express delays launch but eyes destinations in Gulf, Africa and India
Analysis
The UAE is the aviation powerhouse of the Gulf. The country's five existing main passenger airlines – Emirates, Etihad Airways, Air Arabia, flydubai and RAK Airways – operate a remarkable 283 aircraft, with another 407 on order. Yet, despite the scope of the UAE's aviation ambitions, the country does not have a scheduled domestic operator.
Enter Eastern Express. The start-up airline, based in the small emirate of Fujairah on the UAE's eastern coast, plans to become the country's first scheduled domestic operator and its targeting a launch during 1Q2012 before expanding to international cities. The UAE's existing scheduled carriers do not operate domestic services.
Its efforts to get underway have already been dented by a bureaucratic hold up at the UAE General Civil Aviation Authority. The carrier was originally planning to launch in January, but is still waiting for the GCAA to approve its business plan, forcing it to push back its planned launch.
The sticking point is the carrier's choice of aircraft. The airline's business plan submitted last year to the GCAA includes leasing a Jetstream 41, with a Saab 340 as a back-up. According to CEO, Alex de Vos, the GCAA has not verified the Saab 340 for UAE operations, leading to the hold up. The CEO is hopeful that operations will get underway in February or March.
First domestic service for the UAE
Eastern Express' initial contribution to the scale of the UAE's aviation industry will be relatively modest. Eastern Express plans to launch operations with just a single 29-seat aircraft.
Its first route will be the short 30-minute hop between Fujairah and Abu Dhabi. The carrier will focus on corporate customers and tourism traffic to the underserved Fujairah International Airport. It will operate twice daily service, with business friendly morning and evening flight times.
The carrier will provide full-in-flight services, eschewing the LCC model that has been the favoured for short-haul start-ups in the region. Eastern Express plans to partner with an existing airline in the GCC – so far unnamed – and provide regional feeder traffic from the UAE east coast for international airlines operating at Abu Dhabi.
Targeting destinations in GCC, India and Africa
Originally known as Al Hajjar Air, Eastern Express is a joint venture between Al Hajjar Air and Abu Al Houl, as well as other UAE-based investors. Until the carrier can secure its own Air Operators Certificate, it will operate under Abu Al Houl's AOC. Its investors have reportedly raised USD3.5 million to cover its early operations and initial aircraft leases. Early plans call for a fleet of four aircraft.
The airline plans to operate across both the UAE and to various other destinations in the Gulf Cooperation Council. The airline has selected Bahrain as its second destination, although a timetable for the launch has not been announced.
According to Mr de Vos, the carrier's initial business plan is to expand operations to every major city in the GCC. Following this, it will look to add services to 11 destinations in Africa and even the Indian sub-continent.
The key for Eastern Express will be to ensure its operations complement those of the larger UAE carriers, rather than compete with them.
Eastern Express is taking a flexible approach to its early operations. It will wet-lease its initial aircraft on short term leases rather than tying itself into longer-term dry leases. The first six months of operations will be a learning and assessment period, after which it will adjust its operations, fleet and development plans based on its initial experiences. To enhance this flexibility, the carrier also plans to take on charter work, eyeing government and small group work suited to its small turboprops.
Scheduled domestic operations are a niche that is unfilled in the UAE, but it remains to be seen if it is a niche that can be exploited commercially. For the year to Nov-2011, there were almost 50,000 local flights between the UAE's seven airports.
UAE domestic aircraft movements: 2011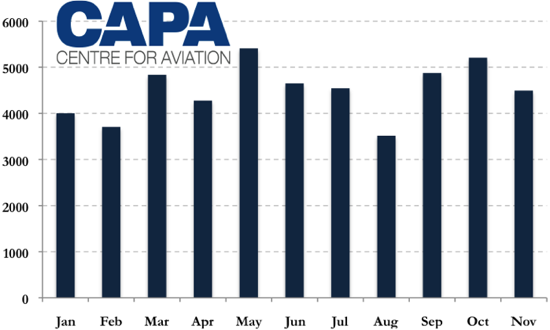 Feeder operations across the Middle East offer more promise, as there are still plenty of underexploited smaller routes that turboprop operations would suit. Embraer estimates that more than 200 markets in the region are underserved, either without direct service or served with less than one daily frequency.
Eastern Express' home at Fujairah International Airport's provides plenty of room for expansion. Fujairah airport handles only a few hundred flights per month, predominately cargo or charter and private flights. With no scheduled passenger services operations at the airport, local residents have been forced to drive to Dubai, Abu Dhabi or Sharjah for flights.
Fujairah International Airport aircraft movements: 2011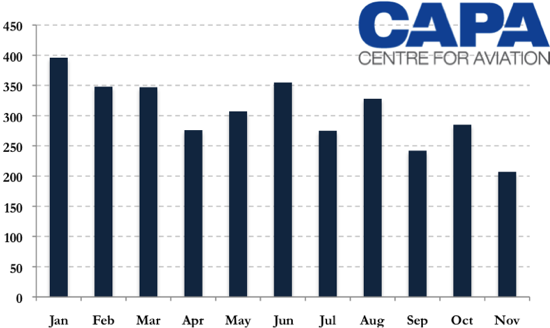 The Fujairah airport authority is eager to increase its passenger traffic. Work is underway to develop a second terminal, a new taxiway and more cargo facilities, although the development is not scheduled to be completed until 2025. The airport already boasts a 3750 m runway with independent ATC and radar services and landing aids, allowing for 24-hour operations.
However, given the small population of the emirate and the three-hour driving time between Fujairah and Abu Dhabi, just how much business there will be remains to be seen. Yet, if Eastern Express can provide a valuable service to the UAE's existing carriers, there may be a place for another airline operating model in the Middle East's busiest aviation market.