MIAT Mongolian Airlines extends reach to Singapore and Frankfurt with plans for Bangkok & Delhi
Analysis
With five aircraft, MIAT Mongolian Airlines is North Asia's smallest flag carrier. Mongolia in recent years has gained attention for double digit economic growth, including having the world's fastest-growing economy in 2011. Growth in 1H2014 slowed to about 5%, but even if this slower pace continues, there will be demand for air services as Mongolia seeks to win back passengers carried by foreign carriers, gain business through new markets and grow tourism. Against this background MIAT Mongolian Airlines, one of only two international Mongolian carriers, is steadily growing and renewing its fleet. But MIAT now faces competition from Mongolia's second international carrier, Hunnu Airlines.
MIAT in 2014 supplemented its Moscow-Berlin service with a non-stop to Frankfurt in order to facilitate a greater range of transfers and take advantage of Frankfurt's transfer facilities, which do not require Schengen visas. MIAT's Beijing service was extended to Singapore in hopes of building business ties and also growing tourism. MIAT is considering launching flights to Bangkok and New Delhi while a new capital city airport that will open in 2016 with a transit area could give MIAT transit traffic flows from Europe to Asia over Ulaanbaatar.
MIAT Mongolian only operates international services alongside Hunnu Air
MIAT Mongolian Airlines is the flag carrier of Mongolia and is the largest Mongolian carrier. The only other international carrier, Hunnu Airlines, launched in 2011 with former MIAT employees.
Hunnu originally launched as "Mongolian Airlines", capitalising on MIAT often shortening its full "MIAT Mongolian Airlines" name to just "MIAT". However, Mongolia put an end to the practice and "Mongolian Airlines" re-branded to "Hunnu Airlines".
Hunnu has opened scheduled service to points like Bangkok and Shanghai Pudong that MIAT does not serve, but has also joined MIAT on the Hong Kong route. Hunnu has taken market share and MIAT has had to reduce capacity. Hunnu plans to acquire A330-200 aircraft to fly non-stop to Paris as well as Singapore. MIAT has beaten Hunnu to Singapore, but only with a service via Beijing. Hunnu also plans – perhaps optimistically – to fly to the United States. More realistically Hunnu plans to open scheduled service to nearby secondary cities in China and Russia.
Hunnu also operates domestic services within Mongolia whereas MIAT no longer does. Hunnu expects to replace its ageing F50s with ATR aircraft. Domestic services are also primarily fulfilled by Aero Mongolia, which does not fly internationally. Previous domestic carrier Eznis Airways suspended operations in May-2014. Recent history has also seen six MIAT executives given jail sentences for at least 10 years due to money laundering convictions.
Three-quarters of MIAT's scheduled capacity in Oct-2014 is within North Asia. Korea is MIAT's largest destination, with MIAT only serving Seoul Incheon from Ulaanbaatar, MIAT's only point of departure in Mongolia. China (Beijing) and Japan (Tokyo Haneda and Tokyo Narita) are MIAT's second and third-largest markets.
MIAT international scheduled seat capacity by country: 6-Oct-2014 to 12-Oct-2014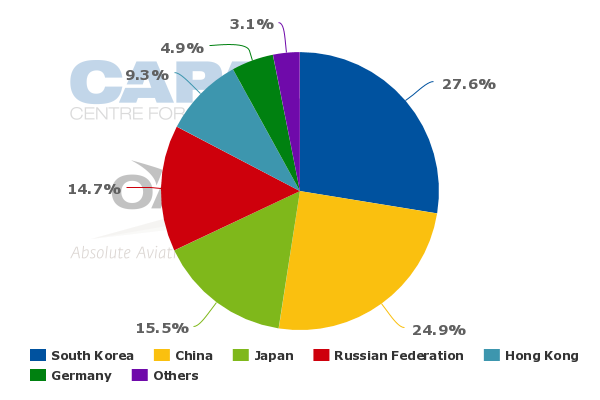 MIAT's business is highly seasonal as it caters to the peak northern summer period, which is the only main tourism season and is also when Mongolia has long holidays, allowing wealthier Mongolians to travel. MIAT also conducts a number of charter flights which are not captured by scheduled capacity data.
MIAT is renewing its fleet with 737s and 767s
MIAT's fleet of five aircraft makes its North Asia's smallest flag carrier. Even North Korea's Air Koryo has over 10 aircraft. But in the context of MIAT's history, this is a significant development. An economic crisis and currency depreciation around the turn of the millennium nearly saw the carrier go out of business. The previous decade was slow for MIAT as it retired Antonov and 727 aircraft to settle for a fleet of one A310 and one 737-800, later expanded to two. The A310 was replaced with a second-hand 767 (now 18 years old, according to CAPA's Fleet Database).
In 2013 MIAT took delivery of its second 767-300ER, this one direct from Boeing and its first purchase of Boeing aircraft. It was financed through the Ex-Im Bank in what was its largest transaction to date for Mongolia. A third 737-800 was delivered on lease in May-2014 and MIAT will take delivery of two 737-800s with the Sky Interior in 2016. MIAT has mooted taking 787s towards the end of this decade but there are no firm plans.
MIAT operates its five aircraft in four different configurations, according to information from the carrier. Its newest 767, with angled lie-flat business class seats, seats 220 across 25 in business and 195 in economy. Its older 767 seats 263 across 18 in business and 245 in economy. Its 737-800s are in either a 174 (12 business, 162 economy) or 162 (12 business, 150 economy) configuration.
Mongolia's air traffic has doubled since 2010
MIAT does not release traffic information, but passenger volume for Mongolia is available. Mongolia saw 767,000 air passengers in 2013, a slight decrease from 2012's 770,000 passengers. Overall however passenger volume has nearly doubled since 2010, coinciding with Mongolia's economic growth, largely due to mining. Although this has created wealth, it has not done so equally.
Domestic passengers accounted for 43% of total passengers in 2013, up from 28% in 2008. Domestic passenger numbers are up due to additional flights, economic wealth, but also upgrades to Mongolia's regional airports, some of which previously could not accommodate night landings.
Mongolia domestic and international passengers, and domestic share of total passenger volume: 2008-2013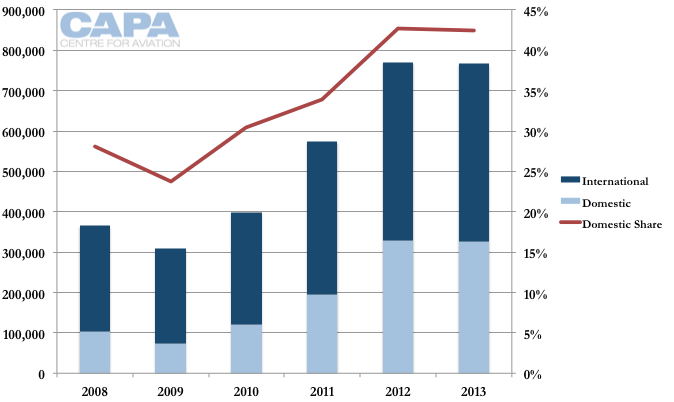 Tourism relatively flat but should be accelerated with Russian visa-free entry
Mongolia's tourism statistics do not show the growth that might be expected given the increase in air traffic. In fact, Mongolia's 418,000 inbound tourists in 2013 was its lowest volume since 2006. These figures however are distorted by large decreases in Chinese and Russian tourists, two key source markets for Mongolia.
There were only 74,000 Russian tourists in 2013, down from 99,000 in 2007. A Sep-2014 agreement to allow Russians visa-free travel to Mongolia should lead to an increase in visitors although in short order there may be a need for more flights from Russia. There were 178,000 Chinese tourists in 2013, down from 211,000 in 2007. This makes Mongolia one of the few countries to experience a decrease in Chinese tourists over that period.
Mongolia in bound tourists: 2005-2014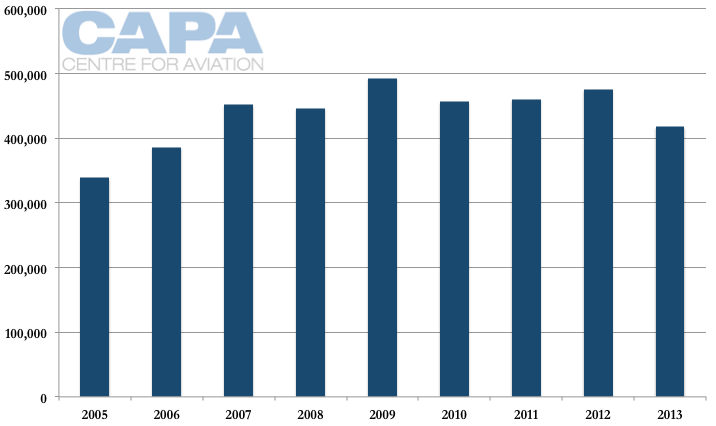 MIAT gets a growth spurt in 2014 just as it warns of downturn
MIAT's route network largely stagnated until it opened a Hong Kong service in 2011, which MIAT says was its first regular new route since 2002. More recent years have seen increased charter activity (mainly to China, Japan and Korea points) and frequency growth, the latter often facilitated by expanded air service agreements. 2014 saw MIAT expand its scheduled business with new or resumed points.
This growth comes as Mongolia's economy slows down, prompting MIAT to warn it is "facing economic downturn in its business activities", although this perhaps should be placed in perspective as Mongolia's economy is still growing, but not at the record-setting rate it used to. Competition from Hunnu Airlines is undoubtedly a factor although not mentioned.
MIAT is looking to establish a mid-term business plan covering 2015 to 2017. In Oct-2013 MIAT signed an MOU with Lufthansa Consulting.
A Mongolian newspaper reported in Jan-2014 that MIAT is considering listing 49% of its shares in Hong Kong in line with the Mongolian government privatisation of state-owned companies. There has apparently been no further statement, but privatisation would bring the substantial benefit of allowing MIAT to function as a commercial business, although there is a risk the state could continue to meddle in MIAT's affairs.
MIAT makes Frankfurt its second German point, third in Europe
MIAT has long relied on Moscow and Berlin as its European points, which MIAT attributes to business ties with Moscow and Berlin's sizeable (relatively) Mongolian expat community. Berlin has typically been served as a tag from Moscow with local uplift rights in both directions. MIAT also offered limited non-stop service to Berlin, including over northern summer 2013, but in northern summer 2014 instead had twice-weekly non-stop 767-300ER scheduled service to Frankfurt. MIAT had served Frankfurt (via Moscow) early last decade.
MIAT opened the scheduled route in part to take advantage of Frankfurt's transit facilities. The transit area at Frankfurt allows passengers to transit without a Schengen visa, which would be required at Berlin Tegel, as it does not have transit facilities, although MIAT in Aug-2014 entered into an interline agreement with airberlin to provide onward flights to elsewhere in Europe as well as to North America. MIAT is also targeting rail connections from Frankfurt's connected train station. It is unclear how MIAT fared on the Frankfurt route.
The only other European service to Mongolia is provided by Aeroflot (daily over the peak summer, and cutting down to as little as twice weekly, non-stop from Moscow) and Turkish Airlines (three weekly on an Istanbul-Bishkek-Ulaanbaatar routing with local pick up rights between Bishkek and Ulaanbaatar in both directions). The only foreign carriers serving Mongolia are Aeroflot, Air China, Korean Air and Turkish Airlines. Aeroflot and Turkish Airlines often carry passengers from Europe while Air China and Korean Air carry passengers from North America. Korean Air also targets the small outbound Mongolian market to warm beach destinations.
In 2013, China (178,326 tourists) and Russia (74,468) accounted for 60% of tourists to Mongolia. Korea was a distant third (45,178) followed by Japan (18,178) and the US (14,701). Sixth was Kazakhstan (11,422) and seventh Germany (9,499). Turkey contributed 2,720 visitors (although this was up from 851 in 2010.
France, where Hunnu Air in 2014 launched Paris service with a technical stop, saw 7,407 tourists to Mongolia in 2013, making the France the next largest European market after Germany. France and Germany each saw about twice as many total visitors (including those for tourism, business and other visits) to Mongolia. The France service was Hunnu's first outside of Asia.
MIAT in Sep-2014 extended its Beijing service to continue to Singapore twice weekly, with the tag flight operated by 737-800s (with payload restrictions) with local pick-up rights. MIAT says there are about 180 Mongolians working in Singapore whereas the Singapore Tourism Bureau says 8,000 Mongolians visited Singapore in the year to 31-Jul-2014; statistics on previous years are not available.
MIAT says it is studying new routes to Bangkok and Delhi. Bangkok is already served by Hunnu Airlines with twice-weekly A319 flights. Thailand does not break down visitors from Mongolia.
MIAT has given mixed signals on long-haul routes, saying service to North America is unlikely or only a long-term objective and at other times saying there are more immediate plans for North America – and Australia.
MIAT has two codeshare partners: Aeroflot and Korean Air. Air China in May-2014 released a brief statement saying it hoped to expand cooperation with MIAT.
China Eastern in May-2013 released a statement saying it signed an MOU with MIAT to help MIAT join SkyTeam, but SkyTeam quickly backed away from this odd announcement.
Outlook: new airport brings opportunity that must be used modestly
Mongolia in 2016 expects to inaugurate a new main international airport for the country at Khöshigt Valley, some 50km from the Ulaanbataar city centre. In comparison, the current airport is 18km from the city centre but expansion is hindered by nearby mountains. The new airport will allow for international transit without visa, and MIAT has flagged this will allow it a role in Europe-Asia traffic flows. Such traffic however is best as supplementary, and in particular to be larger during the off-season. Given MIAT's overall limited frequencies that stifle timely (and even same-day connections), it is difficult to see transit traffic help significantly sustain new services.
MIAT is torn between high-volume peak season and low-volume off-peak season, the former supporting widebodies and the latter not. MIAT in the 2013 off-season leased a 767 for Hajj services. MIAT's longest service, to Moscow, is just over six hours, placing it within range of narrowbodies even with some payload restrictions (Aeroflot uses A320s between Moscow and Ulaanbataar).
Next-generation narrowbodies have the potential to open up even more destinations. Mongolia's economic focus is largely regional, not long-haul. But there will be pressure as Hunnu prepares to induct an A330 for European flights, although that carries uncertainty about its economic sustainability. (Hunnu poses a larger regional threat as it seems its private ownership is making it more entrepreneurial and lean than state-owned MIAT, which still carries a bulky image to Hunnu's more modern look.)
There is some precedent with Air Astana and Icelandair successfully relying on narrowbodies (and next-generation ones) to connect continents, although these two are focused on connecting traffic: North America-Europe for Icelandair, and Asia/Europe-West Asia for Air Astana. Icelandair however generally has more frequencies across its network than MIAT.
Air Astana has a niche around West Asia (MIAT's North Asian backyard is well-served) and Air Astana does not explicitly target Asia-Europe connections. MIAT in fact had been considering 757s last decade, but widebodies won out, despite being analysed at the time as too big for the long off-season.
It is difficult to see MIAT and Mongolia become a Europe-Asia transfer hub. Mongolia may be better off foregoing the appeal of widebodies and instead focusing on its narrowbody operation while supporting foreign carriers who can more efficiently provide long-haul services. There is scope for partnerships to expand and cover additional points beyond other carriers' hubs. Korea in 2011 accused Korean Air and MIAT of keeping Seoul-Ulaantbaatar fares high and stifling other carriers from entering; Korean Air said the issue was the bilateral preventing another carrier from being designated on the route. For MIAT, easy does it.