Meridiana and Eurofly merge, creating 'Meridiana fly'; shares soar 15.3%
Shares in Eurofly soared 15.3% on Friday, as the Eurofly Board approved a merger with majority shareholder, Meridiana SpA, which owns 60.7% of Eurofly, creating a single airline, Meridiana fly. TUI Travel and Thomas Cook were downgraded by Morgan Stanley in view of a "tougher" outlook next year.
The merger plan calls for transfer of Meridiana's air transport activities to Eurofly, which increases its capital by EUR52.56 million. A EUR40 million share capital increase by way of rights option will occur following the merger. The new airline will focus on medium- and long-haul services, while peak short-haul and charter operations will be handled by newly incorporated company Meridiana Express, which will exist within Meridiana Fly. The deadline for integration is 31-Jan-2010.
Lufthansa sees yield improvement
Shares in Lufthansa dipped 0.8% on Friday. The German carrier's Director for South Asia, Alex Hilgers, revealed Lufthansa is seeing a slow improvement in yields. Mr Hilgers told DNA (23-Oct-2009) "I see an improvement in yields (per passenger) but this is happening slowly and not at previous levels. We need to work further on cost levels... yields fell 20% during the global slowdown and even though passenger traffic is back now, yields are still not back with us".
Air France-KLM scales back jet fuel hedging programme and launches A380 services
Air France-KLM's shares were down 0.5% on Friday, as the carrier announced plans to hedge fuel costs over two years instead of four years and to lock in purchases for only 80% of its annual consumption instead of two full years, as part of a scale back to the carrier's jet fuel hedging programme.
CFO, Philippe Calavia, stated fuel hedging has resulted in USD5 billion in cost savings in the ten years to 2008, although it has resulted in a negative effect from mid-2008 as oil price began to fall from previous record highs. By the end of 2009, the gain is expected to narrow to USD4.2 billion.
CEO, Pierre-Henri Gourgeon, added to Bloomberg (19-Nov-2009), "What we have to do is define the maximum volume of risk, and if the variation is going to be so large, we cannot afford anymore to have huge volumes of fuel bought in advance. We'll be hedging over a shorter time, two years, and total volume will be less than half what it was before".
Meanwhile, Air France launched A380 operations on Paris Charles de Gaulle-New York JFK service on 20-Nov-2009, with 538 passengers aboard, on a flight to raise funds for charity. The carrier commences regular daily services on the route from today (23-Nov-2009). Air France is the first European carrier to operate the A380, although the aircraft is already in use by Singapore Airlines, Emirates and Qantas. Air France will also operate A380 equipment on Paris-Johannesburg sector from 03-Feb-2010, becoming the first airline to operate the A380 to Africa.
Aer Lingus pilots issue an ultimatum against outsourcing
Shares in Aer Lingus suffered (-3.5%) on Friday, as its pilots issued an ultimatum to the carrier's management to halt all outsourcing, if an almost EUR100 million cost-cutting deal is to be achieved. Aer Lingus Board Member, Leslie Buckley, followed on Saturday, stating the carrier is at the most critical juncture in its history and it is imperative that the carrier's planned cost cutting measures be achieved. Mr Buckley told the Irish Examiner (21-Nov-2009), "we need to save EUR4 billion in the December budget, followed by another EUR4 billion next year and we just have to do it".
Morgan Stanley sees "tougher" 2010 ahead for travel groups
Travel groups Thomas Cook Group (-4.3%) and TUI Travel (-4.0%) fell after being downgraded by Morgan Stanley, in light of a bleaker outlook for 2010. According to Morgan Stanley, ""Both TUI Travel and Thomas Cook Group have generated solid margin increases since their mergers, but 2010 looks like being a tougher year, with costs currently rising faster than sales, given that fuel was hedged at much higher prices,".
Elsewhere, shares in British Airways rose (+0.5%), Iberia remained virtually flat (-0.1%), SAS dipped (-0.6%), Turkish Airlines lost (-2.6%).
Europe selected airlines daily share price movements (% change): 20-Nov-09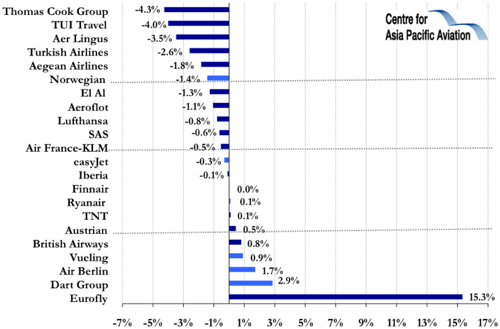 Business combination Meridiana and Eurofly creates 'Meridiana fly' – Edited press release
The Board of the Directors of Eurofly and Meridiana held upon positive conclusion of the feasibility assessment regarding the combination of the aviation business of Meridiana into Eurofly, disclosed to the market on 28-Aug-2009, resolved upon the business combination by way of the contribution in kind to Eurofly of the business branch of Meridiana pertaining to the aviation business carried out by such company.
The business combination will result in a sole aviation company, called "Meridiana fly", will operate its business with new generation long and medium range aircrafts on the national and international market.
The business combination is the final stage of a business process, which commenced in 2007 and distinguished for the development of significant commercial synergies and quality improvement of services provided.
The combined business plan, approved by the Board of Directors of Eurofly and Meridiana points out that, though the strategic and competitive positioning of the Meridiana Group will be strengthened by way of major dimensions, an increase rationalisation of the fleet of aircrafts, a higher operating seasonal flexibility and industrial synergies, with a significant costs decrease.
The business plan provides for the incorporation, presumably by means of a contribution in kind to be executed following the Business Combination, of a new company "Meridiana Express", entirely owned by Meridiana fly and aimed to furnish means for charter and scheduled line activities for short and medium range during summer, in order to reach a wider target of passengers during the peak of the tourist season, to reduce costs and to enhance the operational flexibility.
Professor, Enrico Laghi, has been appointed as independent appraiser to evaluate Meridiana. According to the appraiser, the value of the aviation business is equal to EUR52.56 million.
Eurofly's Board of Directors has appointed an independent financial advisor, Centrobanca, in order to be supported within the autonomous evaluation, to obtain confirmation that the results obtained by the independent appraiser.
Following this evaluation, the Board of Directors of Eurofly has resolved to have the extraordinary shareholders' meeting resolve upon the share capital increase, for an aggregate amount of EUR52,559,998.87 (including EUR6,504,950.48 for 'implied book parity' of the newly issued shares, EUR46,055,049.40 as share premium), with the issue of no. 325,247,524 of ordinary shares, with no par value, with a price of EUR0.1616 each (including EUR0.02 for the coverage of the 'implied book parity' and EUR0.1416 as share premium), to be subscribed and paid-in no later than 28-Feb-2010.
Within the Business Combination Meridiana has sent a notice to Eurofly's Board of Directors, stating that:
The execution of the business combination is subject to the condition precedent that financial institutions currently financing Meridiana and Eurofly and/or other financial institutions of primary standing commit to finance Eurofly for an aggregate amount of EUR30 million (including the current financing to Eurofly for EUR15 million to be renewed on a medium-long term basis) and confirm and/or renew the necessary guarantees relating to the aviation business;
Considering that Eurofly, as a result of the business combination, will need financial resources for at least EUR70 million of which EUR30 million should be represented by the financing above mentioned under (a) and EUR40 million should be obtained by way of a share capital increase through a rights issue that will be placed on the market following the execution of the business combination, Meridiana is available to guarantee the whole subscription of the a share capital increase of Eurofly for an amount not exceeding EUR40 million under the terms and conditions set forth in the 'Meridiana Letter'.
The Meridiana Letter provides that the rights issue will be subscribed so as to ensure that Meridiana will hold a stake of no less than 50.1% and not greater than 90% of Eurofly's share capital. In particular, the Meridiana Letter provides that Meridiana, also in order to support the preservation of an adequate public free float, will allow the market to subscribe in whole or in part, the shares that the same Meridiana would be entitled to subscribe under its rights issues – being it understood that, upon completion of the Rights Issue Meridiana shall hold a stake of no less than 50.1% – and that Meridiana undertakes to subscribe the unexercised rights issues for an aggregate maximum amount of Euro 40 million and subject to the condition that, upon execution of the Rights issue, Meridiana's stake in Eurofly does not exceed the 90% threshold.
The Meridiana Letter provides that commencing 15-Jan-2010 a part of the financial resources within the Meridiana Commitment, for an aggregate maximum amount of EUR25 million, will be made available to Eurofly as a non interest bearing financing, being it understood that the account payable towards Meridiana for the drawn down financing amount, will be set-off against Meridiana's debt for the subscription of Eurofly shares within the rights issue, that will be subscribed by Meridiana according to the Meridiana Letter, which also provides that the amount remained outstanding, if any, shall be repaid to Meridiana once the rights issue is completed.
The Meridiana commitment is subject to the following conditions precedent, that are provide in the sole interest of Meridiana and that may be therefore discretionally waived by Meridiana:
Approval by Eurofly Board of Directors;
Obtaining from financing institutions to provide Eurofly financial resources for an aggregate maximum amount of at least EUR30 million, including in such amount the financing for EUR15 million already granted to Eurofly and still in place, for which an extension of current Oct-2010 maturity date shall be obtained;
Confirmation and/or renewal of the guarantees currently in place in relation to the aviation business, in favor of Eurofly, to be obtained from the Financing Institutions by 31-Jan-2010;
Full execution by 31-Jan-2010.
Under a further letter dated 19-Nov-2009, addressed to the Board of Directors of Eurofly, Meridiana irrevocably undertook to provide Eurofly with a portion of the above mentioned EUR25 million financing, up to a maximum amount of EUR10 million, once the business combination is approved by the Board of Directors of Eurofly, but not before 21-Dec-2009, provided, however that, should a drawdown of such EUR10 million amount occur – in whole or in part – the commitment to finance Eurofly for up to EUR25 million, according to the Meridiana Letter will be reduced of the amount already drawn down.
AKFED commitment
In order to issue the Meridiana Commitment, Meridiana has asked and obtained from the Aga Khan Fund for Economic Development (AKFED) an irrevocable commitment to make available to Meridiana financial resources up to an aggregate maximum amount of EUR 30 million with the purpose to provide the necessary funds to grant the rights issue.
The amount provided from AKFED will be automatically converted into share capital of Meridiana on its maturity date of 31-Dec-2015. However, should Meridiana proceed to sell any relevant assets before such maturity date, the proceeds from such sale would be used to prepay in part the financing.
At any time, however, AKFED will be entitled to obtain the conversion into share capital of the drawn down amount within the financing and of the accrued interests.
Meridiana will be entitled to request that AKFED provides funds for the sole amount requested in order to allow Meridiana to subscribe the portion of the Rights Issue that is necessary to maintain a stake equal to 50.1% of the share capital of Eurofly and under the condition that Meridiana has subscribed the rights issue for EUR10 million . A further drawdown may subsequently occur to the extent necessary to allow Meridiana to subscribe shares unsubscribed by the market within the Rights Issue.
Execution of the contribution in-kind
The extraordinary shareholders' meeting of Eurofly – to be called for 21-Dec-2009 (first call) and 22-Dec-2009 (second call) – approve the proposal concerning the capital share capital increase:
Preliminarily approve, prior to the proposal concerning the share capital increase, a proposal concerning a share capital reduction for losses;
Approve an amendment of the aggregate maximum amount of the delegation to carry out the rights issue, equal to EUR26 million (including a possible share premium) increasing such amount to the new maximum aggregate amount of EUR40 million (including a possible share premium);
Approve a modification of Eurofly denomination, to be changed into Meridiana fly.
According to current estimations, the share capital increase through contribution in kind should be executed, depending on the necessary technical timing, immediately after the resolutions to be possibly passed by the extraordinary meeting are filed with the relevant companies' register, possibly by 31-Dec-2009 and in any case no later than 28-Feb-2010.
On the contrary, should the business combination not being executed, the delegation for the rights issue will be exercised to collect the necessary or useful financial resources to implement Eurofly's stand alone business plan – in connection to which board of directors has some amendments as well as its term extension to 2018 – with no prejudice to the initial commitment.
As a consequence of the share capital increase through contribution in kind, Meridiana will own a stake of 78,91% in the share capital of Eurofly.