Mango taking a larger role in South African Airways' dual brand strategy. Considering premium cabin
Analysis
The unfortunately customary trials and tribulations of South African Airways are, in Dec-2015, accompanied by the development that Skywise, one of two recent start-ups, has been suspended for unpaid airport and air traffic fees. Its licence remains intact, but a search for investors to recapitalise the airline continues.
Amid that turmoil is the quietly bright story of Mango, the wholly-owned LCC of SAA. Mango has crept up to take account of over one third of the SAA group's domestic capacity, allowing the group to maintain over 50% market share in South Africa, a compelling example of dual brand strategies. Despite being the most profitable (and consistent) carrier in South Africa, Mango still has to fight for the SAA board to permit it more growth. Mango already carries the SAA codeshare, and from 2016 will have codeshares from other Star Alliance carriers as Mango becomes the first Connecting Partner carrier under Star's recently launched platform. Mango will decide in 2016 whether to offer a premium seat option, as it continues to hybridise.
Mango flies one third of SAA group's domestic capacity
Mango commenced services in 2006 with the objective of winning back market share for its owner South African Airways. LCCs and other competitors had been taking market share from high cost and state-owned SAA, which lost about 5ppt market share per annum for three years. Mango is a distinctly second airline to SAA. It takes on classical LCC subsidiary characteristics.
This differs from the Comair/Kulula dual brand strategy. Comair, which is a British Airways franchise and uses the BA branding and systems, is somewhat interchangeable with Kulula – operationally, that is.
The BA (South Africa) and Kulula brands are distinct, but Comair's cost base was lower than SAA, allowing it to have an LCC brand without duplicating back office functions. SAA's cost base was so high that Mango needed to be a stand-alone entity, rather than rely on SAA for any functions; doing so would have inflated its cost base. While Kulula in some areas may have higher costs than Mango since it relies on the full service carrier, there are significant group savings by not duplicating all functions, as had to be done at Mango.
South African Airways and Mango annual domestic seat capacity, and Mango's share of group capacity: 2008-1H2016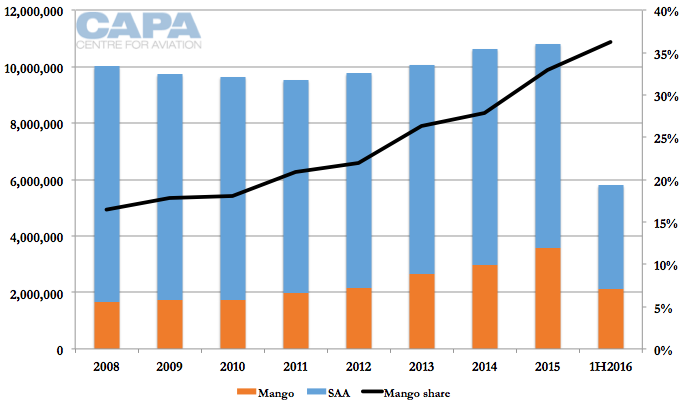 Mango grew quickly, and in 2008 accounted for 16% of the domestic South Africa seats offered by the SAA group, according to OAG data. Over the next four years, Mango grew its share of the group's domestic capacity to 22% in 2012. The next few years saw more rapid gains: Mango in 1H2016 is forecast to have 36% of group capacity.
Between 2008 and 2012, Mango increased its share of group domestic capacity, largely as SAA shrank its capacity. Mango launched services with four 737-800s in 2006 but did not pursue any expansion until 2011, when it added its fifth aircraft. The group's overall size in the domestic market was broadly maintained, showing how dual brand strategies can preserve market share by moving passengers from a high-cost carrier to a low-cost one.
Dual brand strategies were the recent subject of a CAPA/Airline Leader report: Airline dual brand strategies: In search of the global panacea for LCC and Gulf airline competition
Mango's more recent accelerated gains are out of its own achievements. SAA is decreasing capacity, but not nearly as quickly. Mango's size in 1H2016 will be approximately its size for the full year 2012. The group's 2015 domestic size was its largest ever. Without SAA launching Mango, another carrier – owned by another group – would have filled Mango's position. That would have left SAA a smaller presence in the domestic market, or if SAA tried to maintain its position, additional financial challenges.
SAA and the nature of the domestic market impose growth constraints
It would be a "natural evolution" for growth to continue to shift from SAA to Mango, according to Mango CEO Nico Bezuidenhout, speaking to CAPA at the recent Star Alliance CEB meeting in Chicago in Dec-2015. Short haul growth in most of the world is larger at the lower end of the market. Start-ups have come and gone in South Africa's deregulated environment, but this puts pressure on the SAA group. It would be better for SAA to lose market share within the family that to cede it to another carrier.
But full service carriers typically carry an iconic burden, to the detriment of finances. As Mr Bezuidenhout said: "The shareholder decides where it allocates capacity. Typically, in a normal, sane world it would allocate capacity based on returns. Mango has been profitable for eight out of the last nine full fiscals, [its] operating margins are the highest in South Africa and we've been the fastest growing. I would conservatively and very biasedly say we deserve capital investment more so than some others".
Cannibalisation has been present since Mango's launch, with the risk inherent. However, Mango was able to help the SAA group regain market share and even stimulate new segments, despite the economic situation and heavy competition in South Africa.
While SAA serves 45 routes, Mango serves nine, including four that are on the same two city pairs: Johannesburg-Cape Town/Durban, but served from both O.R. Tambo and Lanseria airports,. Despite a smaller number of routes, Mango covers 93% of South Africa's domestic traffic. 80% of South Africa's domestic traffic is on the Cape Town-Durban-Johannesburg "golden triangle". Mr Bezuidenhout reckons there are only eight city pairs in South Africa that can take a 737-sized aircraft on the route.
Mango has 11 aircraft, all 737-800s in a 186-seat configuration. Since resuming growth in 2011, Mango has added one or two aircraft a year. In Jun-2015, Mango said it planned to add two 737s in FY2016, the year to 31-Mar-2016. Mango has added one aircraft and is evaluating where to deploy the second.
See related report: South African Airways Part 2: SAA & Mango plan short-haul expansion as LCC competition intensifies
Mr Bezuidenhout says Mango could boost frequencies on existing routes or consider a new domestic route, of which Johannesburg-East London would be the most likely as it is the only route that could take a 737 and Mango has not exited it (Mango exited the Cape Town-Port Elizabeth market). Johannesburg-East London is a duopoly between Kulula (Comair) and SAA.
East London Airport to Johannesburg Oliver R Tambo International Airport (seats per week, one way): 19-Sep-2011 to 29-May-2016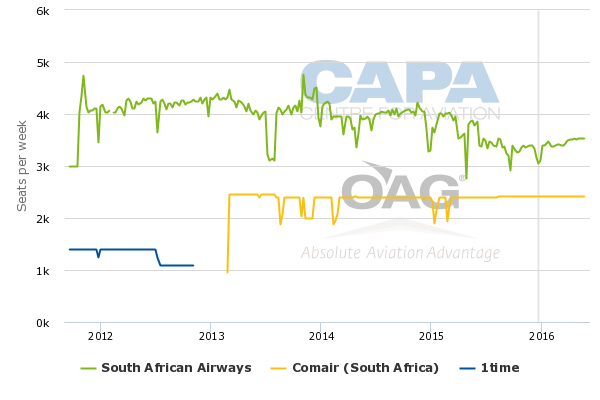 SAA and Mango overlap on seven city pairs. With Johannesburg-Cape Town being the most notable exception, Mango generally has as much seat capacity as SAA or even more.
Mango and SAA seat capacity on overlapping domestic city-pairs: 07-Dec-2015 to 13-Dec-2015
There is uncertainty over Mango's ability to expand in the future. Mango has lately taken ex-SAA 737-800s, which SAA has been replacing with A320s. Mango prefers this transaction as the aircraft are already on South Africa's register, and Mango is familiar with the maintenance history of the aircraft, according to Mr Bezuidenhout. He does not believe South Africa's domestic market can justify all-new aircraft.
Mango takes aircraft off balance sheet, and prefers them aged about 6-15 years old. The average 737 fleet age is 14.7 years compared with 17.1 years for Comair (trading as both British Airways and Kulula). Comair, however, has orders for eight 737 MAX 8s, as well as current model 737NGs. SAA's passenger 737s average 14.2 years while its other passenger narrowbodies, A320s, are 5.6 years old.
SAA and the South African government are currently disputing an SAA Airbus transaction. One outcome is that SAA may not receive additional A320s to replace its eight remaining 737-800s, which would then have likely gone to Mango. Mango may need to find aircraft via other pipelines, and the greater challenge for now is the uncertainty of the situation – whether it should examine new lease options or expect to be able to take ex-SAA aircraft.
Mango continues to hybridise with premium cabin study, Star Alliance partnership
Mango has been hybridising over the years. Two big developments in 2010 were the SAA codeshare on Mango, and Mango's launch of a "Mango Plus" offering that includes excess baggage and a voucher for onboard food and beverages. Mango will continue to hybridise in 2016, with one and possibly two developments.
The first is Mango's selection as the first carrier to participate under Star Alliance's Connecting Partner Model (SAA is a member of Star). Mango will need three partnerships to activate its partner status. SAA has already been selected (and under Star rules it counts despite ownership overlap) and Mango has identified two other undisclosed carriers.
For the scope of the partnership, CAPA previously noted:
Mango receives about 180,000-200,000 segments from SAA per annum under their codeshare agreement. Mango carried 2.3m passengers in 2014 (2.2m of them in the domestic market), meaning SAA accounted for upwards of 9% of Mango's passenger volume. SAA has been Mango's only codeshare partner. Mr Bezuidenhout expects Mango will conservatively operate 50,000-70,000 annual segments under the CPM in the initial phases. This would mean attaining a small double digit share of passengers from partners. Mango's typical annual load factor of 81-83% runs higher than South Africa's average domestic load factor of 75-76%, but Mr Bezuidenhout expects Mango will still be able to accommodate additional passengers from the Star CPM.

Mango regards CPM as a way to gain passengers in markets where it does not have visibility. Its combined size with SAA gives partner carriers more capacity to choose from, including potentially lower-cost capacity, depending on the rates set.
See related report: Star Alliance the first global alliance with an LCC platform: SAA's Mango becomes the first partner
The second development, and one which is under study for a decision in 2016, is the launch of a premium cabin. Mr Bezuidenhout expects this will adopt the style of a European carrier in which the middle seat is blocked. Mango has the view that this is a potential opportunity for capturing corporate demand. This follows its experience with the Mango Plus product. Its overall size makes it a formidable competitor in markets, and the largest operator in some markets, while its being the only South African carrier with on-board wifi (available for a fee) could be a productivity inducement for some passengers.
Mr Bezuidenhout's concern, however, is finding a flexible way to have a premium seat. Not all routes, frequencies, and days will have the same demand for a premium offering. Sticking with conventional seats but blocking the middle seat gives relatively easy flexibility to adjust the configuration depending on a specific flight's loads. SAA has a dedicated business class seat while Comair (British Airways) blocks middle seats.
The introduction of a premium seat product could be easier following Mango's retrofit to have slimline seats. The retrofit offered an additional 5-7cm of space per row. Rather than distribute this evenly, the pitch could be larger in the first few rows where a premium section would be offered. This would allow Mango to have a premium offering while minimising (or possibly eliminating) seat density loss. "The big challenge is don't lose too many seats," Mr Bezuidenhout says.
Mango believes about 60% of its cost differentiation is from asset utilisation and seat density.
The premium offering has been under consideration in its own right, but could be made available to connecting premium passengers from Mango's partnership with selected Star Alliance carriers.
Outlook: Mango continues domestic growth as South Africa's international market proves challenging
Despite accounting for one third of the SAA group's presence in the domestic market, Mango serves a single international route (to Zanzibar). Although this may seem peculiar, there is lack of liberalisation and SAA's regional African market, unlike its long haul or domestic market, is a strong performer. Mango is not needed as much. As CAPA previously explained:
So far SAA claims the impact from new LCC competition in the Tanzania and Zimbabwean markets are not significant and it does not see a need to use Mango on any international route already served by SAA. The focus instead is on continuing to use the main SAA brand to expand in regional international markets.

Mango's current international route, Johannesburg to Zanzibar in Tanzania, is not served by SAA. Mr Bezuidenhout said Mango could potentially be used to launch services in other similar leisure-focused international destinations that are not served by SAA such as Mombasa in Kenya. But he said "it's nonsensical to encroach on SAA's well-performing regional operations".

Mr Bezuidenhout pointed out Johannesburg-Dar es Salaam is one of SAA's 10 highest yielding and most profitable routes and remains highly profitable while fastjet has struggled initially in the market. SAA is not concerned if African LCC groups are able to launch more international routes to South Africa, or if its new local LCC competitors are able to launch international routes from South Africa, as most SAA passengers in these markets connect beyond Johannesburg to other international destinations. For example 85% of SAA's traffic from Maputo inMozambique, another destination targeted by the Africa's emerging LCC groups, connects beyond Johannesburg.

Eventually the SAA Group may have to relook at its dual brand strategy and start to use both its full service and low-cost brands on regional international routes. fastjet, flyafrica.com, FlySafair and Skywise are all eager to pursue expansion in South Africa's regional international market, which has some of the highest average yields in the world.

But the reality is the pace of liberalisation will continue to be very slow, giving SAA little incentive to use Mango internationally.

The focus at Mango for now is domestic expansion and given the sudden surge in new LCC domestic competition it makes sense for the group to use its well established budget brand to counter this threat.

South Africa's two start-ups will face an uphill battle against Mango and Kulula, which have a successful track record against smaller domestic LCC competitors.
See related report: South African Airways Part 2: SAA & Mango plan short-haul expansion as LCC competition intensifies
That uphill battle has eventuated for start-up Skywise.
Airports Company South Africa (ACSA), which runs the country's airports, suspended Skywise's operation on 02-Dec-2015 due to unpaid ZAR8 million (USD530,000) charges to itself and the ANS provider. Skywise retains its licence to operate. On 10-Dec-2015, Skywise said it expected to receive new funding in the week commencing 14-Dec-2015, but this has not eventuated.
Skywise CEO Johan Borstlap told IOL: "We are looking at getting some investors on board. We are talking to a few people and they are doing their due diligence and other bits to get them on board. As soon as we have an answer from these people we should be able to make an announcement to say when we start flying again...Maybe in hindsight the capital was not enough, but we are fixing it now."
Skywise has criticised the suspension, just as airlines in South Africa enter the peak travelling period, while highlighting the irony that SAA, owned by the government, remains loss-making but Skywise was not granted an extension to pay dues.
Mango's achievements are notable in their own right, and even more so against South Africa's ever dynamic market conditions. In such a turbulent environment, there is every right to support Mango's suggestion that it should take on a larger role.