Lufthansa grows 2Q result; continues Eurowings expansion & labour talks; introduces GDS fee
Analysis
The Lufthansa group grew its adjusted EBIT by 52% in 2Q2015, in spite of the negative impacts of pilot strikes and currency movements. Lower fuel costs were a significant factor in the improved result. The Passenger segment was the biggest contributor to the improvement and MRO also helped, but Lufthansa Cargo suffered a fall in its result in 2Q after an advance in 1Q. For FY2015, the group still aims for an adjusted EBIT of more than EUR1.5 billion and perhaps now has a little more headroom for this aim.
Meanwhile, the Lufthansa group is attempting to push forward with a number of important developments. It is expanding its Eurowings subsidiary, which will progressively take over from Germanwings on short haul point to point routes. In addition, Eurowings will launch low cost long haul leisure routes this winter, using wet lease capacity from SunExpress (jointly owned by Lufthansa and Turkish Airlines). This LCC initiative runs in parallel with ongoing attempts at improving mainline labour productivity. The group is also introducing a new commercial strategy, including charging a fee for GDS ticket sales.
2Q adjusted EBIT grows by 52%
In 2Q2015, the Lufthansa group more than tripled its net profit from the same period a year earlier to EUR529 million. However, due to significant differences in non-operating financial items, the year on year comparison in the net result is not a meaningful indicator of the underlying performance of the business.
The figure on which Lufthansa provides guidance, and which is most closely followed by analysts, is "adjusted EBIT", which increased by 52% to EUR635 million in 2Q2015. This is earnings before interest and tax, adjusted to exclude book gains or losses on asset disposals and write-ups or impairments on the value of assets. In a crucial difference to the operating result metric typically used by other airlines, Lufthansa's adjusted EBIT also includes results from its equity investments.
Long term Lufthansa watchers will also note that this measure differs from its old profit indicator, the operating result, which excluded the results from equity investments and had a different treatment for the reversal of provisions. Thus, there is no easy way to compare these 2Q results directly with those published by Lufthansa last year. The focus from now will be on adjusted EBIT as reported by the group
For 1H2015, the Lufthansa Group's adjusted EBIT was EUR468 million, up EUR290 million or 163% year on year. This improvement was achieved in spite of strikes by the Vereinigung Cockpit pilots' union, which had a negative impact of EUR100 million in 1H2015 (EUR42 million in 1Q2015 and EUR58 million in 2Q2015), including lost bookings.
Lufthansa Group financial highlights 1H2015 and 2Q2015

Passenger segment leads the improvement in results
All of the group' main business segments contributed to the improvement in adjusted EBIT for 1H2015. The biggest contribution came from the Passenger Airline Group, whose revenue grew by 6.3% and whose result increased by EUR308 million from a loss of EUR59 million to a profit of EUR249 million in 1H2015. For 2Q2015, the Passenger Airline Group's adjusted EBIT increased by 84% to EUR503 million.
Within the Passenger Airline Group, the strongest result came from SWISS, whose adjusted EBIT more than doubled to EUR178 million, with revenue up 8.0%, in 1H2015. Lufthansa Passenger Airlines (which includes the Lufthansa brand and Germanwings) turned around a loss of EUR87 million in 1H2014 to a profit of EUR94 million on revenue growth of 6.7% in 1H2015. Austrian improved its 1H result by EUR27 million, but was in loss to the tune of EUR17 million.
The MRO (maintenance, repair and overhaul) segment also made a strong contribution to the group's adjusted EBIT, improving its result by EUR41 million to EUR268 million on revenue growth of 22.4%. Third party revenue (62% of the total for the segment) and revenue from group companies grew at a similar rate. The Catering segment's result improved by EUR17 million to EUR26 million on revenue growth of 17.1% (external revenue grew by 21% and made up 79% of the segment total).
Lufthansa Group results by segment 1H2015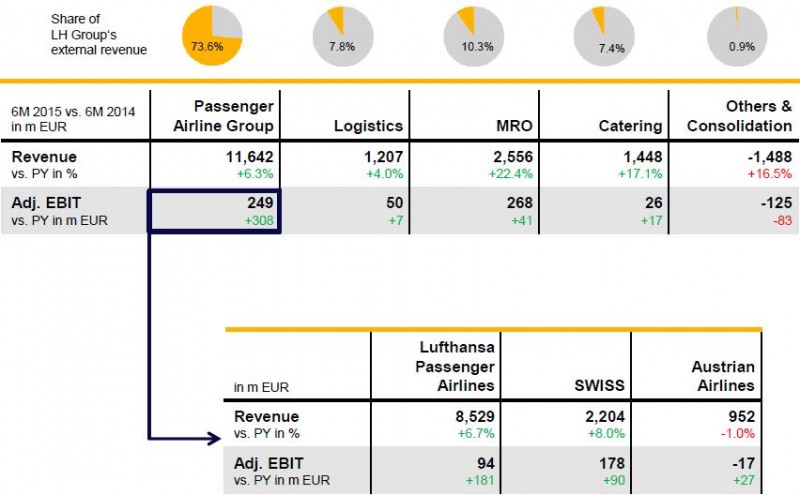 Lufthansa Cargo result falls in 2Q after improvement in 1Q
The Logistics segment (Lufthansa Cargo) improved its 1H2015 adjusted EBIT by 16% to EUR50 million, with revenue up 4.0%. However, its 2Q2015 result fell from a profit of EUR18 million in 1H2014 to a loss of EUR2 million in 1H2015, with revenue up 2.6%. Lufthansa said that demand on global airfreight markets picked up in 1Q2015, but "lost momentum" in 2Q2015.
Capacity, in available tonne kilometres (ATKs) was up 3.2%, all focused on passenger aircraft bellies, but traffic, in cargo tonne-kilometres (CTKs) fell by 0.4% and the cargo load factor lost 2.5 ppts to 67.6% in 1H2015. The load factor fell in all regions, most heavily in Asia Pacific (-4.2 ppts).
Although cargo revenue growth of 4.0% was faster than capacity growth of 3.2% in 1H, this was mainly due to currency movements. Moreover, the trend deteriorated in 2Q, when revenue growth of 2.6% did not match capacity growth of 5.5%. The Logistics segment was the only part of the group whose adjusted EBIT result fell in 2Q2015 from its prior year level.
It is clear that Lufthansa is feeling the strength of competition in cargo. It noted in its 2Q report that "airlines from the Middle East and Turkey especially are increasing their freight capacities, particularly due to their many new passenger aircraft". Its response is to focus on "the utmost quality and flexible capacity management".
ASKs up 5.2% in 2Q, led by long haul
The Passenger Airline Group increased ASKs by 5.2% in 2Q2015 and 3.3% in 1H2015, while load factor figures of 80.3% in 2Q and 78.3% in 1H were fractionally above last year's levels. Capacity growth was led by the long haul network, while the group's European network grew ASKs by only 2.0% in 2Q (cut of 0.6% for 1H).
The highest ASK growth in 2Q was to Asia Pacific (+7.7%) and the Americas (+7.1%), while in the Middle East & Africa it was up by less than the group average, at 4.4%.
Lufthansa Passenger Airline Group KPIs 1H2015 and 2Q2015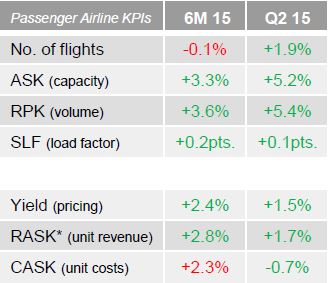 RASK ex currency fell in every region in 2Q
Unit revenue (RASK, revenue per available seat kilometre) was up 1.7% in 2Q and 2.8% in 1H. However, this RASK growth was generated by foreign exchange movements and RASK ex currency fell by 5.5% in 2Q and by 4.1% in 1H.
The group's RASK ex currency fell in every region in 2Q2015. The decline was the narrowest in the Americas, where this metric was down by 3.5%. This seems to be a little better than the performance of Air France-KLM, which reported a 13.7% fall in Latin America and 2.9% fall in North America in ex currency RASK in 2Q (although Lufthansa does not split the two parts of the Americas, so we cannot compare directly).
In both Europe and Asia Pacific, the Lufthansa group's ex currency RASK fell by almost 5%, while it was weakest in Middle East and Africa, where it fell by 12.7%
Lufthansa Passenger traffic and unit revenue by region 1H2015 and 2Q2015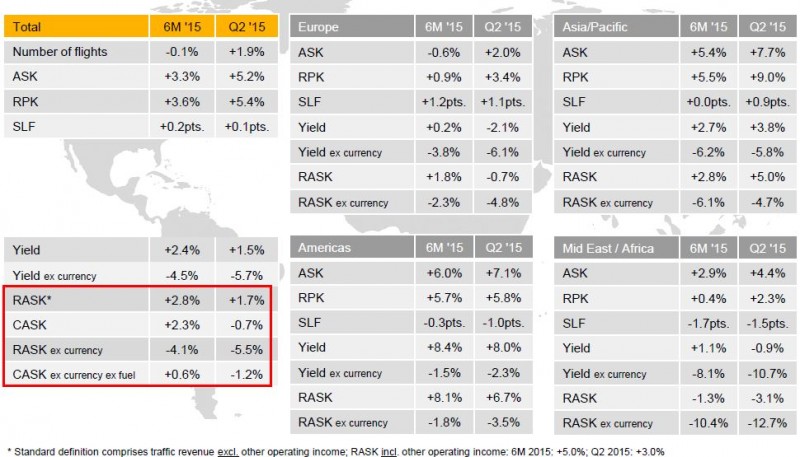 707" height="404" />
Revenue up 8.9%, total operating income up 11.7%in 2Q
Lufthansa Group revenue increased by 8.9% in 2Q2015 (similar to the 8.5% growth for 1H2015) and total operating income was up by 11.7%, boosted by a 61.8% jump in other operating income. A range of somewhat opaque items goes into other operating income, one of the most significant being foreign exchange gains, which are all or partly offset by exchange losses in other operating expenses.
The weakness of EUR against a range of other currencies had a positive impact on revenue, while the weakness of the EUR versus USD in particular also served to inflate costs. Overall, Lufthansa said that exchange rate effects depressed EBIT by EUR56 million in 1Q2015 and EUR102 million for 2Q2015, a total negative impact of EUR158 million for 1H2015.
Costs grow by 10.2% in 2Q
Operating costs were up by 10.2% in 2Q2015, less than the growth in total operating income, thanks to lower fuel costs. Fuel costs fell by 5.8% as a result of lower fuel prices, partly offset by the stronger USD versus EUR and by Lufthansa's hedging programme.
Non-fuel costs grew by 14.8%, faster than total operating income. Staff costs were up 8.3% in spite of little change in average headcount, mainly due to foreign exchange movements.
For the Passenger Airline Group, CASK fell by 0.7% and by 1.2% excluding both fuel and the impact of foreign exchange movements.
Lufthansa Group revenue, operating costs and EBIT 1H2015 and 2Q2015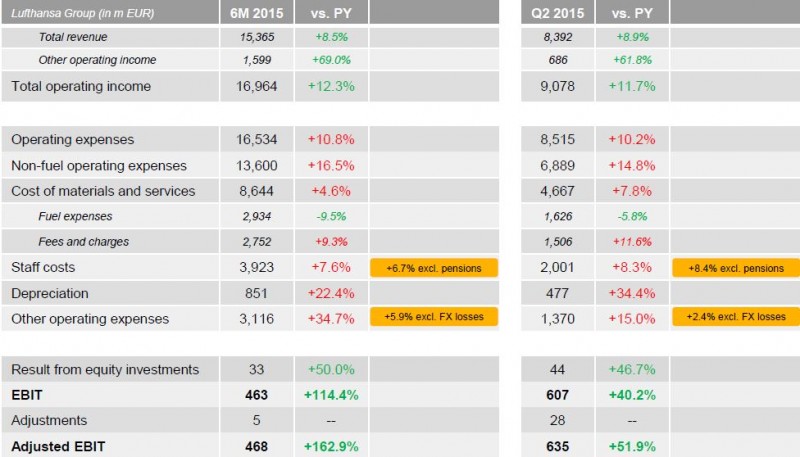 FY2015 guidance unchanged
Lufthansa's guidance and outlook for FY2015 is unchanged. Passenger capacity in ASKs is expected to grow by around 3%, although the number of flights will decrease. Growth in ASKs will focus on long haul and will be achieved through seat densification. Passenger load factor is expected to grow "slightly", but yield ex currency will likely fall so that RASK ex currency is "clearly negative". Unit cost ex fuel and ex currency is expected to be "slightly reduced". Cargo capacity will be stable, with freighter reduction offset by increased passenger belly space.
Lufthansa FY2015 trading assumptions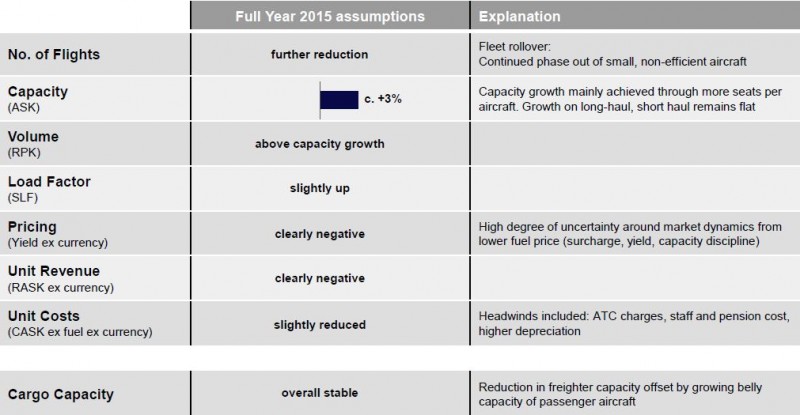 The group's guidance for its FY2015 adjusted EBIT is still for more than EUR1.5 billion before strike costs (EUR100 million in 1H2015), although management appears a little more optimistic that it will achieve this even after these costs. All the main business segments are expected to report a better result than in 2014, with the single exception of Lufthansa Cargo.
Lufthansa FY2015 outlook by segment

747" height="280" />
Labour issues, crucial to a lower cost base, still unresolved
Labour remains a key focus for improved cost efficiency and Lufthansa has experienced difficulties, in particular with its pilots, over changes to retirement and pension benefits.
Underpinning the pilots' resistance to these changes is their reluctance to see Lufthansa's growing use of Eurowings as a lower cost platform exploiting more flexible labour contracts. The Vereinigung Cockpit pilots' union carried out strikes at the beginning of 1H2015, forcing Lufthansa to agree to arbitration on all unresolved wage agreements on 29-Apr-2015. Although the union initially accepted this, Vereinigung Cockpit declared on 6-Jul-2015 that the preliminary talks had failed.
Meanwhile, wage talks with cabin crew have also proved difficult. Arbitration between the Employers' Federation for Air Transport Companies (AGVL) on behalf of Lufthansa and the UFO union failed to produce a result. Lufthansa made a new offer on 30-Jun-2015, including bringing new cabin staff into transitional benefits for voluntary and early retirement for an initial period of ten years. On a more positive note, agreement has been reached on moving from a defined benefit to a defined contribution pension system.
The growth of Eurowings as a low cost platform may put pressure on mainline unions
Lufthansa's decision to grow Eurowings as its short haul point to point operator, making use of lower cost and more flexible labour contracts gives it some hope of competing with the growing LCC threat in this market. Pressure will only increase here as Ryanair targets expansion in Germany with a new Berlin base this coming winter and entry into the domestic market.
In addition, Lufthansa's development of the Eurowings brand on long haul, using SunExpress as a wet lease provider of aircraft and crew, also provides it with a lower cost operation for long haul leisure markets.
See related reports:
Lufthansa's Eurowings goes to America; will the pilots unions allow US DoT to issue an exemption?
Lufthansa SWOT: new low cost platforms are smarter strategy than resorting to protectionism
Germanwings has preserved Lufthansa's market share, but still has too many legacy issues for a LCC
Lufthansa's planned new lower cost long-haul airline must avoid legacy issues
Moreover, Lufthansa is hoping that the growth of Eurowings in both short haul and long haul markets will put pressure on labour representatives in its mainline operations to agree to productivity improvements through new collective agreements. The fact remains, however, that Lufthansa has much work to do in lowering the group's unit cost.
Lufthansa's new commercial strategy signals willingness to change thinking
As part of a new commercial strategy, the airlines in the Lufthansa Group will charge a "distribution cost charge" (DCC) of EUR16 for tickets issued via a GDS from 1-Sep-2015, in order to pass on the additional costs of The development of direct sales channels provides not only a growing gap in the cost of GDS sales versus these other channels, but also a genuine alternative. Moreover, Lufthansa believes that the existing technical standards of the GDS sales systems are not able to provide the new additional services and "enhanced price options" that it is introducing as part of its new commercial strategy. The group is developing a new booking channel using the new IATA data standard NDC (New Distribution Capability) and a pilot project is already in a test phase at SWISS.
Lufthansa's new GDS strategy is a bold move and it risks some loss of market share if GDS sales volumes fall, but the company hopes that the EUR16 DCC will offset this in revenue terms.
Looking beyond this, Lufthansa expects that revenue will be enhanced by its adoption of an unbundled approach to the sale of its product and services, with a consistent group-wide branding of fare categories, such as Light, Classic and Flex.
A lower cost base should remain the number one priority for Lufthansa and, as noted above, the key to this lies with improving labour productivity. The new commercial strategy is at least evidence that it is prepared to embrace new ways to do business.