London's Heathrow and Gatwick airports commence the next phase of Davies Commission runway battle
In Dec-2013 the UK's Airports (Davies) Commission identified in an Interim Report three possible options for enhanced airport capacity in the UK; all of them in the southeast of England. Two were at London's Heathrow and one at Gatwick.
At the same time, and seemingly under some political pressure, the Commission agreed to allot extra time to a more detailed analysis of several proposals for a new airport on the banks of, or in, the River Thames Estuary.
After a period of reflection on everyone's part the gloves are back on as the main protagonists square up once again with a series of revised proposals. But in the end, politics, not logic is likely to be the deciding factor.
The Davies Commission Final report is due May-2015: "the biggest transport sector decision to be taken in many decades"
The Davies Commission's final report is due by May-2015, at or around the time of the next (fixed date) scheduled UK General Election, the result of which is in doubt, with an (apparently) improving economy chipping away at the small lead held by Labour over the Conservatives, while it looks increasingly likely that the fast-growing United Kingdom Independence Party (UKIP), which is set to dominate the European Parliament elections on 22-May-2014, will become the new 'power broker.'
All-party consensus has consistently been sought after for what is jointly the biggest transport sector decision to be taken in many decades. But as with the other big decision – on the continuance of the HS2 high speed rail project – consensus cannot be guaranteed. And if UKIP does end up holding the balance of power rather than the Liberal Democrats there is no knowing what might happen. While that party is fixated on a 'Brexit' of the UK from Europe and on immigration issues, its fledgling and vague transport policy apparently favoured Kent's Manston Airport as the venue for additional runway capacity.
The trouble is Manston Airport closed down for good on 15-May-2014, probably to become housing or commercial developments. If that does not illustrate the shambles that UK policymaking has become where airports are concerned then nothing does.
However, the two main protagonists carry on with their revised plans regardless, as they must.
In Dec-2015 the Commission concluded that there is a need for one net additional runway to be in operation in the southeast (of England) by 2030. Its analysis also indicated that there is likely to be a demand case for a second additional runway to be operational by 2050.
The Interim Report also said that it would be taking forward for "further detailed study" proposals for new runways at two locations:
Gatwick Airport Ltd's proposal for a new runway to the south of the existing runway;
Heathrow Airport (two options)

Heathrow Airport Ltd's proposal for one new 3500m runway to the northwest;
An independent company - Heathrow Hub's - proposal to extend the existing northern runway to at least 6000m, enabling the extended runway to operate as two independent runways.
(Separately, almost as an embarrassed aside, as and mentioned earlier, it said it would also look again at the Thames Estuary proposal).
There will be no new candidates
All the other submissions, which included some impressive (and some less impressive) proposals from the likes of Manchester Airports Group [MAG] (principally concerned with Stansted Airport); Birmingham Airport; representatives on behalf of Luton Airport and of Northolt Airport; and consultants proposing new airports to the west of London, were effectively rejected finally, to the accompaniment of some soothing words about how well they had done so far and how much they are appreciated.
Gatwick Airport was the first out of the blocks with its promotion of an improved proposal following the publication of the Interim Report, but as Heathrow is generally regarded as the front runner in this race its latest submission is considered here first.
'The UK's only hub airport' continues its campaign with that mantra and with a renewed focus on national benefits
Heathrow Airport Holding's (HAH) slogan, indeed its mantra, throughout the entire proceedings has been ("we are...) The UK's only hub airport" and it continues to hitch its revised plans to that philosophy, regardless of the fact that Gatwick diminishes the future role of hubs in the UK in its own proposalsand, more importantly, that the Commission itself did not appear to be entirely convinced by the hub argument in its summing-up of the Interim Report. I
t was noticeable that towards the end of the original submission campaign Heathrow began to divert away from its previous obsession with how important it is for London in favour of a preference for what it can offer 'the regions' in terms of increased connectivity with an additional runway that will in theory bring economic benefits to those regions; almost like a somewhat patronising father figure or favourite uncle. HAH supports this position with a public website 'Britain's Heathrow.' The message is clear.
HAH revealed at the beginning of May-2014 that it would step up its campaign for expansion by telling the Airports Commission that it is the only option that can connect every part of the UK to the world's long-haul growth markets on air routes "that are critical for economic growth and are not viable from other airports", thus giving it a unique advantage over other options for airport expansion.
In its new submission to the Commission it would set out how new rail and air links will deliver benefits to passengers and businesses across the whole country, not just to London and the South East.
For example, new rail connections will mean that more than 70% of the UK's population will be within three hours of Heathrow by public transport. A new fast connection to HS2 at Old Oak Common means journey times between Heathrow and Birmingham will be cut by 1 hour 38 minutes, journey times to Leeds will reduce by 2 hours 08 minutes, and journey times from Manchester will reduce by 1 hour 53 minutes.
New direct access to the Great Western Line will cut journey times from Cardiff by 37 minutes. Passengers will no longer face the inconvenience of having to travel to Heathrow via central London or negotiating the London Underground network with luggage.
Regional airports covet reverse direction HS2 passenger flows
While this is undoubtedly true, it presupposes that HS2 does progress to fruition and on time, although some progress has been made so far this year, with many objections being ruled invalid in the courts. But even then, HS2 will only be up and running in 2026 at the earliest in its first stage (to Birmingham). Moreover, while there is little interest in Cardiff or nearby Bristol in eschewing fast rail connections to Heathrow in favour of their own airports – Heathrow is regarded as a very important gateway there – that is certainly not the case in Birmingham and Manchester, where there will be HS2 airport stations that won't require any rail 'connection' as will be the case with Heathrow.
Indeed those airports covet 'reverse direction' passenger traffic from London using those rail lines. It does not automatically follow that the direction of flow will be one way.
Preliminary High Speed 2, High Speed 1 and Channel Tunnel Rail links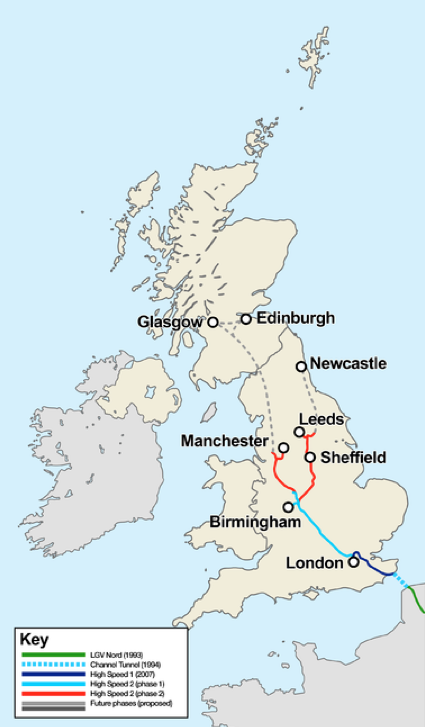 In more detail, HAH claims:
Every nation and region of Britain to be connected to global markets:
More than 100,000 new jobs created. This includes 50,000 new jobs in the local Heathrow area, plus a further 20,000+ across London and another 50,000+ across the UK;
At least GBP100 billion of UK economic benefits, better than any other airport expansion option;
40 new direct, daily routes to fast growing economies (presumably meaning cities or city-regions) such as San José (in California's Silicon Valley), Wuhan and Kolkata;
Doubling cargo capacity to improve UK export competitiveness. 65% of the UK's GBP400 billion freight exports already travel via Heathrow;
New rail access to Wales and the West of England through the Western mainline, the South and South West through Southern Rail Access, and the North through HS2. Total rail capacity will treble from 5000 to 15,000 seats per hour;
A Taskforce for Regional Connectivity will be established to develop proposals for how regional air links to Heathrow can be improved. Additional capacity will provide space for flights to cities such as Inverness, Liverpool and Newquay;
Investment in airport infrastructure will create jobs across the UK while a new runway is being built.
A belt and braces approach to Heathrow connections
There are some grand claims being made here that require clarification. Perhaps most importantly is the suggestion of a belt and braces approach to UK domestic connections. It is most certainly the case that UK domestic air routes to and from Heathrow and the connectivity they provide have shrunk alarmingly, down to just six cities from 15 at the peak.
While any improvement is welcome it is not clear why HAH feels the need to encourage travel to and from Heathrow and the regions by both air and the new rail links. Rail, whether it is 'high speed' or not, is preferred by government and it has secured public support. Domestic air travel is considered as hip amongst the chattering classes as smoking cigarettes in front of children or listening to prog rock music. One of the potential new routes mentioned, Liverpool, has no recent track record of success under the operation of any airline and irrespective of connectivity potential. It is not merely the case that by offering the possibility of a route that any operator will actually be prepared to fly it.
HAH talks about a regional connectivity task force to encourage the development of such routes but the general consensus is that any third runway would be full from the moment it opened with big aircraft of foreign airlines that are all too keen to pay top dollar to gain access in order to service the London market. Under that scenario what validity can be given to any current philanthropic gesture towards small UK regional aircraft flying very thin domestic routes? And if HAH did choose to protect slots in favour of those thin UK routes by denying access to foreign carriers from 'emerging markets' what message would that send out?
In this respect it may be worth recalling that the essence of the proposal made to the Commission to use the nearby Northolt Airport as a 'domestic runway' for Heathrow might have had more gravitas than it originally appeared to have. It would not be possible to substitute a Boeing 777 or A380 for a Dash-8 or Embraer 170 on that small runway.
The HAH claims have been opposed by some politicians and business leaders in the regions in the sense that they appear to suggest that there is no other way of accessing some of these emerging market cities other than via Heathrow and then only if a third runway is built.
In fact cities such as San Jose, Wuhan and Kolkata are accessible right now from airports such as Birmingham and Manchester with just one change – and often with consumer choice of airline - just as they would be via Heathrow. And as additional long haul flights are added at airports such as Edinburgh they will be increasingly accessible elsewhere without the need to transit Heathrow.
The strength of feeling on this issue may be judged from a letter sent to the Prime Minister in April 2014 by a collective of Chamber of Commerce and business leaders in the industrial West Midlands region of England in which they challenged "the cosy monopoly of Heathrow and the aviation industry, who claim it is only possible to meet the UK's needs for aviation by forcing business people to fly via Heathrow".
Regarding cargo and HAH's proposal to double cargo capacity, HAH has on its side the strong preference amongst airlines to take belly hold freight rather than deploy freighters but the 65% of freight exports that go through Heathrow includes a very large proportion that is trucked there from all corners of the UK (and abroad), thereby bypassing other airports on route. While the model may be economically sound it may not continue to be so politically for much longer. If one criticism can be made of the Airports Commission it is perhaps that its investigation of the optimum location for air cargo operations in the UK was not thoroughly concluded.
Heathrow beefs up its environmental message
HAH may have been more concerned than ever with UK connectivity but it is of course also mindful of the need to placate local residents and their fear of greater noise and pollution. In this respect, it has also continued to beef up its environmental message, a trend that was equally discernible towards the end of the submissions that preceded the Commission's Interim Report.
HAH said it had "listened to local views and developed a significantly different expansion proposition to 2007 and an improvement on our initial proposal in July 2013":
By 2030, at least a 30% reduction in the number of people in Heathrow's noise footprint to deliver the lowest noise levels since the 1970s;
Located farther south, an updated runway proposal affects 200 fewer homes, preserves historical buildings in Harmondsworth and maintains the existing M25/M4 junction;
New section of M25 to be tunnelled and upgraded alongside the existing section, increasing capacity and reducing congestion without disrupting road users;
12,000 fewer people will be affected by significant noise by moving the proposed runway farther south;
A total compensation fund of over GBP550 million allocated for noise insulation and property compensation. This is more generous than previously proposed for a third runway and proposals for most other infrastructure projects;
Improvements in schools, publicly accessible green space and flood protection for local communities.
The new Heathrow third runway proposal (left centre).
It is the readjustment of the location of the runway farther south than in the original plans that has generated most comment. In seeking to save the "historical buildings in Harmondsworth" (which just happens to be the location of British Airways' headquarters) a 14 lane section of the M25 London circular motorway would be tunnelled under for airport and local traffic, which would cost an extra GBP1.2 billion (which the government would be required to pay) to a total of GBP16.8 billion but HAH claims it could be delivered by 2025. The move south also places the runway closer to the A4 Bath Road, the location of numerous corporate headquarter buildings, distribution companies and freight forwarders.
HAH claims the latest proposal would offer "the fastest, most cost effective and most practical route to delivering new hub capacity".
Early reaction was mixed, with the Campaign for Better Transport wanting to know more about surface access plans to judge whether they can genuinely relieve congestion or improve air quality, the Confederation of British Industry stating the scheme is a "credible option" and the pressure group HACAN (Heathrow Association for the Control of Aircraft Noise) opining that "It is an Alice-in-Wonderland fantasy to argue that over a quarter of a million planes extra a year will not bring greater noise problems for most residents under the flight paths".
Heathrow Hub also puts forward a revised proposal
While presenting these proposals HAH rejected the alternative put forward by Heathrow Hub, to extend the existing northern runway for dual landing and take-off operations.
Heathrow Hub is led by an ex British Airways Concorde pilot. But Heathrow Hub, having come this far, is not easily fazed and has put forward its own second, detailed submission to the UK Airports Commission.
The original Heathrow hub proposal for the extension of both LHR runways.
The Heathrow Hub concept envisages extending the existing northern runway to create two separate sections; one for taking off and one for landing. In addition, the scheme proposes a substantial new passenger facility to the north of the airport, which would connect Heathrow to Crossrail (a 73-mile long rail line from Reading in Berkshire to Shenfield in Essex passing underneath central London that is under construction) and the Great Western Line (to Bristol and southwest England) as well as providing a second access point for road travellers arriving from outside London.
A dedicated APM (automated people mover) would move customers to the airport terminals in around five minutes. Heathrow Hub believes it is the least costly proposal.
Gatwick remains convinced it offers "the most obvious solution"
Like Heathrow, Gatwick Airport has been working hard to enhance its proposals following the initial short listing and said it would submit to the Airports Commission on 14-May-2014 a 3200 page, evidence-based report that "shows clearly why expansion at Gatwick is the obvious solution to meeting the UK's connectivity needs for the next generation".
In essence Gatwick's USP is lower cost, quicker delivery and less disturbance to residents. In its report, Gatwick argues that its expansion plans would cost GBP7.8 billion, are therefore cheaper and more beneficial than Heathrow's (with charges to airlines at only one third of the Heathrow level), could be delivered five years earlier than a third Heathrow runway (though not before 2019 owing to existing agreements) and that less people (14,000) will be affected because so much of the landing approach and take-off tracks are over fields rather than highly populated suburbs (240,000 at Heathrow). That does not make the fewer residents any less aware of noise issues of course.
Neither would there be any need to tunnel around motorways.
The economic benefit to the UK is claimed to be GBP40 billion more than would be offered by a third Heathrow runway. This claim probably merits closer examination. While there is certainly some connecting traffic from and to British regional airports most of the connectivity now is of the 'self-connect' variety compared to alliance-generated hub opportunities at Heathrow and Gatwick is on the wrong (southern) side of the aforementioned and congested M25 motorway for road transport from much of Britain. Furthermore, long distance rail connections are neither frequent nor fast. Getting to Gatwick from the bulk of the country by rail often means changing stations in central London, a time consuming task with baggage.
The economic argument seems to be founded on the suggestion that the increased competition from a two-runway Gatwick versus a two-runway Heathrow will encourage greater competition between airlines and airports, spur innovation, drive greater cost efficiencies and result in lower fares for passengers.
Gatwick presses the point that the extra capacity can be delivered without cost to the taxpayer "which is not the case at Heathrow".
The alternative, it says, is "returning to a market with one dominant player where passengers will end up paying more for less choice and less convenience".
Interestingly, Gatwick also comments that in the fast-changing aviation business, it is important that any decision about where future runway capacity should go is one which best enables the UK aviation sector to adapt to market trends of the future rather than the patterns of the past. It identifies these key future trends as:
Continued market share gains by Low Cost Carriers;
The spread of new technology hub-busting aircraft such as the B787 and A350, and the rapid rise of new hubs in the Middle East and Far East.
Gatwick argues that traditional transfer methods are only part of the future
It is, Gatwick says, most likely that such trends will continue to reduce the relative importance of traditional transfer traffic through London, and will confirm that seeking to install a single dominant hub is not the best solution for the UK's future needs. Because of the experience gained from its existing traffic mix "only Gatwick can cater for all airline models – full service, low-cost and charter – with affordable charges and facilities that enable fast and efficient aircraft turnaround times.
The best choice is to build at Gatwick and develop a future proof solution that can support growth of all airline models. The alternative is to build at Heathrow which excludes the low-cost business model which has transformed the market over the past decade and continues to be the main driver of innovation".
Gatwick has already slightly altered its original proposal for the location of the runway from the original.
Gatwick Airport's image of how a second runway to the south of the existing infrastructure might look.
So what the argument boils down to now, at this stage, is this. Heathrow Airport continues to see itself as the national hub airport delivering economic benefits not only to London but to the entire country if a third runway is built there.
It presents it almost as a statement of patriotic duty to support the proposal. At the same time it will make every effort to minimise the negative effects of aviation on local populations even if this means incurring additional costs that the national, as well as local, taxpayer will bear.
Gatwick Airport continues to distance itself from being an alternative hub airport from Heathrow. It hitches itself instead to the perception that LCC market share gains will continue to be made and that what new hub activity will present itself will be in the Middle East and Asia Pacific rather than in Europe. In other words British airports will be more spokes than hubs in the future.
Dangerous to assume untrammelled LCC growth?
There is a danger here for Gatwick. While it is early days yet there is some evidence that LCC activity as measured by seat capacity has peaked in Europe in 1Q2014, according to statistics from OAG. It may be no more than a blip or it may signal the start of an unenvisaged trend. Ryanair has withdrawn more routes across its network than it has started for summer 2014.
LCC Capacity Share (%) of Total Seats: 2001 - 2014* - within European Union
LCC Capacity Share (%) of Total Seats: 2001 - 2014* - Worldwide
And what is an LCC these days anyway? EasyJet says that 20% of its passengers are travelling on business as it gravitates increasingly towards the status of full service carrier. Assuming there is no turning back for easyJet, Gatwick will need to present the facilities to cater for this paradigm shift in the business model.
The problem facing the Davies Commission is that if it accepts Gatwick's second proposition, about hub-busting aircraft and strategic hubbing via airports outside Europe, then it must also accept that much the same proposition was made by other airports, such as Stansted, Manchester and Birmingham, all of which have capacity already in situ to handle considerably more traffic than they do at the moment without spending a penny on additional infrastructure, never mind GBP7.8 billion or GBP16.8 billion. These three airports are no longer in the game but that does not mean they have thrown in the towel.
Don't discount the Estuary airport yet
What are the prospects for a Thames Estuary airport at this late stage? In theory this is another ex-participant except that the Commission granted extra time to revisit what it said with the potential for it to be short listed late in the day. The Mayor of London, who is known to have designs on the position of Prime Minister, remains a formidable figure despite the negative aspects of the proposals outweighing the positive ones by a ratio of about 10 to 1. No one should be fooled by the relative silence of his office.
Perhaps the most telling activity to have emanated from it in recent works is the GBP90,000 consulting fee reportedly offered to architectural consultants to outline plans to build housing on the Heathrow airport estate. Even if that is merely a ploy it suggests the Estuary airport backers believe they are still 'in it to win it'.
HAH Empire continues to shrink; GIP's could grow (a little)
While this is going on, the Heathrow Airport Holdings Empire continues to shrink. Having lost Gatwick and Edinburgh airports to GIP and Stansted to MAG, next in line are the two remaining Scottish airports, Glasgow and Aberdeen, and Southampton on the English south coast.
At the end of 2013 HAH held talks with advisers with a view to seeking buyers for the Aberdeen, Glasgow and Southampton airports. Subsequently it emerged that Ferrovial, now just a 25% shareholder in HAH as it pursues its divestment strategy (and readies itself for whatever happens with AENA), was considering an agreement to buy out the other shareholders in the three regional airports; shortly thereafter it informed the HAH board accordingly, indicating a sum in the region of GBP800 million.
Such an arrangement would suit Ferrovial's partners in the HAH consortium - Britannia Airport Partners, Singapore's GIC, Qatar Holding, China Investment Corporation, Universities Superannuation Scheme and Alinda Capital Partners, who are looking to focus on Heathrow and seemingly happy to divest the holding's other airports. A GBP800 million price tag for the deal implies a multiple of 13 times the three airports' estimated 2013 earnings before interest, taxes, depreciation and amortisation (EBITDA).
But there were, and are, other prospective buyers. Global Infrastructure Partners is believed to have expressed an interest in acquiring Aberdeen Airport, which probably holds out the best traffic and revenue performance prospects of the three airports. Presumably the thinking at GIP is that if it took control of two of the three main Scottish airports (it would surely not have been allowed to operate Glasgow as well as Edinburgh) it would be in a better position to influence the routing of passengers from Scotland via Gatwick to the wider world rather than via Heathrow.
Then, in Feb-2014 it was revealed that Flughafen Zurich was a partner in a consortium to bid for Glasgow Airport in conjunction with Swiss private equity firm Partners Group and the Strathclyde Pension Fund, acting on behalf of the city of Glasgow. The bid price of the Partners Group consortium was expected to be in the 15 times earnings before interest, taxation, depreciation and amortisation range. Based on Glasgow 2012 figures, that would value Glasgow at GBP480 million. In May, Flughafen Zurich and Partners Group (no mention of the pension fund) were reported to have made a rejected bid to acquire Aberdeen Airport. A follow-up offer including bids for Glasgow and Southampton airports is expected in the coming months.
So in summary, while the ability of airport groups to influence airline routes between the airports they own and operate may be limited, HAH is most definitely contracting where UK provincial airports is concerned while GIP may expand further but within limited parameters.
Excluded airports are given some crumbs, at least in the short term
Outside the battle between the two heavyweight protagonists are there any remaining crumbs of comfort for those many airports in the southeast of England and further afield that made submissions to the Commission? Earlier it was mentioned that those submissions had effectively been placed in the trash can. But continued lobbying by some of the airports and their representatives may have inspired a change of heart at the Commission.
Although no formal announcement had been made at the time of writing it appears that the Commission will put out a discussion paper early in Jun-2014 calling for reports being prepared within a six-week timeframe to try to establish what contribution to UK capacity and connectivity can be made by the airports that failed to make the cut.
In brief, the discussion paper will deal with the following:
It concerns 'connectivity' of airports outside the southeast and is based on there being no new capacity in the period 2010-2020 minimum in that region;
So how will traffic reallocate itself? Barriers and blockages;
Take a closer look at regional airports and their benefits;
Connectivity provision historically and in future e.g. links into London;
The smaller regional airports that are struggling - how is traffic being absorbed into other, bigger regional airports?;
What options are open to policy makers?;
Start-up funding; surface access; enterprise zones around airports; APD bands - how will recent changes affect business?
It would appear that the significant part of this exercise will be to establish how these marginalised airports can help the provision of connectivity now, in the interim period until additional capacity is added at Heathrow, Gatwick or in the River Thames. The Commission did receive some criticism for failing to deal adequately with what happens now and in the next few years.
The Commission also appears to want to attempt to discover what will become of the UK's smaller regional airports, which already operate in a very harsh climate, with low cost carriers moving 'upmarket', increasingly targeting primary or larger airports; full service carriers tending to limit capacity growth to their long-haul network out of their hub airports; while regional airlines are focused on survival. Will their traffic be hoovered up by an additional runway or will it already have gone to larger regional airports in the interim?
The Commission would not wish to be accused of doing anything that contributes further to these small airports' demise but it will be aware that an airport that only a few months ago was putting forward a case to it to provide additional national capacity and connectivity (Manston) is no longer a functioning airport.
But that is as far as it goes for those airports. In the long run the battle remains between Heathrow and Gatwick, with an internal battle over Heathrow and with the pesky Estuary airport continuing to take a bite out of its competitors whenever it gets an opportunity.
The Commission will fight even to make its voice heard in the political scrum after the next election
As for the politics of it all, the Transport Secretary Patrick McLoughlin said on 16-May-2015 that political parties are unlikely to outline their position on airport expansion ahead of the findings of the Airports Commission, which is still due to report after the May-2015 General Election. Mr McLoughlin said: "I don't think you can expect people to say they will definitely do something in a report they have not seen. But all the parties as far as I can see are saying that it's a very serious piece of work and it will be influential when they decide."
On the processes caused by the establishment of the Airports Commission, Mr McLoughlin said, "It has made the airports think about what the future should be... Heathrow's proposals are very different to what they were a few years ago, and there have been changes at Gatwick and with the Estuary proposal."
So, that changes have been made by the main proposers is acknowledged by the Department for Transport and that is surely a good thing, embracing more comprehensively as it does the concerns of local residents.
But the fact that the Commission's findings will not be considered at all until after the election does eaise the question of whether it will just continue to be passed down the line with no end result in sight - because what will surely occupy minds immediately before the election will be the Scottish Independence vote in Sep-2014 and the preparations for independence to go ahead that would follow a 'yes' vote, followed by preparations for a straight in/out vote (i.e. stay in or quit) on the European Union which has been "promised" by the Conservative Party for 2017 if it stays in power in May 2015.
It is difficult to see how decisions on airport infrastructure can be made against that background of political uncertainty. Yet again, decisions that should have been made decades ago are set to be put on the back burner.