LCCs to hold one-fifth domestic market share in Japan by Oct-2012 and possibly 50% by end of decade
Analysis
The previously unfathomable scenario of a strong role for low-cost carriers in Japan is quickly becoming reality following government liberalisation. LCCs in Oct-2012 will account for the largest percentage yet of available seats in Japan's domestic market with a 19% share, or nearly one-fifth. Based on current capacity forecasts, CAPA expects that LCCs could account for half of all domestic seats in Japan by the end of the decade. This represents rapid growth in a market that had single digit LCC penetration rates for the last decade.
These seismic changes will not be absorbed without significant ramifications to the incumbents. All Nippon Airways (ANA) and Japan Airlines (JAL) are planning to reduce their domestic capacity, but only by a fraction. Skymark, the largest LCC in Japan, may position itself upwards as a hybrid carrier to combat its higher operating cost and also to better feed its forthcoming long-haul flights. Some of the remaining incumbents, largely high-cost but low-fare carriers, may pursue alignment or consolidation with others.
The 19% share is still below the worldwide LCC penetration average of about 25% and a third of the 58% share LCCs have in the domestic Malaysian market. It is also less than the 31% share LCCs have in the domestic UK market and than the 67% share LCCs have within India.
Skymark accounts for near majority of Japan's LCC market
Tokyo Haneda-based Skymark is Japan's third-largest carrier and the largest LCC in the domestic market by far with a 9% share expected in Oct-2012, representing nearly half of the 19% share LCCs will have in that month. The next largest LCCs are Air Do with a 3.2% share, Solaseed (formerly Skynet Asia) with a 2.4% share and Starflyer with a 1.6% share.
The three new LCCs starting this year will account for about 3% of total domestic capacity, with Jetstar Japan holding 1.3%, Peach 1% and AirAsia Japan 0.6%. Jetstar Japan is starting with a stronger and larger launch than AirAsia Japan and will also focus on domestic routes for the calendar year while AirAsia Japan in Oct-2012 has said it will enter the Korean market.
Projected Japan domestic market share (% of seats): 21-Oct-2012 to 27-Oct-2012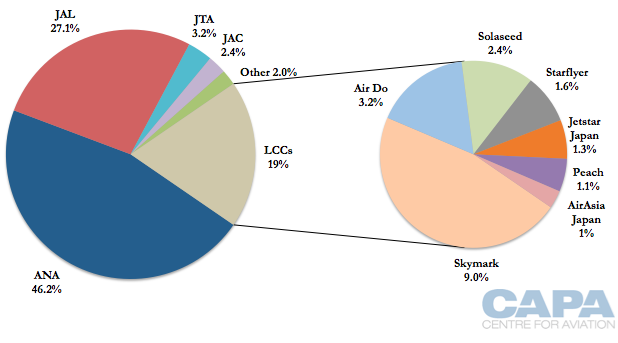 See related articles:
The three new LCCs will be felt disproportionately on trunk routes. From Tokyo, including Haneda and Narita (the base for AirAsia Japan and Jetstar Japan) total LCC capacity on trunk routes is in line with the market average. LCCs will account for 15% of total capacity in the Tokyo-Osaka market (Itami and Kansai), 16% on Tokyo-Sapporo and 20% on Tokyo-Fukuoka. AirAsia Japan and Jetstar Japan will hold about 6% of available capacity on Tokyo-Sapporo and 6% on Tokyo-Fukuoka. Jetstar Japan will account for almost 3% of capacity on Tokyo-Osaka (neither AirAsia Japan nor Peach will serve the market).
Capacity by carrier on routes from Tokyo (all airports) to Fukuoka, Osaka and Sapporo (seats): 21-Oct-2012 to 27-Oct-2012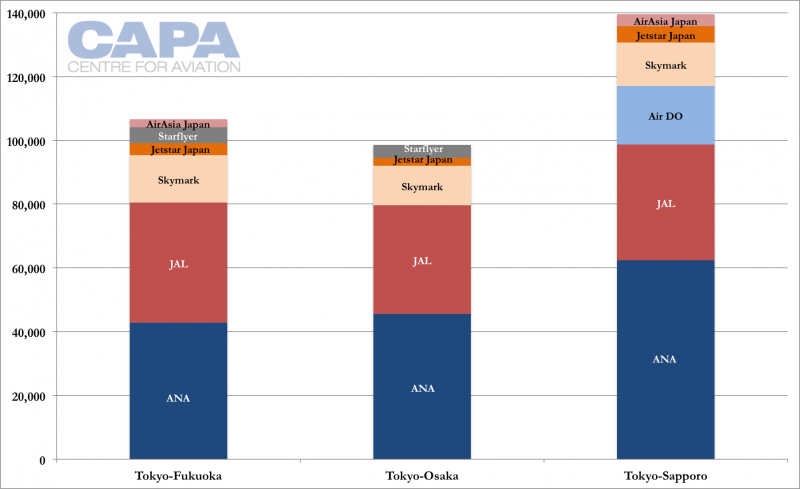 The presence of LCCs, particularly the new ones, will be felt even stronger from Osaka. Japan has remained Tokyo-centric, leaving large swathes of the country ripe for direct services.
Peach is based at Osaka Kansai, where Jetstar Japan will operate a hub to supplement its Narita base. On the two Osaka routes where Peach and Jetstar Japan will overlap, the two of them will collectively represent a double digit share of available capacity: 19% on Osaka-Sapporo and 32% on Osaka-Fukuoka, the large size partially due to minimal capacity on the route from Japan Airlines.
Capacity by carrier on routes from Osaka (all airports) to Fukuoka and Sapporo (seats): 21-Oct-2012 to 27-Oct-2012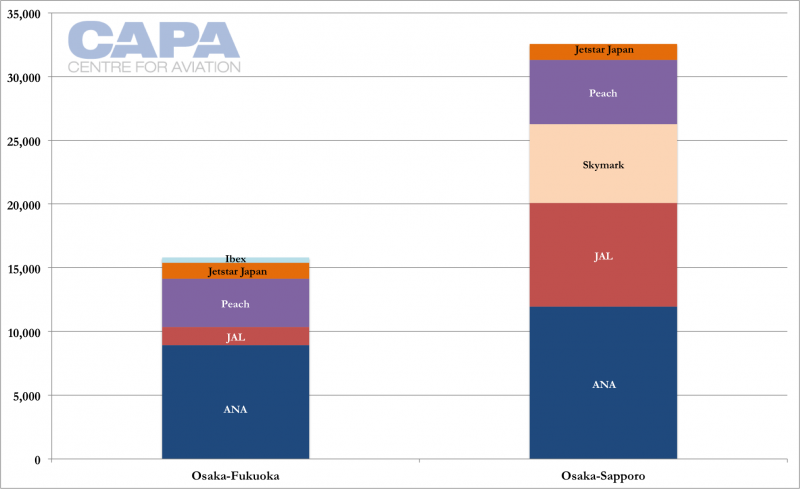 LCCs will have larger share of actual market, and reach 50% by end of decade
While LCCs will account for 19% of available capacity in Oct-2012, their share of the actual market – flown passengers – is expected to be higher and even cross the 20% threshold because they are expected to operate at a higher load factor than their legacy counterparts. Peach reported a 83% load factor for Mar-2012, its first month of operation. All Nippon Airways that month reported a 64% domestic load factor.
The LCCs' greater efficiency should see them capture 50% of the market by the end of the decade based on current growth projections. Jetstar Japan and Skymark will likely duel for the claim of largest LCC in Japan, with swaying factors including if Jetstar Japan achieves its plausible objective of having 100 aircraft by the end of the decade as well as how much capacity from Skymark's forthcoming A330s is placed into the domestic market. AirAsia Japan could be about half the size of Jetstar Japan or Skymark while Peach would be in a distant fourth place. AirAsia Japan and Peach, both affiliated with ANA, would have a combined presence slightly smaller than Jetstar Japan or Skymark.
The international LCC market will be slower to grow due to its larger size and the fact Japan's LCCs are likely to concentrate a far majority of their capacity on domestic routes. International LCC capacity in Oct-2012 will be nearly double 2011's average figure of 2.6%, with growth supported by an expanding Japan-Korea market, AirAsia X's service to Osaka Kansai that commenced in Nov-2011 and service to Tokyo from Scoot that is expected to commence in Oct-2012.
Based on current growth and related statements, Japanese and foreign LCCs could capture about 25% of Japan's international market by the end of the decade. In comparison, LCCs represent about 15% of India's international capacity, 46% in Malaysia and 37% in the UK.
LCC share (% of seats) of Japan's domestic and international market: 2001 to Oct-2012F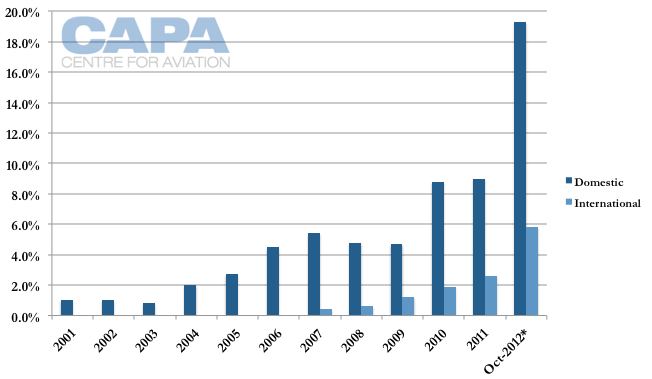 Forthcoming changes will re-shape Japan's market; Skymark is largest outlier
There are a number of plausible scenarios that would re-shape Japan's market and affect LCC penetration rates. The largest at present is the future direction of Skymark. Like the rest of the incumbent LCCs, Skymark straddles a model closer to a hybrid carrier but without the legacy cost structure of ANA and JAL. While Skymark in recent years has built up its presence and brand, the entrance of the three new LCCs will place pressure on its model.
At the same time, Skymark appears to be moving upwards, having ordered widebody A380s and A330s and announced intentions to serve intercontinental markets, and in particular facilitate more affordable premium class travel by configuring its A380 in the least dense configuration yet with 394 seats. (The current holder of that claim is Korean Air, with a 407-seat configuration.) Skymark intends to have 114 business class seats on the upper deck and 280 premium economy seats on the lower deck.
Network feed across Japan and larger Asia will be critical. Skymark will likely find it needs to better align its premium long-haul service with its lighter short-haul service. One solution would be to further hybridise and use its lower cost base to offer a lower-price premium proposition than ANA or JAL. Skymark could also find itself in greater company with full-service carriers.
Since Skymark announced its intentions to acquire A380s in Nov-2010 – and eventually serve possible destinations like London, New York or Paris – the long-haul market from Japan has changed considerably as ANA and JAL either implemented or announced anti-trust immunity joint-ventures. ANA has ATI with United Airlines across the Pacific and Lufthansa to Europe while JAL has ATI with American Airlines across the Pacific and has been approved for a JV with International Airlines Group, comprising British Airways and Iberia.
JAL may also be pursuing ATI with Finnair following JAL's intention to open a Helsinki service and Finnair furthering its reach in Japan while Japan and Finland have agreed to an open skies agreement. Finnair CEO Mika Vehviläinen told CAPA earlier this year that he would welcome a JV with JAL, and JAL appears to be warming up to the idea but is waiting for the economic situation in Europe to improve. Very approximate indications show ANA, as part of its JV with United, increased its sales on United flights by 150% while United increased its sales on ANA flights by 300%.
Meanwhile Delta Air Lines is still empty-handed without a Japanese partner after it unsuccessfully courted JAL during the latter's restructure. Delta has implemented a very limited partnership with Skymark in the form of allowing Japan-based members of Delta's frequent flyer programme SkyMiles to redeem miles on Skymark flights. Delta is the only major US carrier serving Japan without a local partner and is the logical choice for Skymark to increase its scale. Delta has a larger presence in New York, one of the destinations Skymark has flagged its intent to possibly serve. It is exceedingly difficult to see Skymark have a chance of outperforming ANA or JAL without a US partner.
Across in Europe, a potential service to Paris would reach the hub of Air France. While Air France is conveniently in the SkyTeam alliance with Delta, it has a long-standing relationship with JAL. JAL has expressed desire to keep its partnership with the Air France-KLM group despite its JV with IAG. Change in this situation could be wrought by a number of carriers and scenarios. Skymark could consider full membership in SkyTeam or, alternatively, be a partner under a new hybrid membership option SkyTeam is evaluating, particularly for the Brazilian and Indian markets. The ultimate end result for Skymark could be it gravitating towards a full-service rather than low-cost position, thereby reducing Japan's LCC penetration rate.
Opportunity but also need for change at Japan's smaller carriers
Smaller LCCs in Japan, namely Air Do, Solaseed and Starflyer, have established bases outside of Osaka and Tokyo, where the three new LCCs will be most concentrated initially. Competition in smaller cities and even regional centres is lighter and in some instances somewhat uncompetitive, allowing the smaller carriers to continue, in the short-term, as they are. Their challenge is primarily that their routes operate to Tokyo, meaning that once AirAsia Japan, Jetstar Japan or Peach turn their attention to a market, competition will be fast and unforgiving.
Solaseed is working to improve efficiency, replacing 737 classics with 737-800s, targetting a fleet of 10 737-800s by Jun-2014. It currently has four 737-800s and seven 737-400s. Greater efficiency will be welcomed, with Solaseed posting an operating profit of JPY655 million (USD8.3 million), representing a 2.2% margin.
Air Do still largely operates 737 classics and 767s while Starflyer's A320s have 144 seats (the three new LCCs are all operating 180-seat A320s) and further disadvantaged by bulky in-flight entertainment at every seat as well as a higher cost structure. Starflyer has positioned itself as a sophisticated medium-cost carrier and intends to increase its fleet from nine at the end of 2012 to 12 in 2015. Starflyer in Jul-2012 will begin international expansion with a Kitakyushu-Busan service. International expansion will be steady; Starflyer intends to operate 11 roundtrip international services in 2015. Peach in Oct-2012 will already operate five international roundtrips.
Starflyer four largest airports served by capacity (seats): 02-Jul-2012 to 08-Jul-2012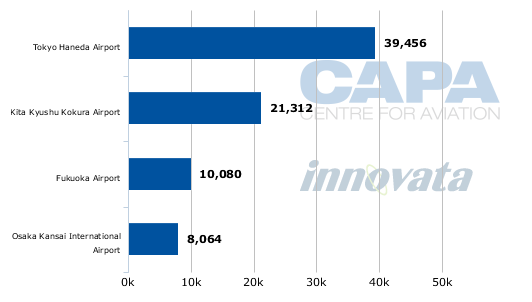 Starflyer's survival so far has largely been due to a close partnership with ANA under which ANA sells extensive Starflyer flights and lends its IT platform to Starflyer, indicating Starflyer's position has not been a swaying factor to the market. Price loyalty has been driving results, but that loyalty stands to be eroded once LCC entrants enter.
ANA also has large codeshares with Air Do and Solaseed, and has handed some services to Air Do. The relationship between ANA's affiliated LCCs (AirAsia Japan and Peach) and the likes of Air Do, Solaseed and Starflyer is not clear, such as if ANA would support its LCCs entering Starflyer markets. Likely only AirAsia Japan would be affected as Starflyer's routes are primarily to and from Tokyo.
Solaseed has stayed off the major trunk routes to operate to Miyazaki, Kagoshima and Kumamto, although these airports mainly see service from Tokyo where AirAsia Japan or Jetstar Japan could enter in due course, setting off another competition based on price.
Solaseed seven largest airports served by capacity (seats): 02-Jul-2012 to 08-Jul-2012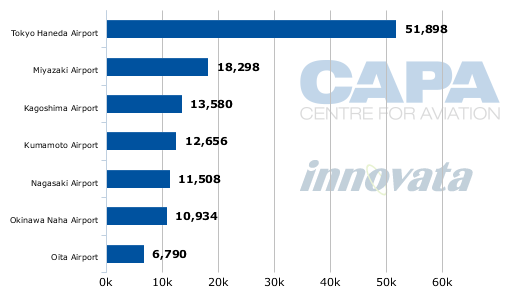 Air Do is more diversified, lowering its exposure to Tokyo centricity by having a hub in Sapporo serving smaller and regional cities. But Sapporo is ripe to be a future base for the new LCC entrants, and the airport is already planning to build a low-cost facility. Air Do does start from a healthy position, its FY2012 revenue increasing ahead of costs to achieve a respectable 8.2% margin and an operating profit of JPY3541 million (USD44.9 million).
Air Do 10 largest airports served by capacity (seats): 02-Jul-2012 to 08-Jul-2012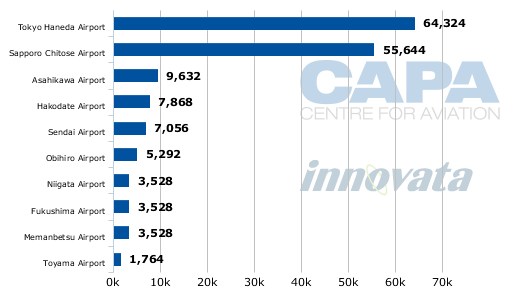 The incumbent LCCs have their regions of focus, and while combining their presence could offer scale and a larger brand to challenge brand-heavy AirAsia and Jetstar, it is difficult to see a merger amongst the smaller carriers given their different positioning and management.
A clear advantage Air Do, Solaseed and Starflyer offer is access to Tokyo Haneda, where they have prized slots. AirAsia Japan and Jetstar Japan are concentrating initial operations at Narita, a significant distance out of Tokyo compared to Haneda's easy downtown access. Although it is still early in the new LCC revolution in Japan, Peach has so far shown that attracting Osaka passengers to further out Kansai compared to closer Itami is possible. In the medium-term, any Haneda advantage could evaporate as the airport doubles daytime slots by around FY2014.
Rapid change in Japan will be ongoing
Japan's LCCs are poised for success, but how and to what level they achieve that in the long-term remains to be seen. Incumbent LCCs face and will continue to confront challenges that will affect the overall reach of LCCs in Japan. LCC share could be smaller than presently forecast if carriers move upmarket; history shows taking costs out to fully compete against LCCs is impossible. And of course the largest challenges are to those most exposed: Japan's duopoly, ANA and JAL, which may be partnering in the new wave of LCCs, but also will need to grapple with what they are introducing.
See related articles:
Japan, a market once seen as not being dynamic, may prove that it is host to some of the largest constant change.
This is the second in a series of analysis reports on the rapidly expanding LCC market in North Asia ahead of CAPA's Low-Cost Carriers in North Asia conference to be held in Macau in September. For more information see: LCCs in North Asia – CAPA Knowledge Event. To see the first report in this series: