Las Vegas McCarran continues to chart solid growth despite the consolidated US market place
Analysis
Las Vegas McCarran International Airport reached a milestone in 2015, surpassing passenger throughput levels achieved in 2008 prior to the Global Financial Crisis. The airport's passenger levels were lifted by a mix of new domestic and international services, including new services with Copenhagen and Stockholm introduced by Norwegian, which also became the first airline to operate the Boeing 787 to the airport.

Norwegian plans further growth in Las Vegas in 2016 with the introduction of flights to Oslo. Lufthansa low cost subsidiary Eurowings also plans to add new flights between Cologne and Las Vegas. The airport appears to fit the profile for service by long haul low cost airlines, and the services launched by Norwegian and Eurowings allow Las Vegas to position itself positively, with other airlines adopting that business model.

Growth by US low cost and ultra-low cost airlines during the last couple of years will also continue to lift passenger numbers at McCarran. During the first two months of 2016 the airport's passenger numbers expanded by 8%.
Low cost and ultra-low fare airlines help to drive solid growth in 2015
Passenger throughput at Las Vegas McCarran reached 45 million in 2015, an increase of approximately 6%. Perhaps more importantly, 2015 passenger levels surpassed those recorded in 2008, signalling that the airport has rebounded from both the financial crisis and cuts by US Airways after its merger with America West.
The increase in passenger throughput was McCarran's largest in seven years: the airport's annual peak had been 47 million passengers in 2007.
Las Vegas McCarran International Airport annual passenger numbers: 2008 to 2015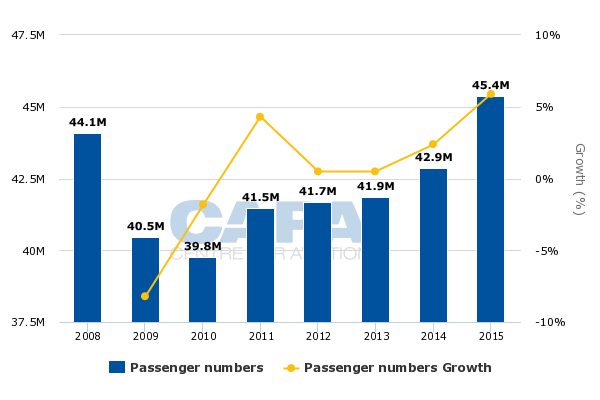 Among the US domestic airlines with the highest passenger growth rates at McCarran in 2015 were Frontier, JetBlue, Spirit and Virgin America. Frontier's passenger levels jumped 125%. During 2015 the Denver-based airline added flights from Las Vegas to Houston Intercontinental, Miami, Milwaukee, San Francisco and Austin.
Frontier is continuing to expand from Las Vegas in 2016, adding flights to Colorado Springs, Columbus and Pittsburgh. Las Vegas is now Frontier's third largest base measured by seats (28-Mar-2016 to 3-Apr-2016), behind Denver and Orlando.

US domestic airlines with highest level of passenger growth at Las Vegas in 2015, by passenger numbers
JetBlue's passenger numbers increased nearly 32% year-on-year at McCarran during 2015. The airline added flights from Las Vegas to San Francisco during the year and in late 2014 added Fort Lauderdale to its offerings from Las Vegas.
Virgin America added service from Dallas Love Field to Las Vegas in late 2015, while Spirit Airlines added new flights from Las Vegas to New Orleans and LaTrobe, Pennsylvania; Spirit is also adding flights from Seattle to Las Vegas in Apr-2016.

The airport estimates that those four airlines combined accounted for 1.6 million additional passengers travelling to Las Vegas in 2015.
Largest airline customers continue to chart growth at the airport
Spirit's nearly 19% growth was the greatest among the airlines with the largest presence at McCarran. Southwest, the airport's largest airline measured by seat deployment (28-Mar-2016 to 3-Apr-2016), increased its passenger levels 5.4% year-on-year to 18 million in 2015. It is adding new flights from Newark Liberty to Las Vegas in 2016.
Las Vegas McCarran International Airport capacity (% of seats): 28-Mar-2016 to 3-Apr-2016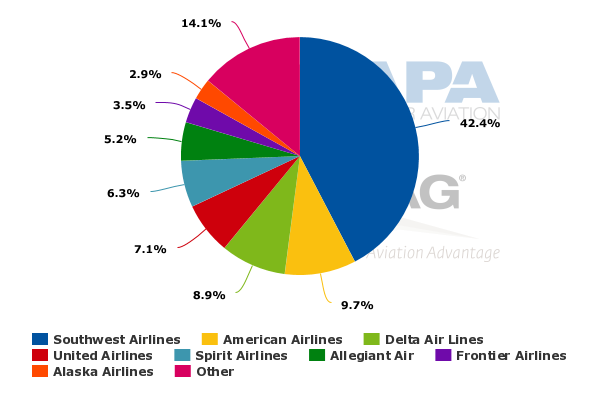 American and Delta increased their passenger counts by 2.8% and 4.4%, respectively. In late 2015 Delta added new flights operated with Embraer 175 regional jets from Las Vegas to San Jose, California.
United's passenger levels at Las Vegas fell 3.2% year-on-year in 2015. During May-2016 United is terminating service between its former Cleveland hub and Las Vegas, but the route is still served by ULCCs Frontier and Spirit, as well as Southwest.

Norwegian plans further expansion at McCarran after 2015 debut
Las Vegas secured new long haul flights from Norwegian Air Shuttle in 2015. The airline introduced flights from Copenhagen and Stockholm to McCarran, and now plans to add service to Oslo beginning in Nov-2016. Norwegian operates its flights from Copenhagen and Stockholm with 291-seat Boeing 787s, being the first airline to operate the new generation widebody jet to the airport.

CAPA has previously provided evidence that market entry of the 787 and Airbus A350 is opening new route possibilities. As a result, Las Vegas is increasingly appearing on the short lists of foreign airlines planning new destinations to the US. Copenhagen and Stockholm are not the longest trans-Atlantic routes to Las Vegas, but the 787 is well suited for the operation from those origins. Norwegian obviously carries connecting passengers to Las Vegas from its European network, but Copenhagen and Stockholm are smaller origin markets than other large European capitals.

Following Norwegian's debut to Las Vegas in 2015, Lufthansa's low cost subsidiary Eurowings will be introducing flights between Cologne and Las Vegas in May-2016. Cologne will become the second longest trans-Atlantic flight from Las Vegas after Frankfurt, which is operated by Condor Flugdienst. The distance between Las Vegas and Frankfurt is 8,986km, and 8,849km from Las Vegas to Cologne.

The new services to Las Vegas by Norwegian and Eurowings show that just as the airport is increasingly attractive to US domestic LCCs and ULCCs, airlines adopting the long haul business model are also drawn to Las Vegas. Although Las Vegas draws a mix of business and leisure customers, it is one of the larger markets that attract cost-conscious leisure travellers.
There is continuing debate about the viability of long haul low cost airlines. However, the combination of new generation widebodies, proper feed for those flights, and lessons learned from failed airlines in the long haul/low cost space, should create viable opportunities for airlines adopting that business model.
Similarly to other large non-hub US airports, Las Vegas McCarran continues to work to attract more long haul trans-Pacific flights. It has long-standing service from Korean Air to Seoul, and in late 2015 Hainan Airlines sought regulatory approval to introduce flights operated with 787s from Beijing to McCarran, but no definite route announcements have been made.

However, Hainan's interest in serving Las Vegas with the 787 reflects the airport's viability for expanded international services with new generation widebodies. Las Vegas is also an end point that can presumably drive levels of demand suited for the smaller new generation twin aisle aircraft whose specialty is longer and thinner routes.

Route development by airports is often a lesson in patience. A market launch can take years to materialise from the start of initial discussions. But Las Vegas is enjoying international growth momentum – its international airlines passenger grew 4.5% year-on-year in 2015 to 3.5 million.
McCarran emerges from US consolidation with solid growth prospects
Las Vegas McCarran has emerged as a strong airport in the post-consolidation US aviation business environment.
At a time when other airports are trying to recover their lost hub status, McCarran's domestic and international passenger levels continue to chart solid growth attracting new services, while at the same time creating stability and optimism.