Labour unrest grows stronger as Southwest Airlines continues to exceed most financial metrics
Analysis
Southwest Airlines is leading a paradoxical existence – delivering a record financial performance while navigating significant labour unrest, illustrated by the recent decision of the airline's pilot union to staff and fund a strike preparedness committee.

It is probably not a coincidence that the pilots timed their strike preparedness announcement to coincide with Southwest's annual shareholders meeting, where the airline declared its intent to increase its quarterly dividend by 25% and initiated a USD1.5 billion stock repurchase programme.

Southwest has for quite some time been straddling the needs of increasingly vocal shareholders eager for increased returns and equally vocal labour groups seeking contracts that are similar to other airlines. It is an uncomfortable position - and Southwest is not entirely alone.
Southwest Airlines outperformed in most financial metrics during 2014
For the 12M ending 31-Mar-2015 Southwest posted a 26.5% returned on invested capital on a pre-tax basis and 16.1% after taxes. For FY2014 Southwest's pre-tax ROIC was 21.1%, well beyond its stated goal of 15%.

Southwest's operating revenue performance during each quarter in 2014 was its best in the previous three years, as were its operating profits.
Southwest Airlines Total Quarterly Operating Revenues: 2011 to 2014
Southwest Airlines Total Quarterly Operating profit or loss: 2011 to 2014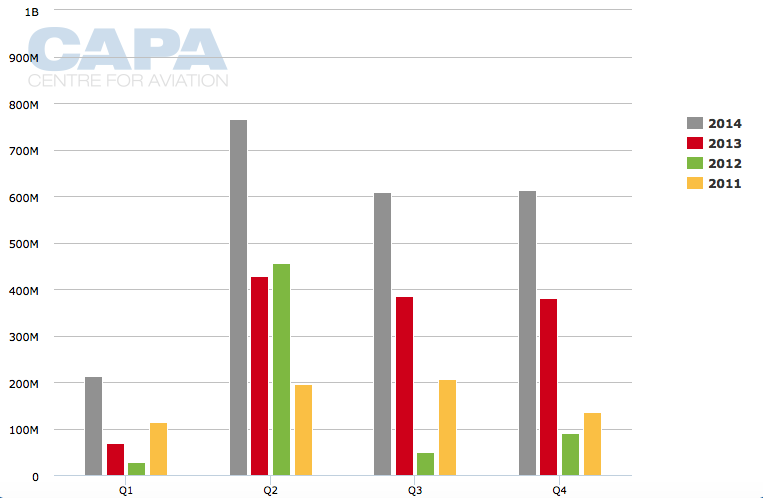 The company's net profit also bested the previous three years in every quarter in 2014 with the exception of 4Q2014. In 1Q2015, Southwest's top-line revenue jumped 6% to USD4.4 billion and expenses fell 8% to USD3.4 billion. Operating profit soared 263% to 780 million and net profit jumped 198% to USD453 million.
Southwest Airlines Quarterly Net Income, Profit or Loss: 2011 to 2014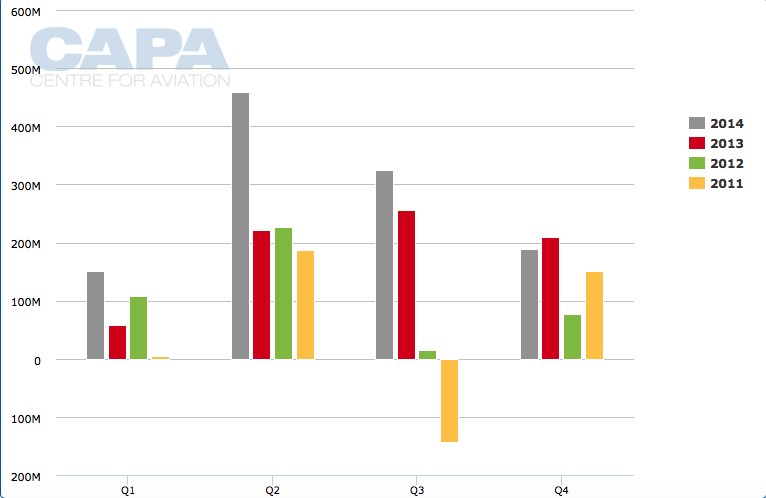 Southwest's unit costs are mid-tier between ULCCs and US full service airlines
For FY2014, Southwest Airlines' top-line labour costs increased nearly 8% to USD5.4 billion, and during 1Q2015 its salaries, wages and benefits expense jumped 11.3% to USD1.4 billion.

Southwest has for many years been stressing the importance of maintaining its cost advantage as its US legacy competitors have become much more cost competitive, due in large part of Chapter 11 restructuring undertaken during the last decade. American was the last of the full service airlines to undertake a bankruptcy reorganisation and emerged in Dec-2014 and merged with US Airways.

Using the latest quarterly results as a benchmark (1Q2015), Southwest's posted the largest year-on-year unit cost decline of 3.6% among low cost and full service airlines. Spirit had the largest decline among all the major US airlines, recording a 5.6% drop.
US airline unit cost performance in 1Q2015
But Southwest's USD8.2 cent per seat mile unit costs (excluding fuel and profit sharing) place it squarely in the middle, between the ULCCs and full service airlines. Southwest maintains on a stage length adjusted basis its unit costs are lower than JetBlue and Virgin America - so that typically its yields are proportionately higher. Southwest has the shortage average stage length among the ULCCs and hybrid airlines at 1,189km.
Average stage length of select US airlines: 1Q2015
See related report: The unpredictable impact of ULCCs in the US as they move aggressively to make their mark
Pilot contract talks drag on as Southwest's robust financial performance continues
Southwest is currently in negotiations with several of its labour groups, including pilots. Its contract talks with the Southwest Airlines' Pilots Association have lasted for about three years, and in late 2014 the pilots filed for mediation with the US National Mediation Board, the third labour group at the airline to seek government intervention.

See related report: The US airlines' new era of profitability offers a new basis for sustainability. What will unions do?

As they sought to create a strike preparedness plan, Southwest pilots stated they were seeking a market rate contract for pilots that is "in line, economically, with our peers at other major airlines".

Pilots at American Airlines in early 2015 approved a five-year contract that, according to news outlet The Dallas Morning News, entails a 23% raise in 2015 and a 3% increases for the next three years. Previously, American has estimated that it would incur USD650 million in expense from the new pilot contract in 2015 along with USD200 million from a new joint collective bargaining agreement with its flight attendants.

Obviously Southwest pilots monitored the progress and outcome of the pilot negotiations at American. Delta and its pilots have also started contract talks, which is also no doubt garnering the attention of Southwest pilots.

Southwest CEO Gary Kelly in early 2014 was questioned about the length of pilot negotiations at the airline. The line of questioning implied that perhaps the longer Southwest was engaged in talks, the more expensive the contract might become.

Mr Kelly responded by offering Southwest's two major goals in the pilot negotiations. One, is continuing to reward employees "who have been very handsomely rewarded with by far the best job security in the industry for a very long time".

He also insisted that Southwest must remain competitive in an evolved environment "where our legacy competitors are stronger than ever and it's more important for us than ever to maintain our low cost position and preserve our low fare brand. That has been under attack as the other airlines have gone through bankruptcy".

Unsurprisingly, Southwest pilots have a different view. They counter that Southwest has offered record-setting forecasts for the coming years, and management has not "come forward with an economic offer that can bring both sides to an agreement". The union concludes its offer is "very affordable and would not impact the company's competitive low-cost advantage".

The union has also highlighted sacrifices it has made during the last four years that allowed Southwest to reach its financial goals. Southwest in 2014 finally met its return targets after missing its stated goals for a couple consecutive years, and its performance in 1Q2015 in some ways only bolsters pilots' arguments. Although contract talks are very complex, the inability of the two sides to reach an agreement after years-long negotiations while Southwest boasts records in many financial metrics does little to create a cordial negotiating environment.

CAPA has previously concluded that: As Southwest continues to post gains in profitability, beats its return goals and expands shareholder returns, the rifts with employees will only grow deeper as management aims to preserve the shrinking cost gap it has with major airlines and the widening gap with ULCCs. At this point little progress has been made in changing that assumption.
It is hard to fathom that a strike could be a distinct possibility at an airline that historically has been renowned for stellar employee-management relations.

Perhaps as Southwest has worked to carve out and maintain its stature in the US market place as the majors restructured in Chapter 11 and then consolidated into three large airlines, its favourable management-labour relations diminished in the quest for Southwest to preserve its market share.

Southwest remains in a tricky position of proving that it can maintain is years long favourable financial performance while attempting to broker labour contracts that allow to maintain certain financial competitive advantages – investment grade status, beating ROIC targets and maintaining a healthy balance sheet. But as the voices of discontent among its employee groups grow louder, Southwest needs to address their concerns in meaningful ways to stem the growing labour dissatisfaction.
Maintaining its financial competitiveness over the long term could depend on the restoration of meaningful progress in contract negotiations.