Korean Air's first quarterly loss since SARS, but cargo makes comeback
Korean Air reported its first quarterly operating loss in five years, of USD112 million in the three months ended 30-Jun-08, due to surging oil prices and weaker demand. International passenger growth (RPKs) slowed to just 2.1% in the quarter, while domestic traffic contracted 2.5% year-on-year. The operating and net results were however better than market expectations.
Korean Air's operating profit margins (%): 3Q06 to 2Q08
Revenue growth of 17.5% in the quarter was outpaced by a 27.6% increase in costs, including an 80.4% increase in fuel expenditure, to represent 42.8% of total costs, up from 30.3% in 2Q07.
Korean Air's fuel costs as a proportion of total operating costs (%): 3Q06 to 2Q08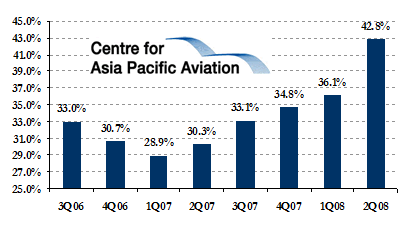 Domestic yields dipped 4.8% in the quarter, and are expected to remain under pressure as new entrants take to the Korean skies this year and next.
Korean Air's LCC unit, Jin Air, commenced domestic services in mid-Jul-08 with an initial fleet of one B737-800. It plans to expand its fleet to three B737-800s and two A300-600s, launching Gimpo-Busan and Busan-Jeju services in 2009 and international operations during 2H09 (with the A300s), providing services to China, Japan and Southeast Asia. Korean Air has seen the wisdom in changing the name of its LCC unit from the earlier proposed Air Korea, to the generic (and geographical neutral) Jin Air. The name of Jin Air holds several meanings. On the one hand, it comes from a Chinese character which is pronounced 'jin' in Korean, meaning 'true' or 'genuine.' It can also be interpreted to mean 'jeans' which will be a part of Jin Air's employee uniforms.
Korean Air's domestic traffic growth, yield growth and passenger load factor growth (% change year-on-year):
3Q06 to 2Q08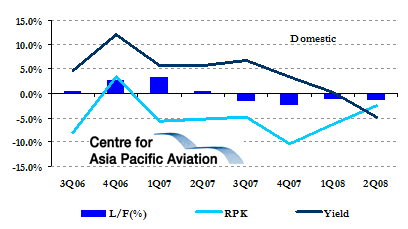 International yields rose a healthy 7.2% on higher fuel surcharges, while load factors eased for the fourth consecutive quarter.
Korean Air's international traffic growth, yield growth and passenger load factor growth: (% change year-on-year): 3Q06 to 2Q08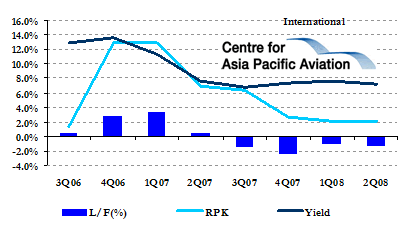 Cargo was the stand-out performer - which is highly important for the world's largest air cargo carrier. Korean's cargo yield rose a stunning 24.6% in the quarter, despite a 3.8% fall in freight volume (FTKs) as it trimmed capacity and raised cargo surcharges.
Korean Air's cargo traffic growth, load factor growth and passenger load factor growth: (% change year-on-year):
3Q06 to 2Q08
The airline, whose staff costs account for a very low 13% of the total, has extracted further labour concessions, including a first-ever agreement in late Jul-08 with its unionised pilots to a wage freeze, withdrawing an earlier request for a 3.3% wage increase. Korean Air has about 2,000 pilots, of which 1,300 are union members. Non-union pilots agreed to a wage freeze earlier in the year.
In late Jul-08, Korean Air stated it was considering additional network cuts during Sep/Oct-08, adding that cut backs during the traditionally lean season were likely to be "slightly bigger than previous years on higher fuel costs". But specific plans were not disclosed and the recent mitigation in oil prices could re-shape these plans.
If the oil price continues to stabilise, Korean is confident of a much better financial performance in the second half, particularly in the peak third quarter. The cargo performance is particularly encouraging.
Korean Air's international traffic* growth, yield growth and passenger load factor growth: % change year-on-year: 2Q08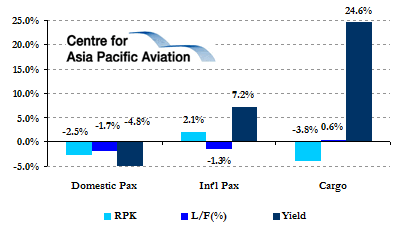 Korean Air is expecting the cargo market to grow 3% in 2008 (indicating an expected pick-up in the second half of the year), with cargo yield to continue to grow, due to higher rates and fuel surcharges.
The SkyTeam member stated it would "continue to optimise the price elasticity trade offs between yield and volume", indicating capacity would continue to be carefully applied. For the second half of the year, Korean would "focus on increasing transfer or connecting traffic by focusing on those markets where economies remain strong", and although the planned interim capacity reduction will "spill some revenues and volume", the expected improvement in yield would "flow through the bottom line". Overall, Korean Air stated it maintains the ability to put capacity back, if the fuel environment changes.
With the fuel tide already turning, KAL is well placed to seize market opportunities