Jetlines, Canada's new upstart, takes a huge bet that it can execute the ULCC model
Analysis
Some intrigue is surfacing around a new ultra low-cost airline that aims to debut from a base in Vancouver during summer 2014. Modelled after Spirit and the pioneer of the bare-bones business scheme Ryanair, it would arrive just as new carriers created by Canada's dominant airlines Air Canada and WestJet hit their stride.

Founders of Canada Jetlines have recently been making the rounds among Canada's media outlets touting their plan to operate Airbus narrowbodies to under-served and little-served markets, appealing to cost-conscious travellers with low base fares and an extensive a la carte menu that could even include a nanny service.

Given Spirit's solid financial results since its initial public offering in 2011 and Ryanair's consistent profitability levels, it was only a matter of time before an aspiring ULCC would sprout up in Canada. Of course the challenge is amply executing the theory that the time is ripe for the ultra low-cost model to succeed in Canada. There will also be many across the border watching closely.
Jetlines eventually aims to challenge Canada's long-standing duopoly
On paper, it would seem that perhaps the conditions may be right for an ULCC upstart. Presently, (2-Dec-2013 to 8-Dec-2013), Air Canada and WestJet represent nearly 81% of Canada's domestic seat deployment and 65% of its total seat capacity.
Canadian domestic capacity by carrier (% of seats): 2-Dec-2013 to 8-Dec-2013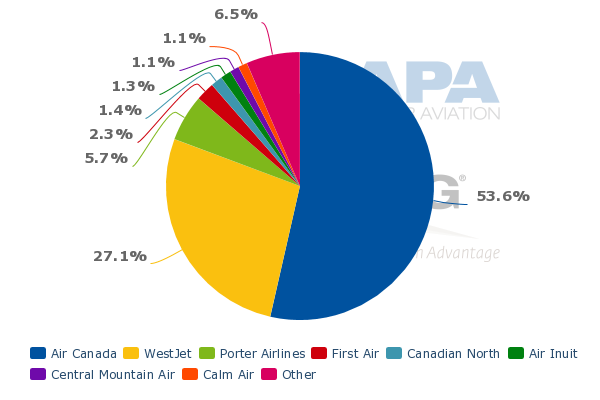 Canadian total capacity by carrier (% of seats): 2-Dec-2013 to 8-Dec-2013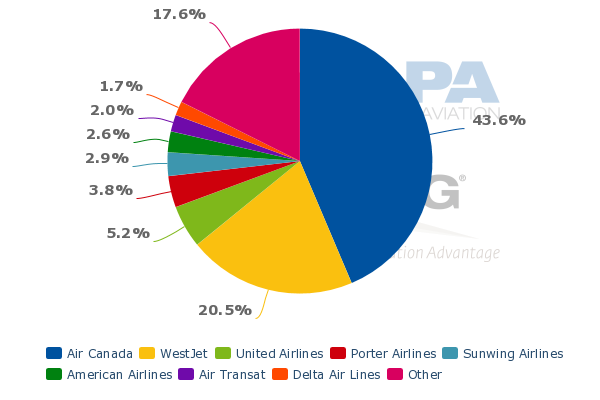 Canada Jetlines is also circulating its plans at a time when Air Canada and WestJet are perhaps partially distracted by ensuring the successful launch of their new enterprises, low-cost carrier Air Canada rouge and new regional airline WestJet Encore, and a focus on keeping their costs in line as resources are dedicated to those new business units. And in the case of WestJet, it has added pressure of investors waiting for a rebound in yields and unit revenues as the launch of Encore has weakened the carrier's results in those metrics.

See related report: Encore's introduction continues to contribute to WestJet's unit revenue pressure
Jetlines plans to enter the Canadian market despite lingering economic uncertainty in Canada
Although Air Canada and WestJet have steadily cited strong demand throughout 2013 – evidenced by Air Canada's 1.3% increase in traffic in Oct-2013 and WestJet's 5.4% rise – Canada's GDP growth is expected to fall to 1.5% in 2013 versus 1.8% the year prior.

However, a recent report by the Conference Board of Canada also indicates that during the first quarter of 2013 spend by Canadians on air transport fell for the first time in about three years. According to the board's conclusions the main driver behind the decline is a growing reluctance by some highly indebted Canadian consumers to spend on goods and services, including air transportation.
Perhaps the team building Canada Jetlines is taking an optimistic view that now is the time to enter the market with fares the carrier estimates should be 25% to 40% lower than those offered by Air Canada and WestJet on transborder international flights and service in large domestic markets.
In secondary markets, the upstart claims it can offer fares up to 60% lower. (The estimates are included in a briefing note being circulated by Canada Jetlines, and are based on lowest published fares 180 days out by Air Canada and WestJet on 9-Apr-2014.)
Jetlines chooses Canada's second largest airport as a launch pad
Executives that are stepping forward to trumpet Canada Jetlines are David Solloway as chief operating officer and Jim Scott as CEO. According to Canada's Financial Post, Solloway has held positions at Canadian Pacific, worked in Asian operations for various US carriers and defunct long-haul, low-cost carrier Oasis Hong Kong Airlines. Mr Scott has previously worked for Cathay Pacific.

Vancouver will serve as the carrier's base if it succeeds in meeting its targeted summer 2014 launch date. It plans to begin operations with two Airbus narrowbodies and build to 16 jets by its 30th month of operations.

It appears that most of Jetlines' main executives are based in Vancouver, which is Canada's second largest airport in terms of seat deployment behind Toronto Pearson International. Unsurprisingly, Vancouver is dominated by Air Canada and WestJet with respect to seats on offer, representing a combined 69% deployed seats from the airport.
Canada's top 10 airports (number of seats): 2-Dec-2013 to 8-Dec-2013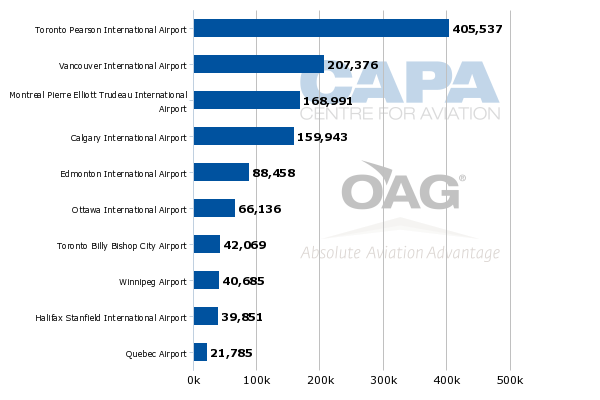 Vancouver International Airport capacity by carrier (% of seats): 2-Dec-2013 to 8-Dec-2013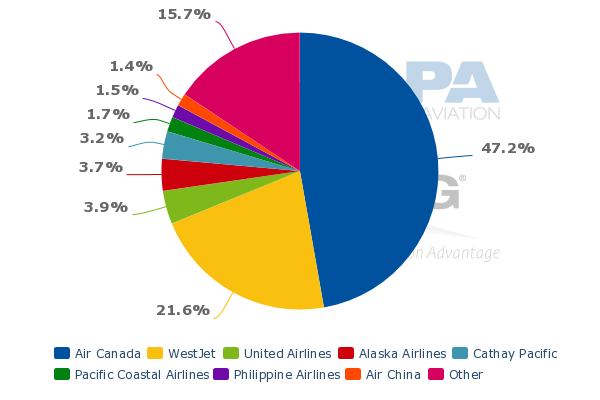 Five of Vancouver's top 10 domestic markets are ticked off in Jetlines' briefing paper as potential destinations – Edmonton, Kamloops, Kelowna, Prince George and Winnipeg. Given that both Air Canada and WestJet serve four of those five markets (the exception being Kamloops served by Air Canada and Central Mountain Air).

That service pattern would suggest that the carrier aims to mirror Spirit's approach in the US domestic market during the past three years, of entering large markets and stimulating traffic, rather than attempting to steal passengers from existing carriers.
That strategy has served Spirit well as the legacy and hybrid carriers operating in those markets have largely left that carrier alone. Other destinations listed as probable markets for Jetlines are Prince Rupert, Regina, Fort McMurray, Fort St John, Cancun, Las Vegas, Orlando and Cabo San Lucas.
Vancouver International Airport top 10 domestic routes by seats: 2-Dec-2013 to 8-Dec-2013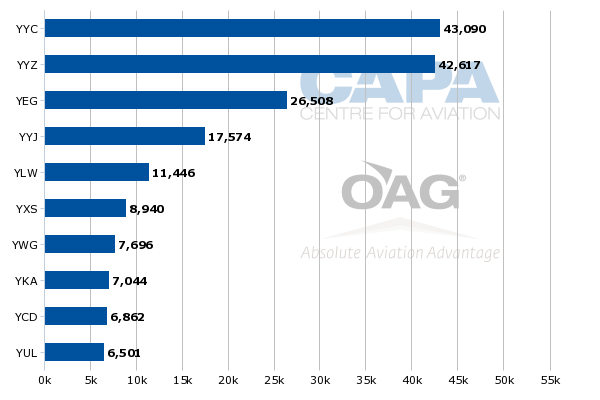 It is not a given that Jetlines will be left alone entirely. While WestJet is continuing its evolution from a pure low-cost carrier to a hybrid airline by layering complexity in its business model, it has no intention of abandoning the leisure passenger segment that has served as the foundation of its operations.
Its recently introduced fare bundles include an "Econo" segment that is targeted towards the price-sensitive traveller, and offers add-on services for a fee, which is the model used by Spirit and the framework for Jetlines' business model.
Features of WestJet's three fare bundles on offer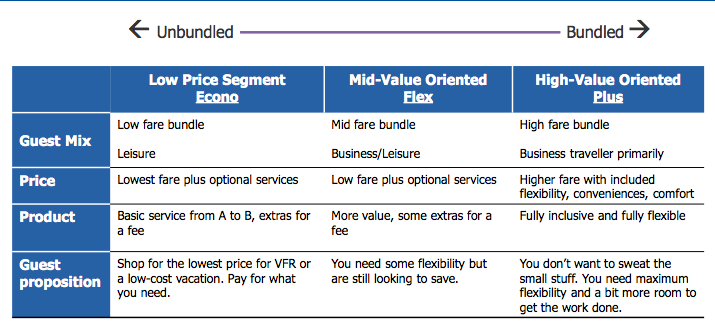 See related report: WestJet continues its hybrid evolution, watching costs as it weighs a widebody operation
All the typical add-on charges, and a nanny too
Jetlines' copycat ULCC model is based on the now-familiar premise of offering rock-bottom fares and charging for extras. Specific add-ons listed by the carrier include a NAV Canada ATC surcharge, meals and beverages, priority baggage and boarding, seat selection obtained more than 24h prior to flight, in-flight iPads and amenity kits.

Other ancillary items are what Jetlines deems as economy "big seats" (perhaps in a nod to Spirit's Big Front Seat), premium coach seats and exit row seating. It is not clear what premium coach means, but most ULCCs do not offer a premium economy, so it is likely reference to seats near the front of the cabin that can fetch a higher charge.

Interestingly, the carrier lists an in-flight nanny service as an ancillary product, which is not a typical ULCC offering. It is tough to predict how much demand will be inherent in a route similar to Vancouver-Fort St John, which is roughly 432 nautical miles. But it could be more viable on longer-haul flights to Mexico and the Caribbean. However, managing forecasting and pricing for such a service could be an unwelcome complexity for an upstart ultra low-cost carrier.
Jetlines has a long road ahead in proving the ULCC model can succeed in Canada
According to the Financial Post, Vancouver-based investment firm Salman Partners has agreed to raise CAD100 million (USD94 million) for Canada Jetlines. It is lofty goal given Canada's slower economy and lingering macroeconomic uncertainty. In theory it would seem Canada's aviation industry might be ready for a new breed of ultra low-cost carrier, but recent moves by WestJet through its fare bundles and Air Canada's efforts to retain leisure travellers through its new carrier rouge show that the country's two main carriers are not yet ready to cede cost conscious travellers to a new crop of bottom-feeder carriers that build a business model on targeting passenger segments abandoned by larger network airlines.

Regardless of Jetlines' chances of success, its potential debut in mid-2014 should add an interesting dynamic to a Canadian market place that has seen its major network carrier come uncomfortably close to a second formal restructuring during the last few years; but it now seems close to turning a corner to sustainability. At the same time, Canada's pioneering low-cost airline has settled into a new phase of maturity where it is seeing a bit of cost creep as it rolls the dice on adding more complexity to its business in the hopes that those gambles will pay off in higher revenue and profits.

Even as Canada's two largest carriers have forged ahead with business model changes during the last several years, no upstart, aside from Porter Airlines (who largely targets business travellers), has succeeded in gaining a foothold in the Canadian market. Replicating the ultra low-cost model in Canada may not be as easy as Jetlines makes it sound. The incumbents will not be making it welcome, that much is for sure. And many interested parties to the south of the border will be watching to see what happens with more than a passing interest.