JetBlue and Virgin America create interesting dynamics for the hybrid business model in the US
Analysis
Although JetBlue and Virgin America both recorded slides in their passenger unit revenue during 3Q2015, the trend of each airline outperforming their US peers continued. They remain shielded from major factors driving down the performance of American, Delta and United – foreign exchange pressure and higher exposure to weaker global economies.

Virgin America, which has been affected by the pricing pressure in Dallas and competitive challenges in the New York transcontinental market, believes that pricing could start to firm up in those markets in 2016 as higher industry capacity growth in those regions begins to moderate. JetBlue holds a similarly positive outlook, highlighting a rebound in demand after experiencing some softness in Sep-2015.

Both airlines are forecasting higher capacity growth in 2016 than the large global US network airlines even as some yield softness has crept into more domestic markets. For now JetBlue and Virgin America remain comfortable with their growth forecasts, and believe they can maintain their advantage in unit revenue performance.
JetBlue continues to post the best passenger revenue results among US airlines
JetBlue posted the best 3Q2015 performance among the major US airlines in the passenger unit revenue (PRASM) metric with a decline of just 0.6%. The airline has been one of the top PRASM performers in the US industry throughout 2015. Its capacity growth of 10% during 3Q2015 was higher than the industry average, the airline still posted a 10ppt gain in its pre-tax margin to 19%.
Passenger unit revenue performance of select US airlines: 3Q2015
Throughout 2015 JetBlue has been shielded from the largest challenges that have driven passenger unit revenues down at American, Delta and United – pressure from foreign exchange due to the strengthening of the USD and exposure to weaker geographies.

Nearly 50% of JetBlue's international seats are deployed to the Caribbean, which has not endured the same level of economic weakness as South America, where Brazil and Venezuela are driving down the region's GDP growth. In South America, JetBlue offers flights to Colombia (projected 3.4% GDP in 2015) and Peru (projected 3.8% GDP growth in 2015), two of the solid economies within the region. It is launching service from its Fort Lauderdale focus city to Ecuador in Feb-2016.
JetBlue Airways international capacity by region (% of seats): 2-Nov-2015 to 8-Nov-2015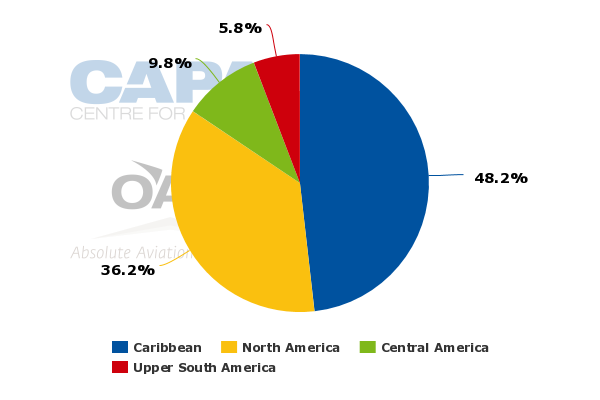 JetBlue executives recently declared that markets in Latin America and the Caribbean were the strongest performers in the airline's network during 3Q2015, and that its transcontinental routes also performed solidly. Its markets in Florida experienced yield pressure due to both industry capacity expansion and JetBlue's growth in year-on-year supply.

Company EVP commercial and planning Martin St George stated that passenger unit revenues in Sep-2015 did soften, driven by lower close-in yields. He observed that JetBlue has seen a bounce back since then; however, passenger unit revenue in Oct-2015 was projected to decline 2%. Mr St George noted JetBlue expects a better passenger unit revenue performance in Nov-2015 due to the Monday after the US Thanksgiving holiday falling in that month. He expects Dec-2015 to be softer given the timing of the holiday season.
JetBlue hopes Mint capacity expansion will help meet growing demand for the product
In early Nov-2015 JetBlue continued the expansion of its Mint premium product on transcontinental flights from New York JFK to Los Angeles and San Francisco after United transferred its P.S. premium service from JFK to its Newark hub. Delta is also increasing capacity from JFK to transcon markets.

See related report: United Airlines' moves in New York reflect the heightened competition in the US transcon market

JetBlue management recently stated that it had increased fares in Mint markets twice year-on-year, and that it has held discussions with many customers that have stated they often find the product is sold out. JetBlue executives explained they hope the additional capacity would alleviate some of that frustration.

Data from CAPA and OAG for the week of 2-Nov-2015 to 8-Nov-2015 show overall approximate one-way seats between JFK and Los Angeles have increased 4% to 37,597 year-on-year. JetBlue's seat levels have grown 54%, and it holds a 23% share. Delta has a 31% share, American a 34% share and Virgin America's share is 13%.
New York John F Kennedy International to Los Angeles International (seats per week, one way): 19-Sep-2011 to 17-Apr-2016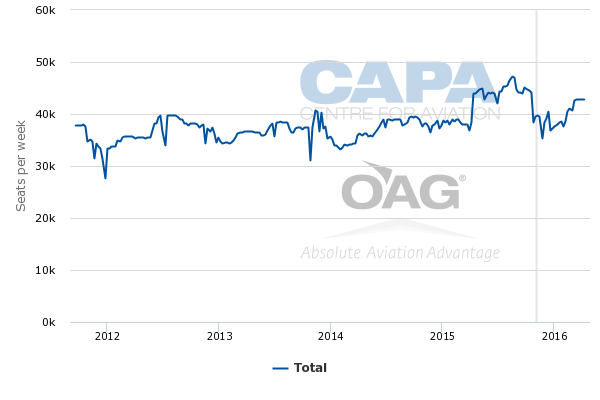 One-way seats between JFK and San Francisco have risen 1.5% year-on-year to roughly 27,536, and JetBlue's seats on offer have increased by 88%. It holds a 22% seat share, and American's share is 24%. Delta represents a 36% share of the seats on offer and Virgin America's share is 19%.
New York John F Kennedy International to San Francisco International (seats per week, one way): 19-Sep-2011 to 17-Apr-2016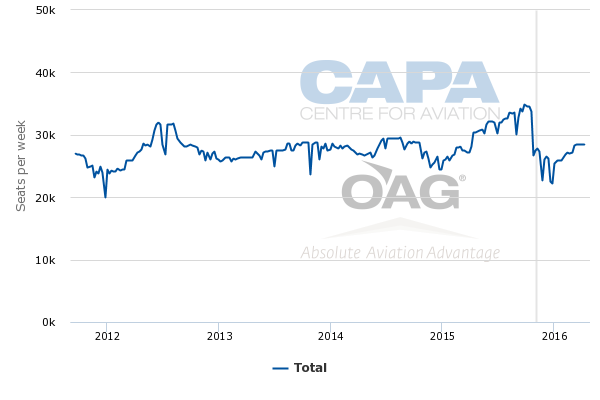 Virgin America sees some capacity moderation in JFK transcons starting in late 2015
JetBlue's pricing for Mint and the additional capacity driven by the introduction of the new premium product has created pressures for Virgin America and other airlines serving the transcontinental markets during 2015. Previously Virgin America has estimated that capacity on those markets in late 2015 was at levels not reached since 2004.

Virgin America at the end of 3Q2015 cited continued weak pricing in the New York and Dallas markets, and also added that pricing traction was also beginning to weaken on routes between the west coast and Chicago and from South Florida to Los Angeles.

Company CEO David Cush recently stated that, based on publicly available data, there is moderate firming of first class pricing in the New York transcontinental markets. He highlighted that "we still see triple digit fares quite a bit in the market place… while some of the USD599 intro fares (JetBlue's introductory fare for Mint) have gone out of the market, we still see plenty of USD799 [fares]".

Virgin America's passenger unit revenues on JFK transcontinental markets declined 5% in 3Q2015, a sequential improvement from the 8% fall in 2Q2015. Mr Cush expects industry capacity in the JFK market to fall by 5% in 4Q2015 and 8% in 1Q2016.
Virgin America remains optimistic that trends are favourable for pricing traction in 2016
Virgin America's 2.7% passenger unit revenue decline in 3Q2015 was still a better performance than most US airlines. The airline estimates that members of the trade group Airlines For America (A4A) recorded an average passenger unit revenue decline of 4% for the quarter. The 2.7% drop is towards the lower end of Virgin America's previous guidance of a 2% to 4% decrease in passenger unit revenue for 3Q2015.

The airline's passenger unit revenues on routes from Dallas Love Field – Austin, Los Angeles, San Francisco, New York LaGuardia and Washington National – fell 19% year-on-year in 3Q2015, which represented about 2ppt of Virgin America's overall passenger unit revenue decline. Dallas Love Field is presently (2-Nov-2015 to 8-Nov-2015) Virgin America's third largest base measured by seats.
Virgin America global top 10 hubs/bases/stations by seats: 2-Nov-2015 to 8-Nov-2015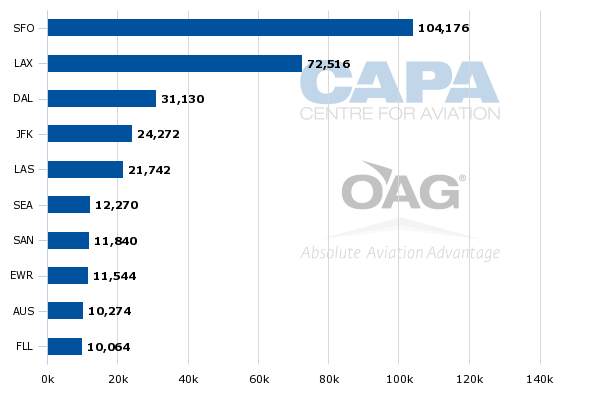 Most of the pressure stems from the lifting of the Wright Amendment in late 2014 that prohibited certain longer haul flights from the airport. With the end of the restrictions, Love Field's largest airline Southwest made a huge push from the airport, which has resulted in pricing pressure in the market. The competitive landscape has also dragged down the passenger unit revenue results of Dallas/Fort Worth's largest and second largest airlines American and Spirit.
American had the largest domestic passenger unit revenue decline among the largest three global US network airlines; its 7.6% drop was steeper than the 1.6% decline at United and Delta's 3% decrease.

See related report: The Big 3 US airlines continue capacity expansion in 2016. Domestic pricing pressure remains a worry

Mr Cush estimated that industry capacity in the Dallas market should grow just 5% in 4Q2015 and drop 5% in 1Q2016 as some of the tougher year-on-year comparisons begin to lap the sharp increases that have occurred in 2015. Previously, Virgin America has estimated that capacity from Dallas Love Field grew 31% in 3Q2015 and 32% in 2Q2015.

Virgin America expects its 4Q2015 passenger unit revenue to decrease by 3% to 5%. Airline executives recently explained that the company in 4Q2014 enjoyed a 1% improvement in passenger unit revenues due to changes in year end estimates. Pricing and demand trends look similar in 4Q2015 to 3Q2015 and much of 2015, said company executives. However, Mr Cush concluded Virgin America in 2016 is experiencing fairly benign industry capacity growth in markets that are already averaging 90% load factors, which should help yields start to trend in the right direction.
JetBlue and Virgin America feel comfortable with higher than average capacity growth
Virgin America's 2016 capacity growth is forecast at 13% to 16% after the company took a breather in ASM expansion, posting flat growth in 2014 and 0.7% in 1H2015. Its capacity growth for the next number of years should average 10%. The airline has estimated that two thirds of its capacity would be deployed into existing markets and the remaining one third into new markets, highlighting Sacramento and Denver as two possibilities.

After growing its capacity 8.5% to 9.5% in 2015 JetBlue again expects 2016 capacity growth in the high single digits. JetBlue concludes that level of growth is the "sweet spot" for the airline as its strategy evolves. JetBlue and Virgin America are planning a higher level of capacity growth in 2016 than the three large US network airlines. On a system basis, American is projecting a 2%-3% increase, Delta a 2% rise and 1.5%-2.5% growth at United.

JetBlue and Virgin America's growth for 2016 may seem high against a backdrop of overall global economic uncertainty and continuing domestic pricing pressure that looks to be spreading a bit outside the confines of Dallas and Chicago. But thanks to lower fuel costs, and being shielded from foreign exchange pressure and exposure to weaker economies, both JetBlue and Virgin America have performed solidly in the US domestic market during 2015. Those airlines are still arguably in growth mode, building up scale in a US market place that has completed major consolidation.
JetBlue and Virgin America show strength of the hybrid business model in the US market
JetBlue and Virgin America's hybrid business models do not seem as clear cut as the large US network airlines and the ultra low cost airlines Spirit and Frontier.
But, despite analyst reservations, during 2015 JetBlue and Virgin America have both outperformed the more distinctive US airline models in passenger unit revenue performance.

Many factors are driving the superior performance of JetBlue and Virgin America that are temporary in nature.
But for now those two airlines are proving their hybrid business models have staying power, which should create interesting dynamics in the US market place over the course of the next year.