Japan tourism targets doubled, despite airline capacity decreases. Long haul focus
Analysis
China may be the story for the great outbound travel boom, but its neighbour Japan is the home for inbound visitor growth. Despite being one of the world's most populous nations, with a high GDP and rich culture, Japan has hardly registered with visitor arrivals. That is quickly changing. Between 2010 and 2015 Japan added 11 million annual visitors. Japan ended 2015 with 19.7 million visitors, five years ahead of its goal to have 20 million visitors in 2020. Tokyo has now doubled its goals: by 2020, Japan wants another 20 million, and then 30 million more in the next decade after that. Before the end of the decade, Japan expects to crack the list of 10 most popular countries for tourism. By 2030, it could be in the top five.
China and other Asian markets are driving most of the growth: in early 2016, they account for 87% of visitor arrivals, up from 62% in 1998. Long haul markets to Europe, North America and Australia/New Zealand have experienced a corresponding decrease. Japan's new tourism goal is to rebalance and gain stronger growth from these long haul markets. Yet the capacity is not there.
Overall long haul capacity has been reduced over recent years. Virgin Atlantic and Austrian cancelled service while Iberia and LOT enter, yet Air France-KLM and Lufthansa are making steep reductions. American Airlines has added a flight but Delta is withdrawing more long haul capacity in 2016 than any airline. Japan may consider re-evaluating the joint ventures it has approved, or to be more liberal with fifth freedom rights.
Japan increases tourism goals: 40 million in 2020, 60 million in 2030
In 2011 Japan set out to grow tourism rapidly, as one initiative to improve the economy. In 2010 Japan received only 8.6 million visitors but had planned to grow that to 20 million by 2020 and 30 million by 2030. Those targets proved to be too conservative.
Demand was restrained by onerous visa procedures for Asian countries. Reducing or liberalising those in mainland China and Southeast Asia ushered in growth in visitor arrivals and for airlines in the marketplaces. Other improvements – wifi access, foreign languages, tax-free shopping – were softer touches while all markets benefitted from a weakened Japanese yen. Japan benefitted from improved relations with China, which made Japan an unpopular destination for a while.
See related reports:
Removing visa restrictions transformed the tourism market
Once Japan was essentially willing to let more visitors enter, visitors arrived in numbers well above Japan's expectations. Japan nearly reached its 2020 goal (20 million arrivals) five years early, with 19.7 million visitor arrivals in 2015. There was talk of Japan boosting its 2020 goal to 30m, but the plan announced at the end of Mar-2016 was to double the goals: from 20 million to 40 million visitors for 2020, and from 30 million to 60 million visitors in 2030.
Japan visitor arrival development: 1990-2030F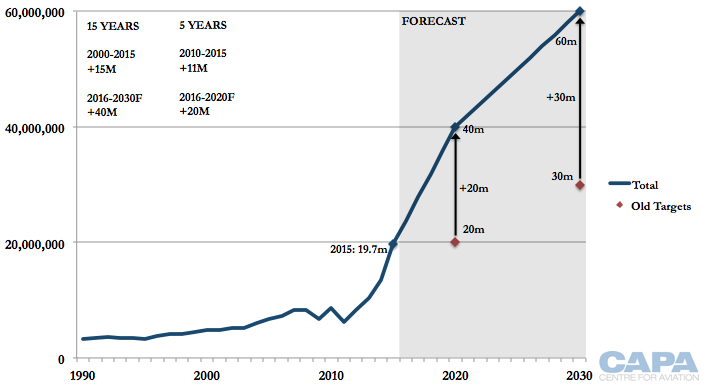 Japan will need to add 4 million visitors a year through 2020, a shocking sum from the perspective that Japan crossed the 4 million mark in 1997, and then 8 million in 2007. The growth of the past decade must be achieved annually for the next five years. Barring any major incident, Japan can be comfortable (but has work ahead). The additional visitors in 2015 were 6.3 million.
Japan intends to further relax visas for China, the Philippines, India, Russia and Vietnam. Most of the increase in visitors means growth for aviation, but Japan is also eyeing a larger cruise industry. (There are also efforts to boost outbound flows, which will be overshadowed by inbound arrivals).
In 2014 and 2015 it was mainland China that made the largest contribution to increased visitors. Of the additional visitors to Japan in 2014, 36% were Chinese. In 2015, it was 41%. There is further growth to unlock, but also a need to diversify.
Share of Chinese visitors as a proportion of the annual change in total Japan visitor arrivals: 2010-2015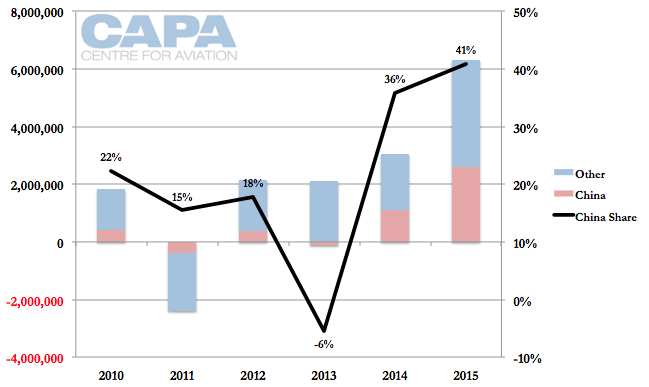 The post-2020 environment may need revising. After adding 4 million visitors for the rest of this decade, Japan will need to add half as many (2 million) for the following decade. This will occur after the 2020 Olympics, which Japan hopes will significantly boost its profile.
There are questions about what a tourism industry can, or wants to, handle. On the soft side, there are growing concerns within Japan that the tourism influx is disturbing the quality of life. Elsewhere, Japan's 60 million target for 2030 would rank it one of the world's most popular tourism destinations.
Based on UNWTO's 2014 rankings, only three countries – France, the United States and Spain – had more than 60 million visitors in 2014. This ranking has undergone limited changes, reflecting the disruption Japan wants to bring but also the challenge ahead to have a tourism industry that can go from being insignificant to one of the world's most powerful.
10 countries for largest numbers of visitor arrivals: 2014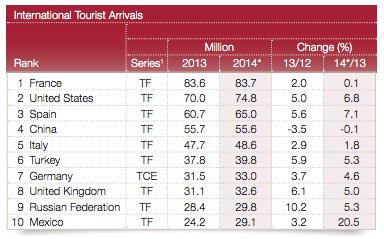 Japan's tourism goal seeks to renew North American and European focus as their growth slows
One of Japan's sub-goals is to place further emphasis on arrivals from long haul markets, notably North America and Europe. Over the long term these markets have been growing, with the typical exception of 2011 and 2012 due to the Mar-2011 earthquake and tsunami tragedy in Japan. In 2015 Japan received approximately 1.31 million visitors from North America (6.6% of the total) and 1.25 million (6.3%) from Europe. European arrivals have been catching up to North American arrivals in recent times.
Arrivals from Oceania (mostly Australia and New Zealand) were approximately 400,000 and represented 2.1%. Collectively these markets were 15% of Japan's total arrivals in 2015 – a strong segment but fragmented. Oceania visitors peak during the Japanese winter (southern hemisphere summer), with skiing and snowboarding there being especially popular. Europe and North America may have more market characteristics in common but are in different geographies, requiring different partners to facilitate arrivals.
Visitor arrivals into Japan from Europe, North America and Oceania: 1990-2015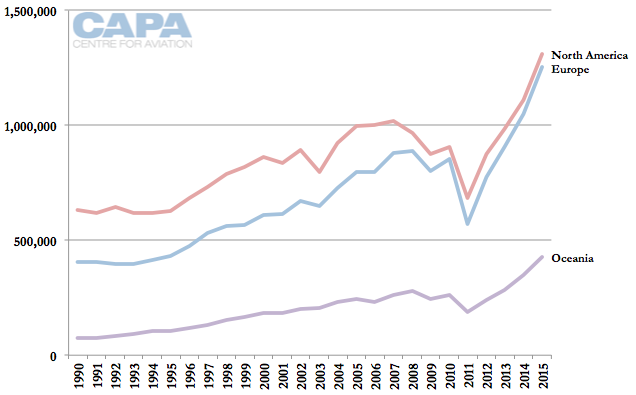 Looking at an index of visitor arrivals by market with the base 2009 (after which long haul markets had a constant market share decline), the long haul markets of Europe, North America and Oceania performed more strongly until the mid-2000s than they did afterwards, relative to Japan's total visitor arrivals. After 2011 global visitors and visitors from Asia had constant growth. This growth was so high it was bound to be difficult for mature markets, such as those long haul ones, to keep up with.
There were now short haul markets in Asia that had witnessed a combination of visa relaxation/liberalisation, expanded air service agreements or open skies and a growing middle class. (And all benefitted from a weaker Japanese yen).
Visitor arrival index (2009=100) to Japan from Asia, Europe, North America and Oceania and total: 1990-2015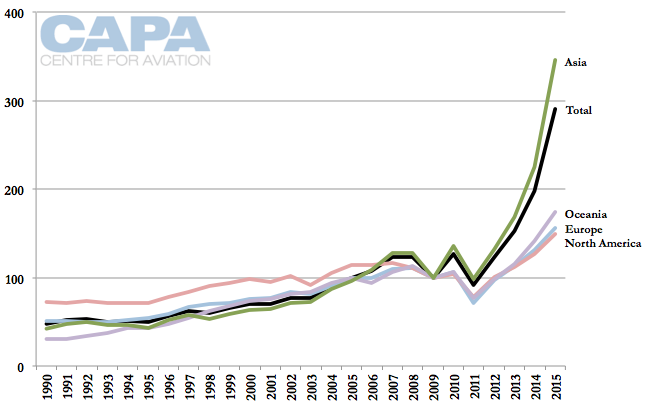 The faster growth from Asia – and China in particular – has resulted in long haul markets making up a smaller share of Japan's overall arrivals. Again, net arrivals are up from long haul markets, but the proportion is smaller and Japan wants to achieve what it perceives as better balance. Long haul markets represented 34% of visitor arrivals and, in terms of market share, they peaked at 37% in 1998. After accounting for 28% of arrivals in 2009, they continually declined to 15% in 2015.
Visitors from Asia were 62% of visitors in 1998 (when long haul peaked) and in 2015 were 84% of the total. Preliminary figures for Jan-2016 indicate that visitors from Asia accounted for 87% of Japan's total visitor arrivals.
Visitor arrival share to Japan from Asia, core long haul (Europe, North America and Oceania) and other: 1990-2015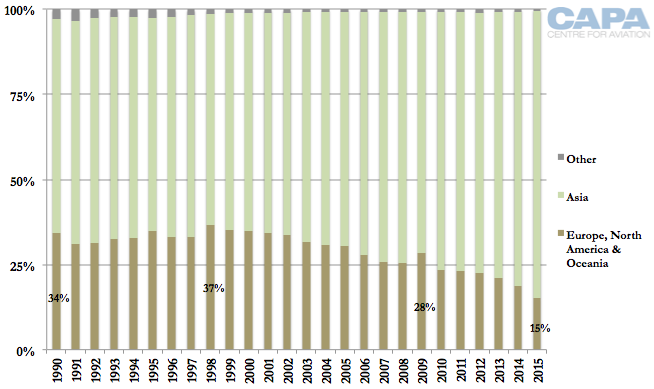 Long haul visitor focus comes as long haul capacity decreases
There is passenger growth at Japanese airports and, in some instances, there is record throughput. But this is not even across the board. Regional capacity tends to be growing while long haul capacity exits. Qantas, American, Hawaiian and Etihad are making some of the largest growth changes in Japan in terms of percentage adjustment of annual seats in 2016 versus 2015, according to OAG data. (There is some distortion based on when in the year changes are implemented). Turkish, Qatar, KLM, Lufthansa and Air France are making some of the largest reductions.
Growth change in annual available seat capacity for major long haul operators in Japan: 2016 v 2015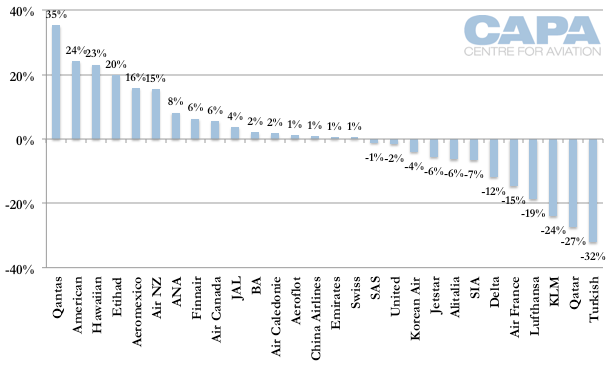 In terms of net seats, ANA has added the most. American has added more than JAL. Qantas and Hawaiian round off those making the largest additions. Delta is removing the greatest number of seats by far, and is followed by Lufthansa, Turkish, Qatar, KLM and Air France.
Change in annual available seat capacity for major long haul operators in Japan: 2016 v 2015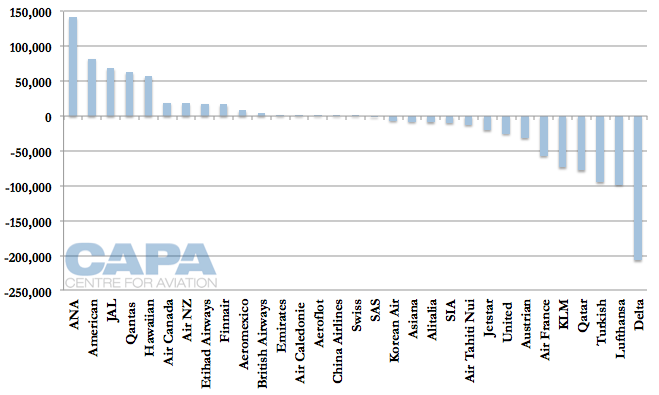 Japan's bilaterals are generally open, if not open skies. The Gulf airlines even have unused capacity. ANA is in a long haul growth spurt, but with Japanese airlines having a high cost base, there is only so much they can achieve. If there is a more pressing need to expand access to long haul markets, Japan may need to consider allowing more lucrative fifth freedom rights. Fifth freedoms at Tokyo are generally limited. Japan might also query the benefit of JVs to consumers and Japan.
Europe is the most dynamic market. Austrian Airlines will exit in Sep-2015, according to online schedules, while Virgin Atlantic exited Tokyo, its only Japanese point, in 2015 as part of pivot back to trans-Atlantic flying. LOT and Iberia are entering/re-entering Japan. In Fukuoka, Finnair is replacing KLM but with lower capacity. Lufthansa, Turkish and Air France-KLM are making some of the largest decreases.
In Lufthansa's view capacity has grown artificially in recent years because Tokyo requested that airlines preserve Tokyo Narita capacity once Tokyo Haneda had opened up. That request has lapsed, and Lufthansa's plan is to make an overdue switch. However, Lufthansa will be reverting to a size last seen in around 2009, significantly – before it gained access to Haneda. There must be other underlying reasons for a capacity pull-back. Sister group airlines Austrian and Swiss were not offsetting Lufthansa's decrease with additional capacity, and now Austrian will withdraw from Sep-2016.
Overall for 2016 the Lufthansa Group in Japan will be about 4% smaller than in 2009 (its previous low) and 20% lower than in 2012 (its recent peak). When including JV partner ANA, 2016 capacity will be down from 2012-2015 levels, but will exceed 2006-2011 levels. This reflects the strong growth of ANA, which would have occurred to some degree without the Lufthansa JV. It may not be so simple to claim that the JV has produced growth over historical levels.
Europe-Japan capacity in 2016 will be at its lowest level in a decade, 2% lower than previous low in 2009. Frequencies will revert to higher levels seen in 2013, indicating that airlines are preserving their schedule but with smaller aircraft.
North America: American adds more seats than any foreign airline while Delta removes the most
American Airlines added Los Angeles-Tokyo Haneda service after a regulatory process that meant that Delta ended its Seattle-Tokyo Haneda service. American's new flight complements existing Los Angeles-Tokyo Narita. American is the second fastest-growing airline but has added the greatest number of seats of a non-Japanese airline. American's capacity is broadly back to 2012/2013 levels.
On the other end of the scale, Delta is removing more seats from Japan than any other airline. Its reduction is twice as great as the next-largest airline decreasing capacity, Lufthansa. Delta has been gradually pulling down US-Tokyo and Tokyo-beyond Asia capacity. Instead, it is launching nonstop flights from the US to other Asian cities, reducing the need for its Tokyo hub, inherited through its Northwest merger. The US-Japan Tokyo Haneda slot deal went through despite Delta's objection.
The Haneda slots have yet to be awarded, so it is too early for Delta to pull capacity in response to the Haneda deal, as it has threatened to do. However, Delta's gradual decline in Japan makes it difficult to separate out how Delta would have decreased its Japan presence further without the Haneda deal. 2016 is the fourth consecutive year of Delta decreasing its size in Japan.
United's position is relatively flat, despite its growth elsewhere in Asia (Singapore nonstop, launch of Hangzhou and Xi'an). United's reductions in Japan were made last decade. Meanwhile, Air Canada is growing by approximately 6%.
Total North America-Japan capacity has broadly returned to levels in 2008 and 2013, but is still lower than previous highs.
Australia/New Zealand: Qantas is second largest growing foreign airline. Air NZ is sixth
Australia and New Zealand, as is often the case, are disproportionately larger in international tourism statistics than their population size might indicate. Qantas is the fastest-growing airline in terms of percentage. After American, it has injected the most additional long haul seats into Japan from foreign airlines (ANA and JAL were larger). Qantas added a Brisbane-Tokyo Narita A330 service after transferring its Sydney flight from Narita to Haneda. Air New Zealand has reinstated its Auckland-Osaka Kansai service. Capacity between Japan and Australia/New Zealand will be its highest since 2008. In 2016 there will be 20% growth compared with 2015, but 2016 will still be down 15% from 2008 levels (which in turn were lower than preceding years).
Etihad's growth is the result of its daily Tokyo Narita service being switched to an A340-600 from A340-500, a type that the airline is trying to phase out. Qatar Airways has cancelled its Osaka Kansai service, leaving Tokyo (Haneda and Narita) as its only destinations.
This leaves Emirates at Osaka Kansai; Etihad does not serve Osaka but does serve Nagoya, which neither Emirates nor Qatar serve. The net sum of changes means that capacity returns to 2014 levels, a peak at the time, although with a higher share of capacity in Tokyo than before.
Outlook: Japan's visitor growth can be balanced, but Asia will define tourism profile
After being quiet for so long, Japan is moving quickly. Its initial tourism targets were conservative while the revised goal for 2020 could be achieved but with some strain on local infrastructure hard and soft. This adds to the existing burden of the 2020 Olympics in Tokyo. The local feeling in Japan that there will be a tourism onslaught disrupting daily life should not be underestimated.
There could be improved management, for the benefit of both locals and visitors. 2030's growth is slower and could be revised again, but it is important to assess what Japan is like in five years with twice as many visitors as in 2015 – a figure four times that of 2013 and eight times that of 2002.
Visitor arrival growth to Japan from Asia, Europe, North America and Oceania and total: 2011-2015
It is worthwhile to rebalance tourism arrivals. A return to old levels may not be practical: Asia is now too large a source market. Further, long haul markets were historically better tolerated and welcomed as visitors, whereas barriers were intentionally maintained for other markets. Yet diversification can occur within Asia – a large swathe of land and population. In past years Japan has witnessed a swift downturn in Chinese traffic, and other countries have too. Nor are Japan's relations with another large visitor source – Korea – terribly strong.
These closer, regional markets are more likely to visit the non-cosmopolitan areas Japan wants to promote. Long haul and first-time visitors will likely stick to a Tokyo-Osaka-Kyoto circuit. Nearby markets will have higher return rates, another objective of Japan's tourism. Diversifying visitors away from a handful of sites brings the tourism benefit to more parts of the country – and helps to alleviate the bottleneck occurring in major cities.
Southeast Asia continues to represent opportunity. So too does India, whose population will exceed China's although the longer distance naturally imposes some limit on visitors arriving. For many markets, one relatively easy solution for Indian visitors is to work with Gulf airlines. Yet for Japan and other Asian markets, that means Indian visitors backtracking through the Gulf. Mainland Chinese airlines could play an increasing role in sixth freedom traffic flows, including to/from India.
Following Japan's wave of air service liberalisation, Asian airlines, LCCs especially, remark of a tremendous change at Japanese airports to grow traffic from all types of airlines and accommodate needs, including a growing number of low cost terminals.
China may be the outbound visitor story to watch. Yet the inbound visitor trends at its neighbour are the trends to watch. Just as China's outbound travel boom has implications for airlines, so too for Japan's inbound profile. Japan's visitor change could be the most profound inbound development for recent times.