Is the full service airline business model broken? Network airlines face a tipping point
Analysis
It is only a matter of days before Asia Pacific airlines begin grounding aircraft, after yesterday's ugly traffic report from Singapore Airlines, today's dismal premium traffic report from IATA for Jan-2009 and statements by Cathay Pacific CEO's Tony Tyler that the airline has entered a time for "difficult decisions".
The battle over the dwindling premium traffic market is intensifying and there will be casualties along the way. Asia Pacific full service airlines are feeling the pressure of the 'Great Recession" more than most and major changes to networks could be days or at most weeks away, if conditions continue to deteriorate as expected.
Cathay Pacific CEO, Tony Tyler, this week warned it may be necessary to take some "very difficult decisions about our network and about the company generally in order to secure the sustainability of this business".
The Hong Kong-based carrier would not be alone in contemplating wholesale changes to its strategy as the global economic downturn shows no signs of bottoming out. Across Asia - and the world - airlines are confronting a poisonous combination of weak revenues, falling load factors and too much capacity in the pipeline. Singapore Airlines (SIA) this week reported record load factor falls across its network in Feb-2009. Further network cuts (on top of those already announced) could be brought forward by SIA.
In a monthly newsletter to Cathay staff, Mr Tyler warned the revenue outlook is "very poor, and it could be a long time before we see the bottom of the market, let alone any signs of recovery." Yields are "hugely down", as business travel to and from Hong Kong has virtually dried up.
Cathay is now focusing squarely on preserving cash by cutting capacity and implementing other measures. Mr Tyler stated, "in 2007 we brought about HKD6 billion more cash into the business than went out. In 2008 it was HKD6.5 billion the other way...If we follow that direction for long anyone can see what would happen to our cash reserves". He added, "we won't have a sustainable business if we keep flying high loads but at a loss".
Premium traffic - and revenues - in freefall
Network cuts appear inevitable, not only for Cathay, but for most other Asia Pacific full service carriers that rely on business passengers to make their models work.
IATA reports Asia was worst affected in terms of premium traffic reductions again in Jan-2009. Within Asia premium travel fell 23.4% and across the Pacific there was a decline of 24.7%. Premium travel between Europe and Asia was down 21.2%.
For the South Pacific, where growing competition between Qantas, United Airlines, V Australia and Delta will increase available premium seats by more than 50% over a matter of weeks, the Jan-2009 fall was a horrific 28.5%.
The industry body stated the devastation has been driven by the collapse in international trade and investment in the region; exports of Japan's semi-conductors and car parts were both down by more than 50% in January. IATA stated, "what started as a financial crisis in the Western economies has now become a manufacturing crisis, hitting the export dependant economies of Asia hardest". And it is the airlines that are feeling the pain.
Passengers trading down to Economy
Worldwide, the number of passengers travelling on First or Business class tickets fell by 16.7% in Jan-2009, a further substantial fall from Dec-2008 levels, which were 13.3% down on the year.
IATA Premium traffic growth (% change-year-on-year) by region: Jan-2009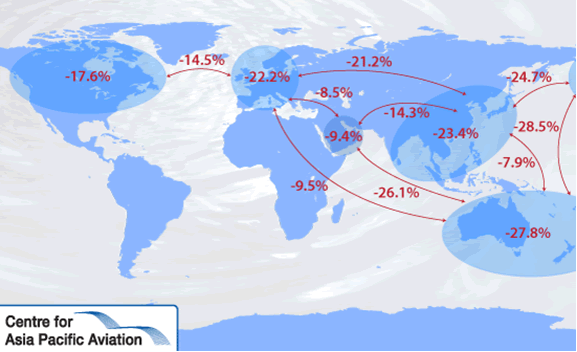 IATA estimates the reduction in average fares and fuel surcharges have resulting in revenues from premium passengers falling by at least a quarter in Jan-2009, which is "wreaking significant damage to network airline yields and profitability".
The airline body noted there is some evidence of passengers trading down from premium to economy seats, particularly in Europe. Economy travel has been falling at a slower rate than premium travel.
The Middle East region is also experiencing a drop-off in premium demand, although its major long-haul carriers are committed to aggressive capacity and network expansion this year and next. This will place additional strain on Asia's traditional sixth freedom carriers.