Iran aviation: the next market for aircraft manufacturers. Can growth be as fast as hoped?
Analysis
With a landmark nuclear deal being proposed for Iran, the focus shifts from the immense complexity of reaching an agreement to the implications of it. For aviation, this means Iran's airlines taking new aircraft. The prospect has long been out there but now feels within reach, provided the Joint Comprehensive Plan of Action is approved by various nations. It may not be until 2016 that business eventuates, although Iran is eager to do deals with Airbus and Boeing to replace its airlines' ageing fleets and to also generate new growth, clawing back at the gains foreign carriers have made in the Iranian market while Iran's local airlines have faced restrictions.
STOP PRESS! CAPA announces Iran Aviation Summit, Tehran 24-25 January 2016 - first major international aviation summit to be held in Iran in almost 40 years, with the full backing of Iran's aviation authorities and industry leaders. The Iranian delegation comprises the 100 most influential people in Iranian aviation and travel. They will be joined by more than 150 industry leaders from around the world, meeting to discuss the potential of the market in a post-sanctions environment. Click here to view the Iran delegate line-up.

Iran's in-service fleet stands at 215 aircraft in Aug-2015. Iran talks of taking 300 new aircraft within five years and a further 200 in the following five for a total of 500 aircraft within 10 years. The nuclear deal means these numbers are being more closely examined. Iran wants replacement and growth, with its airlines' average fleet age of nearly 25 years making them some of the oldest.
Iran Air, in fact, operates the world's oldest passenger 747. But does Iran have the capability and bandwidth for such fast fleet growth? Few individual airlines took delivery of more than 20 aircraft in 2014. While there may be demand, short-term expectations may need to be cooled, although Iran's long-term growth opportunity remains strong.
JCPOA in Jul-2015 paves way for aircraft manufacturers to do business in Iran
The Joint Comprehensive Plan of Action (JCPOA) in Jul-2015 is a significant step for aircraft and engine manufacturers and lessors to bring new aircraft into Iran. Business has not been entirely prevented but has been heavily restricted, with exceptions made for safety of flight business transactions which are low volume but strategic as they help to maintain business ties to Iran's aviation sector.
The possible lifting of sanctions and resulting business opportunities has been watched for some time and covered in previous CAPA reports.
See related reports:
A number of governmental approvals must be achieved, including in the US. The US Congress must weigh in on JCPOA by 17-Sep-2015. But even after that, the lifting of sanctions will take time. Some believe effective business will not be done until 2016, although Boeing will certainly want to start sooner rather than later lest Airbus get a head start. One difference between the parties involved in the JCPOA is that the US will not lift its sanctions relating to terrorism.
This is notable as the US considers Iran's Mahan Air to be linked to terrorism, which the carrier disputes. This is not an insignificant situation: Mahan is Iran's largest airline – bigger than Iran Air – and represents a large commercial opportunity. There is not a negotiating point for the US to lift terrorism-related sanctions, so if American companies want to do business with Mahan Air, the US would need to end Mahan's terrorism affiliation.
Iran knows it is in the strong position of being sought after by aircraft and engine manufacturers, which have the opportunity to make immediate sales and build long term relationships after being shut out of the market for so long. Deputy Head of the Civil Aviation Organization of Iran Mohammad Khodakarami was quoted by state-run Farsnews in Jul-2015 as saying: "Airbus and Boeing are waiting for the results of the implementation of the nuclear agreement to appear in Iran before commencing a new chapter of cooperation with us."
The exact involvement between Iran and aviation parties is unclear. Foreign parties are keen to distance themselves from business interaction until sanctions are officially lifted while Iran has understandably been eager to generate interest. Mr Khodakarami said Iran has received from airframers formal proposals and has communicated via e-mail and telephone calls. There have also reportedly been visits, including from France, with Mr Khodakarami saying: "A delegation from the French Civil Aviation Organization is to visit Iran in the near future to expand mutual ties and also to confer on increase in the weekly Tehran-Paris flights from its present three to ten."
Iran wants 300 aircraft within 5 years, 500 within 10 years
Iran has ensured interest in its aviation market with a number of statements about aircraft needs. The question for many is if Iran's fleet requirements are as large as it says, or if there has been some embellishment so foreign companies can pressure their governments to expedite the lifting of sanctions. Mr Khodakarami said Iran would need 80 new aircraft a year, or 300 within five years.
The last figure is lower than taking 80 aircraft a year, or 400 over five years, indicating the lead time to acquire new aircraft, although airframers and lessors will try to free up immediate delivery spots. In the subsequent five years, Iran would need another 200 aircraft and would thus take 500 aircraft over 10 years. This is ahead of estimates that put the 10 year need at 400 aircraft. Iran has previously said it would need 600 aircraft in 11 years.
There are other questions to the plan. Mr Khodakarami said "Iran will buy a total of 80-90 planes per year from the two aviation giants in the first phase of renovating its air fleet." It is unclear if Iran will conduct annual purchases, as the quote implies, or do a few bulk deals (with greater discounts) that average out to 80-90 aircraft a year.
Iran is following the strategy of other markets in playing the manufacturers against each other in the press, with Mr Khodakarami saying: "Iranian airlines will carefully examine all options for the country's new aviation fleet purchases and definitely will not restrict their choices to a single country or aircraft manufacturing company...We will purchase planes from Boeing and Airbus in equal numbers." No doubt manufacturers will try to tilt the purchases in their favour rather than have an equal split. Mr Khodakarami said financing for the purchases would be via state funding, foreign borrowing and leasing.
The opportunity for aircraft and engine manufacturers: Iran's aircraft are over 20 years old
The large aircraft orders are needed to replace Iran's ageing aircraft and grow the in-service fleet, both of which have been difficult to do under sanctions. Iran's three major airlines have average fleet ages of 24-25 years, according to CAPA's Fleet Database.
Iran Air's 747s average 33 years and the carrier operates the world's oldest passenger 747, which was manufactured in Jun-1976. It also operates a 747 manufactured in Nov-1981, another of the oldest 747s still in service.
There are airlines with higher averages – Tajik Air at 27.5 years, Syrian Airlines at 25.5 years – but this these are not the central players. Delta straddles the spectrum with an average fleet age of 17.1 years and is reporting record profits, but no doubt Iran wants a lower average fleet age than Delta.
Iranian airlines will be competing primarily with Gulf network carriers (Emirates, Etihad and Qatar) as well as Turkish Airlines. They have geographically convenient hubs, strong local traffic, and are amongst the largest foreign carriers in Iran. Turkish Airlines has four-fifths as many international seats to/from Iran as Iran Air does. These three Gulf carriers and Turkish have an average fleet age of under seven years.
Average fleet age of major Iranian carriers (in green) and select peers (in blue): Aug-2015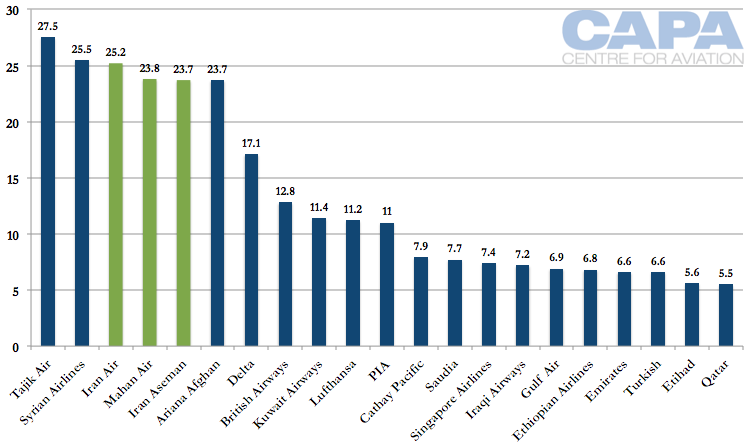 Can Iran take 80-90 aircraft a year? In-service fleet stands at 215 in Aug-2015
There can be no doubt Iran holds much potential for growth. The question is how quickly it can realise the opportunity. One argument is that Iran before the tightening of sanctions was deprived of a robust aviation industry. Until recently, acquiring spare parts was challenging. Brain flight in aviation, like other sectors, has occurred.
The counter-argument is that while sanctions have made life difficult, to say the least, ingenuity has prospered and could be harnessed for aviation growth. There have been a number of aviation accidents, including fatalities, at Iranian carriers, including flagship Iran Air. But the country's largest airline – Mahan Air – has not suffered a major accident or incurred fatalities.
Growth along the lines of 80-90 aircraft a year would be impressive and buck industry norms. 80-90 aircraft may not seem like a lot for an entire country. After all, American Airlines in 2014 received 82 new aircraft while China's four big airlines took delivery of 184. But Iran is no US or China. In Aug-2015, Iran's in-service fleet is 215 aircraft, according to CAPA's Fleet Database.
Even if there is demand and willingness to take 80-90 aircraft a year, that places sudden pressure on regulatory oversight, training of employees, maintenance and the like.
Iran has said it will need narrowbody and widebody aircraft types. That introduces the possibility of a number of aircraft models – potentially new to Iran – entering the Iranian register for the first time. One new type is usually challenging enough for an airline. There are exceptions: British Airways received its first A380 and 787 in the same year, but its resources are superior. Vietnam Airlines in 2015 is working hard after taking its first A350 and 787, the result of various delays meaning deliveries were not spaced apart, as originally hoped. Skymark Airlines' attempt to acquire both A330s and A380s in the same year failed for multiple reasons, but one cause was lack of management bandwidth to manage two aircraft types.
Iran in-service fleet hulls by operator: 10-Aug-2015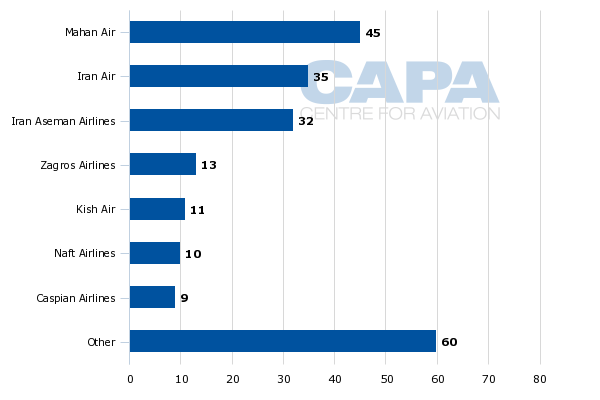 Over half of Iran's in-service fleet is with three airlines: Mahan Air (45 aircraft), Iran Air (35) and Iran Aseman Airlines (32).
If the projected 80-90 aircraft are distributed around the same proportion as the current fleet, the three carriers are looking at approximately 15-20 aircraft each per year. Looking at global 2014 deliveries, there were a number of carriers that managed to take delivery of 20 or more aircraft – but these are large airlines with infrastructure and support to manage sizeable fleet inductions.
Top airlines for aircraft deliveries: 2014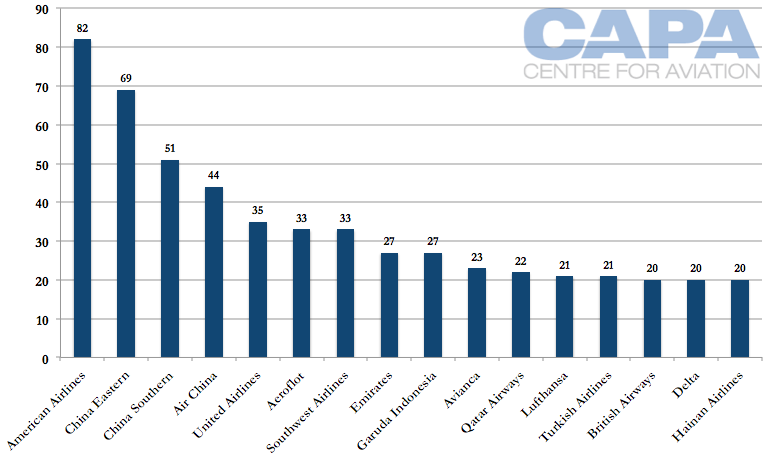 Part 2: Iran's airlines will grow. Implications for foreign carriers
Reaching the JCPOA has been a long, exhaustive and multi-dimensional process. If approved the focus shifts to implementation and its implications. Aviation is only one part of the renewed engagement between Iran and the global community but represents a significant opportunity for the companies involved. And as is to be expected with aviation, the indirect benefits are multiplied as aviation growth supports economic growth and facilitates business, trade and tourism.
Although there may be questions around exactly how much aviation growth Iran can achieve in the short term, there is no doubt the medium and long term story is compelling given its population of almost 80 million people.
Much discussion of Iran's aviation development has focused on replacing older aircraft. This is sorely needed. But with the aggressive fleet induction time frames given by Iran, it is evident Iran's airlines will grow, making up for lost opportunities while seizing new ones brought on from economic growth resulting from the lifting of sanctions. This will have implications for the foreign airlines serving Iran that have carved lucrative niches with handsome yields.
STOP PRESS! CAPA announces Iran Aviation Summit, Tehran 24-25 January 2016 - first major international aviation summit to be held in Iran in almost 40 years, with the full backing of Iran's aviation authorities and industry leaders. Click here for more information.
Part 2 of this report will examine Iran's current aviation links, the foreign hub carriers that have benefitted from the restricted local sector and the international networks of Iran's local carriers.