Iran aviation: the possible withdrawal of sanctions opens the door to OEMs and airlines alike
Analysis
Iran's aviation sanctions removal could be imminent as both Iran and the West are hungry for a deal.
A comprehensive agreement or further extension of the interim sanction measures is likely by the Nov-2014 deadline, galvanised on the West's side by the prospect of an unconstrained and potentially accelerated uranium enrichment programme should negotiations collapse. The significant increase in Iran's nuclear capabilities is driving the West's eagerness for an agreement with a sense that leverage is shifting in Iran's favour.
STOP PRESS! CAPA announces Iran Aviation Summit, Tehran 24-25 January 2016 - first major international aviation summit to be held in Iran in almost 40 years, with the full backing of Iran's aviation authorities and industry leaders. The Iranian delegation comprises the 100 most influential people in Iranian aviation and travel. They will be joined by more than 150 industry leaders from around the world, meeting to discuss the potential of the market in a post-sanctions environment. Click here to view the Iran delegate line-up.
Iran is likely confident it has created a "nuclear reality on the ground" after years of obfuscation which bought time to reach a comfortable break-out capacity – the ability to quickly construct a bomb – that disputably stands at several months to just over a year.
Iran is also in urgent need of an agreement to bolster its hampered economy and regain access to foreign technology and international finance. Iran may only have unencumbered access to around USD20 billion of an estimated USD80 billion in foreign currency reserves, as of mid-2013.
This report formed part of Airline Leader Weekly of 8-Oct-2014.
Israel would likely cry foul at any comprehensive agreement but is unlikely to assume the risks of unilateral retaliatory measures. Prudent Israeli leaders likely understand a military strike for example would not set the programme back far and could actually incentivise Iran's acquisition of a nuclear deterrent.
Saudi Arabia traditionally opposes rapprochement as well, though Saudi-Iranian relations may be thawing in light of mutual security and stability threats in the region.
Potential for airlines: 36 foreign and domestic carriers serve a very valuable and geographically advantaged market with growing interest
Iran has incredible potential: A USD500 billion economy that has been likened to "Turkey with oil", a young and well-educated population of 77 million and a stock market with similar capitalisation to Poland's. The country has had recent success with taming inflation, steadying unemployment and stabilising the rial.
Tehran offers interesting potential as global hub, with flight time advantages over Gulf hubs to almost every region (see graph). Indeed, Iran Air CEO Farhad Parvaresh said the carrier ultimately aims to compete with Gulf carriers and their hubs.
36 foreign and domestic airlines serve Iran, a number of which have recently announced plans to expand capacity in 2014 and 2015. flydubai recently launched service to Tehran and Mahshad while Emirates recently increased Dubai frequency and operated a one-off A380 service, among others (see chart at end of article).
Fleet Age Comparison: Iran Air vs ex-Gulf Mideast
Fleet Age Comparison: Iran Air vs Central Asia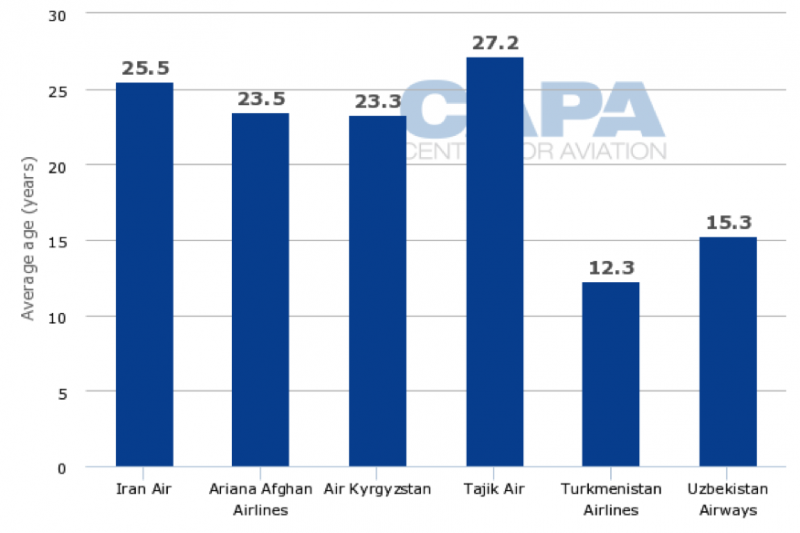 Potential for manufacturers: Iran Air fleet is second oldest in the region and national metal is ripe for post-sanctions renewal
Western manufacturers are cautiously taking advantage of the temporary sanctions relief to provide safety-of-flight components and service to Iran Air's aged fleet. Boeing and GE received export licenses from the US Treasury Department in Apr-2014, and agreed to supply Iran Air and Iran Air Tours with aircraft parts, designs and navigational data in Jul-2014. Airbus said it too is working with Washington to secure export licenses for spare parts.
Iran's Civil Aviation Organisation estimates the country will need to import up to 600 new aircraft p/a over the next 11 years to meet growth and replacement requirements. Mr Parvaresh said Iran Air will need "at least 100 aircraft right away, both widebody and narrowbody" once sanctions are lifted.
Around 100 aircraft are currently grounded in Iran due to a lack of spare parts. Iran Air's Boeing 747s are 35 years old on average and the carrier operates some of the last 747-200B/Cs and A300B2s in commercial service.
Sensing opportunity, Russia is in talks to establish a Tu-204 production line in Iran and Mr Parvaresh said Iran Air would "definitely" turn to Russian and Chinese manufacturers should a long-term deal to end the country's economic isolation fail to materialise.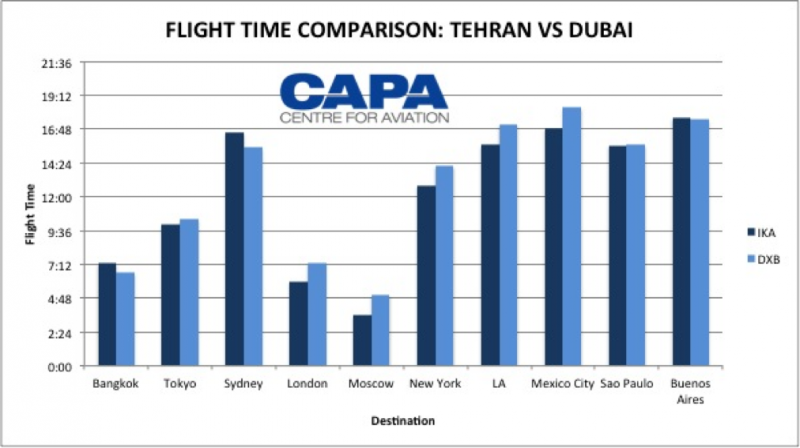 Risks nevertheless remain as severed links and confidence in dealing with Iran will take time to rebuild
Years of sanctions have severed financial links between Western and Iranian institutions which will take time to rebuild, as will confidence in mutual dealings. American banks remain exceedingly cautious and often block even legal transactions with Iran due to an "intense fear" of sanctions enforcement. Billions in fines have been levied in the past against firms such as HSBC for violating sanctions.
Legal and reputational risks abound in doing business with Iran, while receiving compensation can be difficult as payment and shipping restrictions currently hinder even permitted humanitarian trade.
Nevertheless, Mr Parvaresh signalled the financial wherewithal on the Iranian side would not be an issue as Iran Air "can easily lease" to meet its fleet requirements once sanctions are eased.
As extra inducement, Mr Parvaresh said it would "for sure" be easier to do business with companies that had co-operated with Iran under the current sanctions relief window.
Sanctions will be difficult and time-consuming to remove should a comprehensive agreement be reached, requiring US congressional approval and touching on other sensitive concerns such as support for terror groups. To even get to this point, Iran's leaders will need an agreement they can sell to the Iranian people as some sort of victory that justifies the incredible economic and political costs incurred in pursuing its nuclear programme.
While the risks of doing business with Iran appear to be dissuading serious economic openings at the moment, the country cannot be off the radar of interested investors for much longer due to ever-present market potential, coupled with current momentum and realities within Iran and the wider region.
STOP PRESS! CAPA announces Iran Aviation Summit, Tehran 24-25 January 2016 - first major international aviation summit to be held in Iran in almost 40 years, with the full backing of Iran's aviation authorities and industry leaders. Click here for more information.
In a word:
Emirates divisional EVP for commercial operations centre Sheikh Majid Al Mualla: "Iran is one of the most active aviation markets in the world and an integral part of Emirates' operations". Emirates, 02-Oct-2014
Iran Air CEO Farhad Parvaresh: "If sanctions are lifted in aviation, we would need at least 100 aircraft right away, both widebody and narrowbody." Reuters, 07-Jun-2014
IRAN CAPACITY INCREASES ANNOUNCED SINCE MAY-2014