Iran Air drops the A380 from its Airbus order; a logical decision as the A380 ages, enters mid-life
Analysis
Iranian aviation is being revitalised with the long-term prospects of re-establishing a global hub in Tehran. The first of many steps is re-fleeting and growth at the flag operator Iran Air, which has confirmed orders for 180 aircraft from Airbus and Boeing. The 80-aircraft Boeing order includes 737 MAXs, 777-300ERs and 777-9s, while the 100-aircraft Airbus order includes A320s, A321s, A330s and A350s.
Iran Air has dropped preliminary plans to take 12 A380s. Although this is being marked as the latest blow to the A380 order, Iran Air taking A380s was always a distant prospect. Tehran is a small hub prospect in the short term and, irrespective of whether Iran Air could find sustainable markets for the type, by the time Iran Air planned to receive its first A380 the type would be well into its mid-life, with dwindling spare parts and support.
A380 phase-out is beginning. Of the A380's early operators: Singapore Airlines is not renewing the leases on its initial A380s, Emirates will have new A380s replace older A380s it expects to part-out, and Qantas is studying stretched A350 types and the 777X to replace its A380s. That said, there may be renaissance concepts for the aircraft, such as Malaysia Airlines' charter plans.
For Airbus, Iran Air has finalised an agreement for 100 aircraft that is broadly split between narrowbodies (A320 and A321) and widebodies (A330 and A350). The A380 is no longer included. The industry was excited to see a new-build A321 in Iran Air colours at an Airbus plant awaiting delivery, likely in Jan-2017.
Iran Air's first new-build Boeing delivery is expected in 2018. Iran Air has agreed to 80 aircraft, comprising 50 737 MAX 8s, 15 777-300ERs and 15 777-9s. At least two undisclosed leasing companies will finance 77 aircraft, including 42 from Airbus and 35 from Boeing, according to Reuters.
Iran Air would take delivery of an ageing A380 with uncertain spare parts and support
Putting aside whether or not Iran Air would have sustainable markets for the A380, there is the matter of the aircraft's age. Iran Air's A380s were tentatively scheduled for delivery from 2020 to 2022. The A380 was designed in the late 1990s/early 2000s, meaning Iran Air would take delivery of an aircraft with a 20-year-old design lacking any significant upgrade.
As of Dec-2016 74% of all A380s expected (in CAPA's Fleet Database) to be built in the programme's lifetime have already been delivered. In 2017 the assembly will be completed of 85% of all projected A380s; a revival on any scale looks unlikely.
A380 production by year of manufacture (completed/projected): 2006-2020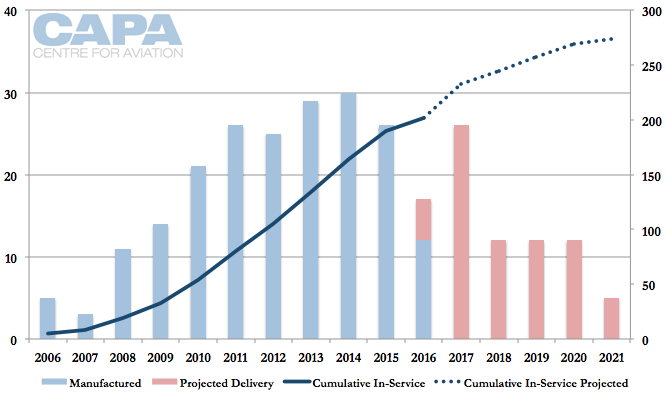 Assuming a first delivery in 2020, Iran Air would receive its first A380 when 20% of the global A380 fleet would be over 10 years old and facing retirement in the coming years. This includes aircraft, such as at Singapore Airlines and Emirates, that will likely be retired before 2020 and either broken up or possibly re-leased, but the figures are oversimplified for clarity.
Again assuming a 2020 delivery, within a few years of operating the A380 Iran Air would have seen a marked change in the type's age distribution: in 2025 69% of A380s would be 10-20 years old and facing retirement. By the time Iran Air's A380s would have around a normal half-life, in 2030 there would be only a handful of other A380s under 10 years old.
Besides the direct financial concern of operating an old-design aircraft, support and spare parts would gradually become an issue for what is already a relatively low volume production aircraft - although obviously Airbus would take steps to ensure supply.
There could be further challenges since most of the support and spare part industry will be focused around Emirates, which for competitive reasons may not regard it as being in its interest to help Iran Air attain good commercial deals for A380 support.
A380 global fleet age assuming all aircraft remain in service: 2020-2030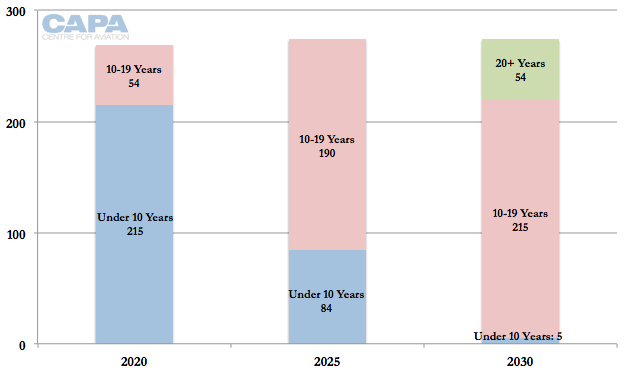 The A380's initial three operators – Singapore Airlines, Emirates and Qantas – are preparing to phase out some or all of their A380s.
Launch operator Singapore Airlines last took delivery of an A380 in 2012. That was SIA's 19th, and last from its first tranche. A follow-up order was made for five A380s – two for delivery in 2017 and three in 2018. These aircraft will feature new premium class products (business class seat and first class suite) and be retrofitted to the A380s that will remain in SIA's fleet.
SIA has updated its business and first class seats for the 777-300ER and retrofitted it to all -300ERs. The business class seat is also used on SIA's A350-900 (which does not have first class). But the A380 was not targeted in this product cycle and consequently the on-board product is ageing.
SIA's A380s average a still fairly young 7.5 years old, slightly under its total average fleet age of 7.9 years for the mainline operation (excluding SilkAir). SIA has elected not to renew leases on its initial A380s. Although this was seen as a blow to the A380 second-hand market, it was always unlikely for these aircraft to have their leases extended since they are some of the earliest A380s Airbus built, and have production inefficiencies owing to the early, difficult stage of A380 manufacturing.
See related report: A380 fleet profile: Emirates prepares for 615 seat configuration. SIA will dispose of early models
Emirates plans to replace its oldest A380s with new-order A380s; it does not plan to operate 140 A380s at the same time – or any sum near that. Although Emirates expects that its aircraft, which are well utilised, will be scrapped rather than reallocated, for its leased fleet that will be a decision for lessors. Whereas SIA has 10-year leases on its initial A380s, Emirates has 12-year leases, which mean its A380s only start to come off lease in 2020.
Discussion of a re-engined A380 – the so-called A380neo – appears to have ended, causing some frustration at Emirates. Emirates was the only audible proponent of the aircraft type but Airbus was hesitant on Emirates' overall volume order, as well as that order being dependent on one operator (more so than Airbus is with the current A380). It is unclear whether forgoing the A380neo could hurt Airbus' chances as Emirates weighs an A350/787 order.
At CAPA's Australia Pacific Aviation Summit in Brisbane in Aug-2016 Qantas CEO Alan Joyce stated clearly the long-held assumption that Qantas would not take delivery of the eight A380s it has postponed. Qantas operates 12 A380s and struggles to identify other markets large enough to fill the aircraft before turning to the matter of a profitable operation.
Qantas is eager to be at the forefront of its A380 replacement, which it sees occurring around 2020-2025. Qantas fell behind on 747 retirement but is managing to pull the aircraft through due to strategy (a product upgrade) and unanticipated luck (the rapid fall of fuel prices, easing the 747's fuel burn).
Qantas is weighing Boeing's 777X and Airbus' A350 family. A new stretched version of the A350 is under consideration, and Qantas does need to reach terms with Airbus about the A380s it does not intend to take delivery of. Boeing is eager to have Qantas finally operate the 777, and in hindsight Qantas now regrets not selecting the 777-300ER. When Qantas made its major refleeting decision at the turn of the century the 777-300ER had specifications far below what it ended up with, and Qantas was still very conservative about operating twin-engined aircraft for ultra-long haul flying. The airline also secured a very good deal for making such a large order at a time when Airbus needed the sale.
Outlook: Iran Air was never to be the A380's saviour
2016 starts and ends with no Iran Air A380. The A380 was included in Iran Air's initial agreement in early 2016. But as the buzz and excitement of Iranian aviation growth normalises and the focus turns to details, financials and ultimately profitability, it is not surprising to see the A380 order not being finalised. At the very least, both Airbus and Iran Air probably received more attention from the possibility of the A380 than they would have otherwise. The door will of course remain open for an order, but from Iran Air's planning perspective, prudency dictates watching how the market evolves, as long haul smaller widebody routes attract much attention - see for example: Qantas' first 787 routes, Perth-London nonstop and Melbourne-LA, address urgent strategic needs
For Airbus this is not a major setback. Besides Iran Air being a late prospective A380 order – it was always uncertain. With an order of only 12, the deal was not going to be the saviour for the A380 programme in any case. And with no other major deals (ANA is too small) or immediate prospects, there was not a chance of an Iran Air A380 order contributing to a new lease of life for the A380.
The A380 programme finds itself back where it was, while Iran Air is marching towards revitalisation – all in all, a practical outcome.