Interjet's new Superjets are featured in the latest competitive roll-out from Mexico City
Mexican airline Interjet has recently introduced a raft of new routes from Mexico City Juarez International including three pairings featuring the carrier's latest fleet addition – the Sukhoi Superjet 100 – a 93-seat jet that Interjet is banking on for penetration into Mexico's thinner markets and possibly international service.

In some ways the introduction of the SSJ100 marks a new era for Interjet, which has rapidly grown to become the second largest domestic carrier behind Grupo Aeromexico. The addition of a new fleet type is somewhat of a gamble given the SSJ100's unproven track record. But Interjet appears willing to roll the dice in order to solidify its competitive standing among the four largest Mexican carriers. The carrier is devising strategies to capture the air travel demand developing among the country's growing middle class who are opting for cheap air travel in lieu of taking their journeys by bus.
Interjet's Superjets face familiar competition from Mexico City
Interjet accepted delivery of the SSJ100s in Aug-2013 and two jets began revenue flights in Sep-2013. The carrier has not surprisingly deployed the aircraft on three routes from its largest base Mexico City Juarez. Toluca-based Interjet has supported its expansion in Mexico City by acquiring slots from defunct Aerocalifornia in 2008, and is now the airport's second largest carrier in terms of seat deployment behind Grupo Aeromexico.
Interjet top 10 hubs/bases/stations by seats: 14-Oct-2013 to 20-Oct-2013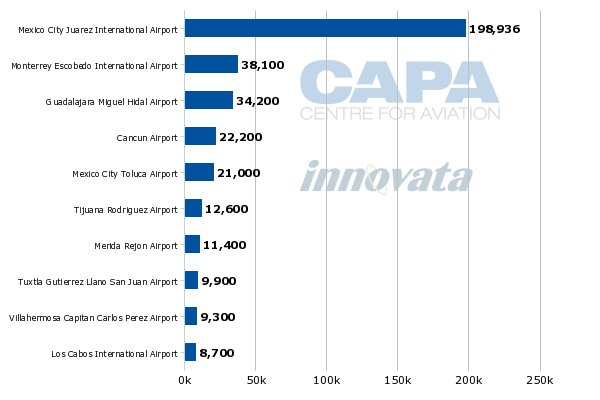 Mexico City Juarez International Airport capacity by carrier (% of seats): 14-Oct-2013 to 20-Oct-2013
The 93-seat SSJ100s are joining Interjet's existing fleet of 150-seat Airbus A320s. Presently Interjet has deployed its new smaller jets from Mexico City to Manzanillo, Mazatlan and Torreon.

According to schedules in Innovata, Aeromexico is the largest carrier operating on those routes in terms of seats deployed, representing a 35% share on Manzanillo, a 53% share in Mazatalan and a 59% share in Torreon.
Carrier seat share on Interjet's new SSJ100 routes from Mexico City Juarez: 14-Oct-2013 to 20-Oct-2013
| | | |
| --- | --- | --- |
| Route | Approximate number of Seats | Carrier share |
| Manzanillo | 2,120 | Aeromar 34%, Aeromexico 35%, Interjet 30% |
| Mazatlan | 4,271 | Aeromexico 53%, Interjet 14%, VivaAerobus 22%, Volaris 7% |
| Torreon | 5,648 | Aeromexico 59%, Interjet 20%, VivaAerobus 21% |
But Aeromexico's dominance in those markets has diminished since Interjet's entry as its share in Manzanillo was roughly 49% in Jun-2013, 65% in Mazatlan in Jul-2013 and 68% in Torreon during Jul-2013 before Interjet introduced service. With the exception of some Boeing 737 narrowbody service to Torreon, Aeromexico serves those routes with a mix of 50-seat Embraer ERJ-145 jets and larger 70/90-seat E-170/190 aircraft operated by Aeromexico Connect (according to schedules in Innovata for 13-Oct-2013 to 19-Oct-2013). Those initial routes seem like good test markets to prove out Interjet's desired mission for the SSJ100 as Aeromexico deploys smaller-gauge aircraft on those routes.

Inevitably, Aeromexico will feel some pressure with increased capacity in the three markets where Interjet is deploying the SSJ100s as Interjet is either becoming the third or fourth competitor in the market. Aeromexico and regional carrier Aeromar offer service to Manzanillo while Volaris, VivaAerobus and Aeromexico serve Mazatlan. VivaAerobus and Aeromexico also operate flights from Mexico City to Torreon.
Interjet adds more competition on other well-served routes from Mexico City
Other recent new route additions by Interjet from Mexico City include Aguascalientes, Campeche, La Paz, Minatitlan, Reynosa and Zacatecas.

Interjet is operating those routes with its Airbus narrowbodies, but based on current schedules in Innovata (13-Oct-2013 to 19-Oct-2013), Aeromexico deploys mostly ERJs and Embraer 170/190s on those markets, with the exception of Reynosa, which appears to have some mainline 737 service.

It is plausible that some of those new markets may be pegged for SSJ100 deployment by Interjet as more aircraft come online by YE2013. For the moment Interjet has rapidly built up its seat share on those new routes, holding a 30% share or greater in the majority of the markets. The exception being Reynosa, where it has a 19% share.
Carrier seat share on Interjet's recent new routes from Mexico City Juarez: 14-Oct-2013 to 20-Oct-2013
| | | |
| --- | --- | --- |
| Route | Approximate number of seats | Carrier share |
| Aguascalientes | 6,533 | Aeromar 8%, Aeromexico 51%, Interjet 41% |
| Campeche | 3,116 | Aeromexico 52%, Interjet 34%, VivaAerobus 14% |
| La Paz | 3,512 | Aeromexico 36%, Interjet 30%, Volaris 34% |
| Minatitlan | 3,242 | Aeromexico 68%, Interjet 32% |
| Reynosa | 4,801 | Aeromexico 54%, Interjet 19%, VivaAerobus 28% |
| Zacatecas | 2,454 | Aeromexico 57%, Interjet 43% |
The major strategy of Mexico's three largest low-cost carriers – Interjet, Volaris and VivaAerobus – is market stimulation with lower fares. While both Interjet and Volaris have offered their bullish view on the large numbers of Mexicans that still travel by bus (Interjet estimated 97 million in 2012 while Volaris has cited roughly 2.8 billion passenger bus segments in 2012, of which approximately 74 million were executive and luxury passenger segments) the competition on some domestic routes is becoming more robust as each of the three carriers alongside Aeromexico attempt to nuance their product offerings to capture the lion's share of those passengers migrating from buses. Interjet's strategy is a semi-frilled offering with a somewhat generous offering of 34in pitch in both aircraft types. VivaAerobus and Volaris offer more traditional low-cost business models.

While it is fairly clear that Interjet is taking aim at Aeromexico's network of smaller markets with its SSJ100s, those six new routes from Mexico City are fairly contested, with Interjet becoming the third carrier in Aguascalientes, Campeche, La Paz and Reynosa. Interjet and Aeromexico now have a duopoly on service to Minatitlan and Zacatecas, so presumably fares should fall on those routes as Interjet has previously touted the fact it has one of the lowest cost bases among Latin America's large airline groups, second behind Copa and lower costs than Gol, TAM, Avianca-TACA and LAN. (Interjet's estimates were made prior to the LATAM merger closing and Avianca-TACA rebranding as Avianca.)

See related report: Mexico's Interjet plans further expansion with a new Superjet fleet targeting thinner routes
Aeromexico will craft its response to the new competition from Interjet in due course
Aeromexico is no doubt preparing for increased competition from Interjet on its smaller-jet routes. But the new pressure is occurring as Mexico's economy is on somewhat shaky ground and domestic traffic growth is not occurring as rapidly as it had been during the last couple of years. Yet even as it feels increased competitive pressure from Mexico's low-cost carriers, Aeromexico is fashioning responses to their encroachment. Recently it introduced a low-fare brand Contigo that comprises four higher-density aircraft deployed from Guadalajara to ensure Aeromexico remains competitive with Volaris among migrant customers travelling in US border markets. It is early days for Interjet's SSJ100 operation, but Aeromexico is no doubt keeping a close eye both on the aircraft's performance and the loads Interjet generates on the routes.

See related report: Aeromexico looks to pressure Volaris with a new low-fare branding exercise, Contigo
Four forces now hold the key to the future of Mexican commercial aviation
Two of Mexico's four main airlines – Aeromexico and Volaris – have now completed initial public offerings. Aeromexico raised USD332 million in its 2011 IPO while Volaris raised USD350 million in Sep-2013.

Interjet had planned to initiate a public offering in 2011, but opted to pull those plans at nearly the last minute. Now the carrier is reportedly considering taking itself public in 2014 while Bloomberg has recently reported that VivaAerobus has hired Barclays to assist with a possible IPO.

Regardless of the outcome of potential IPOs by Interjet and VivaAerobus, those carriers along with Aeromexico and Volaris are shaping the future of commercial aviation in Mexico – both domestically and internationally. Only time will tell if the market can support four carriers, but for the time being each airline is moving aggressively to position themselves as the carrier of choice in the rising middle class of Mexico.

See related report: Newly public Mexican LCC Volaris sees ripe opportunities inside and outside of Mexico