Intercontinental and regional carriers look to serve Zimbabwe in absence of national carrier
Analysis
Zimbabwe's indigenous aviation industry has been uncertain at best, underscored by Air Zimbabwe grounding its entire fleet last month. Even if the carrier resumes services, its future is not guaranteed. Instead Zimbabwe will have to rely on intercontinental and regional carriers. In the former category, Emirates will launch services in early Feb-2012, which will help maintain whatever trade links and international relations Zimbabwe has left. From regional African carriers, Air Namibia will resume service and Zambezi Airlines plans to increase its offering, which will help supplement the country's regional needs. While total capacity in Zimbabwe has dropped since mid-2011, it is expected to increase this year but by May-2012 will still be down 11% from a year earlier.
Seat capacity in Zimbabwe in May-2011 was 79,340 however this figure took a dive in Dec-2011 as Air Zimbabwe's operations became increasingly sporadic before stopping all together. Zimbabwe's total seat capacity is expected to increase by May-2012 to much healthier levels, however this assumes Air Zimbabwe will be able to return to normal operations of 10,000 seats per month.
Zimbabwe total seat capacity: May-2011, Dec-2011 and May-2012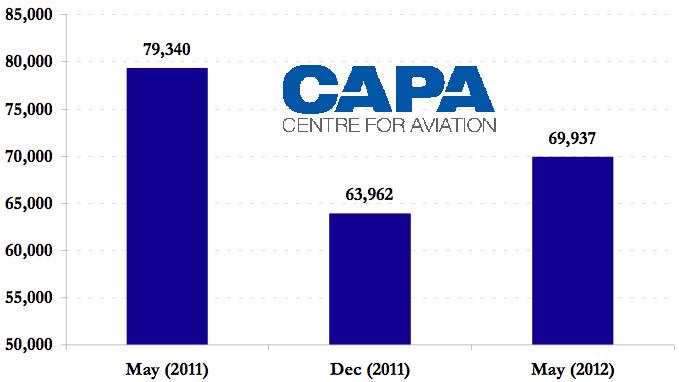 While total capacity in Zimbabwe fell from May-2011 to Dec-2011, South African Airways and Air Namibia increased existing services and introduced new ones that helped made up for Air Zimbabwe taking out 5000 seats over the six month period. Factors leading to this decrease from the national carrier included pilot strikes, mounting debt, maintenance issues and a loss of consumer confidence. South African Airways added capacity on the Johannesburg-Harare route with a daily A330-200 service, seating 222 passengers (36 in Business and 186 in Economy), bringing its total frequency to 21 weekly – a 66% increase. Neighbouring Zambezi Airlines increased its six times weekly service to 10 times weekly in Oct-2011. On 01-Apr-2012, Air Namibia will return to Harare for the first time in 13 years when it adds 148 seats a week with a four times weekly Windhoek-Harare service using ERJ-135 equipment. It will be the carrier's second destination in Zimbabwe, after Victoria Falls, and seventh in Africa.

Zimbabwe total seat capacity by carrier: May-2011, Dec-2011, May-2012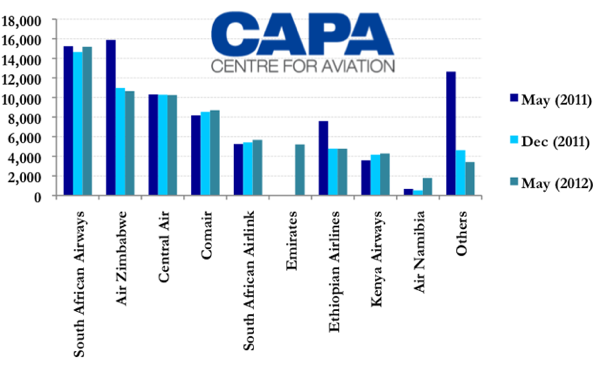 South African LCC Velvet Sky announced in mid-2011 plans to launch services in mid-2012 to some members of the South African Development Community (SADC), a group of 15 sub-Saharan countries aimed at improving socio-economic cooperation amongst each other. Signatories include Botswana, the DRC, South Africa and Zimbabwe. Velvet Sky's first route is to Mozambique and the carrier has not announced further expansion. No LCC currently serves Zimbabwe.
Emirates first major international carrier to enter market in five years
Emirates plans to launch on 01-Feb-2012 a five times weekly service via Lusaka, Zambia on A330-200s operating Dubai-Lusaka-Harare-Lusaka-Dubai. Emirates will be able to carry local traffic between Harare and Lusaka as the UAE and Zambia in 2009 signed an open skies agreement that permits fifth-freedom flights, despite Zambia blocking previous fifth-freedom flight requests from African nations. The Dubai-Lusaka-Harare service will provide Zimbabwe with its first link to the Middle East that could then open lines to new trading partners in the Gulf and beyond. Currently, Zimbabwe's largest trading partners include South Africa, Botswana and China. Zimbabwe was connected to China and South Africa before Air Zimbabwe's grounding.
Emirates' service will make it the sixth largest carrier in the market with upwards of 1185 weekly seats. South African Airways and Air Zimbabwe (if operating normally) are the largest and second largest carriers in the market. Emirates will be the first major international carrier to enter the market since British Airways pulled out in Oct-2007 due to "viability problems" relating to Zimbabwe's economic climate and decreasing demand.
Zimbabwe's strongest links are to southern Africa
Zimbabwe's regional connections are strongest between its neighbours but dither elsewhere on the continent. South African Airways, the largest carrier operating in Zimbabwe, provides strong coverage to southern African cities, but elsewhere on the continent destinations served are not strong trading partners with Zimbabwe. Routes also require backtracking through South African's hubs, primarily in Johannesburg, adding time and cost; intra-Africa fares run high before even considering local incomes.
Comair, a franchise of British Airways, operates to Harare, Livingstone and Victoria Falls from Johannesburg OR Tambo International Airport and serves Cape Town, Durban, Port Elizabeth and Windhoek, but like South African Airways, requires backtracking though South Africa for any connecting services.
Ethiopian Airlines and Kenya Airways provide more links to east Africa and, to a lesser extent, West Africa, however North Africa remains unconnected, with services from both carriers only operating to Cairo. Angolan flag carrier TAAG has a limited network, while Air Namibia's network is centred around the country with links to neighbouring countries.
Zimbabwe international capacity by region (seats): 16-Jan-2012 to 22-Jan-2012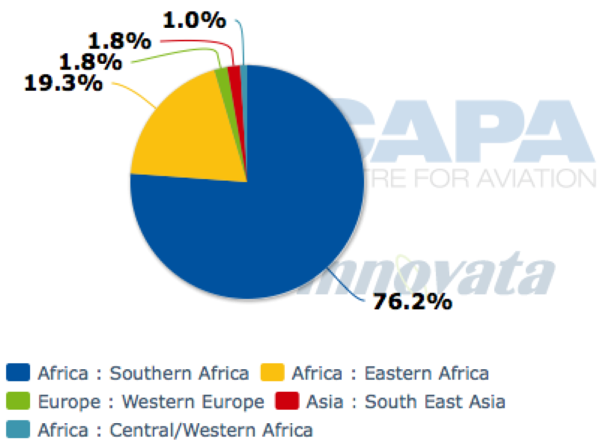 Like most countries, Air Zimbabwe's strongest links are to its regional and trading partners, with southern and eastern Africa accounting for 95.5% of all 222,301 seats per week. Following Air Zimbabwe's grounding the country lost direct intercontinental links, although future capacity from Emirates will address this.
Zimbabwe's aviation industry comparatively weak
Zimbabwe is a small market with a capacity of approximately 22,000 seats per week according to Innovata. In terms of African markets, Zimbabwe's seat capacity per week is similar in size to Rwanda (21,000) the Democratic Republic of the Congo (15,000) and the Republic of the Congo (27,000).
Seat capacity and economic comparison between Zimbabwe, Rwanda, The Democratic Republic of the Congo and The Republic of the Congo: Jan-2012
| | | | The DRC | The Congo |
| --- | --- | --- | --- | --- |
| Seat capacity* | 22,301 | 21,660 | 15,559 | 26,971 |
| Unemployment rate | 95% | 60.3% | 67% | 63% |
| GDP – real growth rate | 9% | 6.5% | 7.2% | 9.1% |
| Inflation rate | 3.7% | 2.3% | 23.1% | 5.2% |
| Largest import partner | | | | |
| Population below poverty line | 68% | 60% | 71% | 42.3% |
It is evident when surveying available capacity in other countries with high unemployment rates (there are few countries with rates above 60%) or similar purchasing power parities that Zimbabwe's comparatively small capacity is also a reflection of a lack of a tourism industry that is a source of many seats to countries like the Bahamas, Kenya and Nepal or a lack of strong natural resources that necessitates seats to countries like Turkmenistan.
Unemployment rate/total weekly seats capacity comparison between Zimbabwe and other countries with high unemployment rates
| Country | Unemployment rate | Total seats per week* |
| --- | --- | --- |
| | 95% | 22,301 |
| | 60% | 26,474 |
| | 50.6% | 73,144 |
| | 51.2% | 28,880 |
| | 48% | 59,404 |
| | 46% | 100,403 |
| | 40% | 190,877 |
New Caledonia and Vanuatu have significantly smaller GDP PPPs than Zimbabwe but maintain a higher proportion of seats owing to tourism (with some consideration for their statuses as island nations). Although Rwanda supports fewer seats relative to GDP than Zimbabwe, Rwanda has been steadily growing since the devastating 1994 genocide, and has made remarkable progress is stabilising its economy and is currently involved in many projects with World Bank and the International Monetary Fund (IMF).
GDP/PPP/total weekly seat capacity comparison between Zimbabwe and selected countries with similar PPP
| Country | GDP – official exchange rate | GDP – PPP (purchasing power parity) | GDP – real growth rate | Total seat capacity per week* |
| --- | --- | --- | --- | --- |
| | USD7.47 billion | USD5.5 billion | 9% | 22,301 |
| | USD5.63 billion | USD12.16 billion | 6.5% | 21,660 |
| | USD7.54 billion | USD8.92 billion | 0.5% | 93,980 |
| | USD2.68 billion | USD3.16 billion | n/a | 23,897 |
| | USD728.95 million | USD1.137 billion | 2.2% | 14,475 |
Air links vital to economic development
Without steady air links, Zimbabwe will become isolated from its trade partners and risks losing tourism revenue. In 1H2011, the Zimbabwe Tourism Authority reported a 10% decrease in passenger arrivals by air from 97,552 in 1H2010 to 87,877 in 1H2011. This was due to the national airline's erratic operations.
Local reports in mid 2011 said Zimbabwe's Tourism Minister, Walter Mzembi, was engaging – optimistically – in talks with foreign carriers to start international services to the country, and has reportedly held discussions with British Airways, Lufthansa and Virgin Atlantic about commencing air service to Victoria Falls for 2013, when Zimbabwe and Zambia will jointly host the United Nations World Tourism Organisation (UNWTO) General Assembly conference. Nothing has eventuated.
Industry reflects economy
Zimbabwe's infamously troubled aviation industry, led by the mismanaged national airline Air Zimbabwe, reflects the country's economic climate, which saw a decade of contraction right up until 2010, when the country finally recorded real growth of 5.9%. While the economy is now growing at a brisk pace the country still faces continuing political uncertainly, debt, 95% unemployment, hyperinflation and damage to its commercial farming sector due to the government's land reform programme. A Feb-2009 power-sharing agreement has done little, and further economic growth is dependent on further political reforms.
Better connections with China needed to ensure future investment
Prior to its grounding, Air Zimbabwe operated a weekly service to Beijing via Kuala Lumpur. The outlook for Air Zimbabwe, and the Beijing link, is uncertain. Further, no Chinese carriers operate to Zimbabwe. There could be interest re-linking the two countries, likely through one or two connecting points, given their growing trade. Cumulative trade between the two countries increased to USD560 million in 2010, from USD500 million in 2007.
Ethiopian Airlines and Kenya Airways – two of Africa's largest carriers – serve China, representing Ethiopia and Kenya's particularly strong links to China, both in terms of investment and air service. Kenya Airways operates to Guangzhou (via Kuala Lumpur) while Ethiopian serves both Guangzhou and Beijing non-stop, at a weekly seat capacity of approximately 3000 and 4600 respectively. Ethiopian is making a strong push into China and is looking at opening new routes.
See related article: Ethiopian eyes 787 service to Hong Kong and new Asian services as Africa-Asia market booms.
South African Airways plans to launch non-stop three times weekly service to Beijing Capital International Airport on 31-Jan-2012 using A340-600 equipment. The A340-600 equipment is configured 275 Economy seats and 42 Business Class seats, resulting in a total weekly capacity of 951 seats. This will make South African Airways the third largest African carrier to operate non-stop to China, behind Ethiopian Airlines and Air Algerie.
In Feb-2011 China reportedly announced plans to invest USD10 billion in Zimbabwe to improve the country's infrastructure, IT and mining industries. China's investment in Zimbabwe still lags behind neighbouring Mozambique, Zambia and Angola, who have less corruption and more stable governments.
In the absence of a local industry, Zimbabwe's aviation needs in the medium-term will be met by Emirates for intercontinental links and by local African carriers for regional links. While Zimbabwe's GDP grew at a 9% rate in 2010, plenty of catalysts remain for the country to foster a home-grown aviation industry.
Zimbabwe's main trading partners: 2010
Background information
Zimbabwe's troubled national airline reportedly has a debt of USD140 million to various institutions. Local newspapers report the heavily subsidised Air Zimbabwe is operating at a loss of USD2 million per month. The country's aviation industry has been dwindling over the past years and saw the number of active pilots drop from 1206 in 1988 to 380 at the start of 2011. The country has a handful of small carriers that do not operate scheduled commercial services. Plans to establish domestic carrier Royal Zimbabwe Airline were shelved in Aug-2011. Before Air Zimbabwe grounded its fleet, Zimbabwe had nine commercial aircraft in operation, with none on order.
Zimbabwe total seat capacity by carrier: May-2011, Dec-2011, May2012
| Airline | May (2011) | Dec (2011) | May (2012) |
| --- | --- | --- | --- |
| | 15,244 | 14,654 | 15,190 |
| | 15,886 | 10,977 | 10,661 |
| Central Air | 10,304 | 10,276 | 10,248 |
| | 8,166 | 8,546 | 8,711 |
| | 5,250 | 5,416 | 5,665 |
| | 0 | 0 | 5,214 |
| | 7,595 | 4,780 | 4,774 |
| | 3,581 | 4,170 | 4,286 |
| | 666 | 518 | 1,776 |
| | 2,442 | 1,185 | 1,134 |
| | | 1,034 | 1,056 |
| | 432 | 624 | 624 |
| | 598 | 598 | 598 |
| | 9,176 | 1,184 | 0 |
Zimbabwe capacity, seats per week, by carrier: 16-Jan-2012 to 22-Jan-2012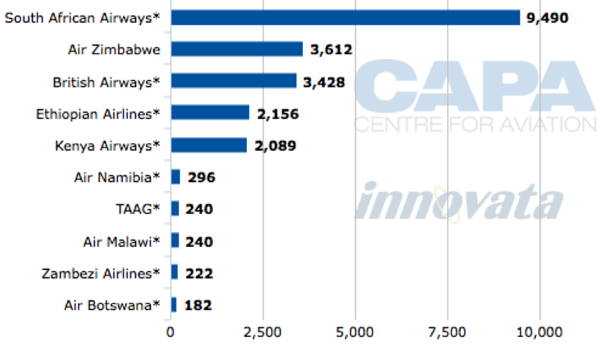 ---