India's airlines gain altitude, Jet Airways, Kingfisher & SpiceJet soar - share wrap
Analysis
India's airlines are back in favour, with some solid share price gains in recent days, reflecting improved sentiment in the broader Indian equity market. The 15.2%, 7.4% and 4.2% gains by Jet Airways, Kingfisher Airlines and SpiceJet yesterday, respectively, have continued the upward trend from lows established earlier this month.
The shares are still lower than start of year levels, though SpiceJet has fared best, as consolidation rumours supported the stock.
Indian airlines share price index:
01-Jan-09 = 1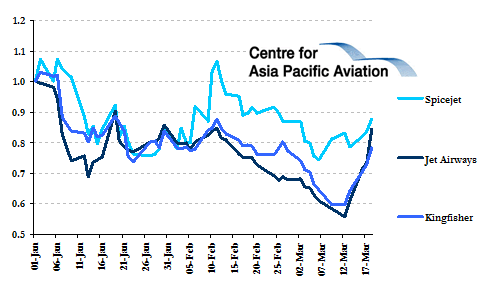 Elsewhere, Air China and Singapore Airlines were sold off yesterday, dropping 4.8% and 4.7%, respectively.
Asia Pacific selected airlines daily share price movements (% change): 18-Mar-09