IMF forecasts 2009 recession; Bank of England's shock rate cut; easyJet resilient
The International Monetary Fund has predicted advanced economies would contract by 0.3% in 2009 (compared to a previous estimate just last month of +0.5% growth). It will be the first combined fall in GDP in these economies since World War II.
The IMF stated, "prospects for global growth have deteriorated over the past month, as financial sector deleveraging has continued and producer and consumer confidence have fallen".
The IMF lowered its global economic growth forecast by 0.8 point to 2.2%, led by falls in and Britain (-1.3%), the US (-0.7%), the eurozone (-0.5%) and Japan (-0.2%).
The European Central Bank and the Bank of England slashed their key interest rates as they attempt to stave off an even deeper recession. Further interest rate cuts have not been ruled out.
The gloomy outlook and radical central bank action sent share prices falling sharply for a second day in a row, after strong rallies in the past couple of weeks. Investors appeared to be concerned that such large rate reductions indicate things are worse than feared.
In London, the FTSE 100 index plunged 5.7% taking its losses this year to well over 30%. Germany's Dax index slumped 6.8%, while France's CAC 40 fell 6.4%.
Frankfurt Airport operator, Fraport, predicts a decline in passenger numbers this year (of -1.0 to -1.5%) and next. It is the second time Fraport has cut its forecast in three weeks. The airport operator stated, "in the wake of the global financial crisis and the ensuing economic cooling, there are first signs of traffic stagnation or decline [and we] will not be able to escape this change". Its shares fell 1.2%.
European airline shares were generally hit much harder. Shares in merger partners, Iberia and British Airways, were pummeled, falling 12%, while Air France-KLM sank 8.6% and SAS fell a further 7% after its third quarter earnings report. Finnair, which has expressed interest in acquiring SAS' long-haul operations, should they be sold, rose 3.6%.
This gain was matched by easyJet after a strong traffic report (Oct-08 passenger numbers rose 18% and load factor rose 1.4 percentage points to 84%). The model, with potential to divert premium traffic on trunk routes, appears well placed in the current environment.
European selected carriers' daily share price movements (% change): 06-Nov-08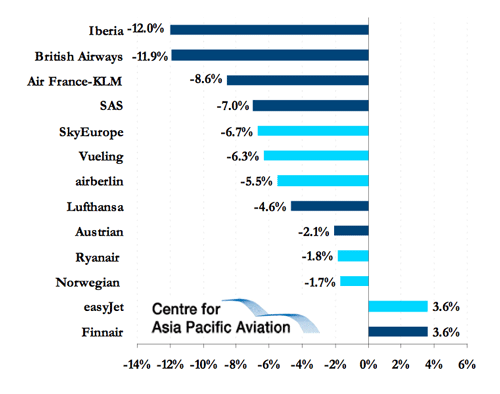 US shares also slump
The falls were mirrored across the Atlantic, despite a further 7% slump in the oil price to USD60.77 per barrel (in New York) - or fresh 19-month lows. Analysts are now predicting oil could fall to USD50 per barrel on weaker demand expectations.
US share indices fell 5% yesterday, following a 4% fall the previous day. There will be no honeymoon for Barack Obama and his new Administration as they attempt to tackle the worst financial crisis since the Great Depression.
North America selected carriers' daily share price movements (% change): 06-Nov-08