Hub status of Memphis continues to diminish as Delta culls more service
Analysis
A steady downsizing by Delta at its Memphis hub is continuing into 1Q2013 as the carrier plans to slash roughly 96 weekly frequencies from its scheduled offerings from the airport. After pulling down Memphis significantly since its 2008 merger with Northwest, the airport has shrunk to Delta's smallest domestic US hub, bypassing Cincinnati, which has also faced its share of service cuts during the same time period.
Memphis suffers from a geographical disadvantage in relation to Delta's mega hub in Atlanta, and also has a fair number of markets operated with 50-seat regional jets, an aircraft Delta is busy ridding itself of in favour of larger-gauge aircraft. Those elements continue to work against Memphis, leaving the airport to search for new carriers to fill the service gaps Delta's downsizing continues to create.
The new reductions to Delta's operations beginning in Jan-2013 follow elimination of approximately 56 weekly frequencies by Delta in Memphis in Aug-2012. Between Aug-2012 and Nov-2012 Delta's peak day departures in Memphis fell from 125 to 115 after averaging 147 in Jul-2012.
Memphis is now Delta's smallest hub based on daily departures and second smallest in terms of destinations served. Its current service levels are drastically different from the 300 average daily departures Memphis recorded in 2000, when it served as a hub for Northwest.
Peak day departures and destinations served from Delta's US hubs: as of Nov-2012
Delta's continuing pare down of Memphis has affected the airport's traffic figures as monthly passenger levels have fallen throughout 2012. During the high travel of season of Jun-2012, Jul-2012 and Aug-2012, passengers travelling through Memphis dropped 18%, 19% and 20%, respectively.
Memphis International Airport monthly passenger numbers: Jan-2010 through Sep-2012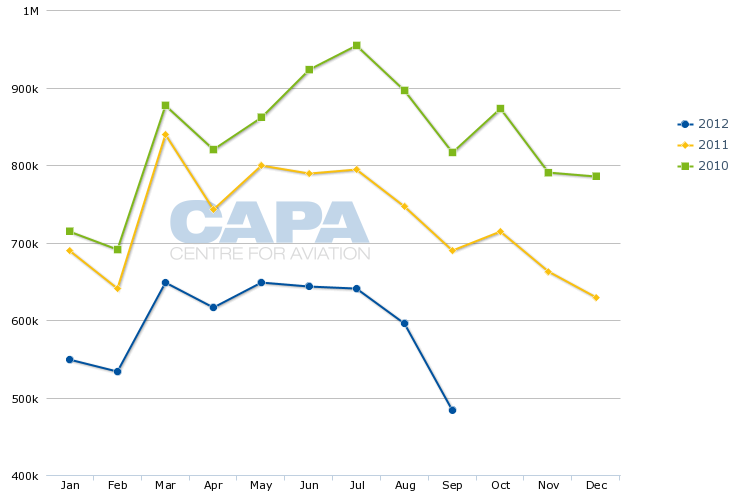 See related article: Delta's latest cuts inch Memphis closer in size to downgraded Cincinnati hub
Slashing inefficient 50-seat jet operations
The latest cuts planned by Delta from Memphis in Jan-2013 include three route eliminations and frequency reductions in 10 other markets. Routes being cut entirely are Birmingham, Alabama and Jacksonville, Florida. Fort Lauderdale, Florida is being suspended seasonally.
Markets that will see a reduction of six weekly frequencies include Jacksonville, Florida; Jackson, Mississippi; Kansas City, Missouri; Little Rock, Arkansas; Nashville, Tennessee; Orlando, Florida; Raleigh-Durham, North Carolina; San Antonio, Texas; St Louis, Missouri; and Tulsa, Oklahoma. Delta is also slashing five weekly frequencies from Memphis to Los Angeles. Both Little Rock and Tulsa have already endured previous frequency reductions by Delta during 2012.
Service cuts to Birmingham, Jacksonville and Fort Lauderdale follow other market cuts during 2012 including Fort Smith in Arkansas and Pensacola in Florida. With the exception of the larger markets of Fort Lauderdale and Los Angeles, Delta primarily operates 50-seat jets in the markets being eliminated and reduced.
Delta more than any other carrier has been vocal about the unattractiveness and inefficiency of 50-seat regional jets in the ever-continuing volatile fuel environment. Through a recent contract finalised by its pilot group, Delta now has the flexibility to replace 75% of its 50-seat jet fleet with higher-gauge aircraft and is working diligently to clear those aircraft from its fleet.
Delta CEO Richard Anderson recently stated that Delta's 50-seat jet fleet will fall to less than 125 aircraft during the next two years. During 2008 the carrier's 50-seat jet fleet peaked at more than 500 aircraft.
Undesirable geography
Since the merger of Delta and Northwest four years ago Memphis has been increasingly in the shadow of Delta's mega-hub in Atlanta, the world's busiest airports in terms of passenger movements. With just 518 km separating Atlanta and Memphis, the economics of Memphis as a hub dramatically diminished after Delta and Northwest consolidated their operations.
Proximity of Memphis to Atlanta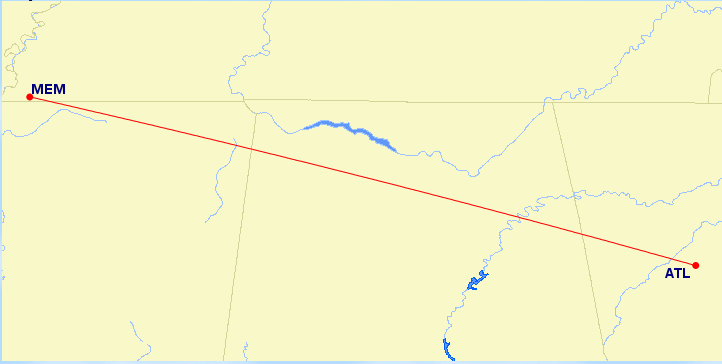 Given the proximity of Atlanta and Memphis, operating to the same spoke cities from each hub creates inefficiencies, despite previous proclamations that Memphis could be a reliever airport for Atlanta. With US majors largely keeping their domestic supply tight, the premise of needing extra support from Memphis becomes a moot point.
Delta operates service from Atlanta in all of the markets being cut or downsized from Memphis during Jan-2013, and competes with long-time rival AirTran on several of the routes from Atlanta including Fort Lauderdale (which is also served by Spirit Airlines), Jacksonville, Kansas City, Orlando, Los Angeles (also served by Southwest), Raleigh, San Antonio and St Louis.
Delta has somewhat acknowledged the economic weakness of its Memphis hub in its network, recently explaining to The Memphis Business Journal that it was seeing low demand in markets affected by the cuts during 1Q2013. Some of the sluggish demand is driven by the fact Delta, with essentially a monopoly status on most of those routes, charges higher than average fares.
Memphis has consistently ranked among the top airports in the US with the highest air fares and the latest data from the US Department of Transportation shows the airport's USD512 average fare was the third highest during 2Q2012. Many local passengers in Memphis are driving to Atlanta to capitalise on lower fares, further fuelling Delta's decisions and rationale to pull-down Memphis.
US Airports with the highest fares: 2Q2012

Operators of the Memphis airport are working to try and fill the holes created by Delta's downsizing, and have reportedly put together a USD1 million incentive package designed to lure new carriers to the airport. The airport operators have met with officials from Southwest Airlines, whose senior executives have met with the mayor of Memphis.
Southwest's subsidiary AirTran presently serves Atlanta from Memphis, and Southwest has told local press in Memphis it sees opportunities in the city as it completes its merger with AirTran. But Southwest typically launches a new market in a conservative manner, with a couple of daily flights to a handful of markets at the most. Southwest would likely launch service to its top airports, which would not touch most of the routes Delta is cutting or pulling down.
Southwest top 10 airports by departures: Nov-2012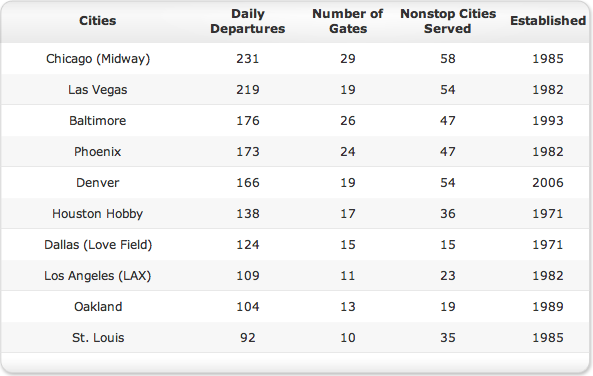 AirTran currently accounts for only 4% of seat capacity at Memphis, compared to 77% for Delta. American, United and US Airways are the only other carriers serving Memphis, accounting for 7%, 6% and 6% of the airport's capacity, according to Innovata data.
Accepting its fate
Memphis for its part seems to have accepted its marginalised role within Delta's network. Airport president Larry Cox recently told the Commercial Appeal that passenger service levels will eventually mirror those at Nashville or St Louis with fewer connections and more local traffic. For the 12 months ending Aug-2011 US DoT data show that both Nashville and Memphis recorded roughly nine million enplanned passengers while St Louis logged 12 million passengers.
He explained, as the service decreased at those airports, so the service pattern transitioned from a transfer hub to a point-to-point operation. Nashville was a hub for American that was scaled back in the mid-1990s and St Louis was TWA's largest hub that lost that status after American purchased TWA in the early 2000s.
As Delta continues its pull-down in Memphis, the shrinking service levels don't necessarily warrant the three-bank, 50 flight structure the carrier touted for the airport earlier in 2012. With flights in Jan-2013 dwindling from current levels of 115 daily to about 100, Delta's strategy of banking flights could be replaced by turning Memphis into more of rolling hub without a bank structure.
The airport will likely see more service cuts as Delta continues its efforts to cut uneconomical routes and aircraft from its network. Memphis has acknowledged its fate. Delta should do the same by casting political considerations aside and declare that Memphis is technically no longer one of its domestic hubs.
See related article: Delta continues to perform surgery at its Memphis hub