Hong Kong Airlines to grow in Australia via Virgin Australia partnership. Auckland launches Nov-2016
Analysis
The Virgin Australia partnership is a significant development. It gives Hong Kong Airlines and Hainan Airlines (and associated airlines) a virtual presence on trunk markets and a local partnership valuable across many different areas, including connecting flights, outbound awareness, infrastructure and contacts.
The partnership radically changes the outlook for HNA in Australia – the second largest long haul market from mainland China (first is the US, where Hainan is an active player).
See related reports:
However, the Virgin partnership is not a silver bullet or the endgame for HNA. It is unclear how the HNA-Virgin Australia partnership will evolve after the initial Virgin Australia Beijing and Hong Kong flights in mid-2017. There are many options, including for Virgin Australia to continue growing.
Yet Hong Kong Airlines and Hainan Airlines are unlikely to consider that they have neared maximum strategic development in Australia until they are able to operate directly on trunk Australian routes. Hong Kong Airlines still wants to fly from Hong Kong to Sydney and Melbourne.
For Hainan Airlines the route is controlled by the China-Australia (as opposed to Hong Kong) bilateral agreement. But it is also subject to China's own regulatory rules and the prime Australian routes have already been allocated – mostly to Air China and China Eastern, so far as the outbound markets of interest to Hainan.
With respect to Hong Kong Airlines, the Australian government for most of this decade has repeatedly declined to increase traffic rights for Hong Kong, so long as Hong Kong refuses to reciprocate with beyond capacity. The allocation to Brisbane, Melbourne, Perth and Sydney is fully being utilised by Cathay Pacific. Secondary markets like Adelaide (served by Cathay) and the Hong Kong Airlines destinations of Cairns and Gold Coast are not capped and are therefore available to access.
The Hong Kong side has historically made far greater use of Australian capacity as Cathay exercises its hub role, pulling traffic from Asia and Europe, while Qantas is mostly able only to sell Hong Kong as an end destination. In lieu of additional point to point capacity allocation, which it has not needed, Australia has unsuccessfully sought other rights like beyond flying.
Cathay Pacific operates 66 weekly flights from Australia's major gateways to Hong Kong (Aug-2016), while Qantas operates 28. With Virgin Australia's recent allocation of Hong Kong traffic rights there remain 35 weekly flights to Hong Kong for Australian airlines. Now with the HNA-Virgin deal it becomes possible that Australia may use its full allocation, but this is unlikely to occur for a number of years. Hong Kong Airlines would like to be operating on trunk routes before then.
Hong Kong Airlines is not optimistic about changes to the Hong Kong-Australia air service agreement in the near future. Hong Kong Airlines' assistant commercial director Michael Burke described the bilateral to CAPA TV as being something "we feel is a very unfair restriction and one which is in no way in the interest of the consumer. There are creative ways around most restrictions if you have the will and desire...we have a strong parent company who's similarly creative".
Hong Kong Airlines has received extra bilateral service access to Denpasar Bali and could hope for Australia to replicate that approach, thereby providing growth to what Hong Kong Airlines regards as a productive partner while not allowing first-tier-city frequency growth for Cathay Pacific.
Hong Kong Airlines assistant commercial director Michael Burke discusses growth for the airline at CAPA's Australia Pacific Aviation Outlook Summit: Aug-2016
Maturing of Cairns/Gold Coast service has meant a decrease in group travel
The current iteration of Hong Kong Airlines' long haul network began over the 2016 Chinese New Year, with three times weekly triangulated service from Hong Kong to Cairns and the Gold Coast. After approximately three months of service Hong Kong Airlines converted the service from chartered to scheduled. As the service has matured, lower yielding group passengers have decreased as a proportion of total from 30% to around 15-20%. Hong Kong Airlines is considering increasing frequencies.
The majority of passengers are connecting in Hong Kong from mainland China, which accounts for 47% of network seat capacity in Aug-2016.
Hong Kong Airlines international seat capacity by market: 8-Aug-2016 to 14-Aug-2016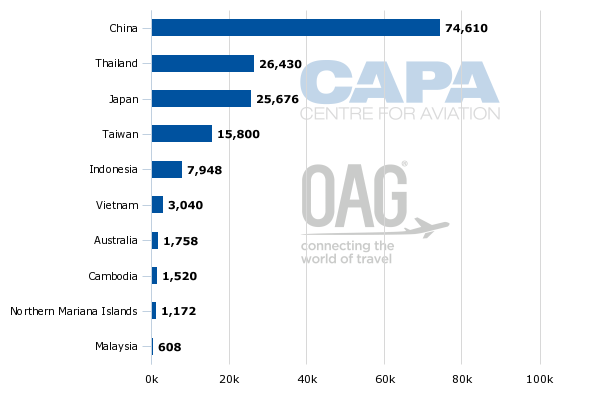 Hong Kong Airlines is evaluating additional secondary Australian cities
Hong Kong Airlines' Australian growth is anchored on three strategies. First is growing the existing Cairns/Gold Coast service. Second is seeing what virtual growth is possible through the Virgin Australia partnership. Third is Hong Kong Airlines' own growth in new Australian markets. Mr Burke told CAPA TV that even despite the restrictions on key markets like Melbourne and Sydney, Hong Kong Airlines still has a "compelling desire for growth".
Hong Kong Airlines is considering flying to secondary markets in Australia that are not capped under the bilateral.
"We are absolutely talking to other airports to look at how we can profitably make more secondary points work. By default they are smaller, more niche opportunities so we have to be creative in how we serve those markets." Low frequency and triangulation are some options. The bilateral permits service to constrained cities like Melbourne and Sydney provided the flight first stops at a non-constrained city.
Cathay Pacific used to operate a triangulated Hong Kong-Adelaide-Melbourne-Hong Kong service. But the cost of the middle, "dead", leg can be prohibitive for airlines.
The Virgin Australia partnership potentially enhances the business case for service to secondary points in Australia since Virgin Australia can transfer passengers to other markets, including major ones. However, with ample growth in nonstop mainland China-Australia flights, a second connection on Hong Kong Airlines may struggle to be viable.
Potentially working against Hong Kong Airlines is that Chinese tourists in Australia are still largely focusing their visits on cities and nearby areas. This is unlike the 1990s tourism boom in Australia from Japan, whose tourists became interested in more natural sights across the country. As the Chinese visitor profile in Australia changes there will be fragmentation in their places of interest, thereby enhancing the opportunity for direct international service to smaller Australian points.
One notable comparison is SIA Group's SilkAir offering three weekly services to Cairns and five weekly flights to Darwin – both routes nonstop from Singapore. SilkAir's parent Singapore Airlines has a JV with Virgin Australia and the Cairns and Darwin services were launched after the JV, demonstrating potential benefits to secondary Australian cities from partnerships.
Hong Kong Airlines launching Auckland, first major long haul competition experience
Hong Kong Airlines is building on its Australian services with its first flight to New Zealand, a smaller visitor market for mainland Chinese tourists than Australia but still a substantial opportunity. Hong Kong Airlines plans daily Hong Kong-Auckland services from 10-Nov-2016. Air New Zealand and Cathay Pacific are the only other operators on the route (operating in a JV).
Hong Kong to New Zealand (seats per week, one way): 12-Aug-2013 to 23-Jan-2017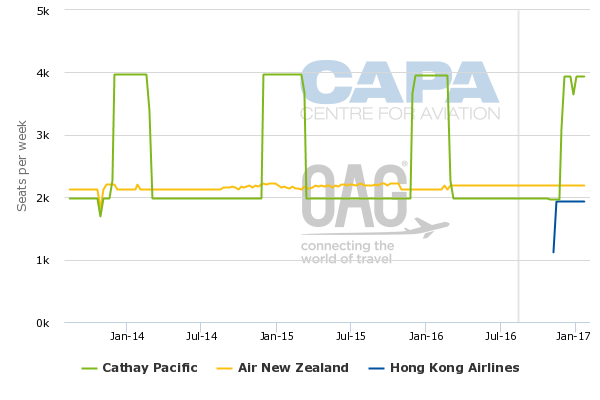 There is also growing competition in the mainland China-New Zealand market, mostly from China Southern.
In the peak 2017 season China Southern will operate as many seats between mainland China and New Zealand as Air NZ and Cathay jointly offer between Hong Kong and New Zealand. The peak 2017 mainland China-NZ market will be 46% larger than the Hong Kong-NZ market, according to OAG data.
Mainland China to New Zealand (seats per week, one way): 12-Aug-2013 to 23-Jan-2017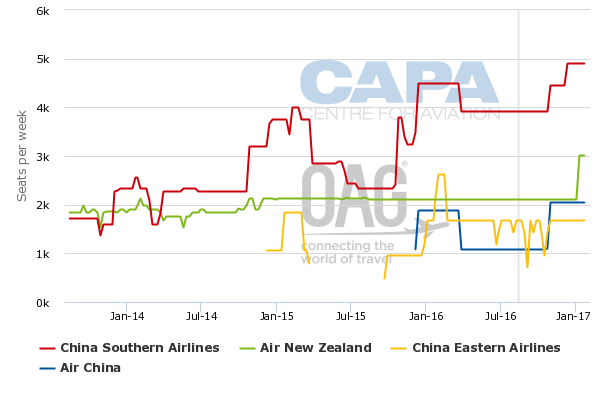 China Southern can target some of the Pearl River Delta catchment area that the Hong Kong airlines target. The vast majority of Air NZ's and Cathay's traffic between Hong Kong and Auckland is connecting, with mainland China accounting for 34% of connections, according to the NZ government.
Hong Kong Airlines will have an approximately 33% share of available capacity in the off-peak season. The Air NZ-Cathay JV holds the balance. In the short peak, when Cathay adds a second daily flight, Hong Kong Airlines' share will be approximately 25%. However, Hong Kong Airlines will likely carry more Hong Kong/mainland China-NZ passengers, as Air NZ and Cathay rely on connections from other regions, such as Europe. Hong Kong Airlines will have to accept lower yields because of its more limited geographic focus, as well as not having as comprehensive an offering. However, Hong Kong Airlines' cost base is lower than Cathay's.
Auckland is Hong Kong Airlines' first case of notable long haul competition. Hong Kong Airlines' short-lived London all-business class service was so challenging that it was difficult to compare Hong Kong Airlines against competitors. Auckland will no doubt not be the last long haul overlap for Hong Kong Airlines. Indeed, overlap and competition will become more prominent as Hong Kong Airlines seeks to serve the most blue chip markets.
Hong Kong Airlines will broadly follow the schedule of Cathay Pacific's southern summer peak additional service that departs Hong Kong mid-afternoon; it arrives in Auckland the next morning and then operates a daylight return, arriving back into Hong Kong mid-afternoon.
Hong Kong Airlines will use its two-class, 283-seat A330-200 as its A330-300 does not have sufficient range. However the -200 variant to be used does not have lie-flat or direct aisle access business class seats, whereas Air NZ and Cathay do. It is a quirk – mistake – that Hong Kong Airlines equipped regional-range aircraft with a long haul product but its long haul aircraft received a regional product.
Hong Kong Airlines considers it can limit the disadvantage – but that it will need to be corrected later. With a mid-afternoon departure from Hong Kong, it is only during the last few hours of the flight that passengers on Hong Kong time would want to sleep. Hong Kong Airlines is not concerned about not having a lie-flat product for the daylight return service.
Hong Kong Airlines will need to disrupt the Air NZ-Cathay JV – and strengthen its voice
Hong Kong Airlines' entry on the Hong Kong-Auckland route should mean that it will be able to break up the joint venture between Air New Zealand and Cathay Pacific, which are the only two operators. The 2015 re-authorisation of the alliance indicates a weakness – a hindrance for Hong Kong Airlines not just to sell and operate flights but also in conducting strategic business development, such as prudent management of government affairs.
In Nov-2014 Air NZ and Cathay reapplied for their JV, which was initially approved in 2012. Approval was only required by New Zealand and the New Zealand government received only four submissions – three from New Zealand airports and one from the Tourism Industry Association. These submissions were delivered between Dec-2014 and Jan-2015.
Hong Kong Airlines announced its Auckland service in May-2016, but by early 2015 would have certainly known that a New Zealand service was likely in the near future, and that objecting to the Air NZ-Cathay JV would have been compellingly necessary. Yet Hong Kong Airlines did not file a submission.
See related report: China Southern Airlines exceeds 55x flights target to Australia/NZ. Competition regulators query JVs
Consequently, the New Zealand government's re-authorisation analysis was based on the assumption that "we do not envisage any other airline being in a position to operate between Auckland and Hong Kong in the short or medium term (i.e. within the next five years)".
Hong Kong Airlines intends to launch Auckland service a year and three months from the Aug-2015 reauthorisation – well within the five years that the New Zealand government ruled out.
The re-authorisation analysis often appears to open the door to rejecting the alliance. The decision reads:
In our view, the fact that the applicants have lost market share while increasing fares and reducing capacity is evidence that the attractiveness of the alliance to consumers has reduced, relative to other airlines. This appears to justify the concerns stated in our 2012 report to then Minister of Transport Hon Gerry Brownlee, which noted that "it is likely that the removal of direct competition on the Auckland-Hong Kong route ... would result in higher fares on the direct service and an increase in the proportion of passengers travelling on indirect alternatives".

Overall, we are not convinced that the alliance has resulted in significant connectivity benefits. Had connectivity (i.e. fares and schedules) improved significantly, we would have expected far greater volumes of passengers travelling to new markets or markets that were previously poorly served. We accept that the alliance may have resulted in improved schedules and possibly lower fares to some markets, but these appear to primarily be markets that are either well served already (such as Europe), or markets that are being targeted by other alliances involving Air New Zealand.
The government appeared particularly unimpressed that in the initial application Air NZ and Cathay had touted a possible Hong Kong-Christchurch service that could come about only through the JV, thus delivering consumer benefits.
The route did not eventuate and was left out of the re-authorisation application, leaving the NZ government to hint in no uncertain terms that Air NZ and Cathay had no intention of ever opening the route, but used it instead as a device to receive approval:
The significance of this issue lies more in the fact that one of the purported benefits of the alliance in 2012 has now been proven to be false. The fact that the potential for a Hong Kong-Christchurch route to be developed in future was not even referred to in the current application is telling.
This is not an alliance that would have taken much effort to reject – indeed, the NZ government appears to want to reject it but did not feel adequate grounds existed to do so.
Hong Kong Airlines may not have been able to make a strong case for rejecting the alliance: intent to operate a flight needs to be followed through. However, Hong Kong Airlines could have influenced the re-authorisation period and have it shortened until around the time when Hong Kong Airlines would have some traction in the NZ market, and be able to demonstrate the new competitive outlay. Instead, the alliance was re-authorised until 31-October-2019. (This was shorter than the 31-Jan-2021 date originally sought.)
One possibility is for Hong Kong Airlines to appeal to the NZ authorities on the grounds that there has been a material change in circumstances since the decision; alternatively however, the JV parties might argue that they have invested for the future on the basis of the approval and that this would be an unfair reversal with financial implications.
Barring changes 2019 is a significant time away. Hong Kong Airlines will be on the Auckland route for nearly three years before the Air NZ-Cathay JV expires. During that period Hong Kong Airlines will need to find its own way and deal with any heavy-handed tactics. Tellingly, since Hong Kong Airlines announced Auckland, Air NZ is understood to have discontinued its interline agreement with Hong Kong Airlines. Although there is significant beyond-Auckland traffic potential, having access is necessary and Hong Kong Airlines will need to look for a new solution.
Hong Kong Airlines' Australian position is well enhanced via the Virgin Australia partnership. However, key bilateral problems have not been solved. Virgin Australia's presence in HNA Group hubs may give a virtual presence but HNA wants to be an operator on key routes. Secondary Australian routes to/from China can be more prolific than from any other market. Through the right partnerships and marketing new destinations can be created and established for the outbound Chinese market far faster and more powerfully than other markets.
There is much for Hong Kong Airlines to bed down in Australia – and New Zealand – but it will need to change gears and accelerate long haul growth to other markets. Hong Kong Airlines has spoken of serving Europe and North America from 2018. With the significant, once-in-a-lifetime growth that is occurring, and one that is anchored around Hong Kong Airlines' mainland China source market, Hong Kong Airlines needs to make a bigger and bolder push into other markets. It otherwise risks taking full advantage of this one-off opportunity.