Hong Kong Airlines expands its regional network ahead of long haul growth to Australia, N America
Analysis
For Hong Kong Airlines, operating in the shadow of one of the world's largest network carriers means having to be nimble and run its business differently. Hong Kong Airlines has ridden mainland China's international surge to regional Asia and the airline, turning nine in November, is preparing to grow long haul, which will provide critical reductions in its cost base. Australia is the immediate opportunity but will likely be tested with charters over an initial period to secondary cities, where Australia offers open skies. It cannot serve the main cities as Cathay uses Hong Kong's full traffic right allocation there. Hong Kong Airlines' challenge across its network – and one day to India and North America, it hopes – will be to find enough niche opportunities.
Having partners outside the HNA group will be critical and also a sensible strategy given the large non-oneworld capacity at Hong Kong airport. A possible re-branding could help improve awareness and market reception while an IT switch could give it more control over its business. Hong Kong Airlines will need to be bolder and a first-mover. It is considering flexible European-style business class and, like Cathay, putting economy seats into the first zone of A330s, currently used only by business class seats. Hong Kong Airlines sees Cathay's and SIA's premium strategies unsustainable given weak returns. Hong Kong Airlines must find the middle ground in the market while also not stepping on its growing LCC, HK Express.
Revenue boost at Hong Kong Airlines, but long haul flying is needed to reduce CASK
There are limited official financial and traffic figures for Hong Kong Airlines. It forecasts 6 million passengers for 2015, up from 5.1 million in 2014, and says revenue has grown 20-30% despite a significantly smaller increase in frequency/capacity. The quality of the revenue has improved with stronger yields and a 50% increase in premium revenue as it has aggressively pushed premium leisure traffic, filling premium seats that would otherwise have gone empty. (There has been yield dilution and premium capacity may need to be adjusted - to be discussed below.)
Hong Kong Airlines has increased its number of secondary city destinations in China as well as frequencies to Beijing and Shanghai, two of its largest markets along with Taipei and Bangkok.
Hong Kong Airlines top 10 international routes ranked on available seat capacity: 6-Jul-2015 to 12-Jul-2015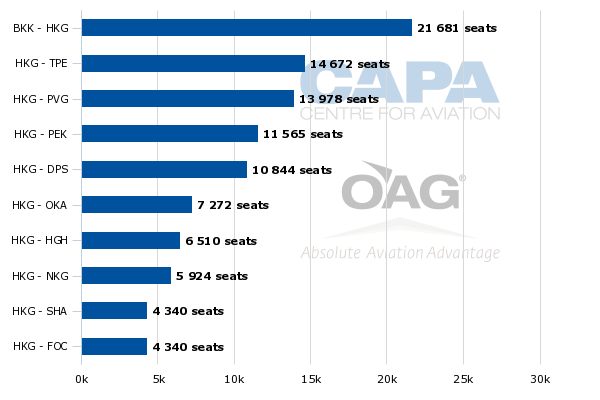 The two mainland cities have connection flows to Taipei and Bangkok, among other city-pair combinations. Hong Kong Airlines expects to continue to grow in Beijing and Shanghai as opportunities arise. Hong Kong Airlines introduced an overnight return flight from Beijing, which Dragonair matched.
Hong Kong International Airport to Beijing Capital International Airport (seats per week, one way): 19-Sep-2011 to 27-Dec-2015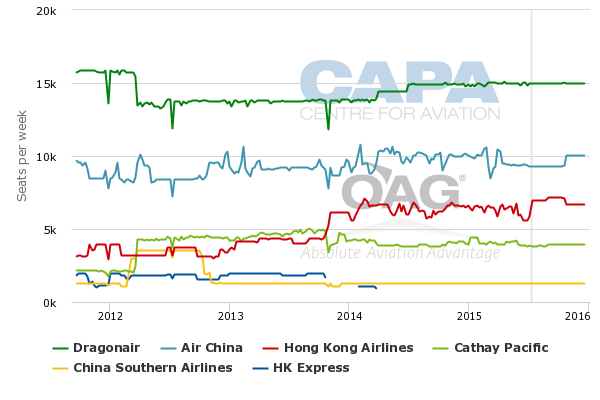 Hong Kong International Airport to Shanghai (seats per week, one way): 19-Sep-2011 to 27-Dec-2015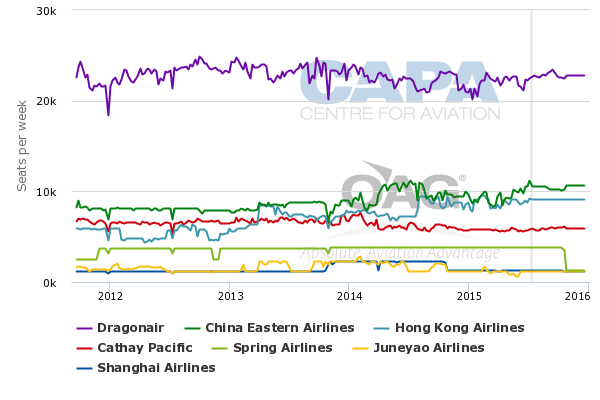 Hong Kong Airlines still sees itself needing to get RASK ahead of CASK (exact figures unavailable). The airline sees limited opportunities to further reduce its cost base while keeping a similar business plan, so shifting from a regional network to long-haul connecting markets is its obvious next step. Hong Kong Airlines wants to see a 10-15% ex-fuel CASK reduction as it builds up long-haul flying.
Aircraft utilisation is being improved from about nine hours to 10.5 on A320s, and 10 to 11.5 on A330s. Long haul flying to Australia (the immediate opportunity) would help increase A330 utilisation to up to 13 hours.
Network evolution requires greater sophistication: brand, IT change, loyalty
Hong Kong Airlines has not yet developed strong market recognition, with sales often through agencies on group bookings or because Hong Kong Airlines offered the cheapest fares. Much of its identity and systems are based on parent Hainan Airlines. The HNA Group is slowly giving greater autonomy to its airlines in terms of strategy and marketing.
HK Express, West Air and Lucky Air have gone through rebranding exercises that have produced outcomes far from the old HNA style. Hong Kong Airlines is studying HK Express's example in keeping its name but updating its branding. Hong Kong Airlines is encouraged by the strong market recognition and support HK Express gained after it re-branded in 2014.
See related report: China's West Air grows 33% in 2014 as it transitions to the low-cost model
Like many carriers, Hong Kong Airlines wants to grow the share of tickets booked directly, which has been at a lowly 15%, with an aim to grow it to 20% in 2015 and later to 25%. In line with that objective but also supporting greater ancillary revenue and airline partnerships, Hong Kong Airlines will need to consider switching IT providers.
Currently Hong Kong Airlines uses TravelSky, which has limitations but it is significantly less expensive than other options. Again Hong Kong Airlines is following HK Express, which transitioned from TravelSky to Navitaire, although Hong Kong Airlines would be unlikely to select Navitaire, a product designed more for point to point operations. IT changes would also allow the airline to push further into the loyalty arena, which has long been an objective but becomes critical with impending long haul development.
Until late 2013, Hong Kong Airlines and sister carrier Hong Kong Express were nearly interchangeable as full service carriers. Hong Kong Express transitioned to becoming a LCC and re-branded as HK Express, mainly serving point-to-point leisure demand to/from Hong Kong (such as Seoul and Tokyo).
HK Express international seat capacity by country: 6-Jul-2015 to 12-Jul-2015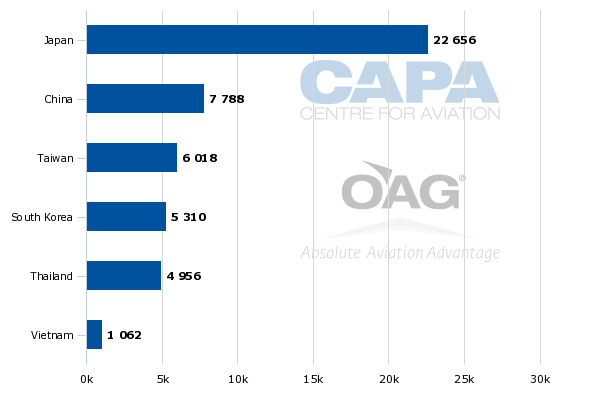 Hong Kong Airlines focuses on connecting traffic from mainland China to Taiwan and Southeast Asia (such as Bangkok and Denpasar Bali) as well as routes with premium/business demand (Beijing, Shanghai). Mainland China is its largest country market by far and is three times the size of its next largest country, Thailand. 73% of Hong Kong Airlines' seat capacity is within Northeast Asia, with balance in Southeast Asia. In comparison, HK Express focuses mostly on Northeast Asia, where it is has 87% of its seat capacity.
China is only its second largest market, and is not significantly bigger than smaller markets of Taiwan, Korea and Thailand. Connecting from most points in mainland China to Japan and Korea is too circuitous whereas Hong Kong does have favourable geography for connections from mainland China to Southeast Asia.
Hong Kong Airlines international seat capacity by country: 6-Jul-2015 to 12-Jul-2015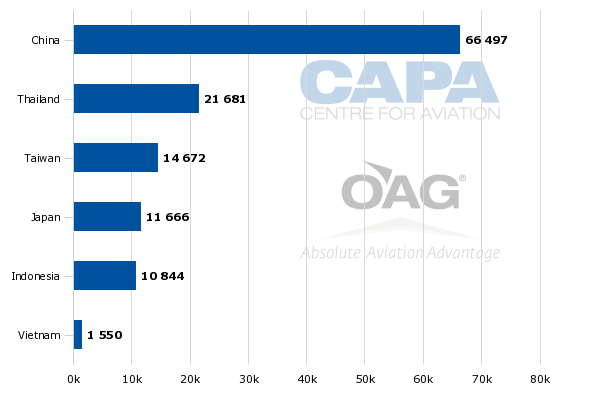 See related report: HK Express to grow to 15-20 aircraft in 2016, pursuing LCC hybridity with A321s and interlines
There have been exceptions to the segmentation. Hong Kong Airlines deploys A330s to Sapporo, a leisure market but one too far for HK Express' A320s to serve. HK Express serves Phuket and Da Nang and had served Kota Kinabalu before Chinese tourism to Malaysia weakened in 2014.
There had been no "wingtip-to-wingtip" flying (serving the same routes) but this is changing in summer 2015. HK Express is launching a single daily service from Hong Kong to Bangkok. HK Express will serve Bangkok's Don Mueang Airport while Hong Kong Airlines' multiple daily flights are at BKK, Suvarnabhumi. HK Express' Bangkok flight has similar timings to an existing Hong Kong Airlines service, but the Hong Kong Airlines flight is timed to connect with mainland China. There was also some element of duress as HK Express announced the route after it decreased Korean capacity in response to weakened demand resulting from (overblown) MERS fears.
There will continue to be times when the segmentation between the two is blurred. HK Express' emerging plans to interline and have partners will give Hong Kong Airlines access to further destinations. The bigger change is that Hong Kong Airlines' shift in focus to support long haul flying will bring an overall clearer segmentation: Hong Kong Airlines as a full-service intercontinental carrier and HK Express a short-haul LCC.
Hong Kong Airlines prefers to rely on partners to provide long-haul feed
Hong Kong Airlines does not plan joining a global alliance. It does not see itself having the time or experience to make this significant decision, but also believes a neutral position can be a strength at Hong Kong given limited connecting/partnership carriers outside of Cathay/Dragonair.
There will be opportunities for Hong Kong Airlines to use its existing network and flights to feed new long haul services. Cooperation with HK Express will also provide some feed. But Hong Kong Airlines needs wider access to beyond markets to support its long haul flying. This includes major markets such as Singapore, Kuala Lumpur and Jakarta. Vietnam will also be important for North American growth.
But for factors including regional over-capacity, slot constraints and limited bilateral access, Hong Kong Airlines would prefer to work with partners rather than add its own regional growth. This was the case with Hong Kong Airlines' partnership with Garuda Indonesia, which has found over-capacity on its Hong Kong routes. Finding partners in other markets may be challenging.
Cooperating for long-haul connections would offer further opportunities as most of Asia's full service carriers are focussing on long haul growth. They may have limited room for partnership promiscuity. Garuda for example has a partnership with All Nippon Airways that gives Garuda wide access to the Japanese market and beyond to North America – potentially more than Hong Kong Airlines can offer in the long-term.
Hong Kong seat capacity by carrier: 6-Jul-2015 to 12-Jul-2015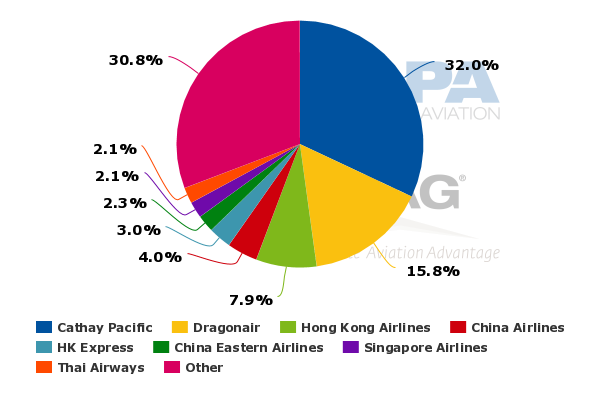 Hong Kong Airlines wants to exploit its position at Hong Kong airport. Although it is third largest (behind Cathay and Dragonair) with an 8% share of seats in early Jul-2015 compared to Cathay/Dragonair's combined 48% share, it sees the opportunity to work with airlines outside oneworld, the alliance of Cathay and Dragonair. Non-oneworld carriers account for 48% of available seats and 55% of flights.
Hong Kong seat capacity by alliance share: 6-Jul-2015 to 12-Jul-2015
Hong Kong Airlines has repeatedly stated an objective to launch long haul services to Australia in the near future. Cathay Pacific has fully utilised traffic rights to the main Australian cities, and Australia as recently as Jun-2015 has not granted further access. This leaves Hong Kong Airlines to serve cities like the Gold Coast, Cairns and Darwin that are not capped under the air services agreement. Gold Coast is arguably the most attractive point of these, and there is precedent for service with China Southern and Cathay operating limited charters to the Gold Coast. (In New Zealand, Christchurch or Wellington could also be an option.)
This collection of secondary Australian cities will likely allow Hong Kong Airlines initially to operate limited service over peak travelling periods, functioning more as charters. Hong Kong Airlines will need to test the market and ensure it can gain the necessary yields, especially outside peak periods. While mainland China will be an important part of the services, Hong Kong Airlines wants to see strong Hong Kong O&D sales.
Market familiarity could generate a change to year-round services that display the characteristics more of scheduled than chartered. But ultimately Hong Kong Airlines will need access to major markets, Sydney especially. Relying on secondary markets in Australia effectively means restricting itself to leisure demand, and often from low yielding groups. Access to major cities brings higher yielding passengers as well as those looking to combine cosmopolitan Australia (Melbourne, Sydney) with a nature/sun component of the trip (Cairns, Gold Coast).
China to Southwest Pacific (seats per week, one way): 19-Sep-2011 to 27-Dec-2015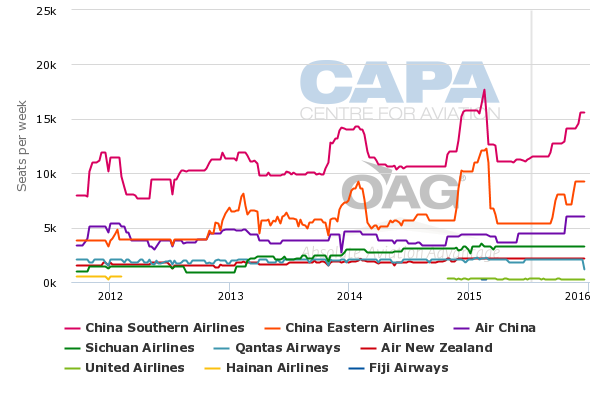 In these circumstances Hong Kong Airlines will probably be less of a competitor to Cathay than to China Southern. Cathay has a wider network to rely on, and attracts more independent travellers. China Southern, the largest by far in the mainland China-Australia market, has large group volumes, relies mostly on China (which Hong Kong Airlines will need to rely on), and multiple Australian destinations (plus New Zealand) to offer.
See related report: China Southern Airlines nearing target of 55x flights to Australia/NZ, continuing international push
North America and India are more distant long haul opportunities. Europe to be accessed with Etihad
Hong Kong Airlines' immediate long haul growth goals are destinations within 5-8 hours, beyond short haul LCC competition and within the capability of its A330s. India fits this profile but Hong Kong has been unable to secure more traffic rights from India. For Hong Kong Airlines there are regional connecting opportunities and later options to connect India with North America.
Hong Kong Airlines partners with Air India, although the partnership was forged without Hong Kong Airlines gaining access to the Indian market. Hong Kong Airlines has been granted extra bilateral rights for Denpasar Bali, but securing similar arrangements for Australia and India appear unlikely in the near future.
The arrival of A350s in 2020, or even 2019, opens up North America for Hong Kong Airlines. The airline will be able to work with Hainan Airlines, which has a growing presence in North America and increasingly sees the continent defining its long-haul network.
See related reports:
These plans leave Europe as a white spot. Hong Kong Airlines had considered flying to Abu Dhabi and then codesharing beyond with Etihad Airways. However, there are signs Asia-Europe is further at over-capacity and Etihad's partners report increasing difficulty securing onward seats. This has lessened the proposition for Hong Kong Airlines, which no longer intends to fly to Abu Dhabi. It has however partnered with Etihad to codeshare on Abu Dhabi services from Bangkok and Hong Kong. Hong Kong Airlines' sole onward codeshare from Abu Dhabi is, for now, Madrid – a rumoured imminent destination for Cathay Pacific.
More dense aircraft and convertible business seating could provide flexibility
Hong Kong Airlines is studying how to make its fleet more efficient. Two years ago its load factor was 72% but now approximately 80%, according to the carrier. Business class load factors are at 40% overall, but key routes – namely Beijing and Shanghai – have seen business class load factors increase from 50% to 70% or more, although there has been yield tradeoff.
One initiative under consideration is better matching premium demand with supply. On its A330s, economy class seats could be put into some space in the first zone on the aircraft where business class seats currently take up the entire section.
A320s could operate with a European-style flexible business class where the number of business class rows can be adjusted by turning the middle seat into a workstation. Hong Kong Airlines considers this necessary to support long haul premium connections while remaining nimble and not always having a large premium cabin for the sake of it. Cathay Pacific is reaching a similar conclusion, replacing some regional business seats with more economy seats.
Hong Kong Airlines experiences considerable fluctuation in premium demand on narrowbody routes, and such a product offering could allow greater efficiency. This would be a relatively new initiative in Asia, where airlines have generally favoured dedicated business class seats. Thai Smile briefly experimented with a European-style premium product.
There will be a market for some all-economy A320s while there are explorations to move to a more dense economy cabin on A330s, such as nine-abreast seating. However, there are safety restrictions how many seats can be installed with smaller doors aft of the wing instead of full-size doors.
Hong Kong Airlines in 2015 expects to take back three A320s Hong Kong Airlines transferred to HK Express. The transfer occurred as HK Express was growing and Hong Kong Airlines faced regulatory difficulty growing its fleet. The engines on these A320s are different from HK Express' other A320s, and the LCC would like a streamlined fleet. Hong Kong Airlines also expects to take a single A330 in each of 2015, 2016 and 2017. There will need to be further and faster growth if Hong Kong Airlines is to meet its objective of having 50 aircraft by the end of 2015, as the carrier stated in Jun-2015.
Hong Kong Airlines Fleet Summary: as at 10-Jul-2015
The Hong Kong Civil Aviation Department had imposed restrictions on fleet growth but the airline says this is not an inhibitor to expansion. A separate source says the CAD restriction has actually been lifted.
Hong Kong Airlines has 15 A350s (all -900s) on order for delivery from 2020. To bridge the gap between its last A330 delivery in 2017 (as currently planned) and 2020, Hong Kong Airlines is considering additional A330s, both ceo and neos. There will be further narrowbody deliveries to grow around Asia. Prior to HK Express' relaunch as an LCC, A320s and A330s had about a 50-50 split at Hong Kong Airlines. The airline sees that shifting to 65-35 in favour of A320s.
Outlook: Hong Kong Airlines must become 'more reputable'
Hong Kong Airlines enters long haul flying from Hong Kong as the underdog. Its visibility has been low, has not pushed marketing and has not combated negative (and sometimes erroneous) press reports. Hong Kong Airlines has a reputation not of independence but being a hub carrier for Hainan Airlines. Unfortunately, Hong Kong Airlines is probably best known for its failed attempt at offering an all-business class Hong Kong-London service.
Hong Kong Airlines will not be the only one to launch long haul flights: a growing number of mainland Chinese airlines is serving other continents. But they do so with the strong backing of their hinterland. Hong Kong Airlines will only partially be able to rely on its mainland China market. It will need to compete in other transit markets, and this pushes it into contesting other heavyweights that have larger size, visibility, history and reputation. Relying on niche markets as sister carrier Hainan Airlines has done will not guarantee success.
A lukewarm reception, from the public and regulators, appears to have delayed Hong Kong Airlines' IPO, although the carrier remains interested in one. An IPO is not critical to fund growth, as at other airlines, but would boost public reception and help make Hong Kong Airlines more local, distancing itself from HNA.
See related reports:
External forces and competition will be enough to contend with. Hong Kong Airlines must also establish a sturdy – and independent – presence. COO Ben Wong Ching-ho told China Daily in Jun-2015 that Hong Kong Airlines must become a "more reputable international airline in the future." The shadow of its failed London service still unfairly hangs over it. Anything less than a solid re-entry into long-haul flying will negatively shape its image for some time.
Competitors, and Cathay especially, will be watching closely for the slightest transgression and exploit it. Hong Kong Airlines must demonstrate that it is able to make sound strategic moves - and implement them successfully.