Hong Kong Airlines becomes larger in Japan than in China: overlap with sister HK Express
Analysis
The rapid growth of mainland China's HNA Group is resulting in companies being added ahead of integration. HNA's two Hong Kong-based airlines, Hong Kong Airlines and HK Express, are increasingly overlapping with each other. That their roles are undefined and uncoordinated risks the two fighting each other – rather than combining their different propositions to address multiple segments of the markets.
Hong Kong Airlines is rapidly growing in Tokyo and Osaka, and launching a new service to Seoul Incheon – its 11th new destination in 2016. These are strong O&D markets and present a change from Hong Kong Airlines' previous staple of connecting traffic from mainland China over Hong Kong, or competing mainly against Cathay Pacific in key regional Asian markets from Hong Kong.
Following Hong Kong Airlines' entry to Tokyo and Osaka it will further increase services to the point where Japan becomes a larger market for it than mainland China. This is of some concern given Hong Kong Airlines' still evolving strategy for Japan, and weakening of the market through the appreciation of the yen.
Hong Kong Airlines will end 2016 with a larger presence in Japan than mainland China, based on ASKs. Mainland China has historically been its core market and multiples greater in size than its next largest markets, which in 2016 are Japan, Thailand and Indonesia. It was only in 2015 that Japan become one of Hong Kong Airlines' four largest markets. Previously Taiwan was the fourth largest.
Hong Kong Airlines' Japan growth has occurred in mid- and late 2016, so on an annualised basis (left section in the graph below) the Japan market is still significantly smaller than that of mainland China.
With growth in Nov-2016 Japan overtakes mainland China for Hong Kong Airlines (right section of the graph below). This change is also due to a small decrease in mainland China capacity. Still, Hong Kong Airlines' size in Japan will be within approximately 3% of its previous large size in mainland China.
Some pre-2013 data is not wholly representative of the effective presence of the airline since its sister airline Hong Kong Express used to be aligned with Hong Kong Airlines – until it was made separate and transitioned to an LCC in late-2013. Even at a joint level, Japan was never a major market for Hong Kong Airlines/Hong Kong Express in the pre-2013 period.
Left: Hong Kong Airlines annual ASKs to four largest Asian markets based on 2016 size (2010 to 2016).
Right: Hong Kong Airlines weekly ASKs to Japan and mainland China (Oct-2016 to Dec-2016)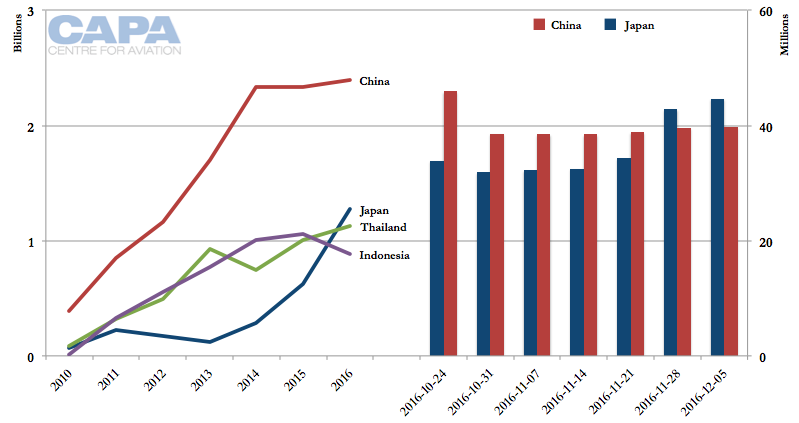 On a seat and frequency basis China is still by far the largest market for Hong Kong Airlines, with twice as many frequencies to China than to Japan and 70% more seats to China than Japan. Japan's larger share in ASKs reflects the longer sector lengths from Hong Kong to Japan (upwards of five hours) than from mainland China (typically upwards of three hours).
Hong Kong Airlines frequency, seats and ASKs to its four largest Asian markets (scale adjusted): week commencing 05-Dec-2016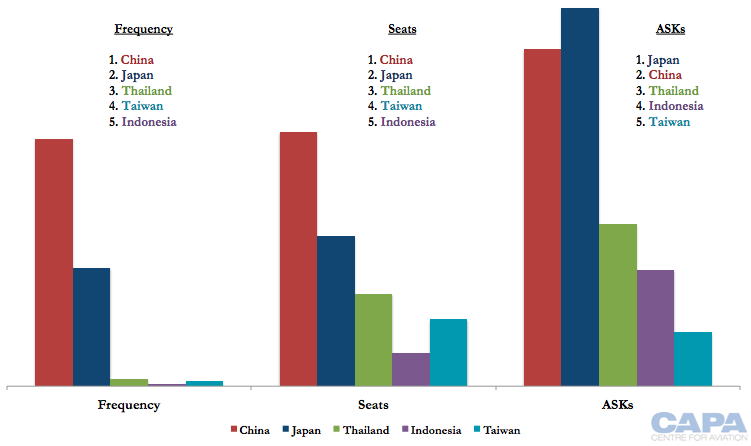 Hong Kong Airlines is still focused on outbound China, but now has a significant Japan component to manage
Hong Kong Airlines' core focus – connecting outbound mainland China – has not changed. That seat capacity has to be balanced with Hong Kong O&D and then onward seats to connecting markets. Yet Japan presents a sudden supply of seat capacity and because of its largest share of ASKs, it carries risk. In early Dec-2016 Japan will account for 29% of Hong Kong Airlines' ASKs and 23% of seats, according to OAG data. Mainland China will account for 26% of ASKs and 39% of seats.
Japan is different for Hong Kong Airlines in that mainland China is not a notable factor: mainland China-Japan connections will not be great (and if they are – will be low-yielding) due to direct mainland China-Japan growth and likely overcapacity. Hong Kong is a circuitous connection from mainland China to Japan.
There is some opportunity for Japan-Southeast Asia connections, but Hong Kong-Japan O&D will be strong. Hong Kong Airlines' growth in Japan comes after the major boom, and occurs as the yen is not as weak as it used to be. The weak yen fuelled inbound growth as Japan became significantly more affordable.
The exact strategy of Hong Kong Airlines in Japan (and Korea, launching in 2016) is unclear. While Hong Kong Airlines may want to diversify away from mainland China, this is a major push into a limited market. Hong Kong Airlines' task will further be complicated in communicating its proposition, since its brand recognition in Hong Kong is still low. Hong Kong Airlines could be caught in the middle of the market, selling low-yielding tickets despite not having HK Express' low cost base. With an underdeveloped brand and loyalty programme Hong Kong Airlines could be unable to attain a yield premium relative to Cathay Pacific.
Hong Kong Airlines may need to plan more broadly to absorb the capacity. One traditional solution – partnerships – seems unlikely, given the conservative nature of Japanese airlines. JAL partners with Cathay Pacific, and ANA has a larger presence – on its own and with its two LCCs Peach and Vanilla Air.
Hong Kong Airlines' expansion in late 2016 will mean that it operates more seats to Japan than HK Express. What is relatively casual growth for Hong Kong Airlines in Japan is a significant impact to HK Express. For HK Express Japan is its largest market by seats (53% of its network is to/from Japan) and ASKs (64%).
From an HK Express perspective it would be frustrating for a sister airline, part of the same group, to enter the market so suddenly with near-term (at least) overcapacity and no defined strategy for the growth.
From a Hong Kong Airlines perspective – it has been serving key regional cities (such as Bangkok, Beijing, Shanghai and Taipei) and the new growth to Tokyo and Osaka was inevitable. The role of Hong Kong Airlines and HK Express in relation to each other is undefined; there is no coordinated dual brand strategy.
Hong Kong Airlines may think it is better suited to blue-chip trunk markets like Tokyo and Osaka and that HK Express should operate to smaller points and develop all-new markets. It is risky to be so reliant on a single market, with (as noted above) half of HK Express' seats and two thirds of its ASKs in Japan.
Hong Kong Airlines and HK Express weekly seats to Japan: 2013-2016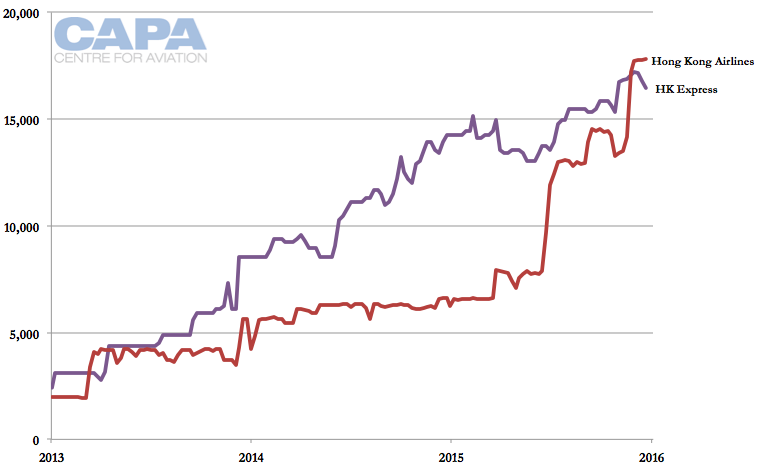 There will certainly be an impact, but the extent is yet to be seen. It will depend on factors such as whether Hong Kong Airlines can stimulate the market for a full service proposition; and if its brand resonates with enough of the market; or if Hong Kong Airlines has to accept very low yields – potentially dragging down competitors.
HK Express still larger than Hong Kong Airlines in the biggest markets, Osaka and Tokyo
Hong Kong Airlines and HK Express have overlapped in Japan: both served Kagoshima, although Hong Kong Airlines' service was mostly sold through agencies.
This is very small compared to the major overlap the two will have in Osaka and Tokyo. In the case of Sapporo the Japan market has also been somewhat of a quirk. Sapporo is an ideal HK Express market but is too far for HK Express' all-narrowbody fleet, thus giving operating justification for Hong Kong Airlines serving the leisure-strong Sapporo market. CAPA previously looked at Hong Kong Airlines and HK Express in Japan when Hong Kong Airlines started Tokyo and Osaka services, but before Hong Kong Airlines dramatically increased its presence in Japan.
See related report: Hong Kong Airlines and HK Express - complex segmentation as they overlap on Hong Kong-Japan routes
Although Hong Kong Airlines will be larger in terms of seats, HK Express will serve more Japanese cities (nine) than Hong Kong Airlines (seven). HK Express' nine Japanese cities are 50% more than Cathay/Dragonair's six destinations – a strong argument for the benefits that LCCs bring. HK Express and Hong Kong Airlines will overlap in three Japanese cities: Kagoshima, Osaka and Tokyo. HK Express will maintain a larger presence than Hong Kong Airlines in Osaka and Tokyo.
In Tokyo HK Express will hold 16% of available seats in the market compared with Hong Kong Airlines' 13%. In Aug-2016 HK Express held 13% and Hong Kong Airlines 11%. The gains have largely been made at the expense of Cathay Pacific, whose share (including Dragonair) has decreased from 43% to 37%.
Hong Kong-Tokyo (all airport) seat capacity share by airline grouping: week commencing 05-Dec-2016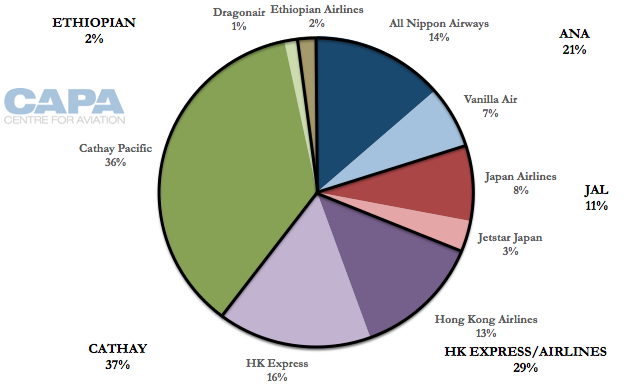 In Osaka HK Express will account for approximately 20% of available seats, with Hong Kong Airlines holding 16%. In Aug-2016 HK Express held 17% and Hong Kong Airlines 7%, gaining 12ppt of market share.
Cathay's share compared with Aug-2016 has decreased from 42% to 40%, while ANA's share (including Peach) has decreased from 27% to 16%. Osaka and Tokyo are by far the largest markets from Hong Kong. The third largest market, Okinawa, is a quarter the size of the second largest – Osaka.
Hong Kong-Osaka (all airport) seat capacity share by airline grouping: week commencing 05-Dec-2016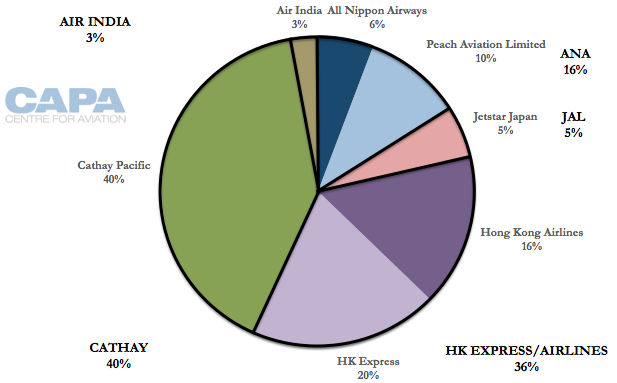 Hong Kong Airlines continues new market expansion with service to Seoul
In 2016 Hong Kong Airlines is opening 11 new markets, including Seoul. This is Hong Kong Airlines' first service to Korea.
Korea is also a staple for HK Express, being its second largest market after Japan. Korea accounts for 17% of HK Express' ASKs and seats. HK Express serves Seoul Incheon, Busan and Jeju. Incheon is its second largest airport pair after Hong Kong-Osaka. (On a city pair basis Seoul is third, and Tokyo – which HK Express serves at both Haneda and Narita – is the largest.)
Hong Kong Airlines is launching with only a daily service compared to HK Express' schedule of up to four daily. Hong Kong Airlines will use its larger A330, however.
Due to Hong Kong's congested slots, on three days of the week the Hong Kong Airlines service will return to Hong Kong at 17:55, but four days a week will return to Hong Kong at the difficult time of 02:25. This early morning arrival will present yield challenges due to the undesirable time: it is neither a midnight arrival nor an early morning (05:00, 06:00) arrival that passengers are used to, and can accommodate.
To have relevancy in the market Hong Kong Airlines will need more frequencies, achieved either organically or through partnerships. Even with a full service offering Hong Kong Airlines' off-peak single frequency will be challenging to market. Jeju Air and Jin Air will have more frequencies, and at better times, than Hong Kong Airlines.
Hong Kong International Airport to Seoul Incheon International Airport (seats per week, one way): 19-Sep-2011 to 10-Apr-2017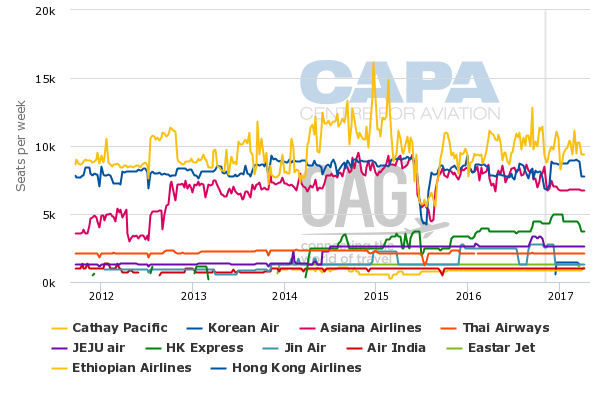 Hong Kong Airlines presents lower overlap with HK Express in Seoul than in Tokyo and Osaka. Hong Kong Airlines' single-frequency (for now) widebody at poor times is not a significant worry for HK Express. But the fact that Hong Kong Airlines is willing to launch such a service would make HK Express worry about Hong Kong Airlines' larger strategy and positioning. Overlap in Seoul adds to the growing concerns in Tokyo and Osaka.
It will take some time for Hong Kong Airlines to settle down into its markets and evaluate its performance. Hong Kong Airlines may regard itself as having a right to fly where it pleases, and this would not be such an issue if HK Express adjusted its network, either by reducing heavy exposure to two markets (Japan and Korea) or serving different segments.
This view shows a classic case of two sister airlines fighting each other rather than jointly trying to be the winner in the market at multiple levels. If Hong Kong Airlines believes it can fly where it pleases, HK Express could hold the same view. If Hong Kong Airlines thinks HK Express needs to adjust its market, HK Express could say Hong Kong Airlines should stick to its historical China focus.
Dual brands are not easy to establish and manage. Coordination between HK Express and Hong Kong Airlines appears increasingly necessary as they overlap without mutual benefit.
For now it appears that they jointly have some benefit in their combined presence – although they could certainly bring a stronger group benefit if managed together.
Hong Kong Airlines' growth in these markets is characterised by rapid growth, but sometimes without a strong network proposition – from frequency to timing. Overall its brand recognition is low, and consumers are not clear exactly where the airline fits between the full service Cathay and the well visible HK Express. This confusion, and at times shaky growth, are a concern as Hong Kong Airlines turns its attention to bolder growth in competitive Southeast Asia and long haul North America and Europe.
Yet from the view of an ever-growing HNA Group, the situation with its Hong Kong-based airlines is one of children competing for attention. The parents have more important matters to attend to first.