Hawaiian continues to embrace challenges in reaping rewards from its network diversification
Analysis
Hawaiian Airlines is still awaiting the rewards of network diversification it undertook a few years ago with the launch of several new Asian routes along with flights to Auckland and Brisbane. The effort was designed to offset Hawaiian's dependence on service to the US mainland, which has become increasingly competitive during the last few years.
The rapid-fire route introductions have been plagued by currency weakness in Japan, retaliatory competitive capacity additions and Hawaiian's spooling up in understanding the distinctive nuances of each market. At the same time overcapacity in its North American markets – which still comprise the majority of its revenues – continues to pressure Hawaiian's performance.
As those challenges continue to cast a spectre on Hawaiian's performance, the carrier has reversed its fortunes within its inter-island network, which weakened during 2012 when Hawaiian made a push from Maui and overestimated the capacity it needed to build a hub in Kahului.
Hawaiian's management is reiterating previous statements that its fortunes will improve during 2H2013 after it recorded consecutive quarterly losses of nearly USD15 million during 4Q2012 and a USD17 million loss for 1Q2013. But with the overhang of much of its 20% to 23% capacity increase in 2Q2013 dedicated to relatively new markets, Hawaiian will have its work cut out to improve its performance in key areas of its network.
See related report: Hawaiian looks to rebound from tough competitive market conditions in 2H2013
Hawaiian awaits for its push into Japan to bear fruit
Hawaiian endured many challenges during 1Q2013 that drove its unit revenues down nearly 8% in its international markets and loads down 4.8ppt. The bulk of Hawaiian's international expansion during the last few years has been in Japan, where it currently serves Fukuoka, Tokyo Haneda, Osaka and Sapporo from its Honolulu hub.
International service accounted for about one-third of Hawaiian's passenger revenues during 1Q2013, and within that context service to Japan and Australia represented about 80% of that total.
Hawaiian's USD440 million breakdown by region: 1Q2013
| Region | Percentage of passenger revenue | Unit revenue increase/decrease |
| --- | --- | --- |
| US mainland/North America | 44% | (-6%) |
| International | 32% | (-16.8%) |
| Inter-island | 24% | 4.5% |
The carrier is further expanding its footprint int Japan during Jun-2-13 when new service to Sendai begins in Jun-2013 as an add-on to Sapporo. In a short time Hawaiian has grown to account for roughly 6% of the seats on offer between the US and Japan.
United States to Japan (seats per week, one way): 19-Sep-2011 to 17-Nov-2013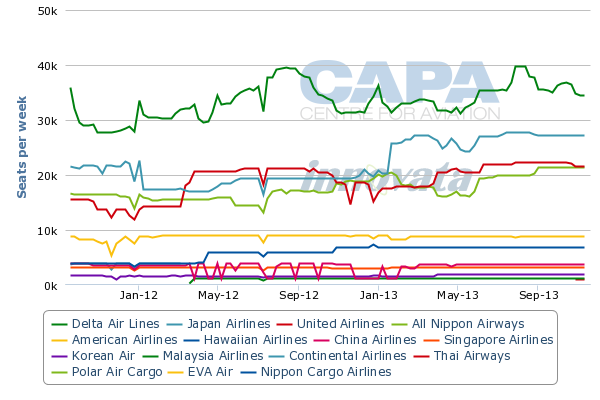 But the weakness of the Yen that has affected the results of other carriers hurt Hawaiian during 1Q2013, along with competitive capacity increases on some its Asian routes. Delta in 2012 opted to expand its service offering between Honolulu and Fukuoka, and subsequently Hawaiian's management remarked the market build-out of Fukuoka was occurring slower than expected.
Asiana also matched Hawaiian's daily Honolulu-Seoul service, which created excess supply in the market.
See related reports:
Hawaiian endures short-term pain to secure, it hopes, successful longevity
Delta sees solid demand as it diversifies its Asian network to offset Japan's weakness
There are other market-specific nuances that are affecting Hawaiian's international performance. Carrier CEO Mark Dunkerley recently remarked Korean Air substantially reduced fares in the Tokyo Narita-Honolulu market with its route entry in Mar-2013 to persuade passengers to travel from Narita, which is further from Tokyo's city centre than Haneda. Hawaiian operates its Honolulu-Tokyo service to the near-town Haneda.
While Mr Dunkerley believes Hawaiian still has a market premium from Haneda, he cautions that does not completely wipe out fare elasticity between Narita and Haneda. Overall, it is tough for Hawaiian to predict with certainty if performance on its long-haul markets to Japan will improve during the summer high season in the US.
While the summer peak season in the US that follows the Japanese Golden Week holiday period in early May-2013 does not look bad at the moment, Mr Dunkerley remarked Hawaiian has its "eyes out to see if demand is sort of sequentially going down". Forward bookings from Japan point-of-sale are not a good indicator of actual performance as Japanese law allows travellers to cancel flights 28 days before departure.
Mr Dunkerley admitted that "we don't think we've performed as well as we should have" in Hawaiian's Japanese markets, noting its sales presence has not matured in a market that the airline entered about two-and-a-half years ago. But he does believe the carrier is gaining traction with respect to brand awareness on its Japanese routes.
Offering a candid assessment of Hawaiian's own shortcomings in understanding the international markets it has entered during the last couple of years, Mr Dunkerley admitted the carrier could have done a better job with its route launches with respect to each country having its own eccentricities. "In hindsight, we were slow to appreciate how things were changing in each of the market places and react to them."
Withdrawal from the Manila route after Philippine Airlines' aggressive pricing
During Aug-2013 Hawaiian plans to cut service from Honolulu to Manila, a route it has served for about four years. Despite capacity reductions by its competitor Philippine Airlines during the time Hawaiian has served the market, Mr Dunkerley remarked that PAL has persisted in "pricing their product at a rate which cannot possibly be compensatory to them and for sure isn't to us".
Honolulu International to Manila Ninoy Aquino International (seats per week, one way): 19-Sep-2011 to 17-Nov-2013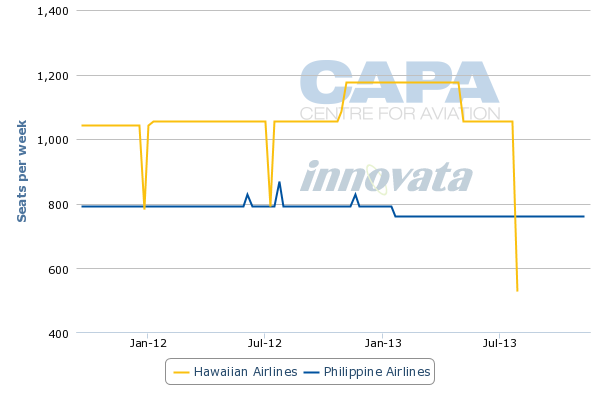 He concluded Hawaiian decided to stop banging its head against the wall and withdraw from the market place. The axing of Honolulu-Manila is a rational step given that Hawaiian is losing money on the route while encountering weakness in other long-haul markets.
It is not clear how Hawaiian will redeploy the capacity dedicated to the Honolulu-Manila route, but four 767s are being removed from service during 2013, one in 2Q2103, followed by one in 3Q2013 and the remaining two aircraft in 4Q2013. The carrier presently operates a 767 on is Honolulu-Manila service, so the widebody exiting service during 3Q2013 could the aircraft used on that route.
At the same time Hawaiian is adding five larger-gauge A330s to its fleet, so the capacity pull from Manila will need to be deployed elsewhere. Some of the supply is likely being assigned to Taipei, which becomes a new market for Hawaiian in Jul-2013.
Hawaiian's Australasia expansion provides some shield against Japan's performance
Counterbalancing some of Hawaiian's weakness in Asia is what appears to be a solid performance in Australasia as Mr Dunkerley remarked that added capacity to Syndey is performing well and being absorbed by the market. Schedules in Innovata show that between mid-Mar-2013 and the end of the month, Hawaiian's one-way weekly seats from Honolulu to Sydney by roughly 42%.
However, there is some currency pressure in Hawaiian's Australian markets as the volatile Australian dollar was flat year-on-year with respect to the US dollar, then tumbling almost 10% in the past month.
Honolulu International to Sydney Kingsford Smith (seats per week, one way): 19-Sep-2011 to 17-Nov-2013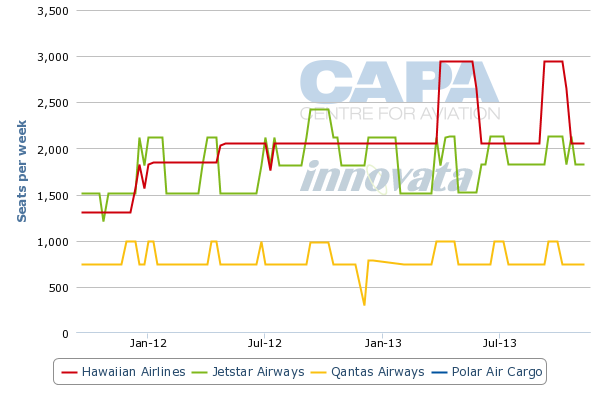 Hawaiian is attempting to counter some of the capacity pressure it faces in its Hawaii-US mainland markets by managing its network in a more counter seasonal manner, drawing down capacity from San Jose, Las Vegas and New York JFK during weaker demand period and re-deploying it to Australia and New Zealand during the Northern Hemisphere's spring and autumn.
Hawaiian waits for capacity rationalisation on mainland markets to kick in
Until recently the overcapacity in the Hawaii-US mainland market that has dragged down results for both Alaska and Hawaiian continued unabated, as evidenced by Hawaiian's 6% unit revenue decline during 1Q2013 in its US markets, which still account for the majority of its revenue. Industry capacity between the Hawaiian island and the US-mainland increased 13% during both 4Q2012 and 1Q2013, and 11% during 1Q2013.
Alaska has recently stated that near the beginning of May-2013 it was removing the equivalent of two aircraft from its Hawaii operations in an effort to rationalise its supply and improve yields.
See related report: Alaska faces tough 2Q2013 as competitive capacity hurts yields. Cost crunch looms
Mr Dunkerley remarked that Hawaiian's contribution to the 11% rise in industry capacity from Hawaii to the mainland US during 1Q2013 was 2ppt, which was due entirely to the introduction of its first service to the US east coast in Jun-2013 to New York JFK. Stressing Hawaiian's rational approach to managing Hawaii-mainland capacity since 2009 (after the demise of Aloha and ATA), he says that Hawaiian's flights to the US mainland have increased just 2% on an annual basis since 2009. However, its seat growth has risen as 294-seat Airbus A330s replace 235-to-270-seat Boeing 767s.
Beginning in 3Q2013 Hawaiian estimates its flights from Hawaii to the US West Coast should fall by 1% and 2% to 3% during 4Q2013. The carrier projects that industry capacity in those markets will fall by 2% during 3Q2013 and 6% in 4Q2013. Those declines coupled with its own refined seasonal network management should reflect a more rationalised Hawaii-mainland market place.
Righting the course in Hawaii's inter-island markets
As it works to sustain its longevity in the US mainland market and lay the groundwork to make its long-haul push a success, Hawaiian has seen a rebound in its inter-island performance after an ambitious build-up of Maui as a hub. That entailed a 25% capacity increase from Maui to its inter-island network in early 2012. The surge pressured Hawaiian's inter-island unit revenues in 1Q2012, which slid nearly 7% year-on-year.
See related report: Hawaiian attempts to reverse negative inter-island performance dragged down by new Maui hub
Hawaiian worked through much of 2012 to right-size the inter-island surge it instituted early in the year, which helped to lift unit revenues by 4.5% year-on-year during 1Q2013. The carrier estimates is accounted for 3ppt of the 4% decline of industry capacity in inter-island markets, which also helped lift its load factor by 5.2ppt in the region year-on-year.
The rational capacity equilibrium ushered in by Hawaiian in the inter-island market appears to be sticking throughout the remainder of 2013 as overall capacity is set to decrease 1.5% in 2Q2013 and rise in the low-single digits in 2H2013.
Impatient investors are ready for a turnaround
Even as Hawaiian acknowledges it has its work laid out in improving the regions of its network that generate the bulk of its revenue – US mainland and long-haul international routes – the reality is that weak performance will continue into 2Q2013 as system passenger unit revenues are projected to fall between 4% and 7%.
Fortunately its unit costs excluding fuel are also estimated to decrease by between 4.5% to 7.5%, which should offset some of the revenue degradation Hawaiian will endure until capacity in some of its most important markets rationalises. Its network diversification strategy is a built on sound logic given the demand between Asia and Hawaii, and the carrier is honest enough to admit it will take some work to improve its fortunes. But being publicly traded means Hawaiian has to answer to fickle investors who want sweeping improvements achieved in a short period of time. The Wall Street hawks are now waiting on Hawaiian to deliver on promises of improved fortunes during 2Q2013.