Hawaiian Airlines' favourable geography helps it post a PRASM performance that outshines its peers
Analysis
Hawaiian Airlines' unique geographical positioning is helping the airline to deliver a passenger unit revenue performance that is outstripping its peers, who are more exposed to a lack of pricing traction and growing capacity on many domestic routes on the US mainland. Demand to Hawaii remains solid and competitive capacity growth in Hawaiian's markets remains reasonable.

Hawaiian's capacity expansion has been tempered during the last couple of years after a massive push into long haul markets earlier in the decade. Its planned capacity growth for 2016 is 2.5% to 5.5%, and expansion in 2017 is expected to remain in the low single digits. The airline plans to use existing capacity to support additional services to Tokyo Haneda, which will allow the airline to improve its service offering in one its most important markets – Hawaiian estimates that Hawaii is the end destination for one in four passengers travelling from Japan to the US.

Alaska Air Group's intention to purchase Virgin America and merge with its rival has fuelled speculation about other potential M&A deals in the US market. Hawaiian believes that its attributes could create value for another company but stresses that it is not for sale, and many opportunities remain for the airline to grow independently.
Hawaiian's geography shields it from competitive pressures facing other US airlines
Hawaiian's 0.5% passenger unit revenue decline during 1Q2016 was among the best of any US airlines. Many of those airlines recorded declines in the 7% range as yields on mainland domestic routes continue to be pressured.
Passenger unit revenue (PRASM) decrease of selected US airlines: 1Q2016
Hawaiian has much less exposure to the weakness that other US airlines are currently facing. Its routes to the US mainland centre on the US west coast, and it has nearly zero exposure to ULCCs on those routes.
Hawaiian Airlines top 10 domestic routes by seats: 23-May-2016 to 29-May-2016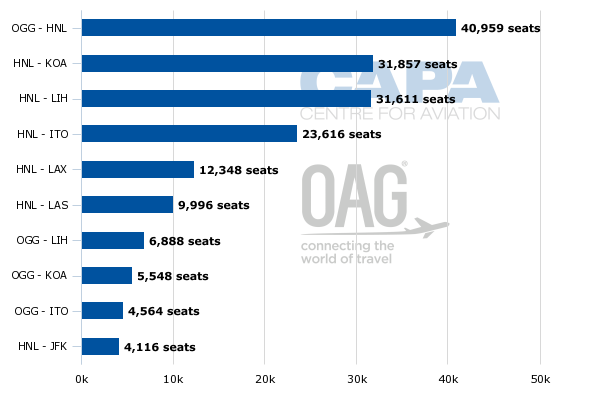 For 2Q2016, Hawaiian expects improving year-on-year PRASM as competitive capacity on the cities that it serves is projected to remain flat. For 2H2016 Hawaiian projects 2% industry capacity growth in its markets during 3Q2016 and flat growth in 4Q2016.

Given those trends, coupled with sustained demand and more pricing strength on routes to Hawaii, Hawaiian remains well-positioned to continue its outperformance of the industry in the PRASM metric throughout 2016.
See related report: The US Big 3 airlines ramp up efforts to improve PRASM. Anxious investors hold back for real results
Hawaiian works to keep its capacity growth in the high single digits
After capacity surges in the 2011 to 2013 time period driven the addition of Airbus A330 widebodies and a rapid long haul expansion into Asia and Australia, Hawaiian's capacity slowed to 1.7% in 2014 and 3.8% in 2015. Its current guidance for 2016 is a range of 2.5% to 5.5%.
Hawaiian Airlines annual ASM growth: 2008 to Apr-2016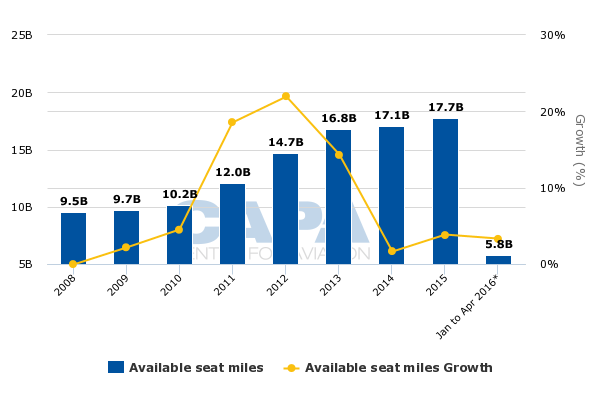 Hawaiian has not issued definitive capacity guidance for 2017, but executives recently stated that they would expect low single-digit growth for the year.
The company is scheduled to take delivery of its first A321neo narrowbody in the summer of 2017, which is a milestone for Hawaiian. It currently operates widebody aircraft on its routes to the US mainland, and the smaller-gauge aircraft serve three purposes for Hawaiian the company CEO, Mark Dunkerley, recently explained.
Hawaiian Airlines fleet summary as of 26-May-2016
Firstly, the company plans to use some of the A321neos to replace Boeing 767s, said Mr Dunkerly. As of mid-May-2016, Hawaiian was operating seven of the older widebody jets.
Secondly, the new narrowbodies should also allow Hawaiian to add incremental capacity on routes rather than deploying higher-gauge, 294-seat A330s to increase capacity.
Thirdly, Hawaiian could also deploy its A321neos on routes that are too thin for its widebody fleet.
Hawaiian presses its case for more access to Tokyo
In Feb-2016 the US government reached an agreement with Japan to expand the number of slots for US and Japanese airlines at Tokyo Haneda, including daytime slots. Previously, US airlines had only had access to night-time slots. In May-2016 Hawaiian was awarded a night-time slot available under the new allotment, and plans to add four additional weekly flights from Honolulu to Haneda (joining its existing daily service) and three weekly flights from Kona to Haneda.
It is a win for Hawaiian, which has been attempting to gain authority to serve the Haneda-Kona route for years. Hawaiian is also introducing flights from Honolulu to Tokyo Narita in Jul-2016. The airline's other Japanese routes from Honolulu include Osaka and Sapporo.

American, Delta, United and Hawaiian have all submitted requests for five daytime slots at Haneda, and the proposals are currently under review by the US government. Mr Dunkerley has stated that US policy "should reflect the fact that mega carriers against which we compete enjoy a playing field that has been typically decisive in their favour and this is an opportunity for government policy to readdress some of that reality". He also said that when 40% of all traffic between the US and Japan is flying to and from Hawaii:" the case is very strong for Hawaii".

The Hawaiian COO, Peter Ingram, recently stated that in the short term the additional flights to Haneda would not affect Hawaiian's capacity growth. He has said that the airline would take capacity elsewhere from its network to support the expansion – most likely capacity from Hawaii to the US west coast. However, he stressed that does not mean Hawaiian is dissatisfied with the way its flights to the mainland are performing. Mr Ingram stated that Hawaiian was capitalising on an opportunity to gain valuable access to a constrained airport.
Despite its strong business attributes, Hawaiian says it is not for sale
The planned merger between Alaska and Virgin America has spurred questions about other potential tie-ups in the US market, and whether Hawaiian could be a takeover target. Mr Ingram explained that Hawaiian, as a public company, has the fiduciary responsibility to manage the company in the best interest of shareholders.

Noting his own bias, Mr Ingram stated that there are attributes of Hawaiian's business that would naturally be accretive to other companies. He highlighted Hawaiian's leisure focus, which he said would be the growth element in the airline industry during the decades to come.

However, he also stressed that Hawaiian is "not sitting here with the company up for sale", and its future is not dependent on "someone buying us". Mr Ingram remarked that there are opportunities for Hawaiian to keep growing on a measured and reasonable basis.
Hawaiian can make the most of its natural shield – against the negative dynamics that other airlines face
After rapid fire growth at the beginning of the decade, Hawaiian sits in an enviable position of stability for diversifying its revenue base away from the North American market. Although Hawaiian encountered formidable challenges as it grew a long haul network, it seems that its strategy to diversify has largely paid off.

For now, Hawaiian should rightfully enjoy its superior passenger unit revenue performance compared with its peers, at a time when routes from Hawaii to the US mainland remain shielded from the negative competitive dynamics that are dragging on the unit revenues of every other US airline.