06-Dec-2010 2:49 PM
Hainan Meilan shares down 3.2%; Malaysia Airports Capital to sell MYR1bn of Islamic notes
China's Hainan Meilan International Airport (-3.2%) reports (03-Dec-2010) the following traffic highlights for the week from 26-Nov-2010 to 02-Dec-2010:
Passenger numbers: 173,600;
Cargo volume: 2822 tons;
Aircraft movements: 1323;
Year to 02-Dec-2010:

Passenger numbers: 8.0 million, +5.0% year-on-year;
Cargo volume: 140,500 tons, +12.7%;
Aircraft movements: 62,119, +4.7%.
Malaysia Airports Capital Bhd reportedly plans to sell as much as MYR1 billion of 12-year Islamic notes to yield approximately 4.65% to 4.7%. The sale was be finalised as early as 02-Dec-2010.
Meanwhile, shares for Malaysia Airports dropped slightly by -0.2%.
Selected airport operators/investors daily share price movements (% change): 03-Dec-2010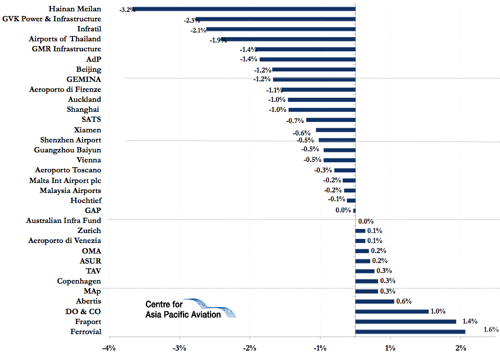 Airport supplier shares were a mixed bag on Friday (03-Dec-2010) with Stefanel (-2.4%) and GateGroup (-1.8%) down while Dufry (+1.2%), Lagardere (+1.5%) and Autogrill (+2.2%) shares gained slightly.
Selected airport suppliers daily share price movements (% change): 03-Dec-2010