GOL sees yield improvement, Southwest and JetBlue yield weakness continues
GOL's shares gained 2.9% on Friday, as the carrier reported that average net yield in Aug-2009 remains above Jul-2009 levels and higher than the BRL 19.43 cents (USD 10.53 cents) reported in 2Q2008, but below the BRL 21.93 cents (USD 11.88 cents) posted in 1Q2008.
The improved yield figures occurred as the carrier reduced its promotions, due to "renewed predominance of business trips in August following the end of the July holiday season". Also in the month, GOL reported a 6.9% increase in traffic (RPKs), on a 4.2% capacity (ASKs) increase, resulting in a 1.4 ppt load factor improvement to a still-low 59.0%.
Selected LCCs daily share price movements (% change): 04-Sep-09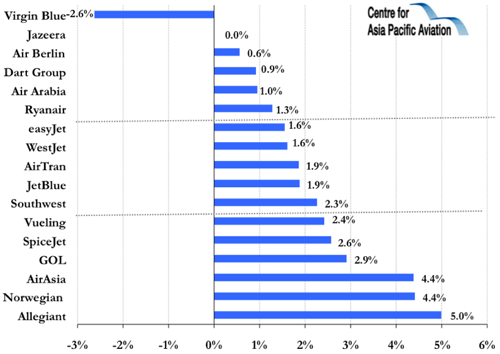 NB: DAILY LCC SECTOR strategic updates from around the world are NOW AVAILABLE! Sign up today for your free trial subscription to Peanuts! Daily.
Also in the Americas, JetBlue Airways reported a 4.4% increase in passenger numbers to 2.2 million in Aug-2009, but experienced a 6% reduction in passenger revenue per available seat mile (PRASM) for the month. Southwest reported a similar PRASM contraction in the month (with an estimated reduction of 5-6%) and also experienced a 3.0% reduction in revenue passengers to 7.5 million. See separate report: JetBlue's PRASM recovery on a better trajectory than Southwest?
In Europe, Ryanair CEO, Michael O'Leary, in an interview with the Sunday Independent stated the carrier will ultimately succeed in acquiring Aer Lingus. Ryanair, which is the largest shareholder in Aer Lingus, has failed twice in its attempt to takeover the carrier. Last most, Aer Lingus CFO, Sean Coyle, conceded that he had "no idea" whether the carrier will reject a possible third bid by Ryanair to take over the carrier.
Ryanair has meanwhile announced plans to increase its checked and excess baggage fees and to increase the check-in bag allowance from one to two bags, and from 15kg to 30kg, as part of the airline's programme to encourage passengers to travel with carry on luggage only. The carrier stated the changes "reflect the fact that Ryanair's average fares have fallen by 20% this year, from EUR40 to EUR32".
In the Asia Pacific region, AirAsia shares gained on Friday, by 4.4%, on the same day the LCC announced that Kenanga Investment Bank Berhad (KIBB) plans to issue up to 50 million European style non-collateralised cash-settled call warrants over the ordinary shares of USD0.03 (RM0.10)/share in AirAsia.