GOL profitable in 3Q2009 & expecting improved yields in 4Q2009; Vueling traffic up due to clickair
Analysis
GOL's shares gained 4.2% yesterday, as the carrier posted a net profit of USD46 million, a turnaround from a USD301 million net loss in the previous corresponding period.
During the quarter, GOL benefited from a stronger Brazilian currency, which helped reduce operating expenses by 17% (the Brazilian Real gained 10% against the US dollar in the quarter, reducing costs denominated in the US currency). This reduction in operating expenses slightly exceeded the 16% reduction in revenues in the quarter.
Double digit yield and unit revenue reductions, but expected to improve in 4Q2009
Also in the period, the carrier reported a 30% yield reduction and a 24% reduction in passenger revenue per ASK, as average fares slipped 36% to USD103. Also on a unit basis, operating costs were also down by double-digits, slipping 19.5% in the quarter.
Looking forward, GOL stated that yields are "expected to initiate a gradual recovery" in the final quarter of 2009, "especially in November and December, given that demand is continuing to grow in a second half where the outlook is distinctly more optimistic than in the first".
GOL upgraded by JP Morgan, on fare strength
In other GOL news, JP Morgan upgraded its stock rating in the LCC to neutral, stating, "this past weekend, GOL appears to have significantly modified its fare structure". The brokerage added that, "most importantly, close-in walk-up fares were broadly increased, potentially signalling an end to the multi-month pricing battle that had eroded [unit revenue] performance."
Vueling Oct-2009 traffic up on gains stemming from the Vueling/clickair union
In Europe, Vueling shares remained stable yesterday, as the carrier reported a 111% increase in passenger numbers to 844,622, due to increased traffic volumes attributed to the carriers' merger with clickair in Jul-2009. Load factors gained 6.8 ppts to 73.0% in the month.
Selected LCCs daily share price movements (% change): 07-Nov-09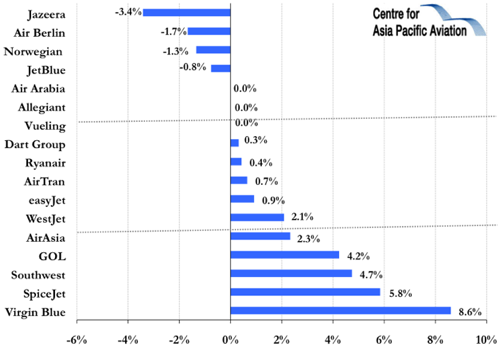 Norwegian to issue up to 1.6 million shares
Norwegian Air Shuttle's share price was 1.3% lower yesterday, after the previous day's 7.1% slump. The Nordic LCC reportedly plans to issue up to 1.62 million shares (or approximately 5% of the total) in a capital raising exercise expected to generate approximately USD44 million.