Garuda Indonesia's attempt to compete in Australia-Europe market faces challenges
Analysis
Garuda Indonesia plans to start competing on the Kangaroo route in Nov-2013, when it launches services to London Gatwick. The carrier is expected to start offering services between Australia and other European destinations in 2014, when it aims to launch new non-stop routes from Jakarta to continental Europe.
The Indonesian carrier is expanding in the Australian market ahead of launching services to London, adding capacity to its three existing Australian destinations – Sydney, Melbourne and Perth. Garuda is also launching services to Brisbane in Aug-2013 and aims to launch services within the next several months to Auckland, which opens up the possibility of connections between New Zealand and Europe.
This is the second of a two-part series of reports on Garuda Indonesia's international expansion plans. The first part analysed the carrier's overall position in Indonesia's international market and the 10 international routes it plans to add in 2013. This part looks at the carrier's entry on the highly competitive Kangaroo route between Australia and Europe.
Garuda will need to attract transit passengers to sustain its new European services and its expanded operation to Australasia. But the Kangaroo route is highly competitive and Garuda faces huge challenges in carving out a profitable niche in the Australasia-Europe market.
Garuda needs to build up brand awareness in Europe
Garuda will need to compete with the strong international brands that larger Asian carriers such as Singapore Airlines (SIA) and Cathay Pacific have, which will pose challenge for the Indonesian flag carrier as it could struggle to attract passengers in the Australasia-Europe market without heavy discounting. Garuda is notably not well known in Europe, where it has only one destination, Amsterdam, currently served with only four weekly flights via Abu Dhabi.
Garuda is working on building its profile in Europe by being a partner of the Liverpool Football Club, which requires a significant investment and shows the carrier is serious at trying to raise its brand awareness in the European market. Its ascension into SkyTeam, which Garuda plans to join formally in early 2014, should also help lift profile in the European market.
Other weaknesses that Garuda will need to work hard to overcome include operating at a Jakarta hub airport which is congested and unattractive for transit passengers. Garuda also has had to settle for London Gatwick as it was unable to secure slots at Heathrow, which is generally a less popular airport – particularly for business passengers.
Competing in the Sydney-London market with a Gatwick product and a stop in Jakarta will not be as appealing to most passengers as a Heathrow product that includes a stop in more transit friendly airports such as Dubai, Singapore, Kuala Lumpur or Hong Kong. Garuda may need to undercut its competitors to overcome this disadvantage, particularly in the premium cabins (it will offer both business and first class in the Sydney-London market). As fares in the Sydney-London market are already low due to the intense competition and a softening Australian market, this will force Garuda to leverage pricing as a lead tactic, with potentially very low fares.
Congestion in Jakarta makes the airport unappealing for transit passengers
A major challenge for Garuda however is in providing an attractive customer proposition for transfers at its hub. Jakarta is now a larger airport than Kuala Lumpur, Singapore or Hong Kong, based on the most recent passenger figures. But the Jakarta Airport does not have the same level of services for transit passengers, no fault of Garuda's, who will be the poorer for it.
As an airport, Jakarta should be focusing on local passengers until it is able to complete upgrades and catch up with the growth curve. An influx of transit passengers has the potential to exacerbate a challenging infrastructure situation that will take some years to resolve. Indonesian authorities have been moving slowly with plans to expand the Jakarta airport and build a new airport for the Indonesian capital.
Another challenge is that Garuda's long-haul operation is split between two hubs – Jakarta and Denpasar on the resort island of Bali. The carrier will serve London and its future European destinations from Jakarta. But as some of its new Asia-Pacific destinations will only be served from Bali – including Brisbane and Auckland – in some cases it will have to flow Australia/New Zealand-Europe passengers through both of its hubs.
Garuda believes it can get away with selling a two-stop product as passengers heading between Australasia and Europe may be eager to break up their journey by taking a short holiday in Bali. Jakarta does not have the same kind of stopover appeal as Bali. And expecting a double stop is not something likely to appeal to the business market, implying a focus on lower yielding traffic.
While passengers breaking up their journey in Bali will need to take two flights between Bali and Europe, only a quick stop in Jakarta is required given the high number of frequencies Garuda offers on the Jakarta-Denpasar route. (Jakarta-Denpasar is the largest Garuda route, with over 37,000 weekly seats, according to CAPA and Innovata data).
Garuda times most Australia flights to offer convenient connections with London
Sydney, Melbourne and Perth passengers will have the option of a one-stop product direct to London or a two-stop product should they opt for a Bali stopover. Garuda already serves Sydney and Melbourne from both Jakarta and Bali, with both destinations currently served daily from Bali and five times per week from Jakarta. Garuda will also initially serve London with five weekly flights commencing 2-Nov-2013.
Garuda is re-timing its Jakarta-Melbourne service in late Oct-2013 to facilitate connections with London in both directions. Jakarta-Sydney will also connect with the new London flight. Anticipating a larger volume on the route after it launches London, Garuda plans to upgrade Jakarta-Sydney to daily in late Oct-2013 and at the same time add capacity in the market by transitioning from A330-200s to 777-300ERs.
Garuda currently only serves Perth from Bali with a daily 737-800 service. But the carrier is launching on 28-Jun-2013 a daily service to Perth from Jakarta, also with 737-800s. The new Perth-Jakarta flight will connect with Jakarta-London, which should help make Perth-Jakarta viable.
Only Brisbane (and Auckland if Auckland is launched as expected) will not connect well with London as passengers will need to stop both in Bali and Jakarta. For Melbourne, Sydney and Perth passengers will have the option of stopping in Bali should they want to break up their journey but those flying straight to London can opt for the quick one-stop product via Jakarta.
The changes on the Jakarta-Sydney route will result in a 70% increase in seat capacity from 1,110 to 1,884 weekly one-way seats. When also factoring in its new Bali-Brisbane and Jakarta-Perth routes, Garuda will offer over 11,000 weekly one-way seats to Australia by the end of 2013, compared to about 7,000 seats at the beginning of 2013, according to CAPA and Innovata data.
This will give Garuda nearly a 40% share of capacity in the Australia-Indonesia market, compared to about 25% at the beginning of the year.
Indonesia to Australia capacity by carrier (one-way seats per week): 19-Sep-2011 to 17-Nov-2013
In the broader Southeast Asia to Australia market, Garuda will see its capacity share increase from about 5% to 7%.
Southeast Asia to Australia capacity by carrier (one-way seats per week): 19-Sep-2011 to 17-Nov-2013
Sixth freedom traffic is needed as Garuda rapidly expands widebody fleet
While Jakarta as an airport is not well positioned to handle the influx of transit passengers brought about by the new Garuda transit traffic strategy, the carrier needs to pursue more sixth freedom traffic as it needs to fill up its expanding widebody fleet.
Garuda currently only operates 17 widebody aircraft, 15 A330s and two 747s, but plans to add seven more widebody aircraft (four 777-300ERs and three more A330s) by the end of 2013.
Garuda is committed to acquiring another six 777-300ERs for delivery between 2014 and 2016 and another 16 A330s by the end of 2017, according to the CAPA Fleet Database. The significant expansion of its widebody fleet will help Garuda make better use out of its Jakarta slots, which have become a valuable commodity, and more effectively compete against foreign carriers in carrying international passengers to and from Indonesia. But to fill all the additional widebody seats Garuda needs to turn to transit traffic, which currently accounts for a very small portion of its total traffic.
The Kangaroo route between Australia and Europe is a natural sixth freedom market for Garuda given Indonesia's geographic position and the large size of the Australia-Europe market. But the market is highly competitive with over 10 carriers offering one-stop products with relatively quick transit times between Europe and multiple cities in Australia.
The Kangaroo route is highly competitive
Australia-Europe has traditionally been a low yielding market, although in recent years, as Australia's economy remained strong and its dollar high, outbound traffic has attracted even more attention than previously. Southeast Asia's largest long-haul carriers – SIA, Malaysia Airlines (MAS) and Thai Airways – have been long-term players in the market, turning to Australia to help fill their European flights in both premium and economy cabins. But the rapid expansion of the Gulf carriers in Australia in recent years has led to even more intense competition in the Australia-Europe market. The Gulf carriers have an advantage in offering shorter overall transit times and larger European networks because their hubs are closer to Europe, making secondary European markets viable that Asian carriers are unable to serve profitably.
Smaller Southeast Asian carriers have also previously turned to the Australia-Europe market but with limited success. For example, Royal Brunei Airlines (RBA) has historically offered some of the lowest fares between London and Australia. But RBA restructured in 2011, cutting several Australian destinations from its network and pulling out of the Kangaroo route almost entirely, citing stiff losses. RBA now only serves one Australian destination, Melbourne, and tries to focus more on connections from Melbourne to Asia rather than London.
Chinese carriers over the last couple of years have also started to target the Australia-Europe market, particularly China Southern. As is the case with Garuda, the Chinese carriers have a huge local market. But local demand for long-haul services are not sufficient to support significant expansion, therefore requiring carriers to focus more on transit traffic.
See related reports:
Vietnam Airlines is also starting to look more at sixth freedom traffic as it grows its long-haul network. Vietnam Airlines launched services to London Gatwick in late 2011. It currently also serves Frankfurt, Paris and Moscow and has ambitions to add more European points as it expands its widebody fleet. In Australia, Vietnam Airlines currently offers five weekly flights to both Melbourne and Sydney, according to Innovata data.
Philippine Airlines (PAL) is another smaller Southeast Asian flag carrier which could join Garuda and Vietnam in targeting Kangaroo route traffic as it resumes services to Europe. PAL is looking to serve London, Paris and Rome as it also builds up its new fleet of 777-300ERs. PAL recently expanded its Australian operation from two to five destinations, launching flights to Brisbane, Darwin and Perth on 1-Jun-2013.
See related report: Philippine Airlines banks recovery on international expansion but faces uphill battle
PAL currently does not serve any destination in Europe. SIA and Thai Airways each serve 13 European destinations. MAS currently serves five destinations in Europe and Vietnam Airlines serves four while Garuda and RBA serve only one.
SIA is the largest carrier in the Southeast Asia-Europe market with over 67,000 weekly seats, according to CAPA and Innovata data.
Southeast Asia to Europe capacity by carrier: 27-May-2013 to 2-Jun-2013
As Garuda and RBA operate their only European route via the Middle East, technically they do not currently offer any capacity in the Southeast Asia-Europe market. But Garuda will offer 3,140 weekly return seats between Southeast Asia and Europe after it launches London.
The five weekly London flights will give Garuda a miniscule share of the total Southeast Asia-Europe market as well as a very small share of the Australia-Europe one-stop market. But Garuda's share in these markets is expected to grow significantly in 2014 and 2015 as it adds more European destinations. As discussed in the first part of this report, Garuda is looking at launching non-stop service from Jakarta to Frankfurt, Paris, Rome and Milan.
See related report: Garuda Indonesia accelerates international expansion with 10 new routes to be launched in 2013
Garuda may also eventually upgrade its Amsterdam service to non-stop. But it will almost certainly continue to serve Abu Dhabi as Garuda has a codeshare with Abu-Dhabi-based Etihad, which will continue to give Garuda offline access to European destinations the carrier does not serve with its own metal.
Garuda's long-haul expansion comes with big competitive risks
Currently there are no non-stop services between Indonesia and Europe. Only two European carriers currently serve Indonesia, KLM and Turkish Airlines, according to Innovata data. But KLM serves Jakarta via Kuala Lumpur and Bali via Singapore while Turkish serves Istanbul via Singapore.
Launching non-stop services to London and other European destinations is a risky proposition. Local demand for Indonesia-Europe services, while growing as Indonesia's economy booms, has traditionally not been sufficient. Garuda could be better off focusing on growing in Europe virtually, using Etihad and SkyTeam partners. But it has an ambition to become a global player and does not want to settle for a virtual long-haul network.
Garuda recognises it will lose money on its new long-haul operation but sees the short term pain as necessary for implementing its new long-term strategy. The expected losses and start-up costs for the new long-haul flights at a time when Garuda has not been performing exceptionally financially.
Garuda incurred a USD34 million loss for 1Q2013. (See background information). The carrier has been profitable for the last two years, but with relatively modest operating profit margins of less than 5% for the full year 2012 and less than 3% for the full year 2011.
While Garuda is upbeat about its medium and long-term outlook, its short-term outlook remains relatively bleak as competition continues to intensify, fuel prices remain high and the carrier incurs start-up costs for building up its new long-haul network. Capital costs are also high as Garuda introduces its new fleet of 777-300ERs. The first 777-300ER will enter service on the Jakarta-Jeddah route in Jul-2013 while the additional aircraft for 2013 will be used mainly for Sydney-Jakarta-London.
Garuda's 777-300ERs will be configured with 314 seats, including eight in first class, 38 in business and 268 in economy. Garuda's current fleet only features business and economy seats, meaning that in other Kangaroo route markets such as Perth-London and Melbourne-London Garuda will not be able to offer a through first class product.
The first class cabin is probably unnecessary and comes at a time when airlines are generally reducing or removing first class cabins rather than adding them. Offering a first class illustrates Garuda's confidence as the carrier aims high with its new long-haul product and network.
Garuda is ambitious and the fact it is based in one of the world's fastest-growing aviation markets rightly gives it confidence.
But Garuda faces huge challenges as it looks to make its mark in the long-haul market during a period of unfavourable economic conditions in Europe and intensifying competition.
Background information
Garuda financial highlights: 1Q2013 vs 1Q2012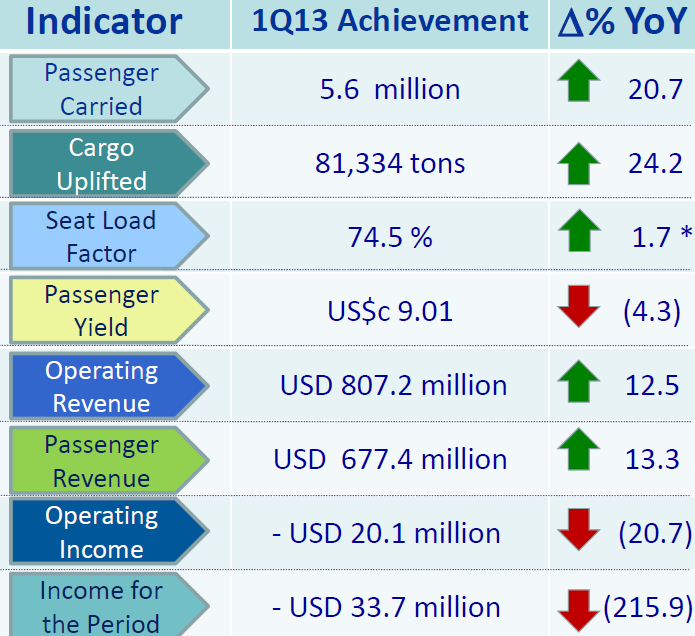 Georgia, 'Times New Roman', Times, serif; font-size: 0.8em;">Source: Garuda Indonesia (1Q2013 results presentation)