Garuda Indonesia accelerates international expansion with 10 new routes to be launched in 2013
Analysis
Garuda is accelerating expansion in Indonesia's under-served international market as part of an initiative to build its international profile ahead of entry into the SkyTeam alliance. The international expansion will see Garuda launch at least 10 new routes in 2013, including Jakarta-London.
London Gatwick will become in Nov-2013 its second European destination after Amsterdam. Garuda will also launch in 2013 several new short-haul international routes within Southeast Asia and three new medium-haul routes to Australia and Japan.
The long-haul expansion is made possible by the delivery of Garuda's first batch of 777-300ERs. The 777-300ER will be Garuda's new flagship and the only aircraft in its fleet featuring a three-class cabin – with economy, business and first class sections. Garuda also continues to expand its A330 fleet, which it uses primarily within Asia-Pacific.
The international expansion will allow Garuda to cash in on rapidly growing demand for services to and from Indonesia, where rapid economic growth has until now driven primarily expansion of domestic services. The expansion will also allow Garuda to pursue more fifth freedom traffic, including on the extremely competitive Kangaroo route between Australia and Europe. Garuda's entry on the Kangaroo route will be analysed in the second report in this two-part series.
Garuda is the most domestic-oriented flag carrier in Southeast Asia
Garuda has traditionally had a relatively small international operation compared to its Southeast Asian peers. Garuda has done little to close the gap in recent years as it has been primarily focusing on expanding in the domestic market.
Indonesia is by far the most populous country in Southeast Asia but Garuda is currently the smallest international carrier among the six major flag carriers in the region. Singapore Airlines (SIA), Thai Airways, Malaysia Airlines (MAS), Vietnam Airlines and Philippine Airlines (PAL) are all larger based on current seat capacity.
Garuda also currently has fewer international seats to, from and within Southeast Asia than three low-cost carriers – AirAsia Malaysia, Indonesia AirAsia and Tiger Airways Singapore – and two full-service carriers from outside the region – Cathay Pacific Airways and Emirates.
Top 15 international carriers in Southeast Asia ranked by weekly seat capacity: 27-May-2013 to 2-Jun-2013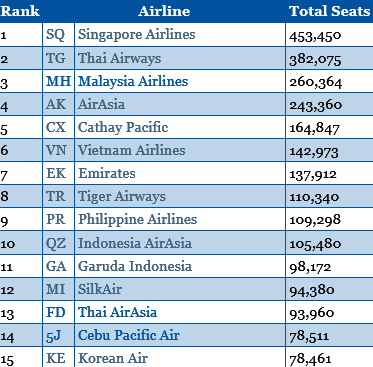 Georgia, 'Times New Roman', Times, serif; font-size: 0.8em;">Source: CAPA – Centre for Aviation & Innovata
Indonesia AirAsia, which has expanded rapidly in the international market in recent years, is now Indonesia's largest international carrier based on passengers carried. Garuda could potentially retake the number one position as it starts to pursue faster international expansion and as Indonesia AirAsia is now starting to focus more on domestic expansion.
Indonesia AirAsia currently allocates about 57% of its seat capacity to the international market while Garuda only allocates 20% – which is by far the smallest amount among major Southeast Asian flag carriers. According to Innovata and CAPA data, Vietnam Airlines currently allocates 39% of its seat capacity to the international market; MAS 55%; PAL 57%; Thai 60%; PAL 80% and SIA 100% (as there are no domestic services in Singapore).
While Garuda could potentially overtake Indonesia AirAsia in the international market it is unlikely to overtake the AirAsia group as a whole. The AirAsia brand currently accounts for about 26% of seat capacity in Indonesia's international market compared to less than 16% for Garuda.
The Lion Air Group, which includes regional low-cost subsidiary Wings Air and new full-service subsidiary Batik Air, currently accounts for only 6% of international capacity in Indonesia. But this will grow as Lion, which allocates over 95% of its seat capacity to the domestic market, starts to expand internationally.
Indonesia international capacity share (% of seats) by carrier: 27-May-2013 to 2-Jun-2013
The Lion Group is the domestic leader in Indonesia, with about a 50% share of capacity (includes Lion Air, Batik and Wings) compared to about 30% for the Garuda Group. The Garuda Group includes budget subsidiary Citilink, which for now only operates domestically, although international services are planned as part of a later phase which could begin as early as 2014.
See related report:
When including Citilink, the Garuda Group currently allocates about 85% of its seat capacity to the domestic market, according to CAPA and Innovata data. Even on an ASK basis, over 50% of group capacity is in the domestic market. (On an ASK basis, Garuda is currently the largest international carrier in Indonesia with a 24% share of ASKs compared to about 14% for the AirAsia Group and less than 5% for Lion).
Garuda has pursued faster domestic expansion since 2008, as the market doubled in size
The Garuda Group transported only 3.6 million international passengers in 2012 compared to 16.9 million domestic passengers (includes 14 million at the Garuda brand and 2.9 million at Citilink). The growth in recent years has been significantly higher on the domestic side despite the very small international base.
In 2008, Garuda transported 7.6 million domestic and 2.4 million international passengers. Over the last four years, domestic traffic has more than doubled while international traffic has increased by about 50%. Even when excluding Citilink, which started pursuing rapid expansion in 2012 as part of a new domestic strategy aimed at competing more aggressively against Lion, Garuda's domestic traffic has nearly doubled in four years and expanded nearly twice as fast as international traffic.
This trend continued in 2012, when Garuda international passenger traffic grew by 11% while mainline domestic passenger traffic grew by 14%. Citilink domestic traffic grew by 76% from a much smaller base.
Garuda only launched two international routes in 2012 – Jakarta-Taipei and Bali-Tokyo Haneda.
Through the first four months of 2013, Garuda's international traffic grew by 9% to 1.2 million passengers while mainline domestic traffic grew by 8% to 4.6 million. Citilink traffic more than doubled from 762,000 passengers in the first four months of 2012 to 1.6 million in the first four months of 2013. As a group Garuda domestic traffic grew by 19% to 6.2 million passengers.
Garuda is aiming to grow group passenger traffic by 15% to 20% in 2013, which would give it approximately 24 million passengers. ASKs are also expected to grow by 15% to 20%, reflecting the faster growth than recent years in the international network. In 2012 total ASKs at the group were up by only 11% while passenger figures increased by 20%.
Annual ASKs have increased by 77% over the last four years while total passenger figures have exactly doubled over this same time period.
Garuda fleet, passenger traffic and ASK growth projections for 2013 vs 2012
Garuda to add 33 aircraft in 2013, including seven widebodies
The international expansion in 2013 is being driven by new services to Australia, the UK and Japan as well as several new short-haul routes within Southeast Asia. Garuda is also increasing capacity on several existing international routes by adding frequency and up-gauging to larger aircraft.
The expansion is made possible by expanding the fleet from 106 aircraft at end of 2012 to an expected 139 aircraft at the end of 2013. Six of these aircraft – four A320s for Citilink and two Bombardier CRJ1000s for Garuda's new regional operation – were already delivered in 1Q2013, giving the group a fleet of 112 aircraft. This includes only 17 widebody aircraft – two 747-400s and 15 A330/200/300s.
Garuda Group fleet: as of 31-Mar-2013
But the widebody fleet is slated to grow by nearly 50% over the next several months, reaching 24 aircraft by the end of 2013. The first four 777-300ERs in a 10-aircraft commitment are slated to be delivered by the end of 2013 as well as three additional A330s.
Garuda also plans to add 10 additional 737-800s and five more CRJ1000s to its mainline fleet by the end of 2013. Most of the CRJ1000s and some of the 737-800s will be used to pursue further domestic expansion, particularly from a new base at Medan on the western Indonesian island of Sumatra. Some of the additional 737-800s and CRJ1000s are also being used to expand internationally, including several new routes from secondary Indonesian cities to Singapore and Malaysia as well as to Australia.
Garuda for now plans to retain its 747-400s for Hajj charters. The carrier now uses its 747-400s on the Jakarta-Jeddah route, which it currently serves with between one and two daily scheduled frequencies. Garuda is planning to start operating the 777-300ER on all its Jakarta-Jeddah flights starting in Jul-2013.
According to schedules in Innovata, Garuda will also use the 777-300ER on the Jakarta-Sydney route from late Oct-2013, replacing A330-200s. Garuda currently serves Jakarta-Sydney with five weekly A330-200 frequencies but will move to six weekly flights as it switches to the 777-300ER. This will result in a 70% increase in seat capacity in the Jakarta-Sydney market from 1,110 to 1,884 weekly one-way seats. Nearly all this increase will come in economy as Garuda configures its A330-200s with 186 economy and 36 business class seats (for a total of 222) while its new 777-300ERs will feature eight first class, 38 business class and 268 economy seats (for a total of 314).
Garuda also has unveiled plans to use its initial batch of four 777-300ERs to launch services from Jakarta to London on 2-Nov-2013. Garuda will initially operate five weekly 777-300ER flights to London Gatwick.
The same aircraft will be used for Sydney and London, offering a one-stop all-777 product in the competitive Sydney-London market. Garuda's new London flight will also connect with some of its other Australian routes, including to Perth, Melbourne and soon Brisbane (although in some cases a stop in both Bali and Jakarta will be required). Garuda's push into the Kangaroo route between Australia and the UK will be analysed in the second part of this two-part report.
Garuda currently serves Sydney and Melbourne from both Jakarta and the Indonesian resort island of Bali. Perth is currently only served from Bali, with a daily 737-800 flight. But as part of its forthcoming expansion in Australia, Jakarta-Perth service will be launched on 28-Jun-2013. The new route will also be served daily with 156-seat 737-800s.
Garuda has also unveiled plans to launch service to Brisbane on 1-Aug-2013. Brisbane will be initially served daily from Bali with 737-800s.
Garuda already increased Bali-Melbourne service in Apr-2013 from five weekly flights to daily. Garuda currently serves the Bali-Melbourne route daily with 293-seat A330-300s while smaller A330-200s are used to operate five weekly flights on the Jakarta-Melbourne route. Garuda also uses the A330-300 on its daily Bali-Sydney route, which at least for now will not transit to the 777-300ER.
Garuda is also planning temporarily to use the 777-300ER on its three routes to Tokyo in Aug-2013 and Sep-2013. Garuda currently operates a daily service from Bali to Tokyo Haneda using A330-200s, a daily service from Bali to Tokyo Narita using A330-200s and a daily service from Jakarta to Tokyo Narita using A330-300s, according to Innovata data.
Garuda currently only serves Osaka from Bali. But the carrier has unveiled plans to launch service to Osaka from Jakarta on 28-Oct-2013 with four weekly A330-200 flights. There are currently no carriers operating between Osaka and Jakarta although Garuda now competes with Japan Airlines and All Nippon Airways on the Tokyo-Jakarta route. (Tokyo-Bali and Osaka-Bali is currently only served by Garuda, according to schedules in Innovata.)
Garuda plans several new international routes from Medan and Bali
Jakarta-Osaka, Jakarta-London, Jakarta-Perth and Bali-Brisbane are just four of several international routes Garuda plans to launch in 2013. Garuda is preparing to launch several international routes from Medan, which recently became its fourth hub after Jakarta, Denpasar (Bali) and Makassar. Penang in Malaysia will become the first international destination from Medan with a double daily CRJ1000 service beginning on 1-Jun-2013.
Garuda also plans to launch Medan-Singapore by the end of 2013 although it has not yet set a launch date for this service. It is also considering services to other Southeast Asian destinations from Medan including Kuala Lumpur and Bangkok. Garuda has already added several domestic routes from Medan, where a new airport is slated to open in 3Q2013.
Garuda's 2013 network plan also includes Denpasar-Auckland. But Garuda has not yet set a launch date for this new widebody route. Air New Zealand currently is the only carrier linking Auckland with Bali. Air NZ launched service to Bali in Jun-2012. Garuda first signalled its intention of resuming service to Auckland, which it has not served in seven years, in 2012 after signing a memorandum of understanding with Auckland Airport.
Garuda also has identified in its 2013 network plan new routes from Bali to Taipei and Bangkok. The 2013 network plan also includes Surabaya-Singapore. But it has not yet set a launch date for any of these routes, as is the case with Medan-Singapore and Bali-Auckland.
The Singapore expansion comes as several carriers plan to add capacity between Indonesia and Singapore, utilising rights made available by a recently expanded bilateral. Garuda currently only serves three destinations from Singapore – Bali, Jakarta and Balikpapan. Medan and Surabaya are now served from Singapore by several carriers including Singapore Airlines regional subsidiary SilkAir.
See related report: Tiger and SIA/SilkAir lead race in Indonesia-Singapore market with AirAsia lagging behind
Singapore-Indonesia is a huge local market but Indonesia is also one of the largest sources of transit passengers for SIA and Changi Airport. SIA is Garuda's biggest competitor in this respect although the two carriers also codeshare on some Singapore-Indonesia routes.
SIA and Changi are well positioned to continue growing their Indonesian transit passenger numbers given Singapore's close proximity to Indonesia and Changi's comprehensive international network. As CAPA reported in Mar-2013:
Singapore Changi in many ways is the main international hub for Indonesia. Changi benefits from its close proximity to Indonesia. Changi is able to offer connecting passengers from Indonesia a much wider offering of destinations than Indonesia's largest airport, Jakarta Soekarno-Hatta.

For example, Changi is connected to 13 destinations in Europe while Soekarno-Hatta currently does not have any non-stop flights to Europe. Within Asia-Pacific, Singapore has more than four times as many international destinations as Jakarta (102 compared to 23). As an award winning airport, Changi also offers a far superior and less hassling transit experience compared to the congested and outdated Soekarno-Hatta.

Further expansion in the Indonesian market is strategically important to Changi, which in 2012 recorded 10% traffic growth to 51 million passengers, as it looks to continue its rapid growth trajectory. As Indonesia, which is now the world's fourth most populous country with about 240 million people, continues its rapid economic growth Changi will benefit as long as there are no restrictions on capacity increases. Indonesia now accounts for 13% of total capacity at Changi, making it the airport's largest destination country.
See related report: Singapore Changi to benefit from continued rapid growth of Indonesia market
Competition between Garuda and SIA is intensifying as Garuda expands its international network and as SIA adds more capacity in the Indonesian market. SIA has unveiled plans to add from 26-Jul-2013 a ninth daily frequency from Singapore to Jakarta, which is the carrier's largest route, and a fourth daily flight from Singapore to Bali. SIA at the same time is also launching one daily flight to Surabaya, taking over one of two frequencies currently operated by SilkAir with smaller aircraft.
SIA is already the largest foreign carrier in Indonesia, currently accounting for almost 8% of total international capacity to and from the country. When including SilkAir, the SIA Group accounts for almost 10% of international seat capacity in the Indonesian market.
Garuda needs larger international network ahead of ASEAN open skies
Indonesian authorities for several years were reluctant to expand the bilateral with Singapore, fearing more traffic rights for SIA would make it even more difficult for Garuda to compete in the international market. Garuda has traditionally struggled in the international market as it unable to match SIA's network and until relatively recently had a much weaker product than most of its full-service competitors.
Garuda is typically in the driver seat when it comes to Indonesian government policy as the carrier remains partially owned by the government and very close to the country's aviation authorities. For example, Garuda is viewed as the driver behind Indonesia's reluctance to join the ASEAN open skies initiative. Indonesia and the Philippines are the only countries which have not yet joined the initial Multilateral Agreement on Air Services, which calls for fifth freedom access among ASEAN capital cities.
As a result ASEAN carriers have not been able to launch services to Jakarta from capitals other than the capital of the country they are based. There are no such restrictions between capital cities among the eight countries which have signed the agreement.
Indonesia's decision to not participate so far provides a layer of protection for Garuda. As Indonesia has not signed the agreement Garuda cannot launch services between ASEAN capitals other than Jakarta (unless allowed under individual bilateral agreements). But the carrier has limited desire to do so as it is instead now focused on building up its rather limited international network from Indonesia and winning over international passengers who are now flying via other Asian hubs.
Garuda has publicly stated its opposition to the full liberalisation of air services in ASEAN, citing an un-level playing field as foreign carriers serving Indonesia have significantly more to gain from open skies. Indonesia is by far the biggest market in Southeast Asia.
But political pressure for Indonesia to join the ASEAN open skies movement is mounting. Indonesia's decision to agree to a 50% increase in capacity to Singapore – a much bigger increase than Garuda wanted – could be a sign that Indonesia is liberalising. A larger international network better prepares Garuda for the inevitability of competing in a more liberal environment.
Garuda aims to win back international passengers
By strengthening its international network Garuda is also aiming to persuade more Indonesian passengers against flying via Singapore and other Asian hubs such as Kuala Lumpur and Hong Kong when travelling overseas. The carrier's ascension into SkyTeam, which is expected to be completed in early 2014, should also help it grow its international passenger base.
Garuda also forged in 2012 an alliance with Etihad, becoming the latest flag carrier to opt to work with a major Gulf carrier. All three of the major Gulf carriers serve Indonesia and have been growing their operations in Indonesia in recent years, making it difficult for Garuda to compete in the Indonesia-Middle East and Indonesia-Europe markets.
Under the Etihad partnership, Garuda changed the stopover of its Jakarta-Amsterdam service from Dubai to Abu Dubai. Garuda has also started codesharing with Etihad from Abu Dhabi to other European cities, including Brussels, Dusseldorf, Frankfurt, Milan and Munich.
Garuda's ambitious international expansion has its challenges
Garuda also has ambitions to operate more non-stop flights to Europe as part of the next phase of its international expansion. Non-stop flights to Amsterdam as well as new routes to Frankfurt, Paris, Rome and Milan are being considered as Garuda takes the six additional 777-300ERs from its 10-aircraft commitment in 2014 and 2015.
(Garuda is not currently looking at launching services to North America. Instead the carrier aims to codeshare with SkyTeam member Delta Air Lines via Delta's Tokyo hub. But Delta is unable to put its code on Garuda flights until Indonesia is upgraded to Category 1 status under the US FAA safety assessment programme. Indonesian authorities are now working on regaining Category 1 status.)
See related report: Garuda Indonesia to focus on rapid domestic expansion before turning attention to international
Establishing a profitable presence in Europe will be challenging. The Indonesia-Europe market is growing and has high potential given the rapid growth of Indonesia's economy and middle class. However, the market is still relatively small and can be well served with one-stop products from Gulf carriers and larger Southeast Asian carriers
Indonesia's overall international market remains relatively small. Only about 16 million international passengers flew to and from Indonesia in 2012, with Indonesian carriers carrying about nine million, according to Indonesian DGAC data. In comparison there were over 70 million domestic passengers in Indonesia in 2013.
Indonesian carriers annual international traffic (millions of passengers carried): 2005 to 2012
Indonesia's international market has huge potential for growth, benefitting both local and foreign carriers. As the country's flag carrier and soon the only Indonesian member of a global alliance, Garuda is well positioned to benefit from the expected boom in international travel to and from Indonesia
A larger network, membership in SkyTeam and its new fleet of 777-300ERs will certainly be successful in raising Garuda's international profile. But achieving profitability across its expanded international network will be challenging as Garuda faces stiff competition from carriers across Asia-Pacific and the Middle East that have more established international brands and much larger widebody fleets, providing economies of scale that Garuda cannot match.
Part 2
The second part of this two-part series will look at the challenges Garuda faces in its plans for competing on the Kangaroo route between Australia and Europe.