Fraport traffic up 8.6%; ACS to commence talks with Hochtief
Passenger numbers: 6.0 million. +8.6% year-on-year;
Cargo volume: 230,689 tonnes, +6.1%;
Aircraft movements: 56,522, +3.7%;
Spain's ACS stated it expects to commence talks with Hochtief (+0.5%) as soon as possible, after Hochtief stated it was open to dialogue with the company. The two are yet to discuss ACS' formal bid for the control of Hochtief made on 01-Dec-2010. Under German takeover regulations, management and the company's supervisory board must make a formal recommendation to shareholders on whether or not to accept a takeover offer. Hochtief is expected to make a statement this week.
Hochtief has stated it does not regard the takeover bid as hostile, but reacted to ACS' bid by requesting authority from its board of directors to explore measures to fend off the bid. Hochtief sold a 9.1% stake in the company to Qatar as a result, diluting ACS' 29.9% stake to around 27%.
Selected airport operators/investors daily share price movements (% change): 10-Dec-2010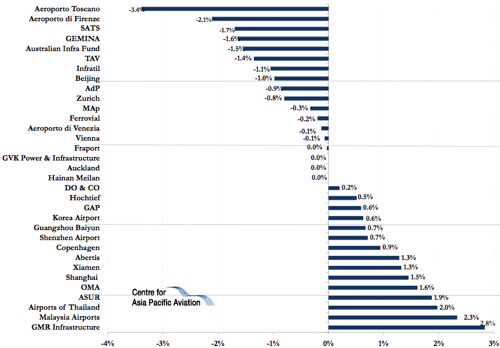 Airport supplier shares were a mixed bag on Friday (10-Dec-2010) with Stefanel (-2.2%), Lotte Shopping (-1.7%) and Hellenic DFS (-1.5%) shares down while Autogrill (+0.3%), MISR Duty Free Shops (+1.5%) and Dufry (+1.5%) shares gained.
Selected airport suppliers daily share price movements (% change): 10-Dec-2010