flydubai's fleet could reach 200 aircraft with more liberalisation, connections and partnerships
Analysis
Dubai based Flydubai has become the largest low-cost carrier in the Middle East. Its fleet of approximately 40 737s will grow to 61 before beginning the process of replacement, with some growth, by 75 737 MAX 8s. But flydubai is considering the possibility of a long-term plan to grow its fleet to 200 aircraft, a sum that could see flydubai have more aircraft than Etihad Airways. Although this represents more than a quadrupling from flydubai's current size, it is not a vision difficult to see.
Realising that vision however will require work. Flydubai would likely need to grow connections, which accounted for 25% of traffic in 2013, almost the opposite of Emirates' approximately 80% connections and 20% local traffic. Flydubai can continue to promote internal connections but will need to grow interlines and consider establishing codeshares. Flyduabi will need to continue to lobby the government to remain in the near future at Dubai International, the city's main airport, and not move to Dubai World Central.
A closer relationship with Emirates will be critical, but the underlying oxygen for a 200 aircraft fleet will be liberalisation in the aeropolitical environment – not just from the usual suspect of India but also from Pakistan and Iran, where access is also constrained.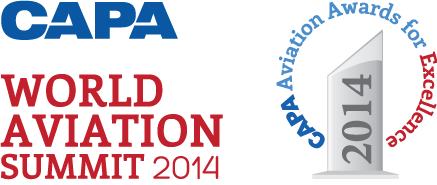 CAPA's World Aviation Summit will he held at the Hilton Antwerp Hotel on 20/21 November 2014, preceded by a Corporate Travel Innovation Day on 19 November.
Register now to hear:
- Director General João Aguiar Machado of DG MOVE
- 20+ airline CEOs
- the highest level debates on EU objectives,
- global liberalisation and the Gulf carriers,
- the role of unions and many other critical issues,
involving over 20 airline CEOs and numerous other industry and government decision makers. Please click here: CAPA World Aviation Summit and Corporate Travel Innovation Day
There are sufficient opportunities for flydubai to remain content, at least for now, to maintain a single hub at its home of Dubai rather than bases elsewhere in the Middle East, as Sharjah-based Air Arabia has done (and LCCs in other parts of the world). The combined fleets of Emirates and flydubai mean some 500 aircraft in the middle of the next decade could be based in Dubai. The figure could swell to 600 – and beyond – towards the end of the 2020s.
flydubai's 2013 737 MAX order is mostly for replacement
Flydubai had an atypical birth with an order for 50 737-800s at the 2008 Farnborough airshow. It is unusual for LCCs to order aircraft, let alone 50, before they even launch (flydubai flew at the end of 2009), but the order reflects the seriousness and commitment of flydubai's government shareholder to the long-term vision.
These 50 aircraft are for delivery through 2015, and will be supplemented with a further 11 737-800s that were ordered at the Nov-2013 Dubai Airshow. These aircraft are for bridge requirements until flydubai receives its first 737 MAX 8 in 2H2017. As part of the same order at the Dubai Airshow, flydubai ordered 75 737 MAX 8s with options on a further 25. The 75 firm orders are due for delivery until 2023 and are planned to replace the 737-800s on a one-for-one basis, meaning the firm orders also include growth.
flydubai Fleet Summary: as at 3-Nov-2014
Flydubai has the right to convert orders to a larger variant. Flydubai has studied Boeing's larger 737 MAX 200 but does not believe the option is viable yet for the carrier. Bulk cargo is important to flydubai since it operates to under-served points. Even on major routes, cargo space is important for large excess baggage often carried by traders.
On the larger MAX 8 variant, flydubai does not believe it would have enough belly space. Flydubai already runs short on space on its existing configuration. Flydubai aims to serve markets that do not regularly need payload restrictions.
flydubai will need more liberalisation to allow it to expand

Flydubai notes that despite approaching 50 aircraft, in many markets it is barely scratching the surface of opportunity. In India, home to a billion people, flydubai prior to Apr-2014 had only nine weekly flights across three destinations. Something of a breakthrough in air service access will see flydubai have 29 weekly flights in Mar-2015. India holds much potential, and flydubai believes it could easily quadruple its presence in the country. flydubai is the smallest carrier in the UAE-India market with about 20-25% the capacity Air Arabia offers.
Air Arabia benefits from the traffic right allocation that is specific to its base in Sharjah whereas flydubai has to use traffic rights allocated to Dubai.
United Arab Emirates to India (seats per week, one way): 19-Sep-2011 to 19-Apr-2015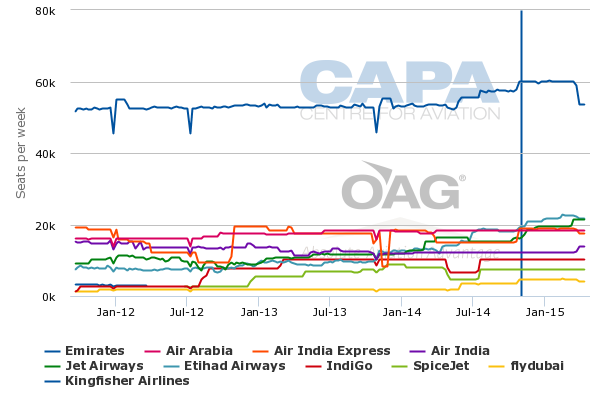 Flydubai is also small in Pakistan, where it serves three destinations but could grow that to 11 with frequency increases on existing routes. Flydubai also sees itself being under-exposed in Iran. Viewed another way, flydubai's initial business plan likely over-estimated the access it could gain to those markets and has instead had to find new destinations.
In a submission to Australia's competition authority, the ACCC, flydubai said it has no restriction on third and fourth freedom traffic to Bahrain, Jordan, Lebanon, Qatar, Sudan, Ethiopia, Kuwait and Oman, amongst other countries.
Africa will see accelerated growth, and granting of fifth freedom operations within the continent will continue to help flydubai combine smaller points it could not otherwise serve independently. Governments see fifth freedom rights as facilitating flydubai's service to/from Dubai, but also introducing the regional connections that Africa needs
In this regard, flydubai is observing African governments increasingly being progressive, especially in East Africa, and particularly Tanzania.
See related report: flydubai and fastjet drive LCC growth in East Africa as Uganda gets its first taste of low fares
A challenge for flydubai will be competing for traffic rights. Traffic rights are sometimes allocated at a national level, meaning flydubai could also compete with Etihad and Air Arabia. Other times traffic rights are allocated by the emirate, meaning flydubai would compete with Emirates. The process for traffic right allocations is not a public one.
flydubai international capacity by region: 3-Nov-2014 to 9-Nov-2014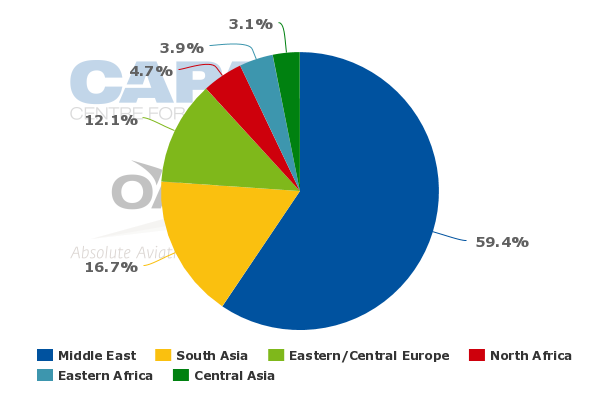 flydubai international capacity by country: 3-Nov-2014 to 9-Nov-2014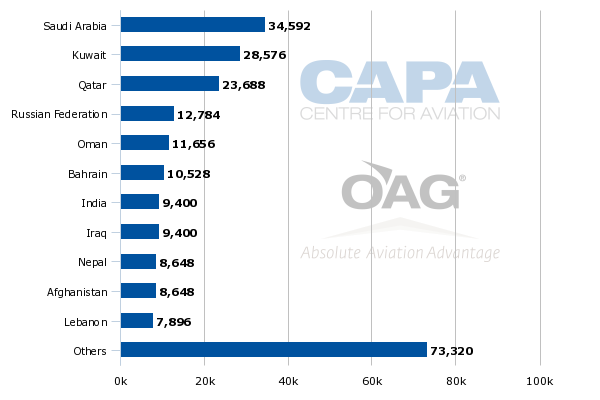 Only 25% of flydubai's traffic is connecting
Whereas about 80% of Emirates' traffic is connecting, in 2013 only 25% of flydubai's traffic connects. Flydubai still evidently has point-to-point demand to explore, which can support growth. But an increased focus on connecting traffic can support more growth. In some instances connecting traffic will make sustainable destinations and frequencies that could subsist on mostly Dubai-local traffic.
Management is confident it can grow connecting traffic, both volume and share. Even in 2010, flydubai's first full year of operation, it had a relatively high transfer rate for an LCC.
Flydubai total passenger volume and share of passengers connecting: 2009-2013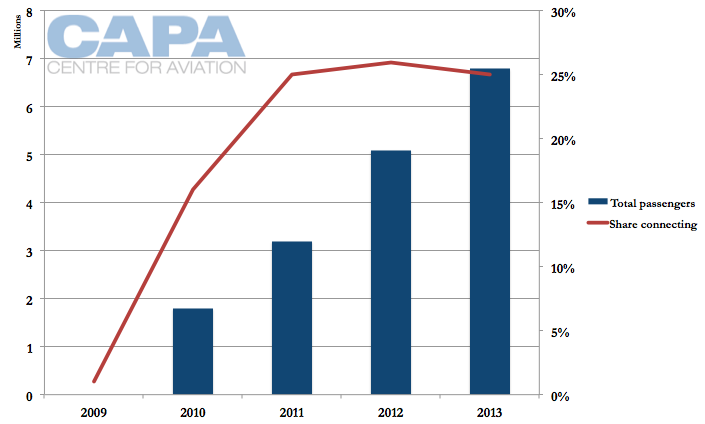 Most of flydubai's transfer volumes are flydubai-to-flydubai connections. One popular connecting market, for example, is from smaller Russian cities to the Maldives. Approximately one fifth of flydubai's connecting traffic (and 5% of overall passenger revenue volume) is from interline connections, of which Emirates connections comprise the majority. Although much is said of flydubai operating from a separate terminal than Emirates, the carrier is able to facilitate some airside bus transfers between the terminals, and this can grow.
Aside from Emirates, flydubai has under 10 interline agreements, including with United Airlines. Interlines can also be expected to grow, in quantity and scope. AirAsia X recently passed the threshold of having over 50% of its passengers connect, a record for LCCs. However flydubai could surpass this given opportunities within its own network and partnerships with other airlines (notably Emirates).
See related report: AirAsia and AirAsia X to exceed 3 million Fly-Thru transit passengers in 2014 as model evolves
Partnership focus gives greater reason to remain at Dubai International
In addition to growing connections within its own operation, there is considerable opportunity to grow conenctions with other airlines. This will require flydubai to remain at Dubai International (DXB), where most carriers are. The recently-opened Dubai World Central airport has only a sprinkling of carriers, mostly regional, and they have small capacity at DWC.
This naturally limits the connections available to flydubai were it to move to DWC. Connections from DXB to DWC would be impractical from a time, logistics and visa perspective. Having flydubai at DWC and Emirates at DXB would certainly limit the potential, if any, of a greater Emirates-flydubai partnership.
There have been on-and-off talks about flydubai re-locating to DWC in order to free up space and slots at DXB (with more than one "confirmation" that the airline wll be moving all or part of its services in the short term).
Statements from various government officials have been inconsistent, implying that the strategy is still unfolding. Bold moves from flydubai to grow connections and partnerships will aid its case to remain at DXB, which flydubai intends to do so for the medium-term. Like Emirates, flydubai will resist operating a split passenger hub at both DWC and DXB.

This uncertain picture is reminiscent in some ways of the turbulent evolution of LCCs in Asia, as former dedicated low-cost terminals have given way to LCCs wanting to operate out of main facilities. As LCCs develop more characteristics of full service airlines - notably in terms of connectivity goals - their need to be adjacent to the network airlines increases.
The eventual answer for flydubai, albeit less than ideal, is perhaps that part of its operations will move to DWC, while the bulk stays put. If the airline does in fact grow to the size being considered, the pressure on Dubai International capacity will mount. Foreign long haul airlines will increasingly want to use it too, so it understandable that, from an airport perspective, Dubai International would prefer the operation of widebody movements - just as the new airport wants to increase its throughput as quickly as possible.
Dubai World Central (Al Maktoum Airport) seat capacity by carrier: 3-Nov-2014 to 9-Nov-2014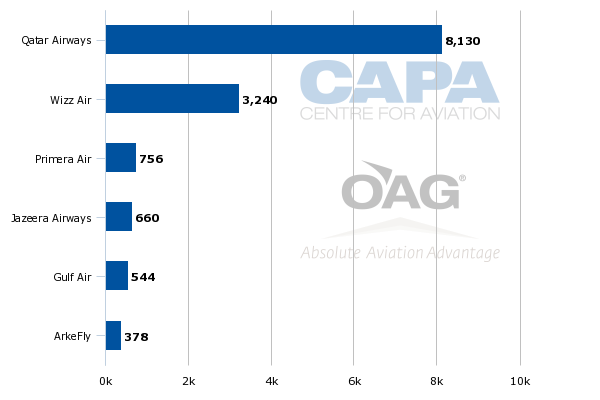 IT changes will facilitate partnership growth
Critical for flydubai to grow partnerships will be changes to its IT and distribution systems. Flydubai uses the Radixx PSS whereas other systems such as Navitaire have increasingly become the go-to solution for LCCs, and especially those looking to have interline/codeshare functionality. However, as flydubai will become a key customer for Radixx, it believes it can attain some flexibility in technology developments.
Flydubai can support one-way connectivity onto its flights, but the next step is for flydubai to sell flights on other carriers, starting with Emirates. As flydubai builds a presence in smaller markets that are not served by Emirates, it is logical for flydubai to sell beyond its own network.
Closer relationship with Emirates could see flydubai piggyback on Emirates' loyalty programme
flydubai has added business class seats and service in addition to a premium lounge at its Dubai terminal. The carrier believes passengers would next like a loyalty programme. Some flydubai passengers are the typical LCC type who fly occasionally, but flydubai also sees regular passengers travelling for work or leisure, including some who may take flydubai a few times a week.
Flydubai is exploring options for a loyalty programme. Its application to the ACCC proposed (and was approved) for flydubai to tap into Emirates' loyalty programme, Skywards. This presents immediate benefits of not having to establish a second and costly reward offering. This would also highlight flydubai to Emirates customers, helping bring the two together. The long-term benefits are of greater scale, and particularly the data and marketing opportunities that come with a larger loyalty programme, while flydubai may not have the resources to maximise a standalone programme. Etihad's recent moves to consolidate loyalty programmes give an indication of this trend.
Few LCCs are in the loyalty arena. Southwest and AirAsia are, with AirAsia using its loyalty programme as a broad lifestyle programme (as is increasingly the trend).
The ACCC application in early 2012 laid the framework for eventual flydubai-Emirates cooperation, not just in loyalty but commercial. At the time of the application's submission there was not an immediate objective to commence cooperation. Rather the parties believed that given Australia's sensitivity of Gulf carriers, submitting the application earlier would be better than later when sensitivity could be higher. (The Emirates-Qantas relationship would later lessen Australia's sensitivity.)
Is flydubai low-cost? 15% of revenue comes from ancillaries. Staff productivity favourable
flydubai reported for 2013 its second annual profit, one of AED222.8 million (USD60.7 million), a 47% increase over its maiden profit in 2012 of AED152 million (USD41 million). flydubai says it was first in the black in 2H2011, although specific figures were not disclosed. 2013's margin was a respectable 6.0%, a 0.6ppt improvement over its 5.4% margin in 2012. 2013 revenue was AED3.7 billion (USD1.0 billion), an increase from 2012's AED2.8 billion (USD756 million).
See related report: flydubai has its second consecutive annual profit as network continues to overlap with Emirates
Only headline figures were disclosed so revenue and cost performance cannot be dissected. Further financial disclosure would enable an analysis of how flydubai's hybrid strategy is performing. One metric to consider is employee productivity, but without financial information this is limited to measuring production and general efficiency. Preliminary figures suggest the average Air Arabia employee produces 5% more ASKs than the average flydubai employee, with output around 7.5-8.0 million ASKs per employee.
It should be noted Air Arabia seats more passengers on its aircraft, which can skew the comparison if flydubai believes its aircraft type (737-800) has a cost advantage over Air Arabia's A320. This figure cannot of course be considered in isolation, as flydubai's hybrid product, reducing cabin density, would require some additional staff and could come with a yield benefit. But without full figures this is difficult to asses.
15% of flydubai's revenue is ancillary compared to 6% at Air Arabia. However, flydubai's figure includes excess luggage. While 40% of flydubai passengers travel without checked luggage, those that do check luggage often check very large quantities. Often this luggage is effectively freight but small traders perfer to carry it as checked luggage for security and customs purposes. Flydubai in 2014 was pushing an uplift of 3000 tonnes of cargo each month - whereas it carried about 3000 tonnes in all of 2011. Cargo is all bulk as the 737 does not accept containers. This partially drags down flydubai's average turnaround time of 45 minutes, but flydubai is pleased with this quiet revenue source and is looking to develop it.
Flydubai lists fares on the GDS and works with agents as some markets (such as Russia and Bangladesh) have low direct booking profiles. While this adds cost, without these channels sales would be difficult to impossible.
Growth can occur through load factor improvements
Partnerships, connections, new routes, loyalty, ancillary revenue and freight all present growth opportunities for flydubai. But also available is the more subdued channel of growing through load factor improvements, which can offer incrementally higher margins.
Flydubai does not disclose load factor performance, but we can estimate its performance using its disclosed passenger figures and capacity data from OAG. These estimates show a 63% load factor in 2010 had an unwelcome drop to 57% in 2011 before rebounding to 62% in 2012 and growing to 66% in 2013. However, these load factors are still well below industry norms of approximately 80%. Air Arabia has reported load factors in the low 80% range since 2006.
This may not be a fair metric as flydubai believes it has a lower break-even load factor point than more competitive LCCs like Ryanair, in part because yields can be rich on many of flydubai's routes. Ryanair and others have high load factors in part to gain unit cost advantages or meet passenger throughput requirements of certain airports, which flydubai is unlikely to be exposed to.
It may be logical for flydubai to pursue a yield-focused strategy given limited competition, and also the potential for its fast growth to distract it from nuances that could quickly make a result negative if (low-yielding) volume was favoured over yield.
Flydubai estimated load factor: 2010-2013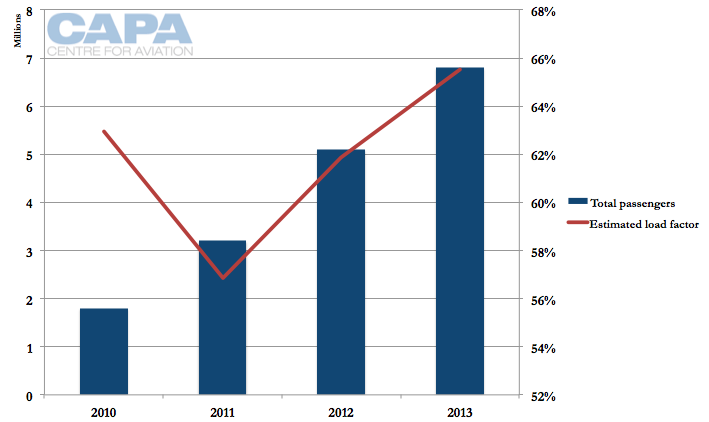 flydubai has a bright outlook with opportunity to gain a larger profile
2014's growth will be subdued, with OAG capacity data suggesting that flydubai will increase its seata numbers by approximately 3% compared to 2013. This is the result of the Dubai runway works that forced flydubai pull back its schedule in May-2014, Jun-2014 and Jul-2014 (see graph below).
Flydubai also deferred delivery of new aircraft that were to arrive shortly before the runway works as these aircraft would have been under-utilised. Flydubai technically took delivery of these aircraft but leased them to Ryanair for a handful of months.
Flydubai monthly available seats: 2011-2014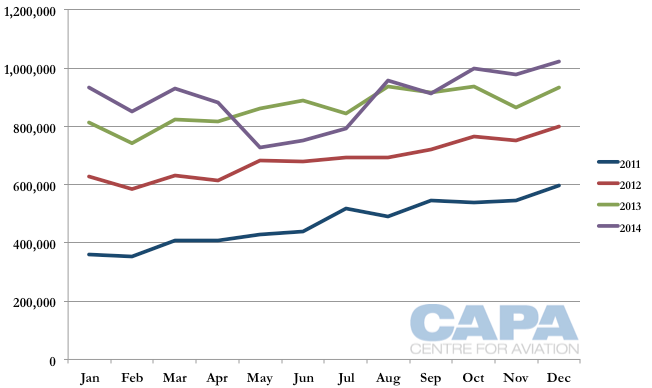 2015 will see a full-year of growth in every month in addition to a full-year impact of having business class. Load factor improvement will be one metric to watch for the short-term.
Flydubai's long term outlook is bright, especially if it is able to mount a sizeable transformation from mostly local passengers supplemented by intra-flydubai connections, to a network LCC with extensive partnerships. In the long-term flydubai could surpass AirAsia X's benchmarking transfer ratio, but flydubai still has to more thoroughly prove its low-cost credentials.
Flydubai's initial order for 50 aircraft was a statement; it was also a target some considered optimistic. As flydubai records its fifth full-year of flying, it is apparent 50 aircraft is not enough and that 200 could be achievable with significant work, and a hoped for relaxation of bilateral limits in key markets.
With Emirates projecting a fleet of over 300 aircraft by 2020, flydubai's possible fleet of 200 aircraft means Dubai could be home to 500 aircraft next decade, and likely more. While the numbers may seem extraordinary, the greater implication is perhaps what future contribution flydubai will make to the concept of LCC hybridity, and, if a flydubai-Emirates partnership comes to fruition, what type of dual-brand strategy will emerge.