First tranche of United 787 routes to put aircraft's mission to the test
Analysis
United's planned initial international destinations for its Boeing 787 widebodies will be a crucial test to prove out the concept of the aircraft's optimal mission of long, thin routes as Asia features prominently in the first crop of routes the carrier plans for 787 operations. The deployment on some of United's European routes will also allow the carrier to put its theory of using the 787 to manage seasonality throughout its network to the test.
Delivery of the first of 50 Boeing 787s to United is scheduled for Sep-2012. United's acceptance of the aircraft will mark the first delivery to a US carrier, with six aircraft deliveries planned for the remainder of 2012. All Nippon Airways (ANA), Japan Airlines (JAL) and Ethiopian Airlines are now operating the aircraft, and South American airline group LATAM is scheduled to accept its first 787 in late Aug-2012.
See related article: Air India, China Southern, Ethiopian, LAN, Qatar and United all near 787 deliveries
United initially planned to operate one of its first 787s on its Houston-Auckland route, but aircraft programme delays followed by a dispute with the City of Houston in the approval of Southwest launching international flights from Houston's second airport Houston Hobby, resulted in United shelving that route in retaliation against the city.
See article: United walks away the sore loser after Southwest wins international expansion from Hobby
Houston's loss appears to be Denver's gain as United plans to introduce new service from its Denver hub to Tokyo Narita in Mar-2013. The service follows Japan's ANA and JAL using their respective 787 widebodies to open new markets to the US.
JAL during Apr-2012 inaugurated flights with 787 from Tokyo to Boston and it will launch a Tokyo-San Diego route with 787s in Dec-2012. ANA is planning to operate its 787 widebodies from Tokyo to San Jose and Seattle. The San Jose route will launch in Jan-2013 while the Seattle route, which ANA launched in Jul-2012 with Boeing 777s, is slated to receive 787s from Oct-2012.
The logic behind the 787 making new long and thin routes viable is the aircraft's lower seat density coupled with the improved fuel burn promised by Boeing. At 219 seats, the 787 will be the smallest widebody in United's fleet, but with the range of a 777. Those operating chracteristics should create an advantage in striking a better balance between load factor and yield on a route like Denver-Tokyo than what could be achieved with a larger aircraft. As previously noted by CAPA, the US trans-Pacific market differs from other long-haul markets in that those markets don't have the leisure-corporate mix featured on European long-haul routes or the visiting, friends and relatives (VFR) strength of markets between North America and Latin America.
See article: New Denver-Tokyo 787 service to help boost United's sagging trans-Pacific performance
Operating smaller widebodies on flights from LA to Narita and Shanghai
As the delivery of the first 787 draws near, United has capitalised on the timing to reveal more details this week about its initial international schedule for the aircraft (after some US domestic operations). Other trans-Pacific markets pegged for the aircraft include flights from Los Angeles to Tokyo Narita (beginning 03-Jan-2013) and Shanghai (starting on 30-Mar-2013).
Los Angeles-Tokyo is one of the most crowded US trans-Pacific markets, with eight airlines offering nearly 15,000 weekly one-way seats for the week of 19-Aug-2012 to 25-Aug-2012, according to schedules in Innovata. United is the fifth largest carrier in the market with its approximately 1,900 weekly seats accounting for a roughly 13% share.
United now operates 777-200 on its flights between Los Angeles and Tokyo. Singapore Airlines operates Airbus A380s on its Los Angeles-Tokyo flights while ANA, JAL, American and Delta all operate a variant of the 777.
Los Angeles International to Tokyo Narita capacity by carrier (seats per week, one way): 19-Sep-2011 to 10-Feb-2013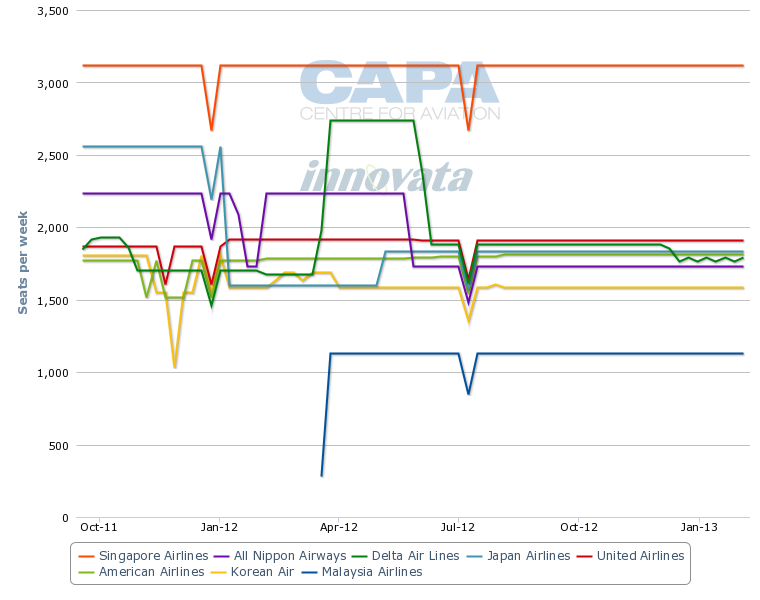 Shifting to the smaller-gauge 787 results in United shrinking its seat offering from Los Angeles to Tokyo between 47 and 50 seats, or by 329 to 350 seats weekly. United operates its 777-200s in two different seating configurations of 266 and 269 seats.
With ample capacity in the market it could be a strategic move by United to maximise its inventory as no one US carrier has a dominant hub in the Los Angeles market, making it more fragmented compared to the leverage United has to Tokyo from its other US gateways. United now operates service to Tokyo from its hubs in Chicago, Houston, Newark and San Francisco as well as Seattle.
Los Angeles International Airport capacity by carrier (% of seats): 20-Aug-2012 to 26-Aug-2012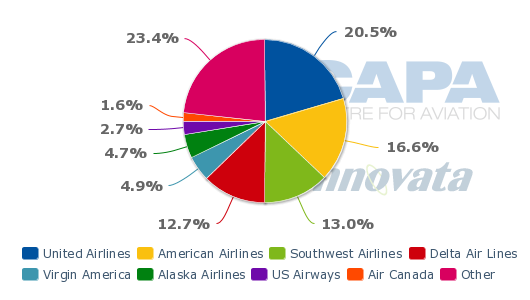 The same logic can be applied on placing the 787 on the Los Angeles-Shanghai pairing. United launched the route in May-2011, one month after its legacy rival American Airlines began its own service on the pairing. Currently those two carriers and China Eastern Airlines operate a total weekly one-way seat total of about 6,000 seats in the market, with the seat share somewhat evenly split among the three airlines. China Eastern holds about a 38% share while United's share is 32%. American accounts for the remaining 30% share.
Los Angeles International to Shanghai Pudong capacity by carrier (seats per week, one way): 19-Sep-2011 to 10-Feb-2013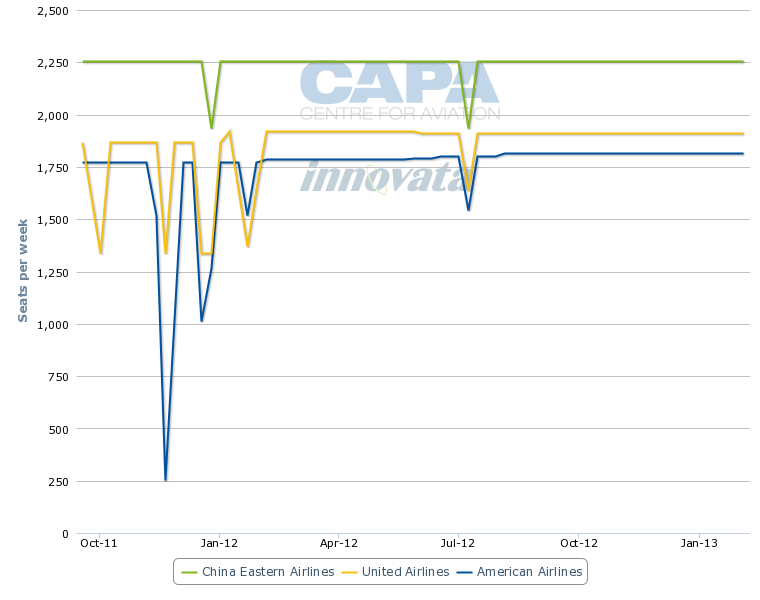 United also serves Shanghai from its Chicago, San Francisco and Newark hubs, and the cumulative load factor for its flights to Shanghai in 2011 was 84%, according to data from the US Department of Transportation (DoT). The stronger loads were likely driven by strong traffic flowing from its hubs. But yields in United's trans-Pacific markets during 2011 largely under-performed the carrier's other international regional entities, and the carrier during a year-end 2011 earnings discussion pointed to capacity increases in some of its Chinese markets, which means it is likely there is some trade-off between loads and yields, particularly in the Los Angeles-Shanghai market where both United and American introduced significant levels of capacity in a short period of time. Placing the 787 on that route allows United to maintain presence while gaining an opportunity to bolster its yields with a smaller-capacity, fuel efficient aircraft.
Houston-Lagos finally receives a better-suited aircraft
United also plans to place the 787 on service between its Houston hub and Lagos starting 07-Jan-2013. The market was originally intended for the 787, but United was forced, due to delivery delays, to operate larger 777-200s when the pairing made its debut in Nov-2011. Data from the DoT show that United's load factor on the route for the short period it operated the service during 2011 was about 66%.
For the first two months of 2012, the load factor on United's flights to Lagos was only roughly 39%. The lower relative loads show that the 787 is better suited for the 6,512 mile flight catering largely to the oil industry connections between the two cities.
Lagos more than any other route is a prime test case for the 787's promise of profitability on long, thin routes. United's loads on the pairing should see an immediate lift with up to 50 fewer seats to fill, and the promised improved fuel efficiency should offset the rise in seat costs resulting from fewer seats on offer.
Despite its recent resentment towards Houston, United also plans to temporarily operate the 787 on its service between its Texas hub and London Heathrow (starting 04-Feb-2013) and Amsterdam (beginning 04-Dec-2012).
Schedules in Innovata show that United plans a drop-off in capacity between Houston and Amsterdam during Dec-2012, as the winter period in the northern hemisphere is the slowest time of the year for trans-Atlantic travel. During mid-Sep-2012 United is operating 767-400ERs on the pairing. The carrier operates that model in a 235 and 239-seat configuration, so placing the 787 on the route allows United to test the market with up to 20 fewer seats during the down period.
Houston Intercontinental to Amsterdam Schiphol capacity by carrier (seats per week, one way): 19-Sep-2011 to 10-Feb-2013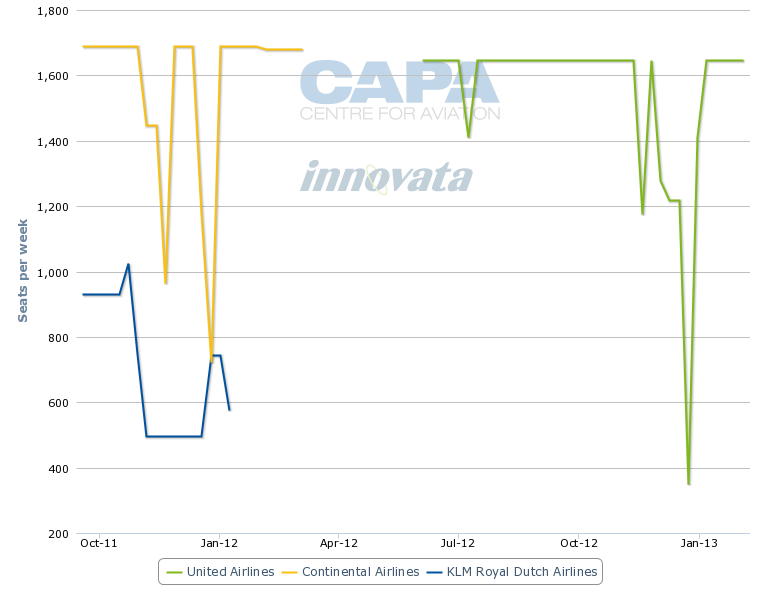 United has repeatedly stressed that the 787 allows for greater flexibility in managing seasonal capacity, something US carriers are placing a greater focus on in order to not give back the profits they enjoy on routes that have higher seasonality when weaker demand sets in. Amsterdam seems to be a logical test case for that theory as it is not as strong a market as some of United's other European destinations from its US hubs such as Newark and Washington Dulles where there are stronger trans-Atlantic traffic flows.
United's potential use of the 787 in seasonal markets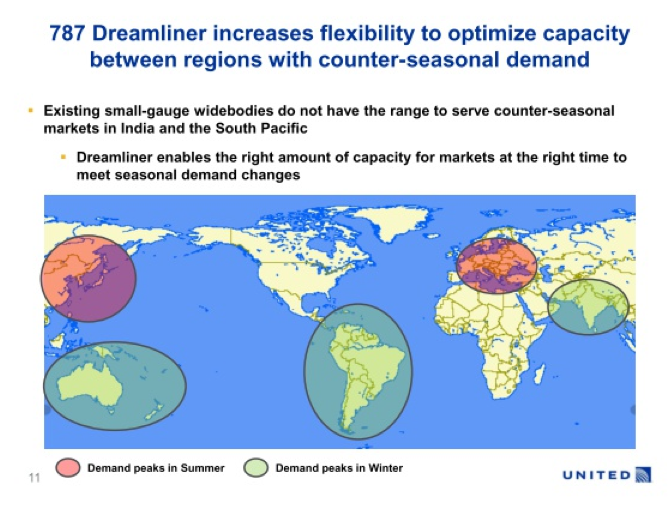 United competes with British Airways on its daily flights between Houston and London Heathrow, with both carriers now operating 777s on the route. While the 787 was designed as somewhat of a hub bypass aircraft, United could be testing the smaller-gauge jet from its Houston hub to London to determine if the aircraft garners better yields during the slow season from a European hub where BA and its fellow oneworld partners are dominant.
While the initial international routes United is operating with its new 787 widebodies are somewhat predictable, they do offer the carrier and the industry at large an opportunity to observe how the aircraft performs against its promised mission. Despite numerous programme delays United has publicly remained a strong supporter of the 787, often touting the aircraft as a true game-changer. Soon United will learn first-hand if the aircraft lives up to its great promise.