European airline traffic slumps; Austrian Airlines shares suffer - share wrap
Airline shares were hit hard in Europe yesterday, as economic worries intensified and more extremely weak traffic results emerged.The Association of European Airlines' (AEA) Secretary General, Ulrich Schulte-Strathaus, stated, "we have no reason to suppose that we are at, or even approaching, the bottom of the cycle". 19 AEA members reduced seat capacity in December, eight of them by more than 10% - yet, overall, the traffic decline was still greater than the capacity cutbacks.
Reviewing the full-year figures for 2008, AEA stated it had seen figures as weak as those on only three occasions in the last 25 years; in 1986, when Chernobyl and the US bombing of Libya caused major disruptions in travel patterns, in 1991 when the first Gulf War had a similar effect, and in 2001-2002 following the 9/11 attacks. Mr Schulte-Strathaus warned, "this time the upheavals are economic, and likely to be more powerful and longer-lasting than the external shocks of the past".
AEA member carriers' passenger numbers growth by region: Jan-08 to Dec-08
European carriers' passenger load factor: Jan-08 to Dec-08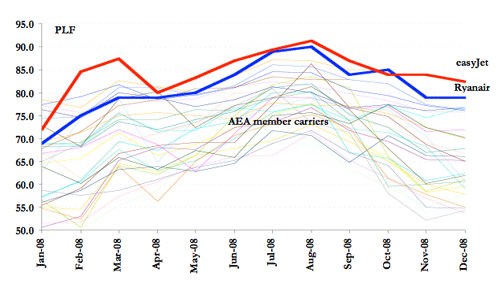 Austrian Airlines to cut capacity by 10% - shares fall the same amount
Austrian Airlines reported Group passengers fell by 13% year-on-year in Jan-09 to just 632,000, including a 19.1% drop in passenger numbers on long-haul routes. Load factors slumped 4.3 ppts to 65.4%. The carrier is planning to reduce capacity by 10% in 2009.

Austrian's shares fell 10.7% yesterday, leading the hefty falls across Europe.
European selected airlines daily share price movements (% change): 17-Feb-09