Etihad's A380 deployment further cements London as most popular A380 destination
London Heathrow is the world's most popular airport for non-local airlines to send their A380 to, and its position will be further cemented as Etihad Airways intends to operate two A380s from Abu Dhabi starting later in 2014. But when including local operators, it is Etihad's rival up the road – Emirates and Dubai International – that offers the overall largest number of A380 movements. Dubai accounts for 21% of all global A380 movements in May-2014 owing to Emirates and its position of having the largest A380 fleet. London Heathrow sees only 8% of global A380 movements, but when excluding movements from local airlines, Dubai falls to eighth place. Los Angeles and Hong Kong are also popular A380 destinations.
There are 128 A380s in service as of 07-May-2014, with one third of them operated by Emirates alone. While Airbus continues to deliver about two A380s each month, in the past year only British Airways became a new A380 operator. The latter half of 2014 will be busier with four new A380 operators: Asiana, Etihad, Qatar and likely Skymark. But after 2014, there are only three disclosed A380 operators, two of whom – Virgin Atlantic and Air Austral – are unlikely to take delivery of their A380s. 175 A380s remain to be delivered, over half of them to Emirates. That figure could change as airlines cancel A380s and Emirates eyes yet another A380 order, potentially with new engines.
128 A380s are operated by 10 airlines; one-third by Emirates alone
As of 05-May-2014 there are 128 A380s in service, 37% – or over a third – with Emirates alone. Singapore Airlines is the next largest operator with 19 and a further five on order. Third largest is Qantas with 12 and a further eight on order, although the ordered A380s have an uncertain future at Qantas as the carrier seeks to bring its loss-making international network to break-even and ultimately to profit.
Lufthansa is the fourth and only other carrier to operate more than 10 A380s. Air France has nine, Korean eight, Malaysia and Thai six each and British Airways and China Southern five each.
A380 deliveries by operator: 05-May-2014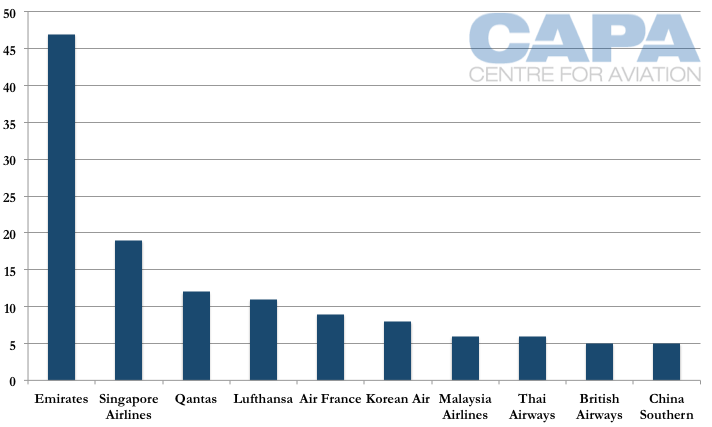 Airlines in Asia-Pacific account for 44% of in-service A380s while the Middle East (and Emirates alone) count for 37%. Europe holds the remaining 19% share. In the short term there will be growth away from Europe and towards Asia-Pacific and the Middle East, but in the medium and long term the Middle East will dominate the share of A380s in-service.
A380s in-service by home region: 05-May-2014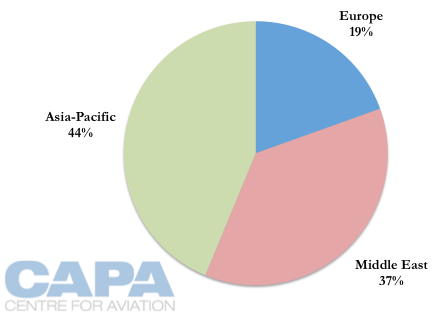 See CAPA's 2013 analysis of the A380: The A380 becomes mainstream, with 103 now in service: which airlines, destinations, stage lengths?
2014 has and will continue to be a busy year for Airbus as the year should see four new A380 customers: Asiana, Etihad, Qatar and Skymark. Each first A380 for a new customer represents significant work and cost for Airbus as it adjusts to the new configuration. This year's crop of new customers will be some of the most varied Airbus has seen, with Etihad having complex premium cabins while Skymark will also feature the first all-premium A380 with only premium economy and business seats.
Asiana and Qatar are targeting their first A380 passenger flights in Jun-2014 with Etihad and Skymark planning theirs for later in 2014. Qatar and Etihad will both debut their A380 on London Heathrow routes while Asiana will use its regionally ahead of services to Los Angeles. Asiana sees the A380 as a means to help it increase long-haul flying as it moves away from relying on short-haul markets. Skymark is planning to introduce its first A380 on flights to New York.
See related reports:
Of 11 largest A380 airports, only three – JFK, LAX and Hong Kong – are not home to a local A380 operator
In the first week of May-2014 there are 1,272 one-way A380 sectors. Given Emirates' large A380 fleet, it is unsurprising Dubai accounts for one-fifth of A380 movements. Besides Emirates, only Qantas flies to Dubai on Melbourne/Sydney-Dubai-London Heathrow routings. The next four largest A380 hubs – London Heathrow, Singapore, Paris CDG and Frankfurt – are also home to local A380 operators.
The sixth largest A380 hub – Los Angeles – is not home to any locally based A380 operator. But the seventh and eighth largest A380 airports, Bangkok and Sydney, are home to A380 operators. The ninth largest A380 airport, Hong Kong, is not home to a local A380 operator. Both Seoul Incheon and New York JFK see an equal number of A380 movements and tie for the 10th largest ranking.
Distribution of A380 movements by airport: 05-May-2014 to 11-May-2014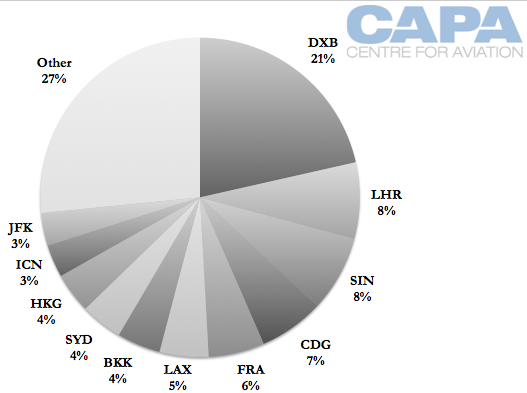 London is the most popular A380 destination for non-local airlines
The A380's most popular destinations naturally follow where A380 operators are based. But looking at the A380's top destinations excluding local operators, a different ranking appears. London Heathrow retains the top spot with 78 one-way sectors to the airport (98 including British Airways). Forthcoming services from Etihad should see London Heathrow retain an edge over Los Angeles, even as more services (such as from Asiana) are launched.
Los Angeles, the sixth largest A380 airport by all movements, moves up to second in this ranking. Third is Hong Kong. Even with Etihad due to deploy its A380 to New York JFK as well, Los Angeles should remain the largest A380 airport in North America.
10 largest airports seeing A380 movements excluding those from locally based operators: 05-May-2014 to 11-May-2014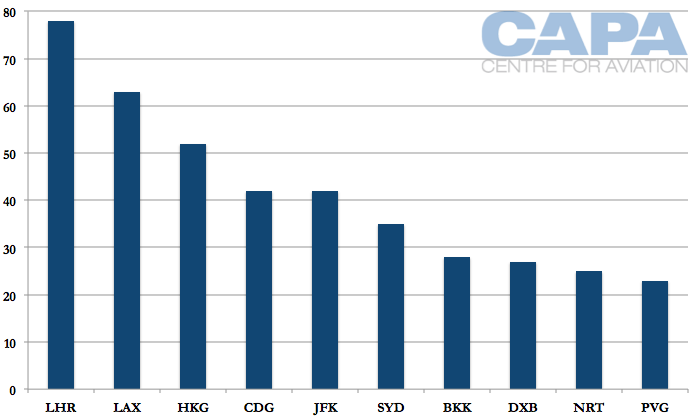 Of the 10 largest A380 movement airports, five are not home to a local A380 operator: Los Angeles, Hong Kong, New York JFK, Tokyo Narita and Shanghai Pudong. By the end of 2014 Skymark is due to take delivery of its first A380 and commence services from Tokyo Narita. No airline based in the other four airports is expected to order the A380 in the near future.
Five of the 10 largest A380 movement airports are in Asia while Europe and North America each have two, and the Middle East one. Dubai makes the ranking due to Qantas' presence.
Bangkok also makes the ranking as Emirates has as many A380 flights there as Thai Airways, while Sydney is bolstered by Emirates and Singapore Airlines – and soon Etihad. Singapore's position will be increased from Oct-2014 when British Airways commences A380 services.
Sydney once had the potential to be an even larger A380 hub, with Malaysia Airlines and Thai Airways planning to send A380s there. But the airlines have found their A380s are better used elsewhere as Australia suffers from over-capacity – especially in recent months – and airlines favour frequency over capacity. China Southern had operated Guangzhou-Sydney services but withdrew them after the peak Chinese travelling season, and is perhaps unlikely to resume the flights now that it partners with Qantas. Brisbane and Melbourne also see A380 services in Australia while Perth is not yet compatible.
Etihad plans to commence A380 services to Sydney at an undisclosed time in 2015, along with New York JFK. London Heathrow A380 services are to commence in Dec-2014.
Since CAPA in May-2013 analysed the A380's network, only one new airline has taken delivery of the A380: British Airways.
At the end of May-2013 there were 103 A380s in service, with the figure at 128 just under a year later, representing deliveries of just over two A380s per month on average. 2014 should be busier for A380 developments as four new carriers take delivery of the type.
But after 2014, the A380 will only have a few new customers left. Officially, Air Austral, Transaero, Virgin Atlantic and an undisclosed customer (with an order for 10) have orders for the A380.
The Air Austral and Virgin Atlantic orders are ringed with doubt. Air Austral no longer intends to take delivery of its two ordered A380s in a single-class configuration, and the carrier is expected to drop its order entirely. Virgin Atlantic, with orders for six A380s, has repeatedly delayed their delivery. It most recently delayed purchase in Jul-2013, pushing delivery back to 2018. "We have deferred those a number of times and we haven't yet decided what we will do when time comes for a terminate-the-batch decision," CEO Craig Kreeger told Bloomberg in Apr-2014.
The Virgin order appears all but cancelled, and the mood is even more pessimistic from Delta, which owns 49% of Virgin and with which it has a trans-Atlantic joint venture. CEO Richard Anderson bluntly told the International Business Times in Oct-2013, that, "the A380 is, by definition, an uneconomic airplane unless you're a state-owned enterprise with subsidies."
Where the main users, government owned Emirates and Singapore Airlines, are prominent among the list of most profitable and efficient airlines in the world, Mr Anderson's reasoning badly misses the mark, regardless of whether his conclusion is correct. Delta has also remarked on its negative perception of the aircraft based on performance from Air France in another joint venture.
In addition to Qantas possibly reducing its A380 backlog, Air France told Bloomberg in Oct-2013 the carrier may drop its two A380s on order for delivery in 2016 and instead take other aircraft.
The Transaero order remains on firm ground while speculation continues in the industry on the carrier with 10 A380s on order. Hong Kong Airlines previously had 10 A380s on order but these have been taken off Airbus' books.
Outlook: 175 A380 deliveries remain. Emirates accounts for 53% of A380 backlog
As of 07-May-2014, 175 A380s remain to be delivered. 93, or 53%, of them will be for Emirates, with many of its later deliveries to replace existing A380s. Etihad, Qatar and an undisclosed customer each have 10 A380s awaiting delivery while Asiana, British Airways, Qantas, Virgin Atlantic and Skymark have six to eight A380s on order.
Air Austral, Air France, Korean Air, Lufthansa, Singapore Airlines and Transaero each have two to five A380s officially on order according to Airbus. China Southern, Malaysia Airlines and Thai Airways are the only existing A380 customers with no further A380s on known order.
A380 remaining backlog by operator: 05-May-2014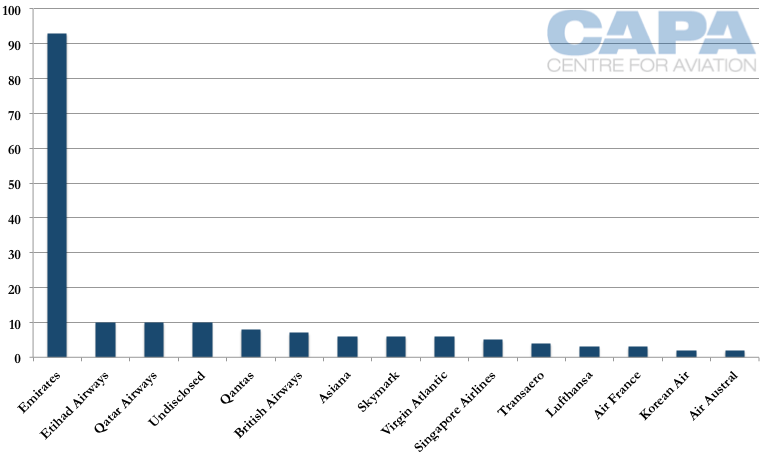 It is not yet clear exactly how many A380s Emirates will ever have operational in its fleet at a single time, but the figure is certainly lower than the 140 A380s it has ordered (comprising in-service and backlog aircraft). CAPA's Fleet Database projects Emirates to receive A380s through 2019.
Emirates projected delivery dates for aircraft on order from OEMs and leased from lessors new aircraft order pipelines as at 5-May-2014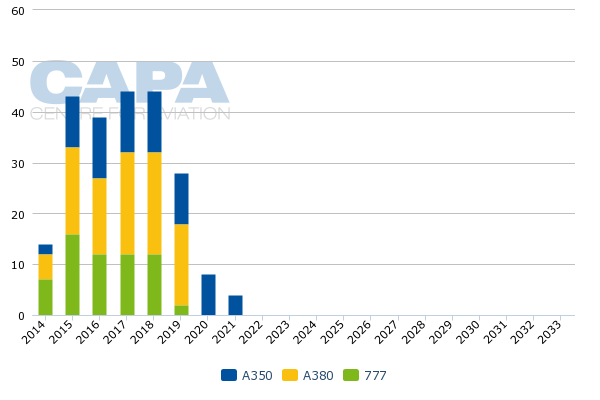 Whatever the exact number Emirates will operate, it is clear there will be a huge gap between it and the next largest operator, which for now will be Singapore Airlines with 24 A380s, while Qantas at present is due to have 20.
There is a smaller jump to what will likely be the fourth largest operator, Lufthansa with 14, and then Air France and British Airways with 12 (as at May-2014, but again subject to change.)
A380 orders (comprising in-service and backlog aircraft) by carrier: 05-May-2014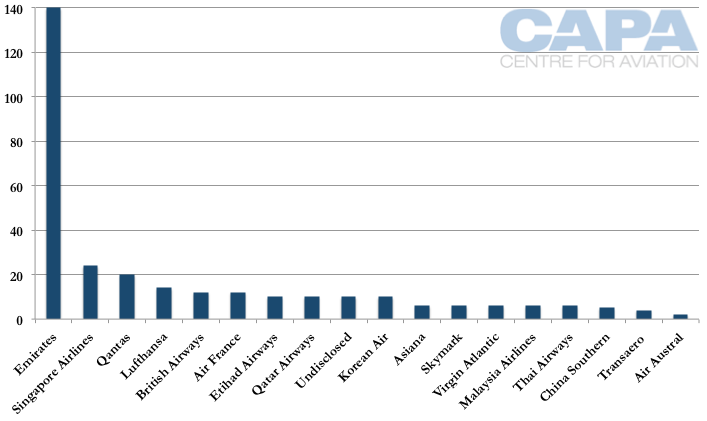 707" height="421" />
Emirates seeks an 'A380neo': more orders, and ensures the A380 remains competitive against 777X
While the dust is still settling on Emirates' Dubai Airshow Nov-2013 order for an additional 50 A380s, President Tim Clark told the Wall Street Journal in Apr-2014 that it could purchase even more if Airbus opts for a re-engined A380 that some are calling the "A380neo".
Mr Clark wants a double-digit improvement in efficiency, with 9% coming from new engines. Mr Clark said Emirates would even use a new engine from Rolls-Royce despite Emirates opting for powerplants from Engine Alliance. The first 25 of Emirates' additional 50 A380s would use the current engine while the second half could use the new engine. Emirates could also order additional A380s that would use the new engine.
Mr Clark described the A380s as only "very profitable" for Emirates, but reading between the lines it appears the ever-astute Mr Clark is concerned about the aircraft's future viability as it competes with increasingly efficient models like the A350 and 777X. This could even spark interest from other airlines, although probably not as many as Airbus once hoped would buy the A380.
So while most A380 operators continue to have a small fleet with mixed economic success, Emirates is powering ahead. Suppliers must consider how to keep such a prominent customer happy – and ordering more aircraft – while other airlines contend with Emirates' growing success. As CAPA previously highlighted, Emirates' advantage is structural (as well as management-driven) owing to its new and more efficient model, not spurious issues like allegedly subsidised fuel.
See related report: Unit cost analysis of Emirates, IAG & Virgin; about learning from a new model, not unpicking it
In some areas there are ways for competitors to partially replicate Emirates' success. Elsewhere, there are opportunities for partnership or innovation. But no doubt Emirates will continue to re-shape global aviation, with the A380 to play a significant role.