Etihad to review equity airline investments as partners decrease their Abu Dhabi presence
Analysis
Partnerships are easier to announce than to sustain. That is evident with Etihad Airways and its Abu Dhabi hub, which is experiencing a decrease in capacity and flights from Etihad's equity and codeshare partners. Etihad established itself as the nucleus of a model in which partner airlines from around the world fly to Abu Dhabi and connect passengers onwards. Now all but one of Etihad's investment airlines are shrinking in Abu Dhabi. All partner capacity has fallen 22% compared to 2015 but is still up 46% compared to 2013.
This is not a one-way review but a significant shake up in relatively short time. On 18-Jan-2017 CEO James Hogan remarked "We are committed to our equity partner strategy." A week later on 24-Jan-2017, as Etihad's chairman announced Mr Hogan's departure in 2H2017 (with no successor named), he said Etihad remains committed to its equity network but opened the door to adjustments: "We must ensure that the airline is the right size and the right shape. We must progress and adjust our airline equity partnerships."
Etihad's partnership approach, and its challenges to address ailing airberlin, could further adjust on 01-Feb-2017 as Etihad and Lufthansa plan further cooperation. Even though airberlin has mostly delivered financial pain, it could provide the key to an invaluable strategic bridge.
Etihad partners decreasing Abu Dhabi capacity by 22%
Etihad embarked on a two prong partnership strategy to enlarge its footprint but also, to a limited extent, to become a virtual airline with capacity sold by other airlines. Firstly Etihad had the traditional partnership approach of interlines and codeshares. Second was Etihad's bold move to invest in airlines.
Both elements of the partnership strategy meant that Etihad asked partner airlines to fly to its hub at Abu Dhabi. Between 2013 and 2015 partner seat capacity grew 86%. In terms of flights, growth was from approximately 13 daily flights in 2013 to 26 in 2015. But from 2015 to planned capacity for 2017 – seat capacity is being cut by 22%; daily flights decrease from 26 in 2015 to 21 in 2017.
Both seat capacity and frequency are higher in 2017 than 2013. Some hub connectivity is preserved: Etihad is replacing Air Berlin on the Dusseldorf-Abu Dhabi service, taking over Alitalia's Venice-Abu Dhabi flight, and Etihad has previously increased South Africa capacity after SAA exited Abu Dhabi entirely.
However, the cost (and risk) of offering these flights shifts from the partner to Etihad.
Seat capacity changes of Etihad partners serving Abu Dhabi: sample week in Jun-2013, Jun-2015 and Jun-2017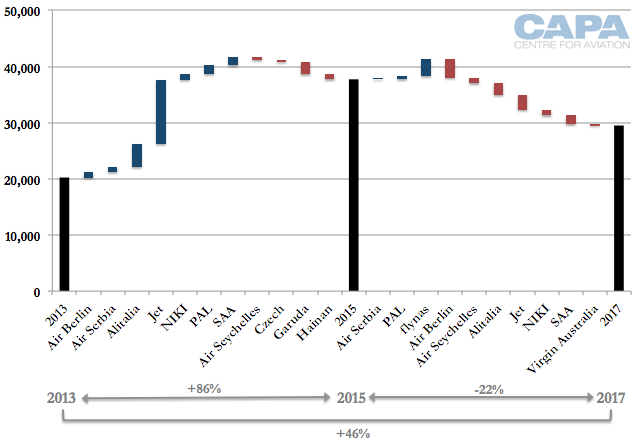 All of the airlines that Etihad holds investments in still serve Abu Dhabi. However, NIKI, owned by Air Berlin (whose largest shareholder is Etihad), will end Abu Dhabi service in Mar-2017, although this was only a daily narrowbody service from Vienna.
Other partner (but non equity) airlines have entirely exited Abu Dhabi and withdrawn from the core Etihad partnership proposal of having synergies at the Abu Dhabi hub.
Czech Airlines, Garuda Indonesia, Hainan and South African Airways have exited Abu Dhabi. (They have also typically exited the region entirely and not shifted their presence, say, to Dubai for an Emirates partnership, or to Doha for a Qatar Airways deal.)
Some airlines that intended to start Abu Dhabi service in partnership with Etihad have cancelled those plans. Air Europa had planned to start a three weekly Abu Dhabi-Madrid service in late 2014, but this never eventuated.
Aer Lingus mulled serving Abu Dhabi, but its sale to IAG resulted in the departure of Etihad as an equity and strategic partner. Other airlines studied an Abu Dhabi service or even had it in (unannounced) plans, but dropped the prospect.
Summary of Etihad equity member decreases at Abu Dhabi: 2013-2017
Etihad's equity airlines are reducing Abu Dhabi presence below 2013 levels
At a total level, all of Etihad's partners in 2017 will have more capacity into Abu Dhabi than in 2013, but lower than the 2015 levels.
However, this growth requires breaking down. In the intervening period there have been changes in Etihad's partnership portfolio. The largest change was Etihad's equity stake and deeper relationship with Jet Airways. Jet is Etihad's single largest partner, accounting for 49% of all partner seat capacity into Abu Dhabi in Jun-2017.
When Jet is excluded, capacity from Etihad's other equity network airlines (those which Etihad has invested in) is approximately 10,000 weekly seats – not just below 2015 levels, but also 10% below 2013 levels.
Etihad partners' weekly seat capacity into Abu Dhabi: Jun-2011, Jun-2013, Jun-2015 and Jun-2017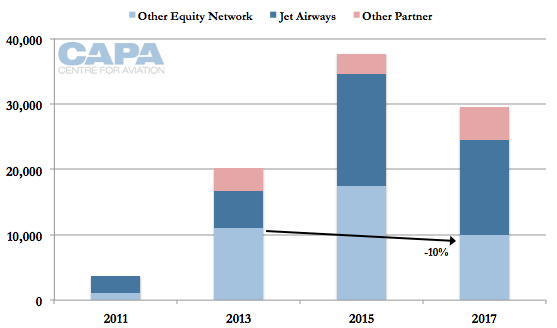 Without Jet Airways the overall partnership capacity (equity and codeshare alliances) has fallen from 2015 but is 3% up compared to 2013. There is a decrease with equity partners (excluding Jet) but an increase from non equity partners.
Within the equity airlines Air Berlin, Air Seychelles and Virgin Australia are decreasing capacity. Air Serbia has entered Abu Dhabi but with less than 1,000 weekly seats. The decreases are mostly by older partners, indicating that as they give the market and partnership time, challenges become increasingly evident and perhaps not able to be sustained without a decreased presence.
Etihad partners' weekly seat capacity (excluding Jet Airways) into Abu Dhabi: Jun-2011, Jun-2013, Jun-2015 and Jun-2017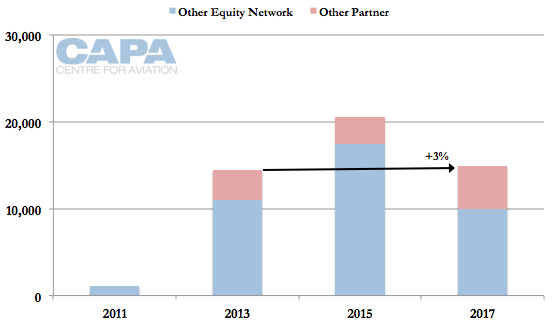 Etihad's equity partner Alitalia has grown since 2013, but this comparison is not entirely valid: Alitalia served Abu Dhabi and had a partnership with Etihad prior to Etihad investing in Alitalia in 2014. After the investment, Alitalia increased services but is cutting back in 2017.
Etihad equity partners' Abu Dhabi seat capacity: Jun-2011, Jun-2013, Jun-2015 and Jun-2017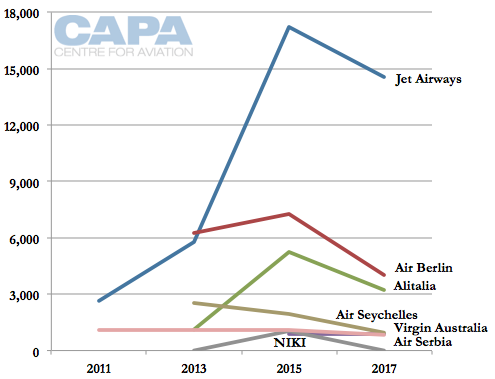 flynas drives non equity partnership growth
Non equity partner capacity into Abu Dhabi is a mixed story.
Czech Airlines, Garuda, Hainan and South African Airways have all exited Abu Dhabi. Philippine Airlines has increased capacity through upgauging, although (as to be discussed in the next section) PAL does not feel the partnership is working and could exit it.
Overall non equity partner capacity into Abu Dhabi is higher exclusively because of growth from flynas – the Saudi hybrid LCC. flynas has the most capacity into Abu Dhabi of Etihad's non equity partners. flynas' operation of approximately 3,000 weekly seats gives it more Abu Dhabi capacity than some equity partners (Virgin Australia, Air Seychelles and Air Serbia). flynas has slightly less capacity than Alitalia, an equity partner.
Etihad codeshare partners' Abu Dhabi seat capacity: Jun-2011, Jun-2013, Jun-2015 and Jun-2017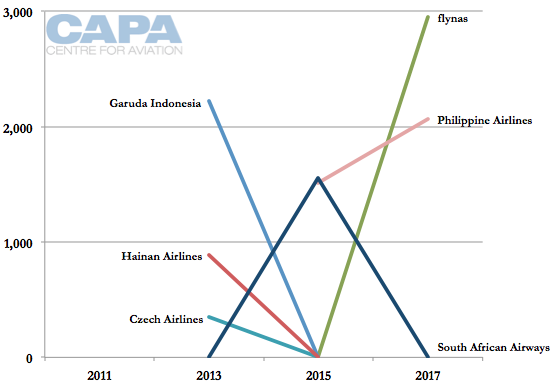 Unlike most of Etihad's equity members, flynas' has a home market – Saudi Arabia – that has strong local demand for Abu Dhabi (likewise for Jet's home market of India). It is thus difficult to separate out flynas' growth – whether being for the Etihad partnership and onwards connections, or for the local UAE market. flynas is in growth mode, and although its expansion into Dubai has not been as large, in fact expanding in Dubai is very difficult due to slot constraints at Dubai International.
Even if flynas' growth is for the Etihad partnership, it is notable that most partners have exited Abu Dhabi or reduced capacity.
Partner capacity could decrease as Jet Airways, PAL and others weigh partnerships
Given public expressions recently, the outlook for partnership growth is not strong in the foreseeable future.
Etihad is looking to shape up its equity network. There are most unlikely to be further additions, at least in the near future. The exit of non equity partners signals caution to prospective codeshare but non-equity partners. Following Air Berlin's exit from Dusseldorf-Abu Dhabi services, Air Berlin was reported to be considering launching nonstop service to Hong Kong later in 2017. This would market a further break from Abu Dhabi.
Part of Air Berlin's arrangement with Etihad is that Air Berlin should route Asian flights via Abu Dhabi; thus, Air Berlin changed its nonstop Phuket service to operate via Abu Dhabi. Air Berlin took a substantial yield hit and has terminated the Phuket tag (Etihad took it over). Air Berlin returning to nonstop Asian services indicates a recalibration of Etihad's hub value at Air Berlin. Pragmatism appears to be prevailing.
The Jet Airways partnership is rocky, exacerbated by Jet's partnership with SkyTeam members Delta and Air France-KLM. That deal resulted in Jet flying to Amsterdam and connecting at Schiphol to partners' flights to North America. Etihad wanted Jet to work with Etihad's fellow equity member Air Berlin and its Dusseldorf hub, despite the substantially smaller profile of that alternative.
Philippine Airlines has the second largest non equity partner presence in Abu Dhabi (although this is still larger than that of other equity partners, Air Serbia, Air Seychelles and Virgin Australia). PAL, however, may terminate its Etihad partnership and exit Abu Dhabi. PAL in Jan-2017 decided to end tag flights from Abu Dhabi and a subsequent step could be PAL's exit from Abu Dhabi.
As CAPA has previously stated:
The Etihad codeshare has failed to generate significant volumes for PAL on the PAL-operated Abu Dhabi-Manila flight. The arrangement apparently has been more beneficial for Etihad, which has been using PAL for domestic connections throughout the Philippines – helping to boost its own increased Abu Dhabi-Manila operation. PAL does not have a similar benefit beyond Abu Dhabi as there is no codeshare on Etihad-operated flights beyond Abu Dhabi.

PAL is now looking at whether to renew the Etihad partnership or scrap the codeshare – along with potentially suspending its Abu Dhabi flights. PAL may be best off moving on and examining its options.

The Etihad codeshare has been exclusive, preventing PAL from maintaining relationships with Emirates and Qatar. PAL could potentially resume – and expand – its Emirates and/or Qatar codeshares. PAL could also consider expanding its limited codeshare with Gulf Air, which only covers the Manila-Bahrain route (only operated by Gulf Air), or pursue other partnerships in the region.
See related report: Philippine Airlines may cut Middle East capacity and network, and end Etihad partnership
Airline partners cannot access onward inventory to sustain their Abu Dhabi services
As understood by CAPA, the problem partner airlines have faced in Abu Dhabi is that because it is a hub with minimal local demand, onward connections on Etihad are key to ensuring the success of Abu Dhabi services.
However, partners have severe difficulty accessing Etihad inventory. Etihad's own organic growth means that the capacity is in demand. What capacity is available to partners is actually in demand – because of Etihad's numerous partners.
Partners have told CAPA they feel the partnership in practice is unsustainable and vastly different from the basis on which it was sold. Where partners operate to Abu Dhabi on their own, Etihad has no direct financial burden if partners are not profitable. Partners also complain that Etihad does not adequately sell their flight, either because it does not connect well with Etihad's network or Etihad favours its own services. In rare examples, such as with Virgin Australia, there is a joint venture mechanism with Etihad that places financial risk on Etihad if the flight does not perform.
Etihad has some exposure to the Abu Dhabi capacity of its equity partners, since Etihad as a shareholder incurs some of the loss from an unprofitable Abu Dhabi service. However, as a minority shareholder in all of its equity partners, Etihad only carries a minority of the risk. With a large direct and partner operation to look after, one airline and its loss on an individual route are relatively small to Etihad, but can be much more concerning to the airline operating the flight.
Abu Dhabi airport growing, but more reliant on Etihad and partners
The growth of Etihad and addition of partners means that Abu Dhabi is becoming less reliant on unaffiliated airlines. Overall capacity at Abu Dhabi is similar in 2017 as in 2015, but there is more Etihad capacity and less partner capacity in terms of both net capacity and as a share.
Abu Dhabi available seat capacity by airline grouping: sample week in Jun-2013, Jun-2015 and Jun-2017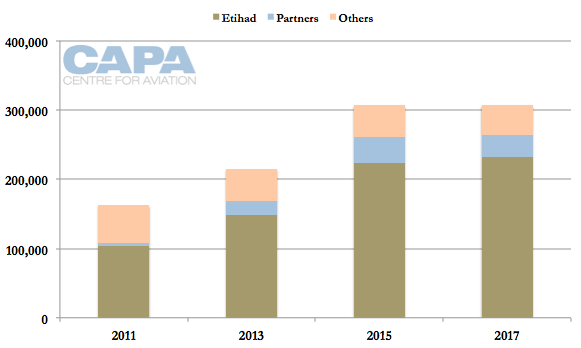 In 2011 34% of Abu Dhabi's seat capacity was from other airlines (not Etihad and its partners) but this has decreased to 14% in 2017. Net capacity from other airlines has decreased by 20% in 2017 compared to 2011. In 2011 there were 34 airlines serving Abu Dhabi (this increased to 36 in 2013), but in 2017 this servicing airlines figure will be 31.
Abu Dhabi available seat capacity share by airline grouping: sample week in Jun-2013, Jun-2015 and Jun-2017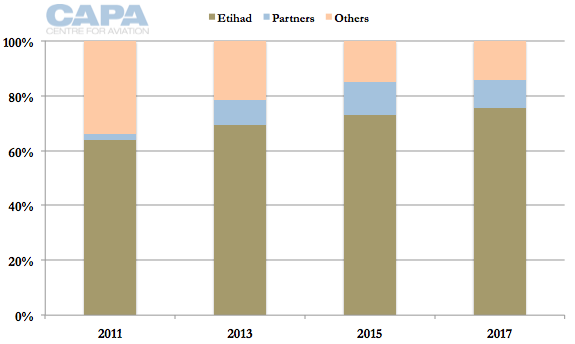 Compared to its peer hubs in Dubai and Doha, Abu Dhabi sits between them in terms of airline composition.
With respect to local airlines and their partners, Dubai is most exposed to relying on flydubai, Emirates and Qantas (but as Dubai is the largest by far, its net other airline capacity is the greatest).
Doha is the least exposed, but all three are within the same approximate band: non home airline and partner capacity is 11% at Dubai, 14% at Abu Dhabi and 17% at Doha.
Abu Dhabi, Doha and Dubai available seat capacity share by airline grouping: sample week in Jun-2013, Jun-2015 and Jun-2017
However, since Abu Dhabi is the smallest of the three hubs in terms of net size it is very exposed to any changes.
This is already evident with Etihad's contraction in 2017. Abu Dhabi's small local market can increasingly be accessed at Dubai World Central, Dubai's future airport that is undergoing a ramp up in capacity. Although further from Abu Dhabi than Abu Dhabi's own airport, it provides fresh competition since it is substantially closer to Abu Dhabi than Dubai International has been.
Airports walk a difficult line keeping their home airline content while also growing the local hub. Etihad offered a strategic partnership approach that (on paper) still presents commercial opportunity. Its implementation, however, is in need of restructuring. Failing that, the partnership strategy must be deemphasised if sustainability for all cannot be achieved.
Etihad undergoes strategic review and exit of CEO Hogan
This strategic component adds to much larger challenges with financial partnerships. Prior to the announcement of his departure, Etihad CEO James Hogan remarked of challenges with equity partners: "We have had some strong results but we also face some significant challenges. Jet Airways, Air Serbia, Air Seychelles, Virgin Australia and Etihad Regional have all used our capital investments to help structure their businesses into more efficient and profitable operations. In those cases, our long term investments are already delivering a return. However, we have faced greater challenges with airberlin and with Alitalia. Both are operating in very tough competitive environments, and need to address long standing issues facing their businesses".
Both equity and non equity partners offer evidence that strategic cooperation with Etihad in Abu Dhabi has not yet reached sustainable levels. Etihad's chairman, in announcing Mr Hogan's departure and confirming a strategic review, indicated Etihad (as evidenced by financial reports) as much. Chairman H.E. Mohamed Mubarak Fadhel Al Mazrouei said: "We must ensure that the airline is the right size and the right shape. We must continue to improve cost efficiency, productivity and revenue."
The impact of the Etihad partnership model has caused a significant shift in the tectonic plates that constitute the world's turgid regulatory structure around ownership and control. That much is clear and it is irreversible. The industry will be the better for it, whatever the direction to be followed next. Intrinsically the model has much to commend it. It is now ready for the next stage of refinement. If well done it will build on the strengths and dilute the negatives.
And much will depend on the forthcoming pivotal negotiations with Lufthansa. This story has some way to run yet.