Etihad raises its Europe profile with codeshares and equity, expanding indirect connections
Analysis
Etihad will have grown the number of direct seats flown between its Abu Dhabi hub and Europe by 39% in the two year period from Dec-2012 to Dec-2014 (source: OAG). This is faster than the other two of the Gulf Three and also faster than Turkish Airlines' growth in international seats between its Istanbul Ataturk hub and Europe.
Nevertheless, Etihad itself remains the smallest operator of this quartet by number of seats to Europe, with only around two thirds of Qatar Airways' capacity and less than a quarter of that of the other two.
Etihad's use of codeshares and equity investments to increase its market presence in Europe has mainly focused on indirect connections. With an investment in codeshare partner Alitalia expected soon, its strategy is receiving a great deal of attention from competitors and regulators.
This report looks at how important have Etihad's codeshare agreements been in increasing its network profile in Europe. Have its equity investments further enhanced its market presence in Europe - and in what ways?
Etihad is the smallest in Europe among the Gulf/Turkish hub airlines
Etihad's 39% increase in seat numbers to Europe over the two years to Dec-2014 compares with 34% for Qatar Airways, 26% for Turkish Airlines and 22% for Emirates. Etihad's total number of one-way weekly seats on direct routes between Abu Dhabi and Europe will be around 46,000 in Dec-2014, versus around 33,000 two years earlier (source: OAG).
Among the airlines pursuing global connecting traffic flows via their hubs in the Gulf or Turkey, Etihad remains the smallest operator into and out of Europe. Its figure compares with around 207,000 international seats for Turkish Airlines between Istanbul Ataturk and Europe, 175,000 seats for Emirates from Dubai to Europe and 71,000 for Qatar Airways from Doha to Europe.
See related reports:
The Gulf Three and Turkish Airlines: weekly international seats from their respective hubs* to Europe: Jun-2012 to Dec-2014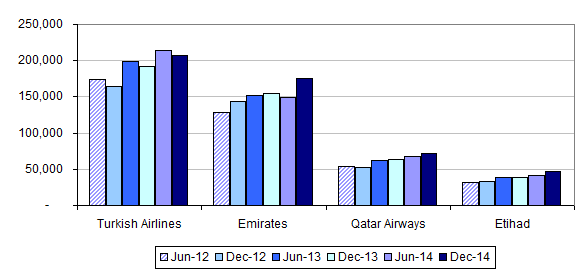 Equity codeshare partners add 15%
Etihad has supplemented its own capacity to Europe with that of codeshare partners, some of whom have also received equity investment from Etihad in order to strengthen the relationship. When added to its own capacity between Abu Dhabi and Europe, Etihad's equity investment codeshare partners will account for around 15% additional direct seats carrying its EY code in Dec-2014.
This assumes that the proposed equity investment in Alitalia will have completed by Dec-2014 and also includes existing Etihad equity partners airberlin (from Berlin Tegel and Dusseldorf) and Air Serbia (from Belgrade). Its other two European equity investments, Darwin Airline (now operating as Etihad Regional) and Aer Lingus, do not operate direct services to Abu Dhabi.
Etihad Airways and Etihad equity partners: direct weekly international seats from Abu Dhabi to Europe: Jun-2012 to Dec-2014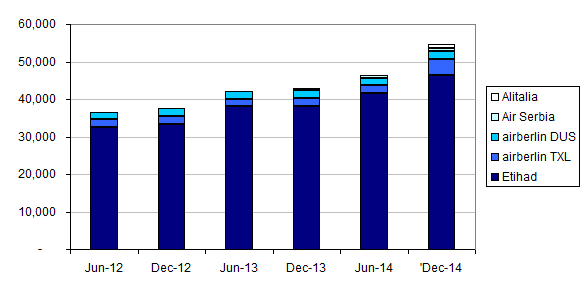 Other codeshare partners add 3%
Etihad's other codeshare partners (where there is no equity investment) will make a small further contribution of direct seats equivalent to an additional 3% of its Abu Dhabi-Europe total in Dec-2014. This is less than in Dec-2013, since Alitalia will switch from being a straight codeshare partner category to being an equity codeshare partner. Our calculations are based on assumptions about two codeshare partners with non-stop Abu Dhabi flights.
First, this assumes that airBaltic will resume its direct Riga-Abu Dhabi service in winter 2014/2015 (this service was launched in Dec-2013 and suspended at the end of Mar-2014). Last winter, this service amounted to 520 weekly seats.
See related reports:
Second, it relies on Air Europa launching a planned three times weekly Madrid-Abu Dhabi service. No start date has yet been set for this route, but both carriers said at the time they announced their codeshare agreement in Jan-2014 that it would be before the end of 2014. This should add around 1,000 weekly seats (depending on the choice of aircraft: Air Europa has said it will use A330 equipment, but has not specified which variant) to the number carrying the EY code between Europe and Abu Dhabi on direct flights.
See related report: Air Europa-Etihad codeshare links LatAm to Asia Pacific: Etihad again challenges alliance status quo
A direct service previously operated by CSA Czech Airlines from Prague to Abu Dhabi, under codeshare with Etihad, ceased operating in Jan-2014.
Etihad Airways, Etihad equity partners and other codeshare partners*: direct weekly international seats from Abu Dhabi to Europe: Jun-2012 to Dec-2014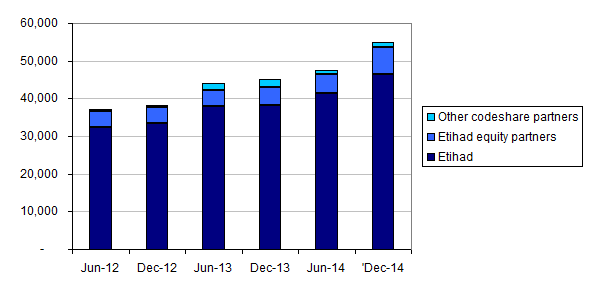 But Etihad still has far fewer direct seats to Europe
Adding the incremental 18% of seats contributed by Etihad's codeshare partners, whether equity partners or other, brings the number of EY-coded seats on direct flights between Abu Dhabi and Europe closer to that of the other three super-aggregators, but still 23% less than Qatar Airways' and in the region of 70% less than Emirates' or Turkish Airways' direct seats to Europe.
Turkish Airlines, Emirates, Qatar Airways and Etihad (including codeshare partners): direct weekly international seats from their respective hubs* to Europe: Dec-2014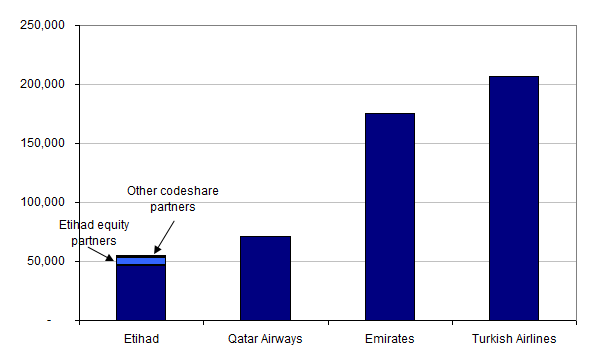 Codeshares make Etihad number two out of four in total destinations in Europe, through indirect connections
Etihad has a significantly lower number of destinations in Europe served by its own aircraft than the other three – 17 versus 33 for Qatar, 35 for Emirates and 99 for THY – but Etihad's codeshare partnerships give it a staggering 105 additional destinations. Emirates and Qatar have only a single digit number of additional European destinations from codeshares, while THY has 53.
However, only four of Etihad's additional codeshare destinations are served directly by its partners from Abu Dhabi: Berlin Tegel, Madrid (expected late 2014, as noted above), Rome Fiumicino and Riga (winter only). On one of these, Rome, Etihad will commence its own service in Jul-2014.
The codeshare partners of Emirates and Qatar bring them no additional direct European destinations, while Etihad's bring only a few.
The Gulf Three and Turkish Airlines: number of direct destinations and codeshare destinations in Europe: 16-Jun-2014 to 22-Jun-2014
| Airline | Number of direct destinations in Europe | Number of codeshare destinations in Europe | Number of codeshare partners in Europe |
| --- | --- | --- | --- |
| | 99 | 53 | 9 |
| | 35 | 5 | 2 |
| | 33 | 7 | 1 |
| | 17 | 105 | 19 |
Etihad's codeshare strategy aims to bring feed through indirect connections
Etihad's codeshare strategy in Europe is really all about providing additional indirect destinations. Its 105 European codeshare destinations, using 19 European codeshare partners, are primarily built around generating feed for its 17 direct routes from Abu Dhabi.
Coming relatively late into the game, Etihad has used this approach to develop a presence across Europe much more quickly than it could have achieved by focusing on direct flights (Emirates and Qatar Airways, both of whom had a significant head start, focus on direct flights to Europe).
This means that many European cities are connected via one stop to Abu Dhabi and via two stops to onward destinations in the Middle East, Africa and Asia. Etihad's rivals' greater number of direct European routes means that they can connect more European cities with onward destinations in one stop.
The success, or otherwise, of Etihad's approach can to some extent be measured in its load factor. Its annual figures show some improvement from 2010 to 2012, but a levelling off in 2013 at a load factor of 78%, slightly below the global average of around 79%. This is not compelling evidence either way, but it does suggest that Etihad still has room to drive additional feed from its codeshares, given its rapid capacity growth.
Etihad Airways passenger load factor: 2010 to 2013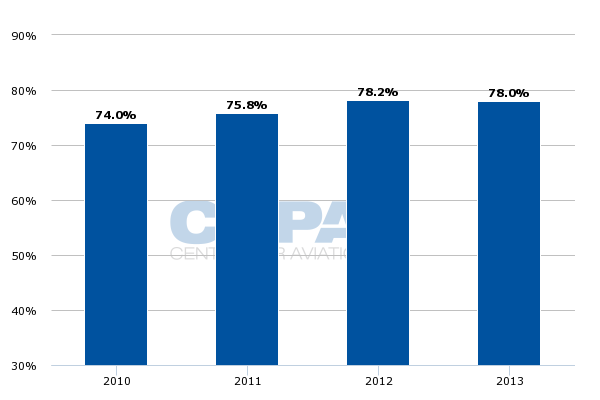 Codeshares are biased towards partner operated flights in Europe
Consistent with its hunger to feed its Abu Dhabi hub, even indirectly, Etihad's codeshare agreements with European airlines are understandably biased towards routes that carry its code and are operated by its partners, rather than routes carrying its partners' codes and operated by Etihad.
This is true not only in aggregate (there are more than twice as many codeshare routes operated by codeshare partners than by Etihad), but also in most individual agreements. Only Alitalia and Air France operate fewer routes for Etihad than it operates for them and the imbalance in these two cases is not great.
airberlin is Etihad's biggest European codeshare partner and Alitalia number two
Ranked by the total number of routes under codeshare (in either direction), Etihad's most important codeshare partner is airberlin, which is also an equity partner. This codeshare has seen strong growth in passenger numbers since the start of 2012.
See related reports:
Alitalia is the number two codeshare partner for Etihad, by number of routes. This is before the proposed equity investment by Etihad has taken place and raises the fundamental question of why an equity investment is necessary - and how it is used.
Etihad's increased European footprint has been achieved through commercial codeshare arrangements; equity investments are not in themselves a part of this. However, in the case of airlines that were struggling financially, Etihad's investment has been very important in keeping the partner solvent and thereby in maintaining the viability of the codeshare agreement.
The most obvious example of this is airberlin and soon, possibly, Alitalia.
See related report: Alitalia's long-haul network and Etihad's short-haul feed are enhanced with Etihad's proposed stake
Etihad Airways European codeshare partners
Partner

Partner hub

EY operates to partner hub?

Partner operates to AUH?

No. codeshare routes operated by EY

No. codeshare routes operated by partner

Total routes in codeshare

Asia, Africa, M East

Americas

Aegean

Yes

Yes

1

6

23

0

30

Aer Lingus (e)

Yes

No

3

5

19

5

32

No

Late 2014

4

0

7

0

11

Yes

No

1

9

9

0

19

No

No

3

0

3

0

6

Air Serbia (e)

Yes

Yes

1

4

20

0

25

Riga

No

Winter only*

5

1

17

0

23

Airberlin (e)

Berlin, Duesseldorf

DUS

TXL, DUS

4

18

50

7

79

Alitalia (e)*

Rome FCO

Yes (Jul-2014)

Yes

1

22

16

0

39

Yes

No

3

0

0

0

3

Yes

No

1

0

10

0

11

CSA Czech

No

No

1

0

2

0

3

Larnaca

Yes

No

1

0

0

0

1

Yes, not codeshare

No

0

0

3

0

3

Various

No

Yes

0

0

17

0

17

Yes

Yes, not codeshare

1

12

18

0

31

No

From Dec-2014

0

0

3

0

3

No

No

8

0

16

0

24

Istanbul

Yes

Yes

1

0

1

0

2

Totals:

39

77

234

12

362
Emirates' European codeshare partners
| Partner | Partner hub | EK operates to partner hub | Partner operates to DXB | Codeshare routes operated by EK | Codeshare routes operated by partner |
| --- | --- | --- | --- | --- | --- |
| | | No | No | Malta to Larnaca | None |
| | | Yes | No | | |
Qatar Airways European codeshare partners
| Partner | Partner hub | QA operates to partner hub | Partner operates to Doha | Codeshare routes operated by QA | Codeshare routes operated by partner |
| --- | --- | --- | --- | --- | --- |
| | | Yes, no codeshare | No | | LHR to AMS, Belfast City, DUB, GLA, HAM, LBA |
Important codeshare partners are not all Etihad equity partners
Aer Lingus is Etihad's number three codeshare partner and Air Serbia also has a significant number of codeshare routes with Etihad. Both are in Etihad's Equity Alliance, as is Darwin Airline. The latter now operates under the Etihad brand name, but with only a small handful of codeshare routes. The weak finances of certain of Etihad's equity partners prior to its investment probably enhanced its negotiating position on all aspects of the proposed relationship.
Nonetheless there appears to be limited correlation between the number of codeshare routes between Etihad and its European partners and whether or not there is an equity relationship. There are several non-equity partners sharing a high number of codeshare routes with Etihad.
In addition to Alitalia, with whom a significant relationship has been developed prior to any equity investment, these include Aegean, KLM, TAP Portugal, airBaltic, Air France and Flybe. In the case of Air Europa, the number of codeshare routes is likely to increase significantly to include Latin America and Asia, as envisaged when the initial agreement was announced earlier this year.
Where some correlation with the equity investment does arise though is where financial support is necessary to ensure that Etihad can rely on the continued support of the airline involved. And, through the "Alliance" it becomes more relevant to add a further dimension: enabling more extensive codesharing between satellite members of the alliance. Thus for example on 12-Jun-2014, Etihad announced the establishment of codeshares between airberlin and Etihad Regional.
Etihad's European equity investments support struggling partners
The core of Etihad's strategy on partnerships in Europe includes adding indirect connections behind its main gateways, using extensive codeshares. This increases its European market profile, but means that it is mainly reliant on two-stop connections to link European cities with onward destinations in other regions. This puts it at a disadvantage to competitors that can offer more one-stop connections; the advantage is however that Etihad can add more direct gateways in the future in markets where its indirect services demonstrate sufficient demand.
In certain cases, Etihad's codeshare strategy is supplemented with an equity investment, even though such an investment does not in itself have an incremental impact on the wider Etihad-coded network. Moreover, its equity investments have also mainly added indirect connections.
Etihad promotes the concept of generating cost synergies with equity partners, for example through sharing skills and joint purchasing. Another motivation for these equity investments is to support a partner that would otherwise be struggling financially - and at the same time, this situation creates a buyer's market in which Etihad is able to attract more effectively the broad range of codeshares oultined above. Although Etihad has only taken minority stakes, the nature of these equity relationships has pricked the attention of European regulators (with some prompting from other interested parties), who are investigating whether or not Etihad has effective control in some cases.
See related report: Airline ownership & control. Why might Europe uphold something its officials call "stupid"?
If one of Etihad's larger European codeshare partners were to exit the market through bankruptcy, Etihad would be prevented by market access restrictions from entering in its own right. Moreover, if the space left behind were filled by a major European competitor, it may be more difficult for Etihad to replicate its previous codeshare agreements with such a competitor on terms that were as favourable to it as previously.
"Control" is not the only asset of value in these transactions
Under this interpretation of Etihad's strategy (which, we should note, is an external interpretation done without reference to the airline's management), it would appear that the largely reflex assumption - that Etihad is using the investment to buy control - is not as obvious as it might seem.
Certainly it is in Etihad's interests to ensure that its selected equity partners remain viable, but it is not necessary to "control" those partners where the investment means codeshares can be more readily locked in - and be highly valuable to each party. Likewise, where joint services, like skills training and joint purchasing can generate mutual and potentially cascading mutual value, that in itself has the opportunity to offer a solid justification for the partnership. In doing so these can create a mutual dependency, but that is a quite different concept from control.
Hence for example, one of Etihad's larger equity investments - in Virgin Australia - buys no more than one board seat. Etihad shares that status with Air New Zealand and with Singapore Airlines. Clearly the Gulf carrier does not "control" Virgin with its 21% shareholding, where Singapore Airlines holds 22% and Air New Zealand 26%. Virgin Australia however describes the Etihad relationship in these terms: "As integrated alliance partners, we offer an expanded global network of seamless connectivity, and increased loyalty rewards through reciprocal frequent flyer programmes and lounge access."
The mutual benefits are evident. What the statement does not elaborate is that the relationship also helps give the Australian carrier - itself almost a virtual international airline - valuable access to a corporate market that otherwise would not be available; the reciprocal is true for Etihad.
Outside its existing equity alliance, Etihad has important codeshare partnerships with a number of airlines that suffer either from poor profitability or market/network weaknesses or both.
Investing in financially weak airlines is risky and managing these investments is challenging, but it is not inconceivable that one or two more European airlines might become Etihad equity partners at some stage. Or that other airlines will be attracted to Etihad's concept, as long as the existing archaic ownership and control airline rules continue to plague the industry's financial viability.
It is a concept that some other airlines are expressly working on (All Nippon Airways and Hainan Airlines for example) and that many others are - or should - be looking at with increasing interest.
(In a following report, CAPA will look in detail at the nature and value of Etihad's airline loyalty programme purchases among its Alliance partners.)