Emirates-Qantas JV expands as partnerships become more intricate, while some airlines go it alone
Analysis
Qantas and Emirates are again evolving global airline alliances and partnerships. Four years after announcing their landmark joint venture, Qantas in late 2016 is expected to disclose additions to the way it serves Europe in partnership with Emirates. The possible changes – a new nonstop London flight, reintroducing an Asian stopover – may seem incremental. There is a significant impact to the many airlines competing in the Europe-Australia market, but the underlying relevance is global.
The expansion of the JV would not be possible without the increased comfort that Emirates and Qantas feel toward each other, and their ability to have intricate models for handling the increasingly complicated partnership and number of hubs involved. JVs are no longer in a binary classification of existence or absence; there is a scale from rudimentary to near-consolidation.
As JVs like Qantas-Emirates become more sophisticated, the basic JVs – or even airlines without – are dearly lacking. There has been a profusion of JVs in recent years, with more on the way, but they have tended to be confined. Partners need to be more comfortable with each other in order to add additional airlines and markets, later consolidating as they stitch together individual partnerships.
Initial Qantas-Emirates partnership sought to give Qantas more relevancy
Qantas has long been challenged in serving Europe. Geography and the distance between the regions have necessitated a stopover on operations from Australia's three largest markets – Sydney, Melbourne and Brisbane. The necessity for Qantas to make a stop took away the home airline's traditional nonstop strength (and yield premium) and removed the stopover disadvantage that normally challenges intermediate operators.
Lower-cost airlines in Asia – mainly Singapore Airlines and Cathay Pacific – and later from the Gulf were able to offer the same one-stop proposition as Qantas. Australia's air service agreements are generally proactive, although of the major intermediate markets only Singapore has open skies with Australia. Increasingly intermediate operators always had a strategic advantage, offering one-stop links from a number of Australian and European cities, and at various frequency during the day.
Despite losses and unfavourable geography, it has never been a serious option for Qantas to withdraw from London – a flagship route and the largest European market from Australia. Maintaining the London presence has strategic value and ensures that Qantas remains relevant to its home corporate accounts, who give Qantas plush yields for domestic travel that is very profitable.
Qantas reduced its London Heathrow services from four to two while its then-partner British Airways reduced from two to one. Qantas maintained a Frankfurt service but it still overall lacked relevancy at a time of multiplying travel options.
Emirates may have seemed a surprising partner. Prior to its link-up with Qantas Emirates had no partnership nearly as important. Despite its much larger size, Emirates found itself lacking by not being present in the Australian market loyalty arena, which is very sticky. Qantas ended its joint service agreement with British Airways (causing resentment that still lingers) and moved its stopover from Asia to Emirates' Dubai hub.
Qantas received a boost on Australia-Dubai flights while having approximately three dozen European cities to connect to with one stop, compared with the previous two (London and Frankfurt, although Frankfurt was suspended when the stopover hub moved to Dubai). Qantas passengers could make a single stop in Dubai rather than connect in Asia, and London, and then backtrack to continental Europe. Emirates received direct sales from Qantas while being a more attractive option for passengers loyal to Qantas' frequent flyer programme.
Sample Australia-Europe routings on alliances versus Emirates (travel time in hours, stops): 2010
The JV evolves as Australia-Europe nonstop comes into focus
Now it is time for the JV to evolve. Over the last four years, Qantas and Emirates have bedded down their partnership. This ranges from collaboration at the people level; alignment of products, fares and networks; and the model that underpins financial performance and distributes appropriate returns. There is solid ground and trust to take the partnership further.
The existing JV has strengths, from the range of destinations and frequency in Europe and Australia, to Qantas' home market strength. Yet at a most simplified level the Qantas-Emirates proposition is not varied from any other: the two offer a route via Dubai, while Etihad offers Abu Dhabi, Singapore Airlines uses Singapore, Cathay Pacific uses Hong Kong, etc.
Qantas' two London flights, Melbourne-Dubai-London and Sydney-Dubai-London, fly alongside existing Emirates routes. Rather than overlap and offer more of the same, the two want to broaden the appeal of their partnership.
Qantas is expected to announce nonstop Perth-London Heathrow service using its forthcoming 787-9. CAPA discussed the possibility of the Perth-London service in a report about Qantas' annual financial results.
See related report: Qantas achieves financial sustainability, now takes on Singapore Airlines and Cathay Pacific
Perth-London will be the first nonstop Australia-Europe flight, and will be the world's longest nonstop flight at approximately 300km longer than the current longest-route – Dubai-Auckland.
The route's title-holding tenure will be short, since Singapore Airlines' planned resumption of flights between Singapore and New York is approximately 1,000km longer. But Qantas' nonstop Australia-Europe flight will surely hold enchantment.
Australia-London O&D traffic by Australian city: 2015
The market from Perth to London is the smallest of Australia's London-bound markets. A London service from Melbourne or Sydney is too long for the 787-9 (which will already be stretched on Perth-London). Most passengers on the flight will still make a connection, but Qantas will be able to link its new gateway of Perth with more Australian cities than Dubai, which Qantas only serves from Melbourne and Sydney. This is a segment of the market that will seek out a Qantas-operated itinerary as opposed to a codeshare on Emirates.
Qantas-Emirates partnership feeder flights between Australia and Dubai (red=Qantas and Emirates operated, blue=Emirates only): Aug-2016
Qantas domestic network from Perth: Aug-2016
A report from the West Australian says, subject to final negotiations, that Perth airport will support renovations and necessary government formalities to Qantas' domestic terminal so that connecting passengers can make a same-terminal transfer at Qantas' intimate facility.
Perth's international flights currently depart from a separate terminal that requires a bus transfer. A connection in Dubai or Singapore or Hong Kong brings passengers into sprawling gateways. At Perth, Qantas can control the experience and assert the brand it is increasingly refining.
It is difficult to see the flight turning a profit, even with fuel costs down. But it is likely the strongest benefit of the flight is one that cannot be calculated: Qantas will offer the world's only nonstop Australia-Europe flight, and it will push the ease of a domestic connection.
Asia could be added back as a Qantas stopover – potentially with a third airline
As the JV further evolves and models are adjusted to account for different Australia-Europe flights, Qantas could return to having an Asian stopover option en route to Europe. This again increases the range of options under the JV. Qantas' European flights used to transit mostly in Singapore, but also at Bangkok and Hong Kong.
There are new hubs for Qantas to consider as alternatives. Shanghai, for example, is increasingly important to Qantas as its Chinese hub. China has granted Australian airlines beyond rights to Europe. Shanghai-London could build Qantas' presence and even grow it faster than if Qantas relied on O&D traffic. There would be an opportunity to bring into the fold China Eastern – based in Shanghai and Qantas' Australia-China partner.
London is not a major market for China Eastern, and Qantas offers an opportunity for the Chinese Big 3 airline to learn about connecting traffic, which China Eastern can extrapolate to other points in its network.
China Eastern also gains some positioning to begin to counter China Southern's "Canton Route" connections. Yet Qantas and China Eastern would need to work through British Airways' aspirations – to grow closer to China Eastern and cooperate on the London-Shanghai route.
United Kingdom to China (seats per week, one way): 21-Oct-2013 to 13-Mar-2017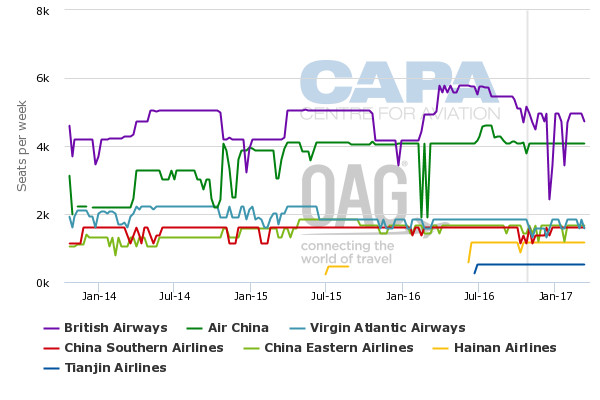 These are far bigger evolutions for the JV than were envisaged when the partnership was first announced in 2012. At the time it was stated that Qantas could later return to continental European points by flying to them via Dubai.
The possible changes here now have more ambition, reflecting the ability of the partners to think and execute broader strategy, and respond to competition. Singapore Airlines and Lufthansa regard Australia as being a large offline market for their JV while Etihad and Qatar are growing in Australia.
Southwest Pacific to Middle East (seats per week, one way): 21-Oct-2013 to 13-Mar-2017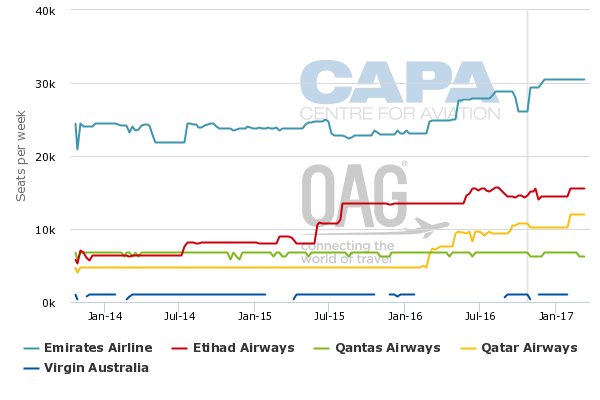 The increased complexity of JVs may not always be in Qantas' favour. So far possible changes appear to have been accepted by Emirates, whose President Tim Clark remarked to the West Australian that Perth-London nonstop was a "smart thing to do".
Emirates has explored operating trans-Pacific flights of its own, including from Australia/New Zealand to North America, which would overlap with Qantas and its proposed partnership with American Airlines.
It is challenging for other JVs to replicate the Qantas-Emirates partnership so easily
The Qantas-Emirates partnership represented Qantas boldly dropping an Old World partnership to embrace the advantages of new hubs. Just as Iceland and Amsterdam were early hubs, Singapore and Hong Kong followed, and then there was the growth in the Middle East. Hubs evolve, and so too should partnerships.
As much of an example or model the Qantas-Emirates partnership may be, it is also different, and it was comparatively easy for the partners to find a formula that was satisfactory. Air France and Etihad, despite years of intent, have not formulated a deeper partnership. Lufthansa broke off ties with Turkish.
Qantas having to make a stop anyway made it comparatively easy to make an alignment with Emirates: Qantas moved its hub from Asia to Dubai. Air France and Etihad would have to find how to manage very different hubs at Paris and Abu Dhabi (and presumably Amsterdam, too). Calculating how to share revenue is complicated when the airlines are, at best, break-even and, at worst, structurally loss-making.
It took considerable time for British Airways and Qatar Airways to conclude joint venture discussions, despite the closeness of their senior management and Qatar's now 20% stake in IAG. Even then the JV was announced as being between BA and Qatar, and not also with BA's sister Iberia.
See related report: British Airways-Qatar Airways form Europe's first Gulf airline JV, showing some oneworld flexibility
Some JVs already incorporate multiple hubs, but generally in the same region
There are numerous JVs that already incorporate multiple hubs, but they are within the same region and not as broad as that of Emirates-Qantas – with possible expansion at some point to comprise Dubai, Perth and a point in Asia.
The trans-Atlantic JVs, for example, include the numerous European hubs of European members. Some routes under the JV overlap with others, some are strong connecting routes and others are stronger for O&D. The ANA-United and JAL-American trans-Pacific JVs include Tokyo-US nonstop, but also US airline nonstop flights to other Asian destinations: Hong Kong, Singapore, etc. A Singapore passenger in the ANA-United JV may transit via Tokyo or Hong Kong, or fly nonstop from San Francisco.
Qantas and American's proposed JV includes American's New Zealand-US service whereas United and Air New Zealand's JV excludes Australia, despite Air NZ relying on Australia-North America connections.
KLM and Kenya Airways partner on hub Amsterdam-Nairobi services but also other Europe-East Africa flights. Delta and KLM jointly worked to partner with Jet Airways' India-Amsterdam services, even though Jet remains outside the JV per se. (Emirates has partnerships to Asia with both Qantas and Malaysia Airlines, but there does not appear to be intent to fold them into one.)
Delta, Jet Airways and KLM partnership: Dec-2015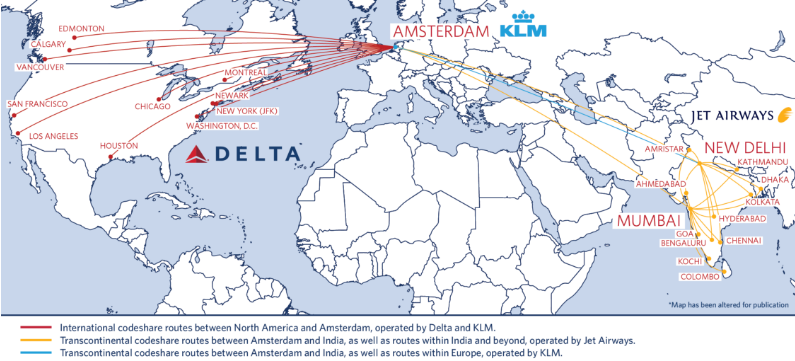 JVs can only successfully expand with trust and familiarity between airlines
As JVs have settled, airlines have been added: to the JAL-British Airways JV, Finnair and Iberia were added. JAL and BA typically have strong O&D while Finnair is more of a transit operator, and thus has different considerations for the way revenue is appropriated. Some JVs limit the club: ANA has been unsuccessful in persuading United to have Air Canada join their Japan-North America partnership.
The Air China-Lufthansa and Singapore Airlines-Lufthansa JVs come after prolonged talk. Even when implemented they will be limited initially, reflecting the conservative nature of Air China and Singapore Airlines. China Eastern and China Southern have route-specific JVs with AF-KLM and show much opportunity for expansion.
As value is increasingly derived from JVs, having a JV is the entry ticket. Depending how the partners mesh, it can be a long march to the front. The human factor of airline relations can take precedence over logical strategy and having the numbers in their favour. Some potential partnerships would first need mending, while others need a kick-start in their relationships to accelerate the scope of the JV.
There are a number of airlines excluded from JVs. Some, like TAP and LOT, wish to join their alliance brethren but have been turned down. Others may be restricted due to lack of the right regulatory environment (such as US-China), while others prefer to go at it alone (Korean Air, but increasingly weighing a Delta partnership).
A waiting evolution is to consolidate market-specific JVs to region-specific JVs. But for United to go from having ANA as a JV partner to encompassing other Asian members of Star Alliance is a leap for itself, and the comfort of others.
Qantas-Emirates, as arguably the industry's still-boldest partnership, shows that solutions need to take precedence over history as JVs become not a matter of existence, but a matter of how all-encompassing they are.