Emirates, Etihad and Qatar Airways: Dallas becomes the hub crossroad for all three Gulf airlines
Analysis
Gulf carriers Etihad and Qatar are continuing to expand their US presence rapidly during 2014 as each gears up to launch service to Dallas/Fort Worth, a market Emirates added to its network in Feb-2012. Once the new service to Dallas launches, it will become the third US market where all of the three big Gulf carriers will compete head-on. Presently, Emirates, Etihad and Qatar serve New York JFK and Washington Dulles from their respective hubs in Dubai, Abu Dhabi and Doha.

During the past couple of years both Etihad and Qatar have been working to narrow the edge Emirates has in the US. Once Qatar launches flights to DFW, Miami and Philadelphia in 2014 it will offer service from Doha to seven destinations, while the number of markets served by Emirates grows to eight once new service from Dubai to Boston debuts in Mar-2014.

Qatar's introduction of flights from Doha in Jul-2014, followed by Etihad's Dec-2014 launch from Abu Dhabi to DFW, will result in two of American's Middle Eastern partners introducing service to their respective hubs within a few months. As it unveiled plans to serve Dallas, Etihad promoted its relationship with American, which stands to reap the benefits of added feed from the Gulf to its US domestic network and markets in Central and Latin America. And so DFW becomes the meeting place for all three of the Gulf airlines, complete with the alliance complexities that brings.
Etihad and Qatar are working to match Emirates' Americas network breadth
While connecting opportunities in Dallas offer the Gulf carriers added revenue maximisation, the market is a strong generator of local traffic for those airlines given the ties Dallas has to the oil industry. Oil giant Exxon Mobil is headquartered in Irving, Texas, which is roughly 20km from Dallas.

Based on schedules in OAG, Emirates presently offers approximately 2,490 one-way seats between Dubai and Dallas. Once Qatar launches its service with Boeing 777-200LR widebodies from Doha, it will operate approximately 1,800 one-ways seats in the market (based on a daily flight seven days per week).
Dallas/Fort Worth International to Dubai International (seats per week, one way): 30-Jan-2012 to 15-Jun-2014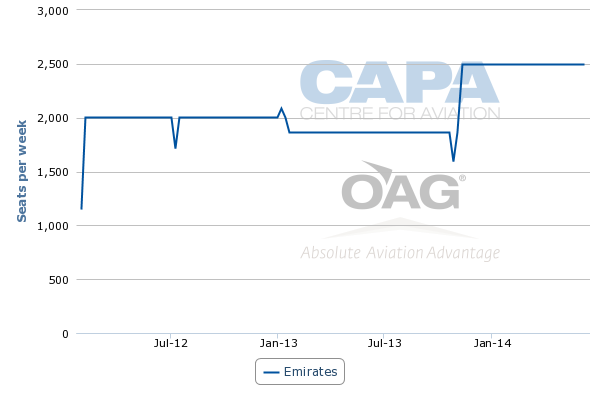 Etihad's thrice weekly serve from Abu Dhabi operated with 237-seat Boeing 777-200LRs will add roughly 711 seats to the market. The carrier is in the midst of purchasing five 200LR widebodies from Air India.
It will be a significant amount of capacity introduced from Dallas to the Middle East in a short period of time, but data from the US Department of Transportation show that Emirates' load factors on service to Dallas during 2012 were 91%, which implies solid demand on the Gulf carrier's network to Dallas.

In a broader sense, Etihad and Qatar inevitably need to match Emirates' network breadth in the Americas to remain competitive. From FY2011-2012 to FY2012-2013 Emirates' Americas revenues (which includes service to Toronto, Buenos Aires, Sao Paulo and Rio de Janeiro), grew nearly 24%. Emirates' new service to Boston debuting in 2014 joins its existing service from Dubai to seven US destinations – Seattle, San Francisco, Los Angeles, Dallas/Fort Worth, Washington Dulles, New York JFK and Houston.

See related report: Gulf Airlines reflect their respective US strategies after solid expansion during the last year
The new service introduced by both Etihad and Qatar from their respective hubs in Abu Dhabi and Doha in Dec-2014 and Jul-2014 respectively, potentially allows American significant access to each carrier's network through its partnership with Etihad that dates back to 2009 and a newly formed pact with Qatar after the carrier's formal entry into the American-anchored oneworld alliance in Oct-2013.

American's ability to partner with two Gulf rivals reflects the rapidly changing dynamics of airline partnerships and alliances. Less than two years ago most of the large global network carriers were dismissive of Emirates, Etihad and Qatar.
But during that time Emirates and oneworld's Qantas have forged deep new ties, while SkyTeam founding member Air France began codesharing with Etihad in Oct-2012. That tie-up is especially interesting after executives at Air France's joint venture partner and fellow SkyTeam anchor-member Delta Air Lines have voiced strenuous opposition to a planned US customs pre-clearance facility at Etihad's Abu Dhabi hub.

The moves by Qantas and Air France reflect the growing reality of global airlines essentially being forced to look outside their traditional alliances in order to truly offer a competitive network that touches the fast growing emerging regions. oneworld appears to be the most liberal of the three major global alliances, publicly stating that it essentially does not prohibit its members from forging ties outside the grouping, reasoning that if partnerships outside the oneworld boundaries make its members stronger, then it is ultimately beneficial to the entire alliance. SkyTeam does not seem to publicly share a similar sentiment, but appears to either silently endorse or turn a blind eye to outside partnerships.

Star is the most restrictive (or arguably, embedded in an outdated line of thinking), and has a few internal problems of its own among some of its bigger members, as reflected in Lufthansa's recent decision to dissolve a codeshare with fellow alliance member Turkish Airlines; Germany is Turkish's top international country in terms of seats deployed. Turkish during the past decade has also expanded its presence into secondary German markets, attracting much of Germany's connecting traffic outside Lufthansa's Frankfurt and Munich hubs.

See related reports:
New Gulf flights could also provide feed to American's Central/Latin America routes
Presumably American will codeshare with both Etihad and Qatar on their new services to Abu Dhabi and Doha from Dallas. Presently, American codeshares with each carrier on flights from their respective hubs in the Gulf to Chicago O'Hare, New York JFK and Washington Dulles.

American's codeshare with its two Gulf partners also entails flights from European airports to Abu Dhabi and Doha. Through its pact with Etihad, American can also place its code on flights from Abu Dhabi to Sri Lanka, Kuwait and Pakistan while its partnership with Qatar allows American to flow passengers from Doha to Sri Lanka, Kenya and Thailand in addition to reaching Doha from several European destinations.

Another added benefit for American is at least some feed to Latin America from the new services to Dallas with Etihad and Qatar. While Miami is American's largest gateway to Latin America by a large margin, the carrier has bolstered service from its Dallas hub to points in South America during recent years and now serves Sao Paulo, Bogota, Buenos Aires, Lima and Rio de Janeiro.
American also has extensive service from Dallas to Mexico and other points in Central America, reflected in that region representing 47% of the international seats deployed from Dallas/Fort Worth.
Dallas/Fort Worth International Airport international capacity by region (% of seats): 9-Dec-2013 to 15-Dec-2013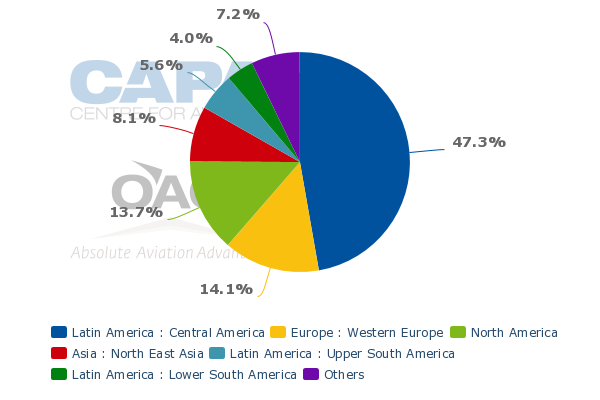 Schedules in OAG show that Qatar operates daily service from Doha to Sao Paulo with continuing flights to Buenos Aires, while Etihad operates a daily flight from Abu Dhabi to Sao Paulo. So long as the Gulf carriers are expanding their networks in this way, the new service to Dallas could lead to an expansion of American's codeshare with each of its Gulf partners, in theory allowing Etihad and Qatar to market one-stop service to several points in Latin America and numerous markets in Central America. Presumably that would generate additional revenue for all three carriers, and overall allow American, Etihad and Qatar to market broader network options to its passengers.
Qatar adds service to three US oneworld hubs during 2014
Qatar's new service to Dallas in Jul-2014 caps off rapid expansion by the carrier into the US next year. Its new flights from Doha to Philadelphia begin in Apr-2014, followed by the debut of flights to Miami in Jun-2014.

See related report: Qatar Airways lays claim to Miami as Gulf Airlines plan for a busy 2014 expansion into the US
None of Qatar's new markets are particularly surprising given that they are oneworld hubs. US Airways is scheduled to join oneworld in Mar-2014, so Philadelphia is set to officially become a hub within the alliance at that time.

Philadelphia is particularly interesting given its smaller international footprint than American's hubs of New York, Chicago, Dallas and Miami. Western Europe accounts for 50% of its international seat deployment.
Presently only a single market in the Middle East has direct service from Philadelphia, Tel Aviv, and there are no direct flights to Asia.
Philadelphia International Airport international capacity by region (% of seats): 9-Dec-2013 to 15-Dec-2013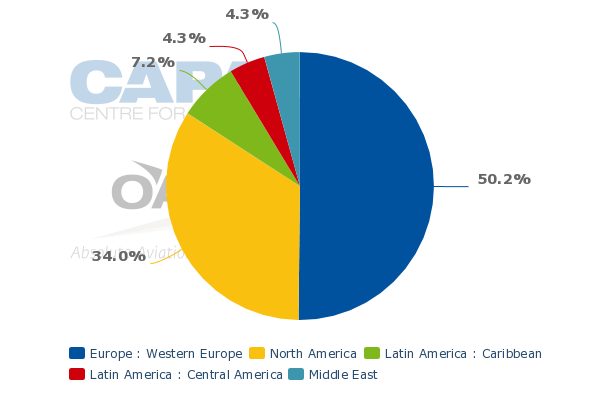 The "new" American and Qatar arguably have a nice opportunity to expand Philadelphia's international offerings as passengers may be willing to skip travelling 189km to New York for one stop-over to reach their final destination. For incoming passengers who are connecting through New York, Philadelphia could possibly offer a faster clearance time than JFK, which is one the busiest international airports in the US.
One unanswered question with respect to partnerships between the Gulf and US carriers is Emirates' pursuit of a tie-up with American. In 2012, Emirates made it clear that a partnership with American was an important goal for it in the US. The Dallas-based carrier is the only large US network carrier which has actively shown a willingness to forge ties with the Gulf Airlines. United is for the time being wedded to Lufthansa in Star and Delta has assumed a more protectionist position, with all the usual nationalistic rhetoric as it seeks to consolidate its short term position in the US market.

See related report: Emirates continues courting American as ink dries on Qantas deal

Emirates has a codeshare in place with JetBlue, which allows Emirates to access JetBlue's extensive US domestic network from its JFK base. JetBlue is also Boston's largest carrier, which is a strategic advantage for Emirates with the launch of service from Dubai to Boston in 2014. Emirates also has interline agreements with several US carriers including and Virgin America and also has a codeshare agreement with Alaska.

See related report: Boston Logan establishes new links to the Middle East by luring Emirates to start service

But Emirates still lacks a global network partner in the still-important US market. Without access to through points in Central and Latin America, it could be at a slight disadvantage to its Gulf peers. It is still possible American could decide to develop a partnership with Emirates. But with a merger integration underway and its existing tie-ups with Etihad and Qatar, evaluation of Emirates as an additional partner may be delayed.
But we have learned to expect the unexpected when it comes to airline partnerships. As recently as Sep-2013 - not so long before its breach with neo-Gulf airline Turkish - Lufthansa senior executives made clear that talks were under way between the German flag and Emirates.
American may even wish to accelerate any discussions with Emirates, if it is to head off the world's largest international airline (by ASKs) from becoming too engaged with the Star leaders.
Gulf airlines can help the new American gain competitive network advantages
American's embrace of the Gulf carriers could drive significant advantage as the merger integration with US Airways begins. Rather than ignore the growing importance of those airlines, American is charting a different course from Delta (and a more muted United), which will help American fill some competitive gaps in its network relative to United and Delta.

For the Gulf carriers, their rapid expansion into the US over the past two to three years shows no sign of diminishing. American appears to have wised up to the new reality and importance those airlines are gaining in the rapidly changing global airline business.
In the future American's partnerships with those carriers could offer the competitive edge the carrier needs to rise to a new competitive level.