EasyJet SWOT: you must be getting things right if Stelios has gone quiet
Analysis
easyJet's most recent annual results, for the financial year ended Sep-2014, confirmed its position as one of Europe's most profitable airlines. Its pre-tax profit of GBP581 million was 22% higher than last year and its operating margin of 12.8% was up 1.1 ppts from last year. Among European airlines, easyJet ranks second only to Ryanair's 16.5% margin for the same 12 month period. According to its own measure of return on capital employed, it ranks first among leading European airlines and in the first quartile of companies from all sector's in the UK's benchmark FTSE 100 stock market index.
Significantly, these results seem to have silenced easyJet's founder and largest shareholder Sir Stelios Haji-Ioannou, who has also been its greatest critic in recent years since resigning from the Board in 2010. The proposed annual dividend will be 36% higher than last year and Sir Stelios' family stands to receive GBP63 million. One of the rare successes in the airline sector, CAPA analyses easyJet's strengths, weaknesses, opportunities and threats in this report.
| | |
| --- | --- |
| | CAPA's first Americas Aviation Summit will he held at the Hilton Lake Las Vegas Resort & Spa on 27/28 April 2015. To experience CAPA's unique aviation conference format and to meet the movers and shakers in the Americas and worldwide with 20+ airline CEOs, click here: CAPA Americas Aviation Summit |
EASYJET STRENGTHS
1. easyJet has a strong pan-European airport network
easyJet's network consists of 134 airports across Europe, North Africa and the Middle East, with 704 routes. Among the top 100 airport pairs in Europe, easyJet is present on 49, more than any other airline. All but one of these routes have a primary airport at both ends. easyJet's pan-European presence gives it the number two ranking by passenger numbers within the continent. According to OAG data for the week of 24-Nov-2014, it has a winter seat capacity a share of 6.5%, behind Ryanair on 9.8% and Lufthansa on 7.6%. However, its summer seat share of 8.1% ranks it second only to Ryanair's 11.7%, according to OAG data filed for the week of 4-May-2015. easyJet's superior load factor versus Lufthansa put its passenger numbers in second place on a year round basis.
2. easyJet's Pricing is low versus main competitors
Although easyJet's average fares are not the lowest in the European short/medium haul market (that distinction belongs to Ryanair), it typically charges significantly less than full service airlines that are its main direct competition.
In the financial year to Sep-2014, easyJet's total revenue per passenger (ie including all ancillary revenues) was GBP70.4, or EUR85.9. This compares with EUR121 for the Lufthansa Group in Europe and EUR151 for Air France-KLM in Europe, Africa and Middle East in calendar 2013.
3. Relative cost position is powerful
Offering low fares is relatively simple, but ensuring that they are also profitable to the airline is more demanding. This requires low costs. easyJet's operating cost per available seat kilometre (CASK) is around 20% to 45% below FSCs with a similar average sector length.
4. easyJet's brand is strengthening
easyJet has successfully raised its brand awareness in recent years. Although, to some extent, all low cost carriers have struggled with brand image, a series of features and initiatives have contributed to easyJet's gradual separation of its brand from the rest of the LCC pack.
These include improvements in on time performance, a more customer friendly website and front line service and its network of primary airports. This brand strengthening is also reflected in the upward trajectory of revenue per seat in recent years.
Brand rating of leading European LCCs in selected countries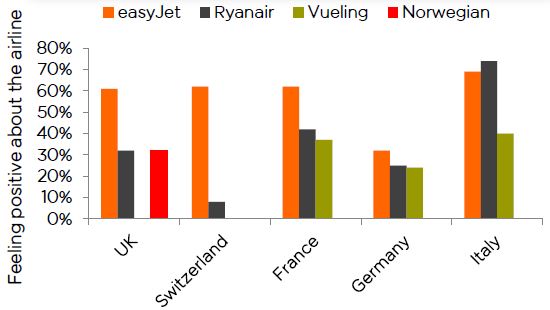 5. easyJet's financial performance ranks among the best in Europe
easyJet has become one of Europe's leading airlines by financial performance over the past few years. Its FY2014 pre-tax profit of GBP581 million, at a pre-tax margin of 12.8%, compares with a result of GBP248 million in FY2011 (7.2% margin).
Over the same period, FY2011 to FY2014, its pre-tax profit per seat has more than doubled from GBP3.97 to GBP8.12 and its return on capital employed (ROCE) has grown from 9.8% to 20.5%. This makes it one of the few airlines that is consistently earning returns above its cost of capital.
Return on capital employed for leading European airline companies year to Sep-2014
EASYJET WEAKNESSES
1. Cost base is not as low as that of Europe's ultra-LCCs
As noted above, easyJet has a unit cost advantage against most competitors, but not against Europe's three ultra-LCCs Ryanair, Wizz Air and Pegasus. Its CASK is around 70% higher than Ryanair's, so it is vulnerable to direct competition on airport to airport pairs or even city to city pairs from its Irish rival.
Although the two only compete head to head rarely, this competition is likely to increase as Ryanair grows its presence in primary airports and attacks the business traveller segment where easyJet has had a head start.
2. Seasonal earnings pattern persists
Like most European airlines, easyJet's annual profits rely heavily on a strong summer half year (April to September) to offset a loss-making winter (October to March). This reflects the seasonality of demand, with leisure traffic in particular being much higher in the summer than in the winter. Nevertheless, over the past two years, easyJet has reduced its 1H loss by two thirds and increased its 2H profit by a half.
Although 2H still accounts for more than 100% of its annual profit, its dependency on the summer months has reduced slightly.
easyJet's half yearly profit before tax (GBP million) FY2006 to FY2014*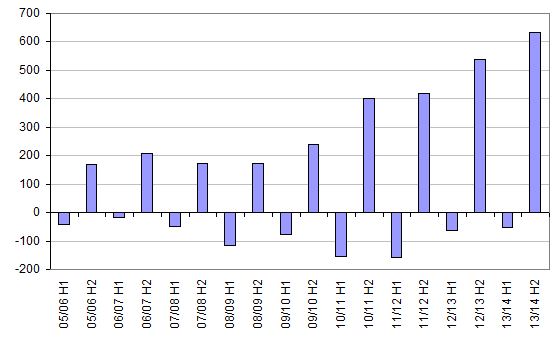 EASYJET OPPORTUNITIES
1. Further profitable growth opportunities exist
Focusing on its top 20 airports in the year to Sep-2014, easyJet has a total market share of around 20% by number of seats. Excluding the market already taken by other LCCs and by non-LCC transfer traffic, easyJet estimates that there are 86 million seats operated by non-LCCs on point to point routes at its top 20 airports, giving it a relatively low risk opportunity for growth within its current network through taking market share from higher cost competition.
easyJet's opportunity at its top 20 airports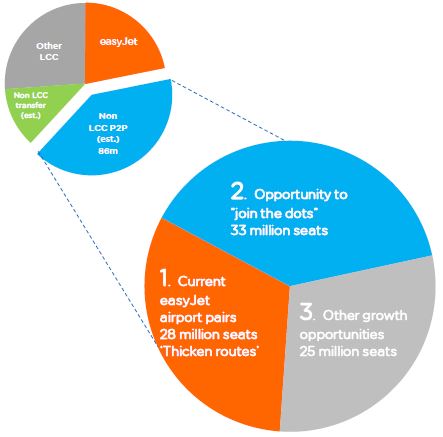 2. Further growth potential in business travellers
The number passengers travelling for business purposes with easyJet has increased from less than 10 million in FY2011 to 12 million in FY2014, around 20% of the total. Business travellers are attracted by its primary airports, high frequencies on key business routes and the offer of a bundled product with features aimed at business travellers, such as bag check-in, fast track security and flexibility included for a single price.
In addition, easyJet's distribution strategy allows it to reach this market through more appropriate channels than merely relying on its own website. It was one of the first major European LCCs to implement agreements with the GDS companies, online travel agents and corporate accounts, an approach now mimicked by Ryanair. With lower fares than the principal direct competitors in its markets, easyJet is well positioned to increase its penetration of the short haul market for business travellers by taking market share from full service carriers.
3. Aircraft orders have a flexible delivery schedule
Starting with its estimate of the opportunities presented at its top 20 airports, easyJet sees the need for an additional 20 to 30 aircraft to accommodate natural market growth of 2.2% pa; 40 to 65 to capture growth in its existing network (thickening existing routes and joining the dots); and 30 to 45 from new network points and routes. Net of route churn, this would take its current fleet of 226 aircraft to a requirement of between 296 and 356 in FY2019. easyJet has exercised its final 27 purchase rights over A320 ceo aircraft delivery between 2015 and 2017 and will then take delivery of 100 A320 neo aircraft from 2017 to 2022.
Under its base case, the fleet plan will take the FY2019 total to 304 aircraft, at the lower end of its requirement range, with flexibility to raise it to 316, or to cut quite significantly to 204, depending on market conditions. The base case total for FY2019 would represent compound average annual growth of 6% pa from FY2014. The upgauging of the fleet to include a growing proportion of A320s versus A319s and the introduction of the A320 neo will contribute to savings in cost per seat.
easyJet fleet plan to FY2022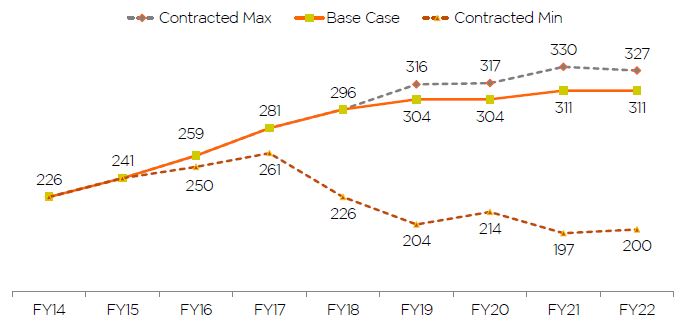 4. Unit cost reduction opportunities still exist
As note above, easyJet's ability to undercut its main competitors on pricing depends on maintaining its cost advantage.
There is scope for cost savings, as identified under its 'easyJet lean' programme. Key sources of improved cost efficiency are engineering and maintenance, airport deals, engine selection, the upgauging of the fleet (see above) and the introduction of the A320 neo from 2017.
EASYJET THREATS
1. Competitor response/Ryanair
One of the main threats to easyJet's plans to grow its share of point to point traffic in its existing airport network is the possible competitor response. As full service carriers increasingly offer unbundled short haul fares, seat only pricing can be fairly competitive with easyJet in some cases. Nevertheless, provided that easyJet continues to maintain its cost advantage, it should be able to under-price most competitors on average by a significant percentage.
Ryanair's recent moves to improve its customer service, to increase the number of primary airports in its network and to target business passengers is perhaps a more credible threat, especially given Ryanair's unit cost advantage versus easyJet. That said, this threat is one for the longer term, given the relative lack of airport overlap between the two.
See related report: Ryanair SWOT: low costs remain the key strength, even as customer service enhancements take root
2. External events/accident
Air travel, regardless of the carrier, is vulnerable to geopolitical events and natural phenomena such as earthquakes and volcanic ash disruption. easyJet's relatively focused geographic exposure arguably mitigates this exposure relative to airlines with a more global network. Alternatively, a Europe-wide event would hurt particularly. With a hitherto unblemished record when it comes to fatal accidents, public perception could be adversely affected if easyJet were to be involved in a major crash.
3. The economy
The airline industry is economically cyclical, although LCCs in Europe have often performed well in a downturn as FSCs have often accelerated their capacity cuts and passengers have traded down in times of austerity. Nevertheless, easyJet's relative dependence on primary airports and premium product features may leave it more exposed to the economic cycle than a pure LCC whose passengers are mainly price-motivated.
4. Cost creep
easyJet's efforts to increase its attraction to business travellers are aimed at growing its yields, but this only makes sense if this is not offset by corresponding growth in unit costs. The shift towards a more premium product positioning comes with a risk of adding cost, although easyJet's track record so far suggests that its management is capable of managing this risk.
5. Labour unrest
As with any labour-intensive service industry, airlines are vulnerable to labour unrest, not only among their own staff, but also among key airport-based suppliers such as ATC, ground-handling, security and ground transport.
While easyJet has a much better history of labour relations than most legacy carriers (and is no specific current cause for concern), its size, geographical diversity and growing unionisation increase the risk of internal labour disputes.
Conclusion: easyJet is getting things right
easyJet founder Stelios' shareholder activism has forced management to account for every decision, to focus on return on capital and to increase its appeal to shareholders by paying regular dividends. Nevertheless, his one-time implied threat to sell his shares if management placed a new aircraft order has not been carried out. Previously, every major announcement by easyJet, whether earnings reports or aircraft orders, was quickly followed by a critical reaction from Stelios.
Strong cash generation, regular and growing dividends, value-creating return on capital and a share price that has quadrupled over four years are strong evidence that easyJet has been getting things right. Stelios' acquiescence finally seems to signal that he now recognises this too. He would seem to have little to complain about.
See related reports: