Disruption hits Asian business and corporate travel as LCCs and mobile use become ubiquitous
Analysis
Corporate travel disruption, evidenced by the spread of mobile apps and use of the sharing economy, is not only impacting on travel managers in the west but it is increasingly being felt in Asia.
A recent McKinsey report on Asian Business Travellers warns that corporate travel in the region is primed for disruption by the same forces as at play in the leisure market.
Asia has long lagged markets like Australia in the adoption of online booking, much to the chagrin of travel managers keen to implement technology as part of their travel policies. However it appears that this obstacle is being overcome, with digital booking channels now more popular than 'traditional' channels – such as calling the travel agent, or booking via a secretary.
McKinsey also reports that travel managers are bracing for a wave of demand for mobile booking for business travel – with Asia on the same path as more mature corporate travel markets.
Travel Disruption: "change enabled by digital technology at a pace that disrupts established business models. For corporate travel it embodies traveller autonomy, reliance on mobile technology and the growing use of non-traditional supply lines such as the sharing economy and low cost carriers."

McKinsey also reports that travel managers are bracing for a wave of demand for mobile booking for business travel – with Asia on the same path as more mature corporate travel markets.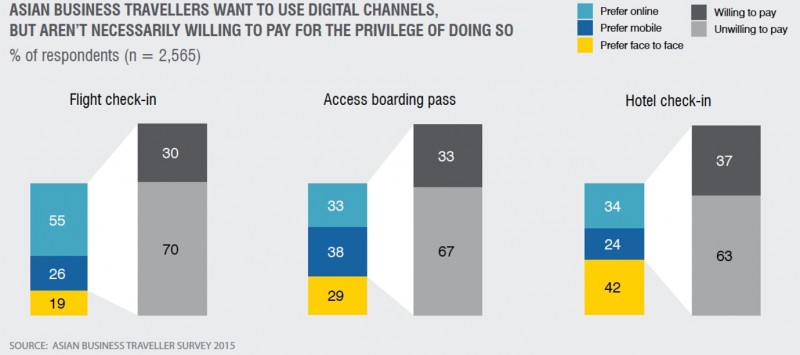 Asian business travel on LCCs is highest in the world
Another disruptive trend in Asia is the rise of low cost carriers for business travel. McKinsey estimates that LCCs currently account for 29% of all Asian business travel air spend, making it the most penetrated region in the world. By comparison, LCCs account for around 16% of the US corporate market.
There are, of course, significant regional differences, with 63% of business travellers in Indonesia willing to fly LCCs compared with only 25% of Singaporeans, who are largely still loyal to the legacy carriers.
The move to LCCs is not just about cost. The report finds that travellers recognise convenient schedules, networks and products which often rival the full service offerings.
A trend to watch in Asia is the emergence of the sharing economy. While the survey found that current policies tend to exclude sharing economy accommodation options, travellers are far more open to the alternatives.
A significant majority of Asian business travellers (70%) were familiar with sharing economy accommodation, while 40% would consider it as an option for business travel.
McKinsey attributes the traveller interest in sharing economy options to demographic shifts. The increasing participation of millennials is changing attitudes to travel, and the survey found these travellers 11% more likely to opt for Airbnb and its rivals.
Another trend identified in the report is the growing desire to extend business trips for leisure. Asian business travellers were almost twice more likely to make a booking that includes a weekend (12%) than their European counterparts (7%).
Even more significant for travel managers is that current 'bleisure' (business + leisure) trips may be just the tip of the iceberg, with half of the respondents indicating they were very likely to extend business trips for leisure at their own expense.
Implications for travel managers: rapid change will bring challenges. How to cope
Asia accounts for more than a third of the world's US$1 trillion business travel sector. In the next few years its importance will only grow, as the market is expected to expand four times as quickly as the North American market and more than twice as fast as the European market.
The rapid growth poses a challenge for Asian travel managers, who have struggled to implement progressive travel policies and adopt appropriate technology.
The McKinsey findings offer some ground for optimism, but also flag some challenges.
Asian business travellers have an unusually high level of booking autonomy, but the travel management task is aided by their growing preference for online booking.
By providing the appropriate corporate booking engines and controlling the travel choices within the booking tools, corporates can help drive compliance and, at the same time, track their travellers' bookings to meet their duty of care obligations.
Organisations with an eye on costs will be encouraged by the uptake of low cost carriers and, in most markets, will not have to struggle to get their travellers to use these cheaper options.
At the same time travel managers in Asia have to come to terms with the rise of millennials. As in developed western markets, these younger travellers are demanding mobile booking solutions, and these needs may put a strain on organisations which have not yet fully deployed online booking tools or adopted agile processes for travel requisition and approval.
The other millennial challenge involves incorporating the increasingly popular shared economy offerings – a phenomenon being addressed by travel managers around the world.
The latest insights are particularly beneficial for multinationals with a large Asian presence.
The findings suggest that many of the gaps between Asia and more developed business travel markets are shrinking as the travel market faces new suppliers, new technology and new traveller expectations. This suggests that strategies developed for other markets could well benefit Asian travel managers – although regional differences and cultural sensitivities will need to be accommodated.
Find out about the latest trends and developments in Asian business travel at the CAPA-ACTE Asia Corporate Travel Innovation Summit in Singapore, at the Capella, on 15-Nov-2016