Delta slot deal approved as US Airways reports profits
The US Department of Transportation approved the long-fought Delta/US Airways slot deal even as US Airways was saying during its earnings call it expected approval any day. The airline reported a net profit of USD92 million in the second quarter, a dramatic decline from the USD279 million it reported in 2Q2010.
The DoT announcement overshadowed its earnings given the fact that this deal is two years in the making. Clearly, the department bought the Delta/US Airways argument that, with consolidation and the fact Southwest had gained increased access to New York through LaGuardia and Newark, the market had changed. DoT did note the improved presence of low-cost carriers. It also cited the benefits expressed by Delta and US Airways in their original proposal including more efficient slot use and enhanced service benefits. The two also cited the ability to serve smaller and mid-size markets.
The tentative okay, now goes out for public comments although a final rule is expected to confirm the rule.The carriers hope to complete the first part of the transaction in Spring 2012 and the final part in the third quarter of the same year.
However, it still imposed conditions on the slot swap including the divestiture of eight slot pairs at Washington National and 16 at LaGuardia. DoT also wants the to complete the transaction in two phases but, according to US Airways, which discussed the transaction in the earnings call, that was always the plan. The original, 2009 agreement was approved with the requirement they divest 14 slot pairs at Washington and 20 at LaGuardia.
The relinquished slot pairs would be distributed through a blind auction to carriers with limited access to the two airports. After the auction, Delta and US Airways would be required to wait 90 days to launch new service and would be required to phase in that service to help the new entrants establish service.
"Delta Air Lines and US Airways welcome the decision by the Department of Transportation to tentatively approve the proposed slot transaction at New York-LaGuardia and Washington National airports," said the two airlines in a joint announcement. "Upon final approval we intend to move forward with the plan, as conditioned by the department, which will enhance competition and allow the airlines to improve service, consumer choice, modernise facilities and create jobs at both airports."
The approval is an important victory since it means both carriers can consolidate their positions where they are strongest - Delta at LaGuardia and US Airways at National. The proposal has been through two denials before the two airlines submitted a revised plan in May.
Under the agreement, Delta would acquire 132 slot pairs at LaGuardia from US Airways and US Airways would acquire from Delta 42 slot pairs at National and the rights to operate additional daily service to Sao Paulo, Brazil in 2015. The agreement also calls for Delta to pay US Airways USD66.5 million in cash. In addition, in accordance with DoT conditions, the airlines will divest 16 slot pairs at LaGuardia and eight slot pairs at National to airlines with limited or no service at those airports. The completion of the transaction is subject to certain closing conditions, including government and regulatory approvals. A slot pair is the authority to operate one takeoff and one landing.
During the earnings call the airline said the transaction must also gain approval from the Department of Justice.
Rising revenues, falling profits
US Airways followed United's trend in reported rising revenues and falling profits which is expected to be the story for this earnings period. As with its peers it is working to cut capacity in the fall to deal with what it terms a "volatile" environment.
The airline cited a 47% increase fuel costs which added USD400 million to costs. CEO Doug Parker was quick to point out the company was still able to post profits despite the overwhelming costs.
He compared fuel prices to 2008 and said that 2011 prices could easily break the records set three years ago. "Most businesses would prefer the pre-recession economy to that we have in 2011," he told analysts. "Fuel prices are worse than 2008 when US Airways lost USD800 million. What we know now is the environment has changed. Year to date we are break even so we are better off than in 2008 and that results from the fundamental changes within the industry with the largest factor being consolidation which has kept capacity constrained and has left management to those who care more about returns than market share."
But Dahlman Rose Analyst Helane Becker does not see consolidation as the promised silver bullet. "In 1Q2011, airline stocks were down by 8.7%, while fuel costs rose and profits disappeared," she wrote recently. "The 1Q2011 operating loss for the industry was ~USD45 million on revenues of USD32.6 billion. We estimated 2Q2011 revenues of ~USD20 billion and operating profit of USD1.2 billion. Consolidation was supposed to enable the airlines to be consistently profitable. Oil prices rose from December 15 through April 15, and since that time are down by ~15% as many of the airlines are hitting new 52-week lows. In 2Q2011, the Bloomberg Airline Index declined by 5.2%. Airlines raised fares, but the fare increases lagged the fuel cost increases."
She noted the decline in transactions at the Airline Reporting Corp in June which were down 1.6% domestically and 1.1% internationally. In addition, she attributed the failure of short-haul traffic to recover to the hassle factors of security, delays and cancellations.
"One of the major reasons cited for industry consolidation was improved airline profitability, which has not occurred," she said. "As an example, look at revenues for Delta Air Lines, which were USD31.8 billion in 2010, up from USD28.1 billion in 2009. On a standalone basis in 2008, Delta Air Lines and Northwest Airlines reported combined pro forma revenues of USD35 billion. Indeed, we are estimating 2011 revenues of USD32.2 billion growing to USD33.1 billion 2012, so we are not yet back to 2008 levels four years later. Airline profits remain elusive. Given the elusive profitability of the industry, it is no surprise the stocks are trading at or near 52-week lows."
She suggested share prices will remain stubbornly low unless oil stabilised and ticket prices catch up to fuel costs and stabilise.
Mr Parker agrees. He expects the current environment will be the new normal for fuel prices going forward meaning a continuation of capacity restraints and revenues initiatives. CFO Derek Kerr said fuel prices will increase USD1.4 billion in 2011 compared to 2010. However, he added that US Airways has managed to offset much of the increase.
Guidance
Full-year capacity will rise only 1% while domestic will grow only slightly as international grows 3%. Express capacity, which was up on both the first and second quarters, is expected to down in the third and fourth quarters. Express CASM ex fuel, 15.10 cents in the first quarter, and 14.21 in the second quarter will be up 9-11% in the third quarter, 7-9% in the fourth and up 6-8% for the full year.
Fuel costs are also expected to rise as the airline confirmed its assertions that hedging is too expensive. It looks as if it will pay about a dime more than American and United for fuel per gallon between USD3.20-3.25 in the third quarter. CASM ex fuel is expected to rise between 1-3% in the third quarter and between 2-4% in the fourth for a full-year cost increase of between 0-2%.
Total revenues in the second quarter were approximately USD3.5 billion, up 10.5% versus the second quarter 2010 on a 3.3% increase in capacity. Total revenue per available seat mile was 15.36 cents, up 6.9% versus the same period last year driven primarily by a 6.5% increase in passenger yields.
Total operating expenses in the second quarter were USD3.3 billion, up 18.8% over the same period last year owing to a USD424 million increase in consolidated fuel expense. Mainline CASM was 13.15 cents, up 14.6%. Excluding special items, fuel and profit sharing, mainline CASM was 8.16 cents, up only 1%. Express CASM excluding special items and fuel was 14.21 cents, up 5.4% on a 1.6% increase in ASMs, owing to the end of its CJR-200 maintenance honeymoon at PSA.
Comparative statistic for legacies to date
2Q 2011 vs 2101

ALK

AMR

DAL

HA

JBLU

LUV

UAL

LCC

ALGT

Profit

USD

28.8

down

50.9%

(286M)

v

(11M)

538M

down

11.9%

92M

vs

279M

Op Revs

USD

1.1B

up

13.7%

6.114B

up

7.8%

9.8B

up

10.3%

3.5B

up

10.5%

Op Exp

USD

1B

up

21.5%

6.192B

up

13%

9.1B

up

12.1%

3.3B

up

18.8%

ASMs

7.4B

up

7.2%

39.2B

up

2.1%

56.4B

up

1.1%

19.1B

up

3.3%

LF

84.3

up

2.4 pts

83.6%

down

0.3 pts

84%

down

0.9 pts

83.8%

up

0.9 pts

Yield

Cents

14.39

up

3.9%

13.90

up

4.6%

14.46

up

10.3%

16.30

up

6.5%

Prasm

Cents

13.58

up

6.8%

11.62

up

4.9%

12.15

up

9.1%

13.66

up

7.6%

CASM

Cents

NA

14.52

up

9..8%

12.97

up

10.7%

14.59

up

15%

CASM ex fuel/

Cents

8.46

down

3.1%

9.36

up

1.4%

8.17

up

3%

9.14

up

0.9%

Anc/Other

Revs

USD

66.9

up

7.4%

659M

up

5.5%

780M

up

0.9%

345M

up

3.9%
President Scott Kirby emphasised the volatility of the booking environment and was not shy about directly attributing it to the headlines about raising the debt ceiling and balancing the budget in Washington. He indicated consumer confidence was directly related to bad news just as it was in March when the airline saw a drop in bookings in the post-Japanese-earthquake period.
Ms. Becker agreed. "Forward bookings seem to be volatile: on days when the economic news (be it jobs, debt pay-down, or debt deals) is favorable, bookings accelerate. Conversely, on days when the news is disappointing (jobs, crude prices, sovereign debt issues, earthquakes, hurricanes, or volcanoes), bookings trend lower."
Mr Kirby expressed caution going forward despite the fact the booked yield in July was up 9% compared to 3% in June, illustrating how aggressive the company was on the revenue management side. He expects August and September RASM to best July although emphasized that was merely his intuition rather than any hard data.
When asked if the depressed economy were a time to try a different pricing policy, Mr Kirby indicated that unbundling fuel surcharges domestically would be the right thing to do if it weren't "for one large domestic carrier that doesn't do fuel charges" alluding to Southwest.
Analysts asked if US Airways would put out margin guidance as Alaska, United and Delta have done with their goals of reaching 10%+ over the business cycle. "It's hard to do with the volatility," he said. "We already manage to pre-tax margin. He criticised those would would use operating margins as their metric saying it makes no sense and seeming to be alluding to American's order with its off-balance-sheet financing. He later said he was not alluding to American just expressing that managing to operating margins makes no sense.
CEO Doug Parker followed United Continental and Alaska in not being worried about the American order. Mr Parker indicated that neither the neo or the proposed 737 re-engine product - whatever it turns out to be - have compelling enough operating cost savings for it to change its fleet plans. (For complete details on airlines reaction to the order see related story on United earnings which also includes analyst reaction.)
US Airways owned vs leased for aircraft in service (at 18-Jul-2011)
US Airways fleet breakdown for aircraft on order (at 18-Jul-2011)
US Airways fleet update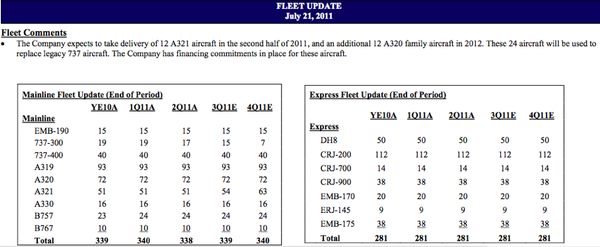 Ancillary revenue concerns
When asked about current moves in Washington to tax ancillary fees, Mr Parker said the airline was concerned about regulations especially those that might preclude offering new products.
"The biggest issue is being asked to have everything in all the distribution channels primarily the computer reservations systems that don't have the ability to display them," he said. "The objective should be more information and more choice, not less."
Mr Kirby said that many of the fees were good for consumers allowing them to pick and chose what they use. He also pointed to the popularity of choice seats. "[Regulations] would be customer unfriendly," he said. "They put restrictions in place saying we can't sell what the consumer wants. We think the market should decide and we'd be opposed to regulations. It's the global distribution systems who want to stop airlines from disaggregating until they catch up and that's not good."