Delta to acquire stake in Aeromexico as part of expanded alliance
Analysis
SkyTeam founding members Delta Air Lines and Aeromexico have unveiled plans to significantly expand their longstanding alliance with an equity tie-up. The two carriers will also start codesharing on more flights, co-locate airport facilities and expand on their innovative MRO partnership by jointly investing in a new maintenance facility.
Delta, subject to Mexican government approval, will invest USD65 million in Aeromexico in exchange for a stake in the Mexican airline group and a seat on Aeromexico's board. Shares from Grupo Aeromexico's Apr-2011 initial public offering have been reserved for Delta. Based on the value of Aeromexico that was determined by the IPO, which raised USD332 million, Delta will end up with a 3.5% stake in Aeromexico.
The new exclusive agreement will result in Aeromexico and Delta expanding their existing codeshares to include all their trans-border flights as well as some additional domestic and international flights from their respective networks. The two carriers have not unveiled any plans for seeking anti-trust immunity on their US-Mexico flights or any sort of revenue-sharing arrangement, but joint corporate contracts will be pursued by a new dedicated joint sales team. Elite frequent fliers will also have the ability to select preferred seats and request upgrades on the partner carrier, expanding on the reciprocal frequent flier benefits the two carriers already offer.
Aeromexico-Delta combination will be the largest player in US-Mexico market
The tie-up is significant as a combined Aeromexico and Delta will overtake the combined United-Continental as the largest player in the US-Mexico market. Aeromexico and Delta are now the third and fifth largest carriers in the US-Mexico market, respectively, while American is the largest and Continental, without merger partner United, is the second largest.
Based on Innovata scheduled capacity data for next week, Aeromexico accounts of 16% of all seats between the US and Mexico while Delta accounts for 8.6%, giving the duo 24.6% of the market. United and Continental combined account for 23.6% of US-Mexico capacity while American accounts for 19.1%.
Mexico to United States (seats per week by carrier, one way, 4-Jul-11 to 29-Jan-12)
American's strength in the Mexican market has been reduced significantly over the last year due to the suspension of services in Aug-2010 by Mexicana, which was the largest Mexican carrier and the third largest carrier overall in the US-Mexico market. Mexicana codeshared with American and was also in the oneworld alliance. SkyTeam is now the only global alliance with a Mexican member, giving Delta and other SkyTeam members a huge advantage in serving the Mexican market.
The expanded partnership with Delta will also allow Aeromexico to better respond to increasing competition from Mexican low-cost carrier Volaris, which already accounts for 8.5% of capacity in the US-Mexico market. Volaris is rapidly expanding its US network this year ahead of a planned codeshare partnership with Southwest Airlines.
Based on Mexican DGAC traffic data, 9.31 million passengers flew between the US and Mexico in 1H2011. Of these passengers Aeromexico mainline accounted for 9% and Delta mainline accounted for 14% (excludes flights operated by Aeromexico Connect and Delta Connection). United, Continental and Continental Express combined accounted for 21% of the passengers.
Share of scheduled passenger traffic by carrier between US and Mexico, 1H2011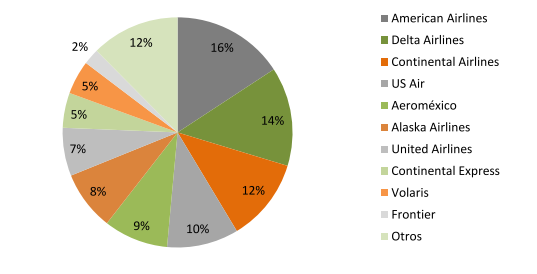 In Jun-2011, 1.51 million passengers flew between the US and Mexico. Of these passengers the Aeromexico Group (includes Aeromexico Connect) accounted for 11.5% while Delta accounted for 10.3%, excluding flights operated by Delta Connection.
Scheduled traffic (in thousands of passengers) on US-Mexico routes for leading US carriers, Jun-2011 vs Jun-2010

Mexico is the US's third largest trading partner with USD400 billion in 2010, according to the US Department of Commerce. Of Aeromexico's 10 largest international routes by capacity, eight are to the US (see background information). North America (the US and Canada) accounts for 66% of Aeromexico's total international capacity.
Delta's investment in Aeromexico comes as the financial outlook for the Mexican airline group has improved dramatically following a successful restructuring in 2009 and the exit of its biggest competitor, Mexicana, in 2010. Aeromexico has returned to profitability since Mexicana's suspension, reporting strong financial results for 2H2010 and 1H2011, including its highest second quarter profit in 15 years. But despite posting two solid quarterly results, Aeromexico's stock price has fallen since the IPO.
Aeromexico share price since Apr-2011 IPO
Expanded maintenance, repair and overhaul partnership
In addition to being founding SkyTeam members and long-time codeshare partners, Delta and Aeromexico have had a maintenance partnership since 2006. The MRO partnership began as a 10-year agreement in which Aeromexico overhauls all of Delta's MD-80s and in exchange Delta Tech Ops overhauls all of Aeromexico's CFM56 engines. Delta Tech Ops has previously said it would be interested in expanding the MRO partnership with Aeromexico to include additional types of airframe maintenance.
As part of the expanded alliance announced this week, Aeromexico and Delta say they will now jointly invest in a new MRO shop which will open in Mexico in 3Q2013. The facility will be used to offer new maintenance capabilities to Aeromexico, Delta and third-party customers. Delta Tech Ops, which has a large third-party business, has previously indicated it was interested in helping Aeromexico expand its now relatively small third-party maintenance business.
Aeromexico has not indicated where the new MRO hangar will be located. Its maintenance operation is currently based in Guadalajara and Mexico City. Aeromexico already has airframe overhaul capabilities for the B737, B757, B767 and MD80 and recently announced ERJ145 capabilities would be introduced as of Aug-2011. Aeromexico Connect operates a large fleet of ERJ145s but until now has outsourced maintenance for this type to a shop in the US.
"The MRO agreement will represent significant savings for our maintenance group while continuing the extremely high quality work we receive from Aeromexico," said Delta president Ed Bastian. "The facility is a natural next step for the two airlines as we leverage the full benefits of our alliance."
Added Aeromexico CEO Andres Conesa: "The expanded agreement with Delta will undoubtedly allow us to solidify the commercial alliance we have been building together for several years now. We will work with Delta to offer more options for our customers, including greater access to Delta's global network."
BACKGROUND INFORMATION
Aeromexico top ten international routes by capacity (seats per week), 08-Aug-2011 to 14-Aug-2011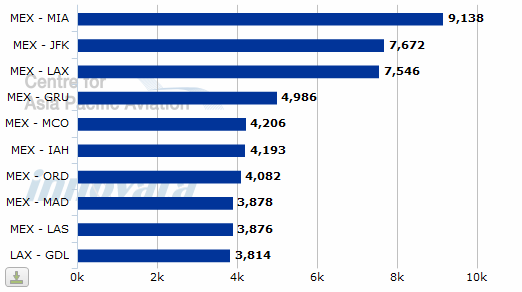 Aeromexico international capacity (seats per week) by region, 08-Aug-2011 to 15-Aug-2011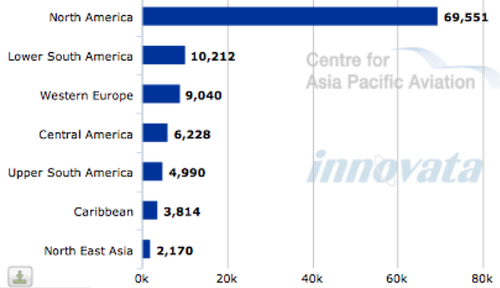 Delta Air Lines international capacity (seats per week) by region, 08-Aug-2011 to 15-Aug-2011