Delta and WestJet up the stakes in the transborder market; competitors have decisions to make
Analysis
Delta Air Lines has arguably put the final pieces of its global network strategy in place, having plans to forge a joint venture with Canada's second largest airline WestJet. If regulators endorse the proposed tie-up, Delta will have major joint ventures in Latin America, the trans-Atlantic, Asia and Canada. An obvious question is whether Delta will follow a now-familiar pattern and take an equity stake in WestJet.

The proposed JV propels WestJet to a truly global, network player, giving the airline another tool to compete with rival Air Canada. However, it is another big ticket item WestJet is adding to its list for completion during the next couple of years. The airline is also in the process of launching its ULCC Swoop, and readying for new long haul operations with Boeing 787 widebodies.

Delta's large US competitors are chasing their rival by aiming to establish joint ventures in Latin America. Now they need to decide whether the proposed Delta-WestJet JV raises the competitive stakes high enough to pursue their own tie-ups north of the border.
Given that both Air Canada and United are Star Alliance partners, American could find itself scrambling to remain competitive in the Canada-US transborder market.
Summary
WestJet is balancing multiple complex business changes during the next couple of years
Competitive dynamics could change dramatically if Air Canada and United decide to follow suit and create their own transborder joint venture
Canada is the final piece for Delta's global joint venture puzzle
Delta and WestJet have been codeshare partners since 2011, deepening the breadth of their codesharing markets to more than 70 each in the US and Canada.
Delta has joint ventures with Aeromexico, Air France-KLM, Alitalia and Virgin Atlantic. It is in the process of building a joint venture with Korean Air. Delta's list of the airlines in which it holds equity stakes includes Aeromexico (49%), Virgin Atlantic (49%), GOL (9.5%) and China Eastern (3.5%). The airline is in the process of taking a 10% stake in Air France-KLM and folding Virgin Atlantic into the SkyTeam trans-Atlantic joint venture, although Virgin Atlantic remains unaligned.

Delta has been aggressive in pursuing joint ventures during the past few years, to solidify its global network and reap the revenue benefits from coordinating scheduling and pricing with its JV partners.

It is not surprising Delta now aims to create a joint venture with Canada's second largest airline, WestJet. If their proposed partnership gains all the requisite approvals, Delta will be the only US airline among the country's three large global network airlines with immunised joint ventures in the key transborder markets of Canada and Mexico.
Delta may have a different calculus in evaluating a stake in WestJet
More often than not, Delta ultimately takes stakes in most of its joint venture partners. The exception in current and proposed joint venture portfolios is Korean Air. For now, it does not seem as if Delta has a desire to pursue an equity stake in Korean, which has battled weak financial results during the past couple of years.

See related report: Delta Air Lines & Korean Air announce joint venture in shadow of China Southern's SkyTeam defection

Delta's strategy in holding stakes in the majority of its codeshare partners is to flex muscle in guiding the strategy of those airlines. It has seats on Virgin Atlantic's, Aeromexico's, and GOL's board of directors, and is gaining a seat on Air France-KLM's board with its EUR375 million investment in the airline group.

WestJet is in a slightly different position. It has a clear-cut position in Canada's market, and has a multi-tiered strategy to grow revenue during the next couple of years. WestJet has also posted an annual profit since 1997, with the exception of 2005. It has also returned CAD1 billion to shareholders since 2010.

WestJet's strategy, while dizzying, is also clear-cut. It is creating vehicles to capture or maintain its share in all passenger segments, ranging from the ultra price sensitive traveller to the higher yielding business customers. The proposed JV with Delta is just one facet of WestJet's plans to create CAD300 million to CAD500 million in revenue through 2022.
Levers WestJet aims to pull to grow revenue between CAD300 million to CAD500 million through 2022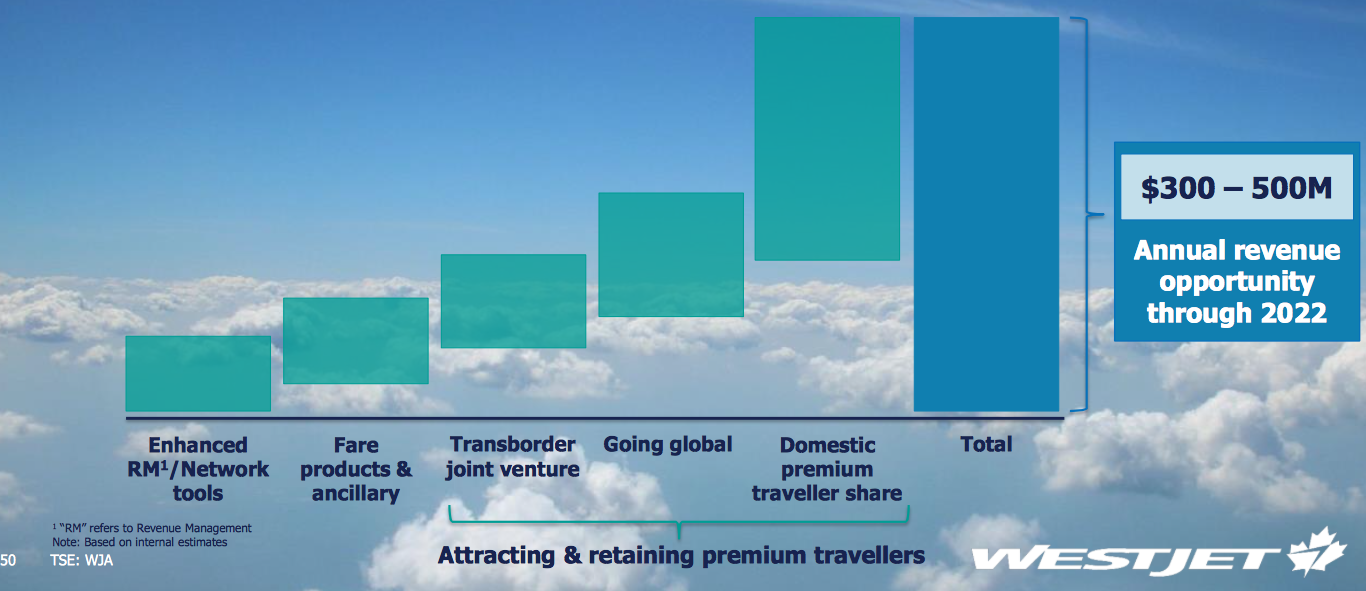 The same calculus Delta uses to take equity stakes in other airlines may not apply to WestJet, since the Canadian airline already has a strong financial footing, as well as a plan to bolster its revenue by millions of dollars during the next four years.
Proposed JV is the latest among WestJet's growing list of ambitions
WestJet is upping its arsenal to compete with Air Canada and other airlines for premium passengers when it takes delivery of, and presumably launches long haul flights with, new Boeing 787 widebodies in 2019 – the same year it aims to start its JV with Delta.
WestJet will be the only trans-Atlantic long haul, low cost airline offering lie-flat seats – the hallmark of premium service on its 787s.
WestJet projected delivery dates for aircraft on order from OEMs and lessors as of 4-Dec-2017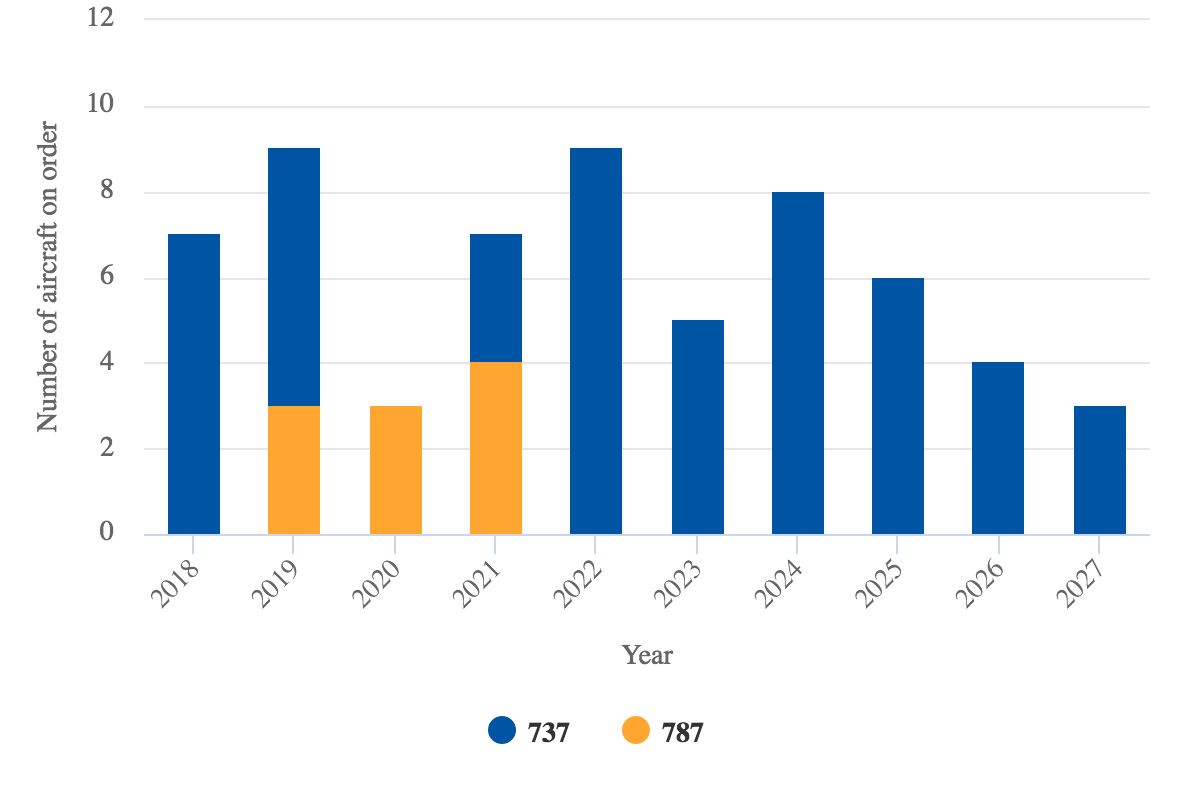 At the same time, in 2018 WestJet is working to launch Swoop, an independently operated ULCC.

Within a two year period: WestJet will launch its ULCC, grow its long haul network with Boeing 787s, and forge a transborder joint venture with Delta. Any one of those projects is ambitious on a stand-alone basis, and questions are arising over WestJet's ability to manage such a broad array of changes to its business.

WestJet's pilots recently voted in favour of representation by the Air Line Pilots Association (ALPA), and other employee groups could also opt to unionise. Westjet faces a delicate task in maintaining favourable employee relations as a wave of change sweeps across the airline.
The question: whether Delta's US competitors feel the urge to forge their own Canadian JVs
Delta and WestJet obviously feel confident in their ability to secure regulatory approvals for their proposed joint venture, and much has changed after Air Canada and United decided to shelve a similar arrangement in 2012, when Canada's competition bureau raised concerns about the proposed tie-up.

Earlier in 2017, the news outlet Bloomberg reported that Canada's transport minister had proposed a law in which elements of joint ventures – scheduling, pricing and marketing – would be reviewed under both public interest considerations and competition laws. Bloomberg quoted an executive from Air Canada stating that the airline would be interested in creating a joint venture with United.

Presently, Delta and WestJet have 29.2% seat share between the US and Canada, while Air Canada and United's combined share is 54.5%.
Market concentration was a major concern when Canada's competition watchdog expressed reservations about an Air Canada-United joint venture five years ago, and could still be a major factor – even in light of Delta and WestJet uniting to bolster competition in the transborder market.
Seat share between the US and Canada for the weeks of 5-Dec-2016 and 4-Dec-2017

American, which has an 8% seat share in the US-Canada market, has moved to end its codeshare with WestJet. If American's major competitors eventually forge Canadian cross-border joint ventures, the largest airline in the US will find itself at a competitive disadvantage in one of the most important markets from the US.
Canada is the US' largest market, measured by departing frequencies.
United States of America system departing frequencies by country for the week of 4-Dec-2017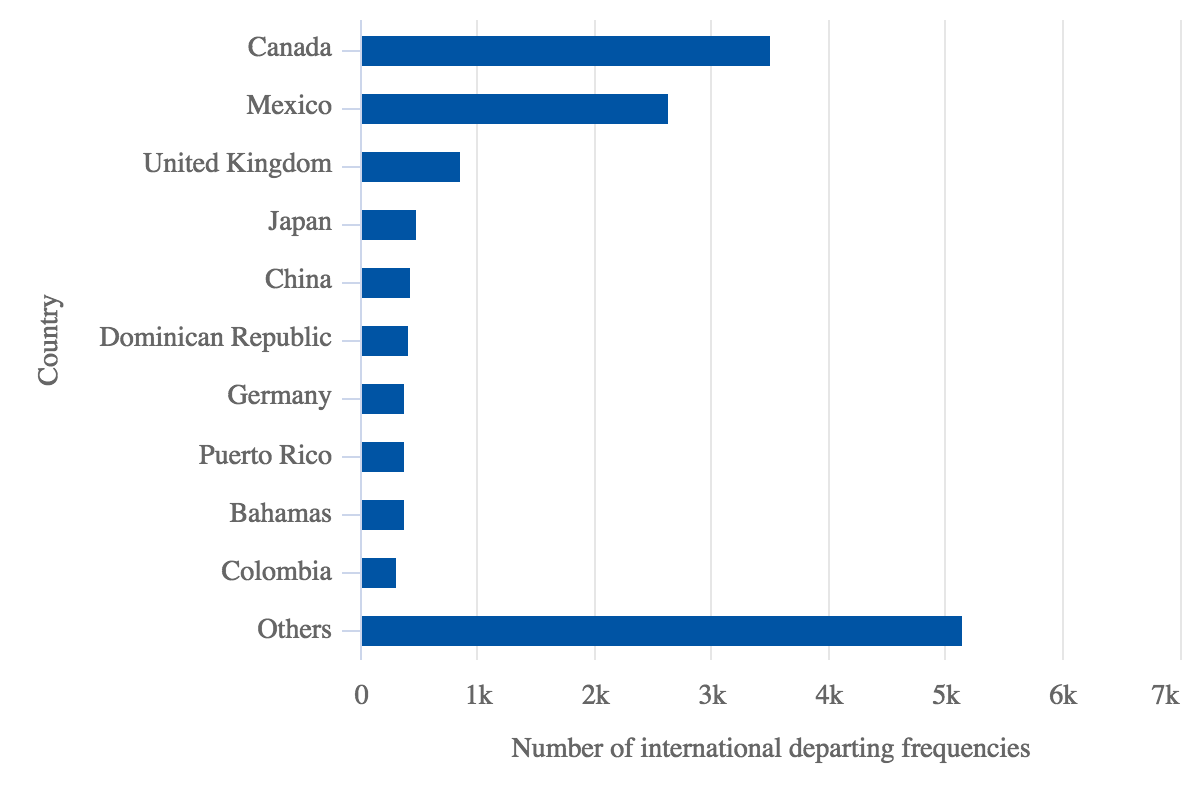 It is tough to predict how regulators will view the proposed Delta and WestJet JV
Delta and WestJet are making moves to change competitive dynamics in the Canadian transborder market with their proposed joint venture. It is tough to predict how regulators in the US and Canada will view the tie-up, but market concentration should not be a major concern as a comprehensive review of the partnership begins.

Now Delta's and WestJet's competitors need to decide if they will push forward with their own JVs, or wait and see what kind of regulatory reception the latest proposed transborder JV receives.