Delta Air Lines' service roll-outs in Seattle reflect new nuances in airline partnerships
Analysis
Delta Air Lines' recent outlining of planned expansion from Seattle to Seoul and Hong Kong reflects its continuing strategy of building the airport into an international gateway partially in partnership with Alaska Air Group, Seattle's largest carrier. Delta has been steadily expanding its operations in Seattle during the last couple of years, a market it may deem more suitable for growing further into Asia than some of its existing hubs – evidenced by the transition of service to Hong Kong from Detroit to Seattle.

Largely absent from Delta's discussion in the latest Asian expansion from Seattle is any cooperation with SkyTeam partner Korean Air, who has ample service from Seattle to Seoul.
Delta's silence could be illustrative of a logic that alliances are not a cure all for network optimisation that became especially pronounced during 2012 with the landmark deal between Emirates and Qantas, Air France's forging of a partnership with Etihad and Delta tabling plans to take a 49% stake in Virgin Atlantic. Those two carriers recently won the US Department of Transportation's (DoT) approval to forge a trans-Atlantic joint venture whose launch will coincide with Delta's introduction of Seattle-London Heathrow in Mar-2014.
Following those route roll-outs, Delta is also embarking on a domestic expansion from Seattle during 2014 through new service to San Francisco and additional frequencies to Las Vegas and Los Angeles. The carrier states those markets are three of the largest west coast markets to Asia, which reflects the growing prominence of Seattle as a Pacific gateway.
But at the same time it is leveraging its partnership in Seattle with Alaska, it is upping the competitive ante with its strategic partner in the new domestic markets.
Delta's logic in building up Seattle seems sound, with Alaska Airlines' network feed
The new service from Seattle to Seoul and Hong Kong introduced by Delta from Seattle joins its existing international offerings to Amsterdam, Beijing, Osaka, Tokyo (both Haneda and Narita) and Shanghai.
Delta's moves in Seattle are somewhat logical, given that Seattle was a mini hub for Northwest Airlines prior to the 2008 Delta-Northwest merger. Northwest operated trans-Pacific routes from Seattle, so the precedent is in place to further expand into Asia. Given Seattle's larger Asian population relative to some of Delta's other major US hubs (Atlanta, Detroit, Minneapolis and Salt Lake City) and Delta's major partnership with Alaska, Seattle is a more viable Asian gateway for Delta than other US west coast destinations. Los Angeles will always remain somewhat fragmented while San Francisco is a major hub for United.

By feeding into Alaska's network Delta can presumably net a favourable mix of connecting and O&D traffic in its latest markets from Seattle to Asia.

As it stands Delta and Alaska (which also had a relationship with Northwest prior to the merger), combined represent a nearly 52% share of international seats deployed from Seattle Tacoma International Airport, while Alaska Air Group accounts for about 50% of system-wide seats on offer from the airport.
From a combined network perspective, the scale is impressive and gives the carriers a strategic foothold in the US Pacific Northwest to transport passengers throughout the US and into Delta's growing international network from Seattle.
Seattle/Tacoma International Airport international capacity by carrier (% of seats): 30-Sep-2013 to 6-Oct-2013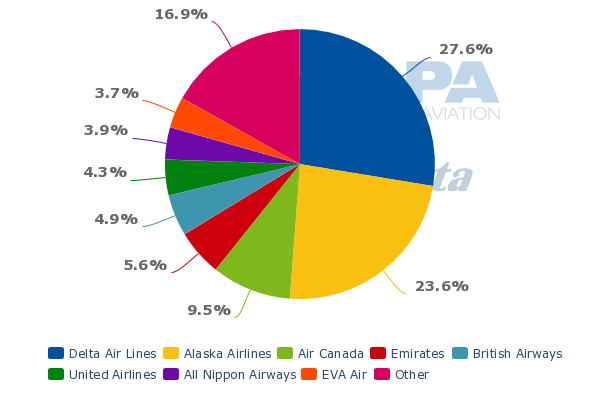 Seattle/Tacoma International Airport system capacity by carrier (% of seats): 30-Sep-2013 to 6-Oct-2013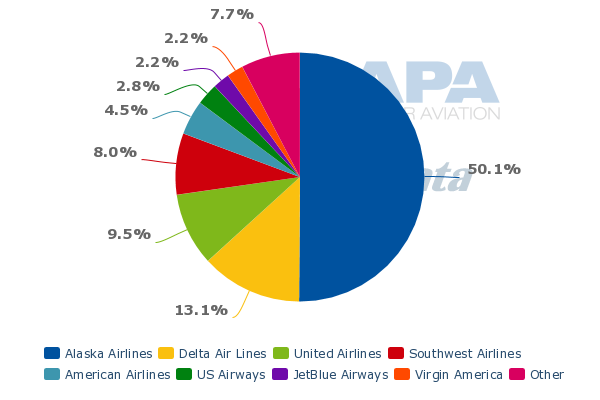 See related report:
Delta leverages its strength in Seattle and Alaska Airlines partnership to bolster service to Asia

Delta appears poised to compete, rather than partner, with Korean Air, its fellow SkyTeam member
Seoul is an interesting choice for Delta as both Korean and Asiana offer a combined approximate 2,725 one-way weekly seats from Seattle (based on current schedules in Innovata 30-Sep-2013 to 4-Oct-2013). Delta's SkyTeam partner Korean represents a 47% share of the seats deployed, which means the alliance has an existing strong presence between Seattle and Seoul.
Seattle/Tacoma International to Seoul Incheon International (seats per week, one way): 19-Sep-2011 to 23-Mar-2014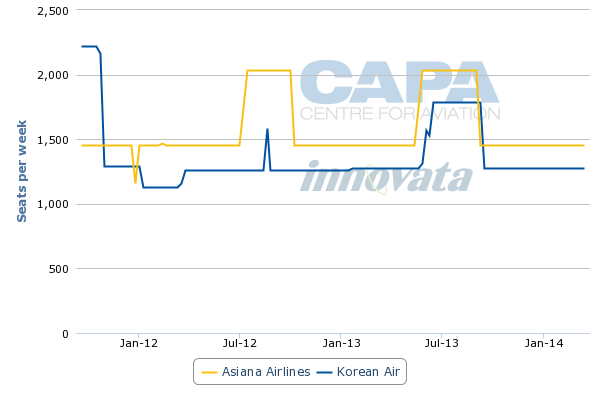 It is not clear if the two carriers will decide to formally codeshare in the market prior to Delta's launch of service in 2014. As previously highlighted by CAPA, in its formal announcement Delta did not specifically mention Korean when it announced daily service between Seattle and Seoul.

By having powerful partners for connections at both the origin and destination, Delta, Alaska and Korean have the potential to build a force in the market that would certainly eclipse Asiana, whose Star Alliance partner United represents just 10% of the seats on offer in Seattle.

But Korean deploys a large portion of its international capacity into Japan, as the country presently represents nearly 25% of the carrier's international seat deployment. Given Delta's ample presence in Japan through its mini-hub at Tokyo Narita, perhaps Delta has concluded that forging a more formal partnership with Korean might prove redundant.
Korean Air international capacity by country (% of seats): 30-Sep-2013 to 6-Oct-2013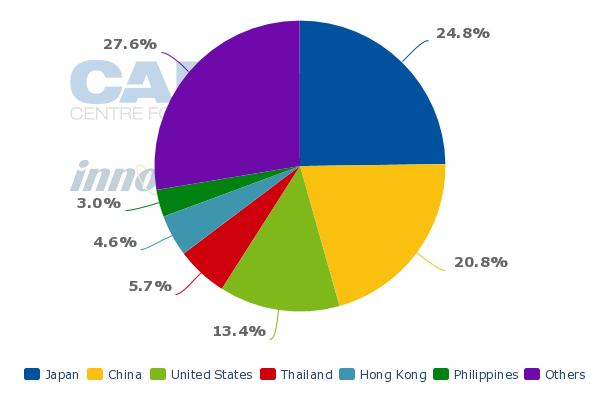 As previously highlighted by CAPA, Delta and Korean have had a less than cosy relationship over the years as Delta fought a hard battle in 2010 to lure Japan Airlines from the oneworld alliance. After those efforts failed Korean offered a closer relationship during 2012, but nothing has materialised. In a perfect world, Delta would have a strong Japanese partner.
But for the time being Delta seems somewhat resigned to its quirky tie-up with Korean, while at the same time working with its Chinese SkyTeam partners China Southern and China Eastern to support its Asian network.

See related reports:
Delta has opted to transfer its Detroit-Hong Kong service to Seattle after ending the daily 777-200LR-operated flight in Aug-2012. Prior to that announcement CAPA stated that Delta was planning to resume Hong Kong service from a different US point of origin and Seattle has emerged as the victor.
Detroit's weakness is that it did not offer Delta as much local traffic in the Hong Kong market as the carrier had anticipated, which meant greater reliance on connecting traffic. Delta has previously explained to CAPA that the decision to eliminate Hong Kong-Detroit was not based on any concern for the performance of Hong Kong, but rather selecting the wrong originating city.

There are no direct flights between Seattle and Hong Kong, but Cathay Pacific and Air Canada operate flights to Hong Kong from Vancouver, which is 226km north of Seattle in Canada. Those carriers are not a real threat as CAPA has stated that in many instances Seattle and Hong Kong are separate markets, and many foreign carriers offer long-haul service from both airports.

Delta currently serves Hong Kong from Narita, so for some passengers a connection will be eliminated with the new service to Seattle. United also offers service to Hong Kong from Chicago, New York Newark and San Francisco (as well as connecting service from Narita) and its hub in Guam. Cathay Pacific offers flights from Chicago, Los Angeles, New York JFK and San Francisco to Hong Kong (from Mar-2014 Newark too).
Delta's new single daily flight between Seattle and Hong Kong will create little change in Cathay Pacific's dominance in the US-Hong Kong market or usurp United's position as the second leading carrier.
But with more local demand in Seattle, coupled with feed from Alaska, Delta could introduce a new competitive dynamic from the US west coast to Hong Kong as some local passenger now have the option of a direct flight rather than a stopover at another US hub or elsewhere.
United States to Hong Kong (seats per week, one way): 19-Sep-2011 to 23-Mar-2014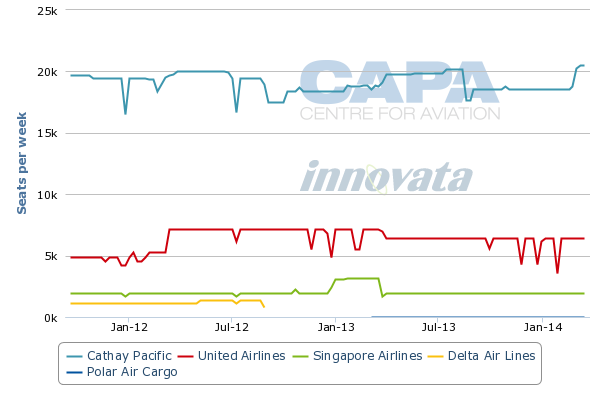 Delta touts a strong partnership with Alaska while intensifying competitive pressure
Delta has now upped the competitive ante in Seattle with plans to begin new six times daily service from Seattle to San Francisco in Mar-2014. It is a crowded market served by Alaska, United and Virgin America. Together those carriers deploy roughly 19,120 weekly one-way seats in the market – with Alaska representing a 40% share, United 36% and Virgin America 23%.
Seattle/Tacoma International to San Francisco International (seats per week, one way): 19-Sep-2011 to 23-Mar-2014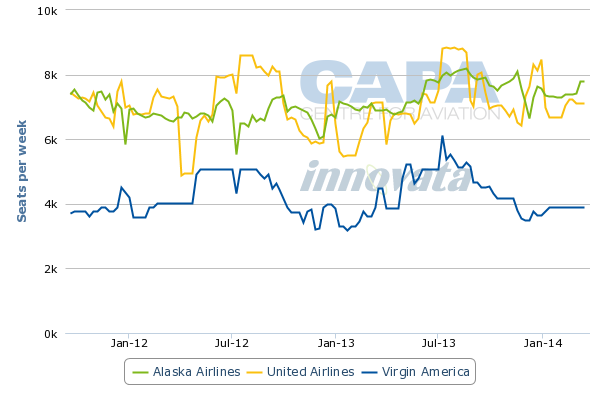 Delta's competition with Alaska on the route underpins perhaps an unspoken philosophy that partnerships can only go so far, and the ultimate goal of network planning is to maximise revenue. Earlier in 2013 when Delta announced plans to launch Seattle-Los Angeles, Alaska executives remarked that the relationship between the two carriers remains strong, and that "little things that happen along the edges" should not create a distraction from what is an overall exceptionally good relationship.
See related report: Delta presses forward to build a competitive network in a consolidated and mature US market
Based on current schedules in Innovata (29-Sep-2013 to 5-Oct-2013), Alaska represents 58% of the roughly 19,568 one-way seats on offer between Seattle and Los Angeles, followed by Virgin America at 19% United at 6% and Delta at 17%.

Alaska is also the dominant carrier in the Seattle-Las Vegas market based on seats deployed, accounting for 64% of the total 13,881 seats on offer. Southwest holds a 28% share and Delta accounts for 8% of the total.

Clearly Delta's moves are more than small events happening on the fringe as it appears to be positioning itself to capture more of its own connecting passengers in large flow markets to Asia from Seattle.
Delta's Seattle service adds a new dimension to Heathrow from the US west coast
Rounding out Delta's new Seattle service in 2014 are new flights to London Heathrow just as its trans-Atlantic joint venture with Virgin Atlantic gets underway. British Airways is the only carrier serving Seattle-London Heathrow, but Delta in touting its tie-up with Virgin Atlantic to compete more effectively against oneworld JV partners American and British Airways from New York, highlighted that San Francisco-London and Los Angeles-London were among the top 10 markets between the US and Europe.
Rather than use a valuable Heathrow slot in markets already served by British Airways, United and Virgin Atlantic in San Francisco, and those carriers along with American in Los Angeles, Delta is betting it can stimulate enough local demand to make Seattle-London Heathrow viable.
Top 10 markets from the US to Europe: Dec-2012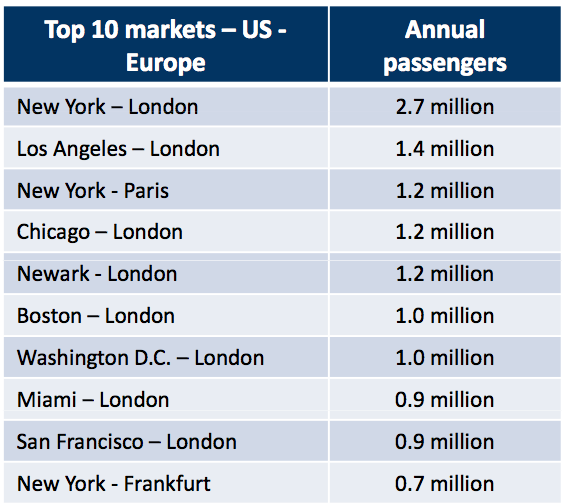 Delta's latest moves reflect the rising importance of Seattle in its network
Delta's new route pairings set to debut from Seattle during 2014 appear to be setting the stage for Seattle to become the funnel for the carrier's Asian strategy – whatever form that crystallises into.
It also means the importance of other gateways, notably Detroit, are diminishing somewhat as the attractiveness of a hub serving Asia on the west coast grows.
Delta is, like others before it, crafting a pragmatic niche of tapping a partnership where it works (be it with Alaska or Korean) and competing with its partner in markets where it wants a larger share of the traffic. Provided each party involved continues to gain a net benefit, a certain level of direct competition is often acceptable, if not welcomed. One ingredient in the pain threshold here is the level of valuable passenger data which leaks in such relationships.
During the next year it will become clear if the relationship between Alaska and Delta remains exceptional, as Delta uses stepping stones to leverage its greater marketplace size.