Delta Air Lines plans a China Eastern stake. Will other US airlines follow the foreign equity path?
Analysis
Delta Air Lines is making its largest airline investment yet at USD450m. The prize is China Eastern Airlines, on the cusp of re-vitalisation, long-haul growth and a beneficiary as China's aviation power looks set to tip to Shanghai. Yet Delta's largest investment buys it only 3.55% and an observer's seat on the board. In comparison, USD360m bought Delta 49% of Virgin Atlantic and three board seats. In light of Delta's anti-Gulf carrier dispute, Delta will quietly need to reconcile the fact China Eastern is the most heavily subsidised Chinese airline.
Delta emphasises it is "solidifying" its partnership with China Eastern. The two account for 24% of US-mainland China seat capacity in Jul-2015. That is approximately 20,000 weekly one-way seats compared to the 78,000 US-UK seats Delta and Virgin have on the tightly held North Atlantic. Delta's stake reflects long term potential but as a mere 3.5% it is more symbolic and a placeholder for a potentially deeper partnership.
China Eastern has been considering its future direction, and even whether it should leave SkyTeam for the oneworld alliance. Delta's stake is an attempt to maintain the status quo. Delta needs China Eastern more than the China Eastern needs Delta. There is some wariness at China Eastern about Delta's intentions, but this could be the start of a long and close relationship. It is likely to spark competitive responses, such as United Airlines re-evaluating Air China's wish for a deeper partnership. It is unclear if Delta's stake signals other foreign airlines can buy into Chinese airlines.
Delta takes USD450m, 3.55% stake in China Eastern as shares at near-time high...
Delta and China Eastern announced on 27-Jul-2015 that Delta is to acquire a 3.55% stake in China Eastern for HKD3,489 million (USD450 million) via newly issued Hong Kong shares that would give China Eastern a net gain of HKD3,474 million (USD448 million). The Hong Kong Stock Exchange has not experienced as heavy speculation and volatility as markets in mainland China.
But Hong Kong shares have risen in value. Aviation has been a particular success story as the segment is seen as having high barriers to entry and strong prospects of success. Two IPOs in 2015 of privately owned airlines – Spring Airlines and Juneyao Airlines – have attracted further attention to the sector.
See related report: Spring Airlines & Juneyao Airlines enjoy post-IPO success while 9 Air struggles as a new Chinese LCC
China Eastern's Hong Kong shares in 2015 have been higher than their previous high in 2010, but they are still below their 2007 peak.
China Eastern Hong Kong share value (HKD): 2006-2015

With shares trading at two to three times their price a year ago, Delta is paying a pretty price. There was not a consensus in the market that China Eastern's shares were under-valued (there is some feeling that Air China's shares are over-valued). Delta is paying a premium beyond this, as stated in a regulatory announcement:
HKD7.49 per Subscription Share represents:

(a) a premium of approximately 8.6% to the closing price of HKD6.90 per H Share as quoted on the Stock Exchange on 22 July 2015, being the last trading day immediately preceding the date of the Subscription Agreement;

(b) a premium of approximately 9.8% to the average closing price of HKD6.82 per H Share as quoted on the Stock Exchange for the last five consecutive trading days immediately preceding the date of the Subscription Agreement;

and (c) a premium of approximately 17.8% to the average closing price of HKD6.36 per H Share as quoted on the Stock Exchange for the last 20 consecutive trading days immediately preceding the date of the Subscription Agreement.
...but the money is insignificant. The value for both is in joint strategic growth
China Eastern says it intends to use the funds "for working capital and other general corporate purposes". Cash is not the driver in this transaction. China Eastern does not need it (and Delta sits on a large pile) and no one was seeking to sell down a stake, unlike the case in some of Delta's previous equity transactions, notably in Virgin Atlantic (bought from Singapore Airlines) and Gol.
There are potential benefits for both, but given the complexity of the partnership, the question is which side will benefit more. It is difficult to see both gaining evenly. This has become an acute focus for China Eastern as it looks back at the failed bid Singapore Airlines made for China Eastern last decade. In that case China Eastern considered SIA would have gained more than China Eastern.
For Delta and China Eastern, the common competitor is perhaps not so much other Chinese and US carriers as it is sixth freedom carriers elsewhere in Asia that have captured a significant share of the US-China market. Yet Delta and China Eastern have a duelling element in that they would each like to gain more than the other carrier. Delta is establishing a track record at its investments, with Virgin Atlantic particularly showing strong mutual benefit.
It is unsurprising China Eastern has selected a non-Asian airline to guide it through growth. As CAPA previously wrote:
By virtue of its size, growth and potential, China becomes the star market for almost any major Asian airline. A number of carriers – Korean Air, Cathay Pacific, Hong Kong Airlines – could not be anywhere near the size they are today without large access to the Chinese market. These airlines are competitive with each other and a significant partnership with a Chinese airline would propel their fortunes above others (as seen with Cathay-Air China).

This creates potential risk for a Chinese airline that a suitor is looking to advance its own cause rather than form a partnership. For this reason, China Eastern does not favour an Asian airline as a strategic investor; the risk is inherent and cannot be taken out, the view goes.
The value of having a partner in China was reinforced in late Jul-2015 when United Airlines had to cancel its planned second daily San Francisco-Shanghai Pudong service. Long-planned, United had to postpone the launch twice as it waited for better slots, finally cancelling the service. Slots are not distributed in a transparent process in China, and United faced challenges securing slots on the home turf of competitor China Eastern.
Delta has previously cited how it was able to work with both China Eastern and China Southern to secure better slots. (This opaque but accepted world of slots compares to Mexico's formal investigation of slot distribution at Mexico City airport.)
China Eastern for its part gains Delta's extensive knowledge of running an airline, hubs, a partnership portfolio, an inside track into the US behind-gateway markets and more. CAPA in Aug-2014 wrote that China Eastern was seeking a strategic investor:
China Eastern recognises size does not always equate to quality. It will be one of the first to admit it needs to make improvements, both in passenger-facing matters and those that are more back office. Air France-KLM and especially Delta help on this matter, but China Eastern sees a strategic investor will have a more vested interest in helping China Eastern. The guide is the Air China-Cathay Pacific partnership. Traffic benefits have been minuscule; Air China has benefitted from learning from Cathay.

Cathay has undoubtedly lost traffic to Air China because of the improvements it has taught Air China, but through an equity stake Cathay has captured some of that profit back....

China is beginning to encourage private investment in state-owned enterprises, of which China Eastern is, along with Air China and China Southern. After discussion in recent months, China in Jun-2014 announced a pilot programme to introduce "mixed ownership" at six SOEs, none of which are transportation companies. China Eastern prior to the announcement had set the groundwork for possible investment, or at least preparing for the idea of it.

"Our first consideration is the cooperation we can get from a partner and how the partner can boost our business. That is the pre-condition."

China Eastern GM Ma Xulun implied to the China Times that mixed ownership at the airline would allow it to distance itself (albeit slowly) from the regulator and start acting on a commercial basis. A private investor would bring cash, which the government is reluctant to again inject into China Eastern, but more importantly experience. "Money is an issue, but it is not a core issue," Mr Ma said. "Our first consideration is the cooperation we can get from a partner and how the partner can boost our business. That is the pre-condition."

An airline would bring China Eastern the most experience, but it acknowledges airlines are not sitting on piles of cash. The likely companies lack the necessary insights into aviation as well as partnership opportunities, but they are understood not to be excluded from consideration.

See related report: China Eastern Airlines once again seeks a strategic investor to welcome it onto the world stage
China's aviation power is seen to be shifting towards China Eastern & Shanghai
A statement on the stake and partnership has a telling quote attributed to China Eastern chairman Shaoyong Liu: "the launching of commercial cooperation plan by China Eastern and Delta indicate significant strategic moves of China Eastern to comprehensively reform further, actively explore and develop mixed ownership economy, and actively promote globalised development."
Mr Liu references "mixed ownership economy", which China (as noted above) introduced in Jun-2014 to six state-owned enterprises, all outside transportation. China Eastern quickly lobbied to have itself partake in "mixed ownership" as a way to start loosening the control of the government and act in a more commercial matter. This is also seen with Mr Liu's statement that China Eastern needs "to comprehensively reform further". There was something of a breakthrough in late 2014 when China Eastern was allowed to rebrand, choosing its own marketing while competitors tried to change as well but were held back by the state.
China Eastern is considered the most innovative of China's "Big 3" state carriers. That rubs off on China Eastern's hub of Shanghai, which is also home to the two successful private entrants of last decade, Juneyao and Spring. Persistent rumours that Mr Liu will ascend into a position at all-powerful regulator CAAC present an opportunity for China Eastern to be the airline favoured by the regulator. This would follow years of Air China being the darling child, partially because it is officially China's only flag carrier, but also because Air China's former management have filled the CAAC ranks.
Without strong support for Mr Liu and China Eastern, it is difficult to see a foreign airline being allowed to take a stake in a prized national asset. It is unclear if Delta's stake is a one-off exception or if other foreign airlines are welcome to invest in Chinese carriers, too.
As for Chinese airline investment, however, in the bigger picture it is more likely that Chinese airlines will be investing in foreign airlines. Privately-held HNA has taken the lead as state-owned carriers have been held back on making investments. HNA's most recent investment was with South Africa's Comair. Outside of airlines, HNA is said to be mulling a bid for ground handler Swissport.
See related report: HNA/Hainan Airlines buys 6.2% of South Africa's Comair, accelerating China-Africa aviation links
Delta's message is 'solidifying' its partnership with China Eastern
Delta's key message is it will "solidify" its strategic partnership with China Eastern. There has been less common cooperation, such as Delta hosting China Eastern staff to better learn about aviation. There are also codeshares as follows between China Eastern and Delta:
30 domestic routes in the U.S.

43 domestic routes in

China
seven trans-Pacific routes between China and the U.S
Their announcement does not say what exactly will change under the partnership. The statement makes vague statements such as:
"The parties will take advantage of their respective route networks, flight services, relevant businesses and advantageous resources to fully connect the world's two top economies as well as two top air transportation markets."

"The parties wish, through excellent operation and international cooperation, to optimise customer experience, enhance the parties' global competitiveness and promotes the development and revenue growth of both parties."

"We share a vision that will create the most profitable, enduring franchise between the U.S. and China, with world-class customer service"
Delta Air Lines US-mainland China flights: as of Jul-2015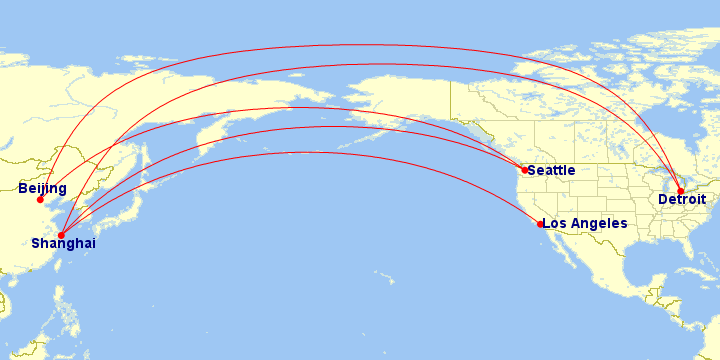 China Eastern US-China flights: as of Jul-2015
Delta's message of "solidifying" its partnership is important as China Eastern has been sceptical – and surely still is – about Delta. In the most radical of options, China Eastern could have ended its limited partnership with Delta and even exited the SkyTeam alliance. China Eastern realises it sits on potential, based in the world's most exciting growth hub. For years there was frustration that China Eastern was not developing its Shanghai hub with the international, and especially long-haul links, that the government favours.This move will help.
China Eastern in 2011 cancelled its order for 24 787s, partially because the aircraft no longer had the capability to fly from Shanghai to the eastern seaboard of North America. But there was also some encouragement from Delta, ostensibly to help China Eastern but which also allowed China Eastern to delay growth until it started receiving the first of 20 777s in late 2014.
See related report: China Eastern Airlines seeks to revitalise its position with 777 long-haul growth and new brand
It is Delta that needs to project confidence in this relationship. China Eastern is still young in its revitalisation and there are many chapters to be written as it considers other airline partnerships and a planned order for an unspecified number of A350-900s or 787-9s. China Eastern is the popular girl at the school dance and has a wide choice of suitors. Delta was not the only one in line.
However, Delta has no viable alternative. SkyTeam's other main Chinese airline flying long-haul, China Southern, is based in Guangzhou with a secondary hub at Beijing (but China Southern has no North American flights from Beijing). China Southern and Guangzhou do not have the same existing power and future potential that China Eastern and Shanghai have.
What Delta hopes to achieve is maintaining the status quo of China Eastern as its partner, and ideally a partner that receives from Delta less than it gives. It is a symbolic move to carve out a place – Delta gains an observer seat on China Eastern's board – if and when US-China open skies is sealed that would allow deeper cooperation and a joint venture.
In 3Q2015, Chinese carriers overtook US airlines in terms of number of US-China flights.
See related report: Chinese airlines overtake US carriers across the Pacific. The big dilemma: US-China open skies?
Weekly US-China flights by Chinese and US carriers: Q3, 2005-2015F
717" height="428" />
Delta once again shows assertiveness with equity stakes in foreign airlines
Since 2011, Delta Air Lines has made or prosed a series of investments in four airlines for just over USD1 billion. These are summarised in the graphic below. A fifth investment is proposed with Japan's Skymark but the possible value and stake have not been disclosed. (Regulatory requirements about slots would likely keep the stake under 20%.)
Delta Air Lines investment (actual/proposed) in foreign airlines: 27-Jul-2015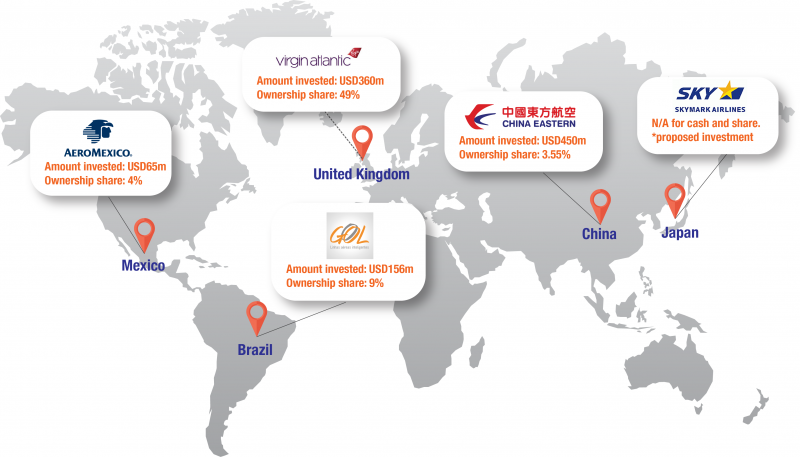 Delta more than any other US airline during the last few years has moved quickly to take stakes in airlines located in areas where it needed to fill gaps in its network.
United's only airline stake is with Azul while American Airlines has none.
See related reports:
There are global partnership implications. Is oneworld a better match for China Eastern?
From Delta's stake there are a number of global partnership implications that will play out in the short and long term.
The stake may provoke United Airlines to revisit the offers it turned down from Air China for a closer partnership. These two airlines are the largest in the US-China market with a combined 45% seat share in Jul-2015, according to OAG data.
China to United States of America (seats per week, one way): 19-Sep-2011 to 17-Jan-2016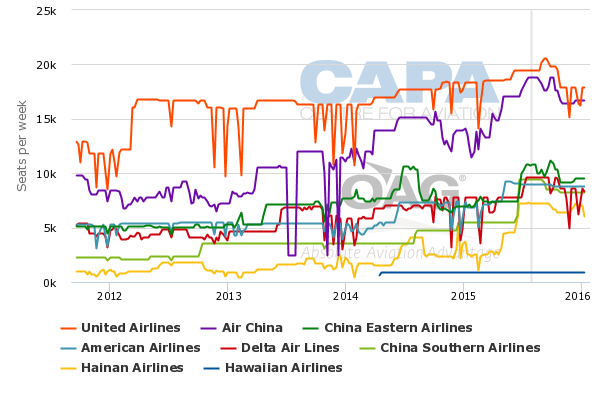 China Eastern has felt ambivalent towards its European partners despite the very limited JV they have. AF-KLM takes the view there is too much Europe-China capacity and Chinese carriers growing does not help. AF-KLM can influence intercontinental success based on critical interlines and codeshares it gives out. AF-KLM have a 20% seat share of the China-Western Europe market.
China Eastern has a further 8% share while China Southern also has an 8% share and new entrant Xiamen Airlines, also a member of SkyTeam, has under a 1% share. Can closer Delta-China Eastern relations see Delta try to smooth trans-Atlantic JV partners AF-KLM?
China to Western Europe (seats per week, one way): 19-Sep-2011 to 17-Jan-2016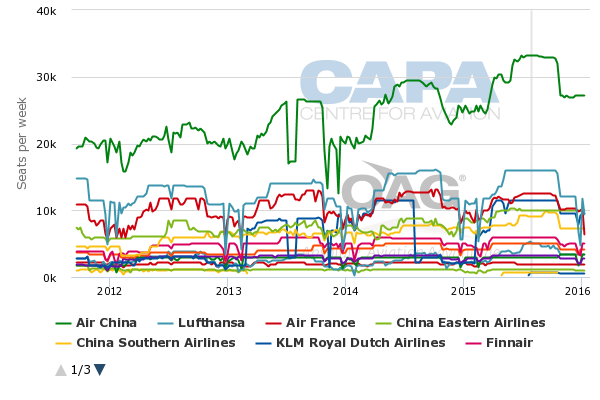 China Eastern and Etihad formed a limited partnership in Sep-2012. Etihad would like a deeper arrangement and China Eastern has been open to the prospect of using Abu Dhabi as a hub for markets too thin for it to reach. This takes on greater relevance with China's recent push for its airlines to serve Africa in what will surely be loss making scenarios.
Air China and China Southern have announced African routes while China Eastern has not. Accessing Africa and other markets over Abu Dhabi would be rational, but Delta is the lead protagonist in the US carriers' campaign against Gulf carriers.
See related report: Etihad-China Eastern codeshare starts small but with enormous potential
Delta will need to reconcile its Gulf carrier subsidy accusations with the fact China Eastern openly states its subsidy amount and in 2014 was the most heavily subsidised Chinese airline.
Chinese airline subsidies and grants (USD): 2014
Delta has been trying to woo Korean Air for a joint-venture to gain a position in the trans-pacific market, and in particular the US-China transfer market. Substantial sixth freedom US-China traffic flows over Seoul Incheon with Korean Air. Delta has seen Korean Air unfairly gain marketshare in arguments not dissimilar to Delta's views about Gulf carrier hubs.
Delta has tried to pressure Korean Air into a JV but Korean Air has resisted, unconvinced of the benefits but also put off by Delta's behaviour. Delta's proposed investment in Skymark to create a Japanese hub likely stirred Korean Air over whether Delta has commitments to Japan or Korea.
Delta's stake in China Eastern and hope of greater US-China cooperation makes the Korean Air v Delta/China Eastern entities more competitors. Then again, there could one day be a multi-party trans-pacific cooperation involving Korean, Delta and China Eastern – and others. After all, it is only three JVs that account for the majority of seats in the trans-atlantic market, which is more developed than the trans-pacific market.
See related report: Delta Air Lines' proposed investment in Skymark clouds a possible joint venture with Korean Air
British Airways has been itchy for a mainland Chinese partner for some years. Delta's China Eastern stake comes as BA was apparently making headwinds with a possible China Eastern partnership. Will Delta try to push a firmer SkyTeam-only approach to partnerships? Also in the oneworld space is China Eastern's pending joint-venture with Qantas, but this is unlikely to pique Delta's interest.
China Southern has the weakest strategic position on the trans-pacific given its Guangzhou hub being so far south, requiring long-haul aircraft, and lacking the premium yields of Beijing and Shanghai. Delta's stake in China Eastern could further help China Southern's Shanghai competitor, leaving China Southern feeling isolated. There is no other major North American carrier operating across the Pacific to help China Southern.
There has been consideration whether SkyTeam is the best fit for China Eastern given competitive conflicts in long haul markets. To North America, Korean Air and Delta dominate. To Australia, China Southern is the leader. And to Europe, as noted earlier, Air France-KLM are large and not eager for more Chinese capacity.
oneworld presents a remarkably more welcoming scenario: China Eastern has a historical relationship with JAL and a more recent one with Qantas, including a proposed JV (awaiting Australian regulatory approval). oneworld is smaller across the Pacific, and American Airlines does not have a deep partnership with a Chinese carrier. American does partner with Hainan Airlines, but would surely switch to China Eastern if given the opportunity.
To Europe, British Airways and Finnair would be interesting partners, even at a JV level. The stumbling block would be Cathay Pacific's expected veto of China Eastern's membership in the alliance. Alliance choice could theoretically still change as Delta's sub-4% stake hardly gives it veto power, but Delta will be amassing influence within China Eastern.
China Eastern's question: how important is North America? Should there be sacrifices for North American strength?
Delta seeks to present a foregone conclusion that its partnership with China Eastern is solid and will be both practical and enduring. This was a similar message to Delta stating earlier in 2015 it planned one day to have a hub in Shanghai the way it does in Amsterdam with KLM.
See related report: Delta Air Lines' Shanghai hub plans: replicating the Amsterdam-KLM relationship will be difficult
In both cases, it must be asked what China Eastern thinks. There are many within the airline who will need convincing Delta is the right long term partner. It does not necessarily have to be. China Eastern sits on enormous potential and does not need to make decisions this year - or even next. With this small stake it has only limited responsibility towards Delta.
China Eastern must ask itself if Delta has its best intentions at heart, or if a partnership is a way to limit a competitor. If there is potential to grow across the Pacific and gain strength in the North American market, will this come with drawbacks – such as influence on which airlines to partner with in other parts of the world, or even what alliance to be a member of?
North America is the key long haul market for Chinese airlines. It is both large, relatively high yielding (perhaps not at present competition, but has more potential for example than China-Australia); the US market involves fewer competitors than Europe-China; and it is free of serious Gulf carrier competition. To secure a foothold in this key market, China Eastern may need to make sacrifices in other, less important markets.
Delta can only hope that its bet – and that is what this stake is – pays off in the long-term. It is small change for Delta and the downside is limited.
If it does not pay off, Delta appears to be running out of fallback options. Delta has potentially paid China Eastern a sum of money China Eastern can use to purchase more aircraft to fly in competition with Delta.
In recent history and in its home market, Delta has been a heavyweight. But as seen with Korean Air and China Eastern, in Asia the equation is changing to one of Delta needing partners more than the reverse.
Delta has potentially set itself up for a long and successful partnership that will provoke competitive responses. That outcome will not be guaranteed for some years, but will likely be determined in Shanghai, not Atlanta.